Ah, the search for the elusive 'simple living'…
It has become a lengthy quest for me. To be frank, it has stretched out for decades.
And while I have yet to achieve it, I'm getting closer. I've discovered many secrets and gifts along my way.
Recently I hit upon one secret without effort or attempt. I'm usually working hard to find them, but this one happened quite by accident. Actually, by necessity. And in this secret, I found some magic of the simple life.
Have you discovered some secrets to simple living? Leave a comment, and share it with us! We need to hear it; we need to share our discoveries with each other.
What is it? What is this secret I unearthed?
It is the art of finding satisfaction in the mismatched, the chipped, the cracked. The "imperfect."
I have spent much of my life searching for the opposite of that, I've searched for the "perfect." I mean, who in their right minds would be searching for the imperfect? You know what is telling–what I have come to realize? I was even searching for the "perfect" simple life.
This particular art, this secret, this magic requires something BIG. It requires us to let go of our searches for perfection. It requires us to give up our desire to appear perfect. It means we have to reveal and share our imperfections. Oh yes, the search for perfection is a frantic, constant, unfulfilling search that never ever ends because there is no end. Perfection doesn't exist. Not in people, not in nature, not in life. Impossible. I guess it's like the gold pot at the end of a rainbow, non-existent.
So, we've got to stop seeking it. It isn't hiding; it isn't hard to find; it isn't fleeting. It simply does not exist.
The key, I recently learned, is accepting the cracked, broken, chipped, mismatched. Not only accepting it, but also EMBRACING it. And sharing it. Exposing it.
Finding satisfaction in the imperfect means realizing that IT (whatever "it" is to you) is good enough. Good enough even though. Good enough in spite of.
After we do that a few times, practice it, we can apply it more broadly. We can realize that WE, even WE, are all okay, AS IS. That we are enough, right now. Not in the future WHEN…. or IF….. but now.
Every one of us been through the ringer.
We are all chipped. Broken. Cracked. Mismatched.
So what?
That is life. THAT is living.
Learning to live there—in that place of reality and acceptance—contentedly, is the key. Yep. That's the place where we all need to find satisfaction, fulfillment, happiness. In the AS IS.
The other day one of my aunts had a birthday, her 96th. Yes, you read that right. If you met my aunt, you would guess 76. She's beautiful, with fewer wrinkles than I have. She's smart as a whip. She has always been a successful business woman. Still strong, both physically and mentally. I have always admired her and written about her many times.
Anyway, I threw a–what turned into a large–party. Problem was that I didn't have the proper "stuff" to have a matching, perfect party. I didn't have enough seating, space, plates, forks, etc.
Everyone told me to use paper plates, plastic forks. Well, I don't like to eat off of paper plates, or serve from them, so that was not an option. Instead, I went to the thrift store. Sure, they had plenty of matching sets of plates for sale; and sure, they had many choices for fine china.
But there, hidden in the very back of the second shelf were stacks of plates that called my name. It was filled with the misfits.
It was a stack of individual mismatched plates. None of them matched. I bought them all. It set me back a whole 49 cents a plate.
At the party, I noticed something. When folks went to pick up a plate from a place setting on the table before heading to the buffet, they examined the plates first. They looked at their choices before they decided on one. I found that interesting.
You see, THAT is a much different experience than simply picking up a paper plate or a plate that looks like all the others. It added something. An element of whimsy? An element of fun? I'm not sure what exactly, but something.
Which would you choose?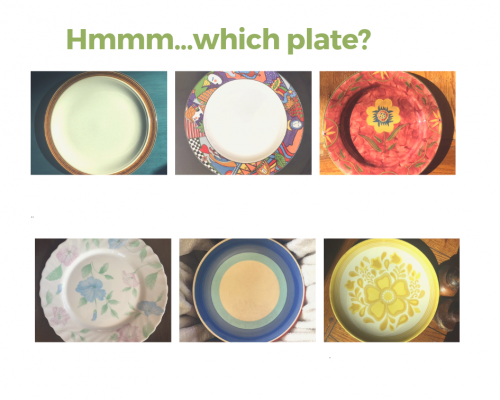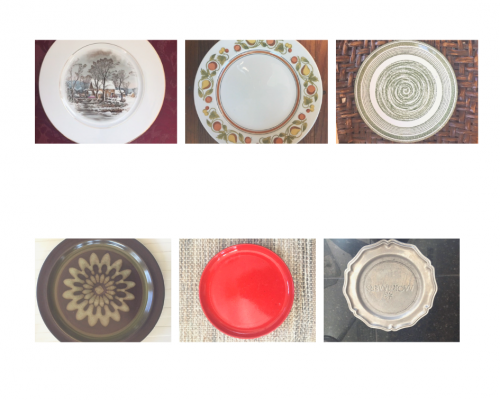 The birthday girl's special plate was the last one pictured here….the pewter one. There were many more individual plates to choose from than these 12, I just didn't want to bore you with all of them…
Another interesting fact about many of the plates. They were worn and had obviously been well used. Some had chips around the edge. A few had hairline cracks. It didn't matter in the least.
AND…the mismatched plates made my lack of matching cloth napkins and table cloths TOTALLY work.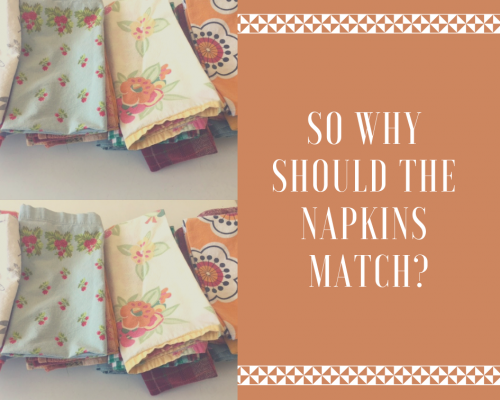 Oh dear. One stack was chopped from that pic. I have to add it because I love that dragonfly one on top. It was a gift from a friend so I always think of her when I use it.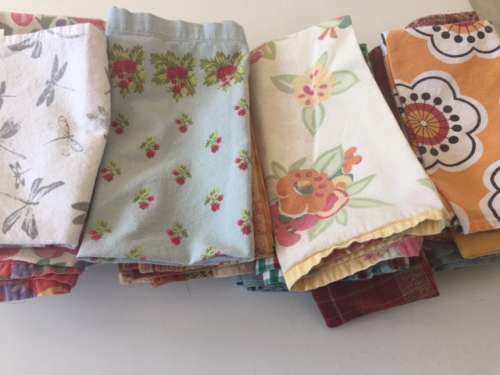 And next up? Chairs!
Mismatched plates; mismatched napkins and tablecloths; and mismatched chairs. The chairs were a blend of borrowed and found chairs.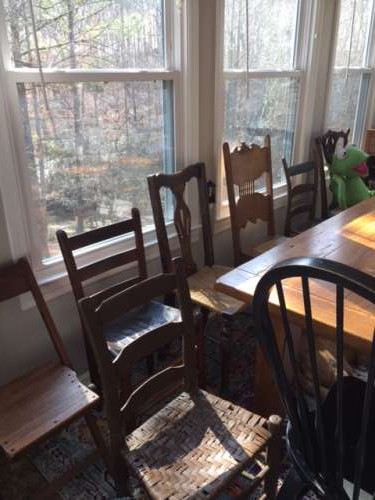 Oh, and check this out. We picked this one up for $10 at the thrift store and turned it into our birthday throne.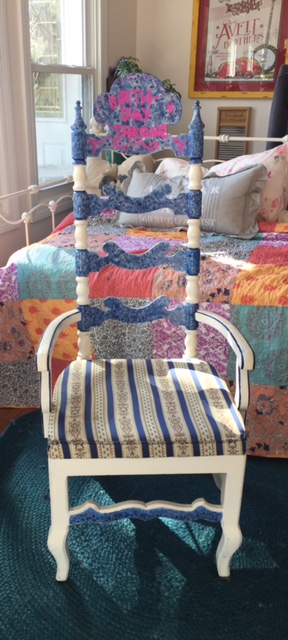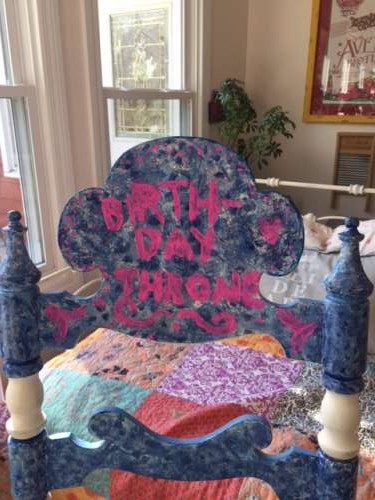 (I'm sitting in that throne right now.)
I guess I'll soon pack the plates and the chairs away for the next big party. But currently, we are using them daily. We have found it's pretty fun to pick out a special plate from the stacks for dinner. My personal favorite is the one with the snow scene on it. Makes me smile. The farmhouse is pinkish, though it doesn't look like it in this photo. And there is a horse drawn carriage. Right up my alley.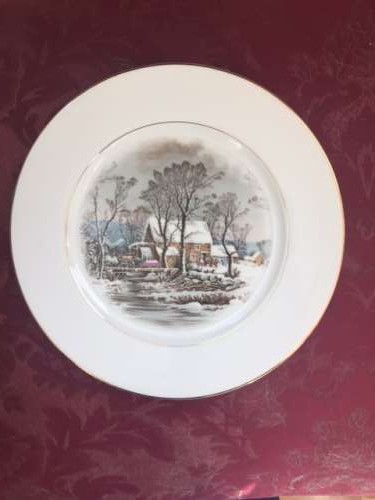 In preparing for my aunt's 96th birthday celebration, I discovered satisfaction in the mismatched and imperfect. A house can be too small for a large party, too cluttered for company, not decorated well enough for guests, and not company-worthy clean—and none of that really matters.
What matters is the people. The living, breathing, loving people. Not the stuff.
For many years there was someone in my life for years who criticized something about my house every time she came over. It was never clean enough, never organized enough, never decorated right. "Tsk, tsk," I'd hear as drawers were opened in the kitchen. I'd learn why I the picture I hung above the fireplace was all wrong, how I needed to decorate the shelves, how the granite countertop should be cleaned properly, what I should do with the hardwood floors, and on and on. Have you experienced that?
As a result, I'd go crazy every time this person came over, spending hours doing my very best to finally get a nod. Of course, it never came.
Today, I embrace something else. Today I embrace the attitude that parties, houses, and life is mismatched and chipped. This attitude of finding the okay (or thrill) in the imperfect will seep into every area of your life. Letting go of "Plan A" will open you up to lots of other plans. And those non-A plans can turn out to be even better ones.
I found that once we let go of things, people, and lives having to be a certain way, it opens the door for a new way of thinking. And once your door is open for a new way of thinking, life flourishes. You get un-stuck. You can finally relax. It's a big relief. You can be more open and hospitable, fostering connection.
So, yeah, I look around and see that my house has worn, mismatched furniture. But it's the kind of home that invites you to sit down, or lay down and kick your feet up. It's not farmhouse white; it's not magazine worthy. And yes, it's also true that you should be careful if you are opening a closet door, and yes, you might notice some fur on your black pants when you leave.
But you know what? It feels like HOME. Because it is home. A simple home.
So, yeah, I finally discovered another secret to a simple life. Letting go of the "has to be." Finding fulfillment in the "is."
AS IS.
What is that saying? Cracks are okay, that's how the light gets in.
Start small. End small.
But oh, the big results, inside and out.
Until next time, Friends, savor the flavor of life!
Lots of Love, The City Farmgirl in the Country, Rebekah