Dear Sisters,
We've got some catching up to do! Happy Thanksgiving! Happy Winter Solstice! Merry Christmas AND Happy NEW Year! Whew! Gosh, I hope life has been treating you all well and that you're feeling healthy and happy, warm and cozy, safe and satisfied. Now that winter is here and Christmas has passed I have a confession… I've been on somewhat of a holiday hiatus since Thanksgiving. After I dug up the dahlias I sort of went dormant… Just like the garden but, in a good way!
This year I was determined to not get swept away in all of the holiday hype and make a Christmas that was quiet on the pocket book but LOUD in the things that matter the most. EACH OTHER! As December approached the bells of Christmas consumerism were ringing so loudly at every turn of the dial, or click of the TV remote, I could barely hear my own Christmas inspirations. And let's not even get into how much advertising is done on Facebook and the internet. I've never been accused of being a scrooge and I wasn't about to start now. However, I did want to do " Christmas " a little differently.
I retreated from shopping at big box stores, except for things I couldn't find elsewhere and shopped local and online. Max was a great Santa's helper!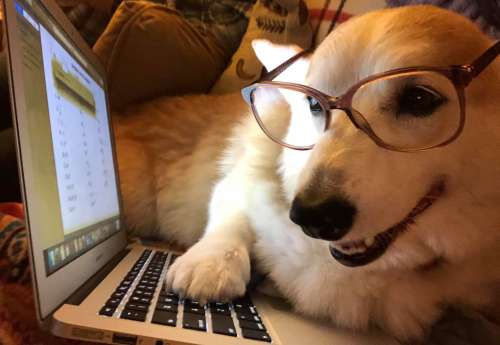 We bought our Christmas tree at my favorite local nursery during their annul Christmas Craft Fair weekend where we shared some holiday cheer with my garden shop pals round the old wood stove.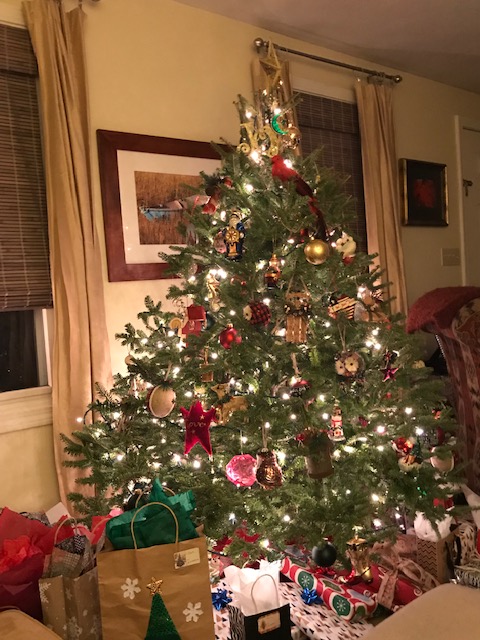 I've never been one to think everything has to be perfect or look perfect or, match a Pinterest image to a tee but, I do like our home to be tidy and festive, warm and inviting and nurturing and comforting.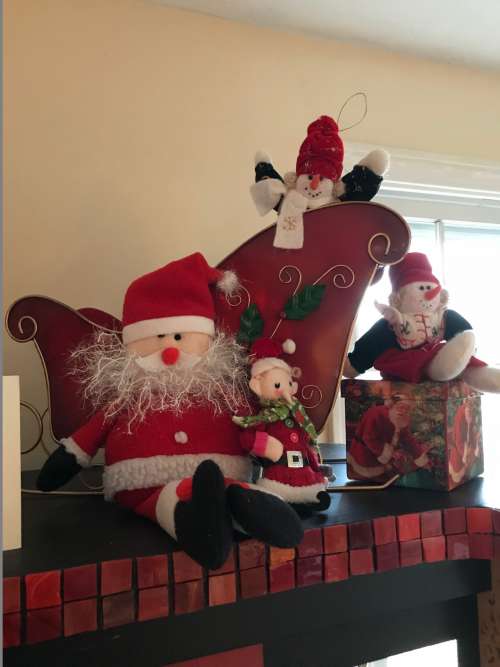 As the month unfolded we decorated simply, shopped discreetly, listened to our favorite Christmas music, baked only our very favorite sweets ( chocolate chip cookies for the win!) and spent some time with family and friends. We also indulged in a few of our favorite family traditions.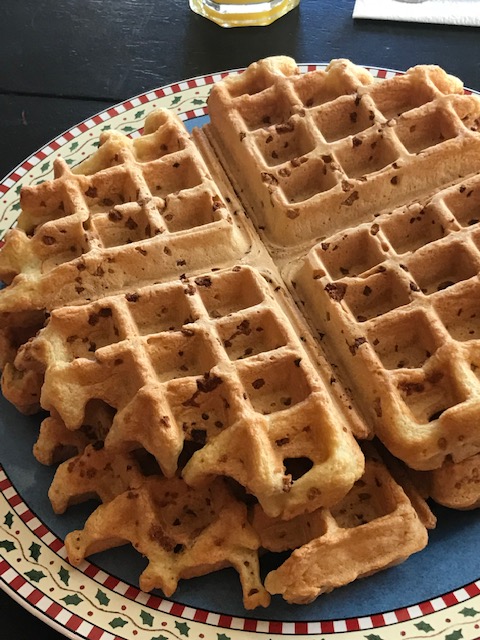 My handsome Yankee made his famous waffles with grape nuts for breakfast on Christmas Eve. We look forward to that treat every year! They're pictured plain here but we love to top them with fresh strawberry sauce spooned over cream cheese with a dollop of whipped cream but you could use any kind of topping or fruit compote. Rhubarb, apple, and cherry filling would be yummy, too! Or imagine fresh sliced peaches with a pinch of cinnamon in the summertime! Get the recipe here! * Regular milk can be substituted with Almond Milk.

We also did some de-cluttering and made a sizeable donation to our local homeless coalition. We counted our blessings and in our own private ways wished that those who are suffering or in need get the help and healing they need. Well, before we knew it, Christmas Day was here and we were full of Christmas spirit!
Before we opened anything we took a minute to exchange verbal Christmas cards. The kind where you look each other in the eyes and tell people how grateful you are for them and all the special gifts they have to share with the world and how much they mean to you each and every day. We shared our hearts and we loved up on each-other, then it was time to open stockings!
My handsome Yankee is the master of stocking stuffers which typically results in all of us doubled over belly laughing and crying at the same time.  He is simply the best at reminding us not to take things too seriously. I can't think of a better way to release all of that built up energy! Can you?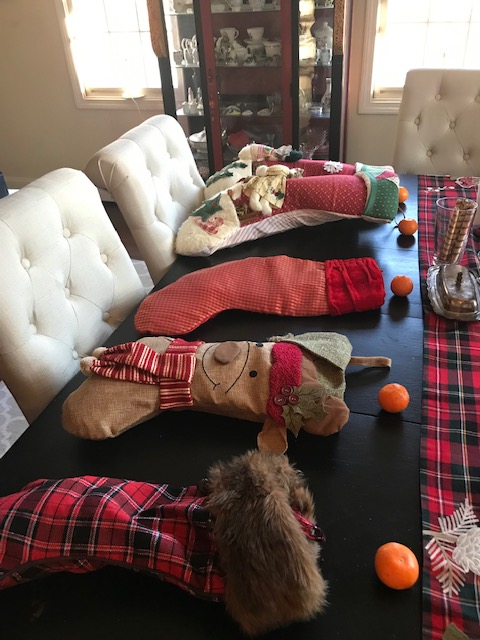 Now don't get me wrong… I'm not trying to paint the perfect Christmas hallmark card for you. We are anything but that. We are just like every other family who lives under one roof going in 20 different directions every day, each with their own sets of hopes and dreams, problems to solve and crosses to bear. But at the end of the day, we love and support each other to the ends of the earth and we really do enjoy each other ( most of the time ) 😉
Now that Christmas has come and gone and the dawn of a New Year is upon us there will be time to indulge in some fun indoor pursuits.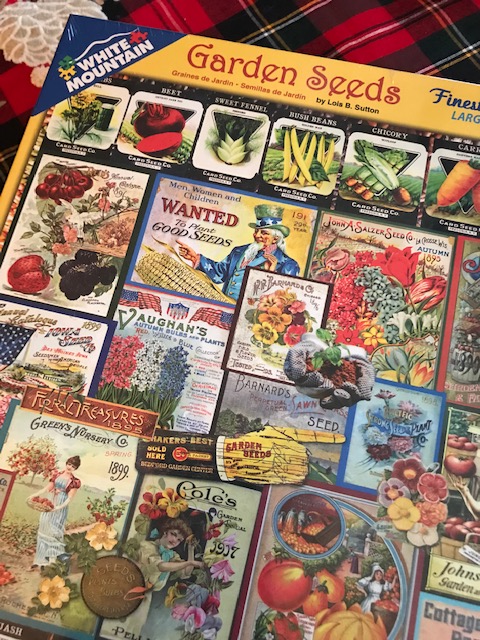 I'm excited to unpack this fun White Mountain Garden Seeds puzzle with vintage seed packet art. This will surely get me in the mood for selecting new varieties for the garden next season! White Mountain puzzles are made in America. They add new topics every month so you'll never run out of puzzles to add to your collection.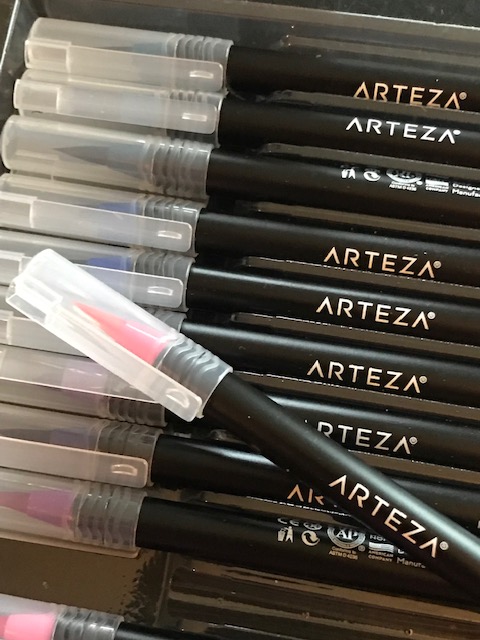 My mom wanted to try the new Arteza Real Brush pens so I got a set for each of us to share on our painting dates this winter. Here's a post from one of our dates with paint last year!
While the garden sleeps, I sleep a little too. I look forward to this time of quiet to reflect on the previous year and align myself with my truest inspirations and ideas for the year to come. One needs quiet to hear your hearts desires clearly so be sure to gift yourself some space inside or out to clear the decks so you'll be ready to go for everything that's waiting for you next year! Just remember, you're the one holding the compass. Point it where you want to go and as always, do it your way because there's no such thing as ONE KIND OF perfect!
Happy New Year!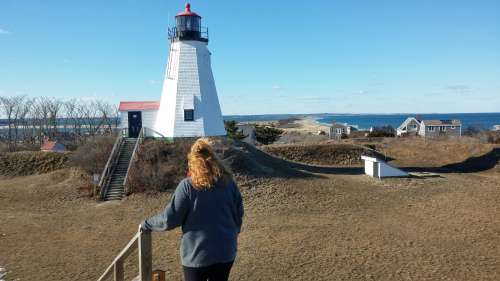 Until our next shoreline visit~ Listen, love, and laugh and laugh!
The Beach Farmgirl
Deb # 1199