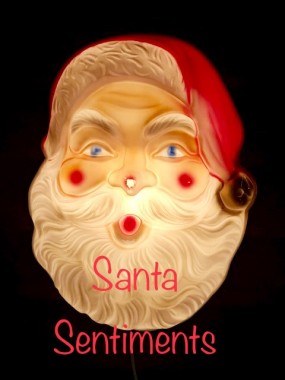 I was recently asked by a fourth grade child if I believe in Santa. My answer was, "Absolutely"! Santa Claus is one of my favorite things about Christmas. In fact, I think we need more "Santa Claus" these days!
Now, I didn't always feel that way. In fact, I was scared to DEATH of the big ol' elf dressed in red as a kid. Who can blame me? We tell kids not to talk to strangers, lock the doors, and then we turn around and make them sit on a stranger's lap who will, on Christmas Eve, let himself in.
My mom would dress me up every December and stand in line, holding her breath that I wouldn't burst into to tears before the photographer could snap a photo with me sitting on Santa's lap. Decades later, my husband and I carried that scarring tradition on with our own daughter. (Audrey lost her fear of Santa around age three, and the photos I have of those childhood visits with Santa are treasured momentos).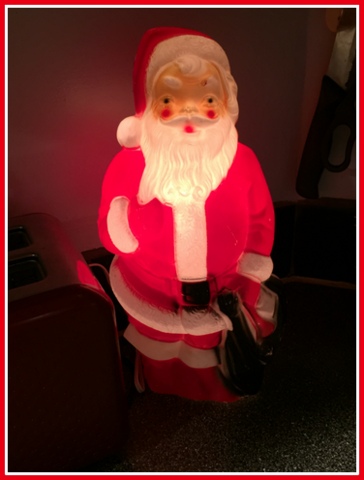 Christmas is my favorite holiday. For one thing, it gives "over-decorators" like myself a chance to really go for it, making every corner festive, fun, and glittery. In my holiday decorating, Santa shows up quite a bit.
But Santa's more than just a decoration. Before elves were on shelves, there was Santa…always watching, reminding us that we should do what's right, to be good and kind. The world could use a little bit more of that these days.
Santa's reliable. He'll always show up on Christmas Eve, no matter what. If the weather's bad, he of course has Rudolph. (He also loves animals! You can tell a lot about a person by how they treat animals!)
Santa is giving. I found the perfect, sentimental gift for someone special this year. I am so excited about giving it, I'm about to burst! (I would share, but that special someone reads the blog)! However, "giving" isn't just a wrapped gift, the gift of friendship and joy is the best one you can pass on!
"Here comes Santa Claus, here comes Santa Claus, right down Santa Claus Lane
He doesn't care if you're rich or poor, he loves you just the same
Santa Claus knows we're all God's children, that makes everything right
So fill your hearts with Christmas cheer, 'cause Santa Claus comes tonight"
          ~Gene Autry
Santa is love. If you believe in him, he believes in you. As an adult, we get to see Santa's magic more than just Christmas Eve. I'll be honest, 2018 is a year my family wouldn't want to repeat. We've had lots of ups, and great things happened, but also have had our fair share of downs, with illness, stress, death and loss. Just this Black Friday, when we traditionally decorate for Christmas, we spent the day at the vet, having to put our beloved pet bunny, Patches, down. The holiday spirit we had felt so strongly the day before diminished.
Christmas spirit returned during the week in a wonderful card- the first Christmas card of the season- that came in the mail from a Farmgirl in another state. There was such a sweet hand-written note inside. It was like a hug in the mailbox – Christmas magic!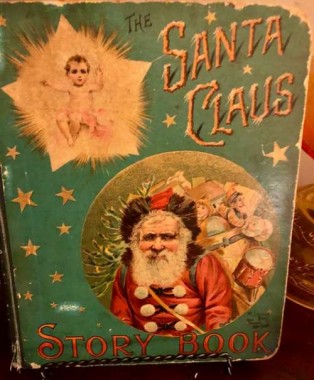 Santa's been around for a long time. Sometimes, he's pictured thin with darker clothing like on the old Santa book I found this summer, published in 1897.
My favorite images of Santa are the ones from the late 1940's to the 1960's.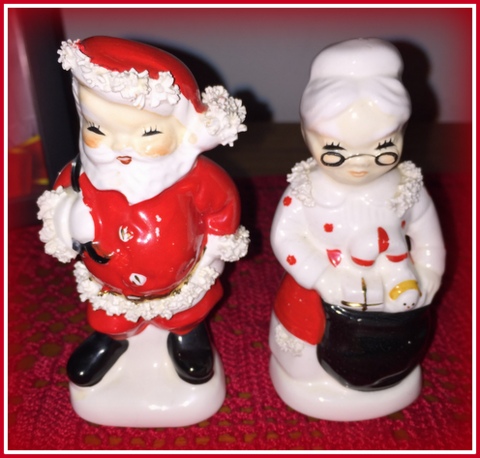 Round, smiling brightly and always jolly, the Santa found in vintage decor has the most charm. The "Coca Cola" Santa is also from that period. How can you not love someone who's always smiling? Happiness is contagious!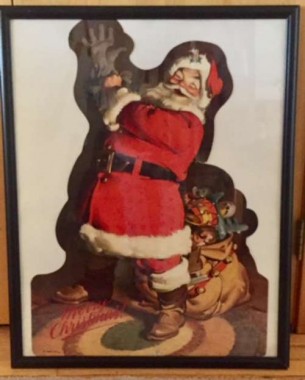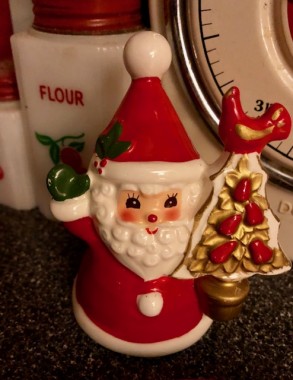 When I see a smiling Santa, I think of happy childhood anticipation on Christmas Eve, the delight of twinkling lights, the silliness of puppy-dog kisses, the joy of finding handwritten letters and cards in the mailbox, the wonder of Christmas through a child's eyes.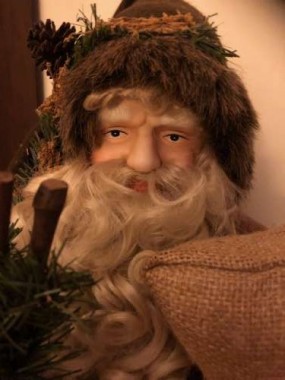 There's woodland Santas, and versions of Santa from around the world, dressed in different colors or outfits, with different names. "Santa Claus". "Pere Noel". "Papa Noel". "Julemanden". Whatever he is called, whatever he's wearing, the jolly sleigh-riding elf, also known as "St. Nick" is recognizable. He transcends cultures, age, and language. He's Christmas magic…friendship, peace, warm feelings of joy, "Hygge"- that is embroidered into the very fabric of the holidays, if we just look for it.
When I was getting older as a child, I'd question Mama if Santa was "real". With an elvish grin, she always answered, "Santa is the Spirit of Christmas".
Santa is the Christmas Spirit alive and well. Believing in Santa is believing in magic, miracles, love and all things good. He embodies what Christmas spirit truly is – happy surprises, spending time with friends and family, being empathetic and kind to our fellow humans, and the simple act of spreading joy. Who doesn't need that?
From my family to yours, wishing you a holly-jolly, joyful and bright Christmas, Happy Holidays, and all good things to you for the New Year!
Until Next Time…Farmgirl Hugs, Nicole