Dear Sisters,
My hubby has been on a Tiny House kick lately and I'm not so sure how I feel about it!
Could YOU live in a Tiny House? Would you live in a Tiny House? Could you, would you?
Seriously, my handsome Yankee is really getting SERIOUS about this idea and I'm getting worried!  I just don't think I'm ready for that?! ( laughing out loud )  While it's true that we already have a tiny house of sorts if you consider the fact that our beach cottage is under 400 square feet, it sits on a foundation, not a trailer with wheels.  Furthermore, it's a three season cottage built and set up for spring, summer and early fall living. Once the temperatures drop, the water is shut off and it's closed down for winter. It's perfect in every way for three seasons and it never has to move to another location.
Don't get me wrong. I absolutely LOVE the unlimited ways you can design a tiny house and I think it would be a super fun project. In fact, I think each of our young adult children should consider tiny house living as a home base while they navigate their 20's getting established in careers and figure out where they want to settle down.
We've even tossed around the idea of having one at the back of our lot at the beach for over flow visitors. The " kids " are older now and with significant others potentially on the horizon, privacy and space will be an issue at some point. A self contained tiny house would be the perfect solution. We already have a name for it! It would be called The Horseshoe!
Last month the Tiny House Festival came to a town near us and after all the dreaming, reading, googling, you tubing and HGTV-ing about Tiny House Living the writing was on the wall. My mom and our daughter went too and I knew my farmgirl sisters would be up for a look see, too!
Not only were there Tiny Houses in all shapes, sizes and styles, but there were converted buses, yurts, and campers, too.  Most were complete and you could go inside. Some were even actual living quarters that people had hauled to the festival to show how they really live day to day.
This Fire Station inspired Tiny House was so cleverly done but was for looking only.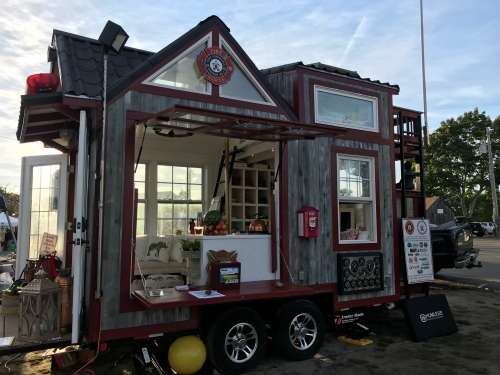 This one came complete with a fire pole, a charming sleeping loft and twinkle lights.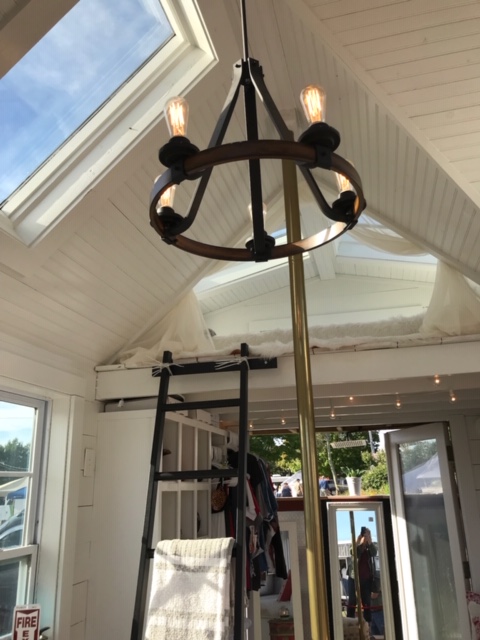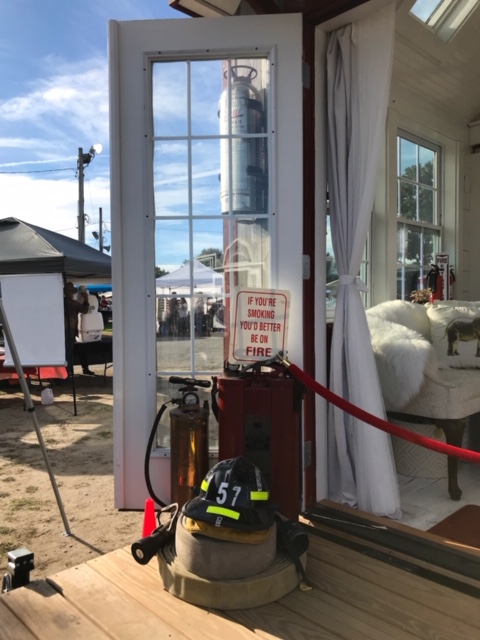 I'm not sure if this one is functional or if it's just used for educational purposes. No one was on hand when I walked by.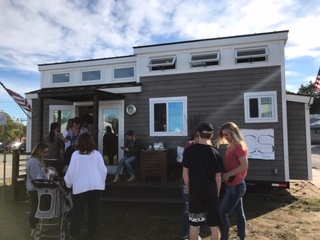 It was interesting talking to the different manufacturers of each Tiny House. They all shared a passion for tiny living and were full of info about the particulars such as where to find out about the legalities of parking a tiny home in your state, taxes on tiny homes, and most important, composting toilets. Being self contained is a luxury in a tiny house!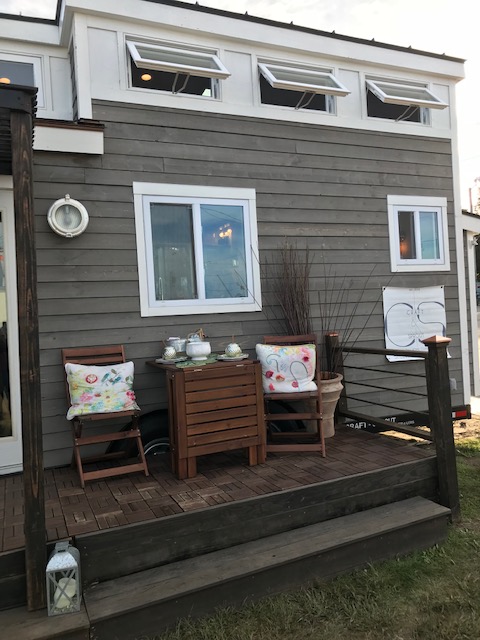 Some even come with porches!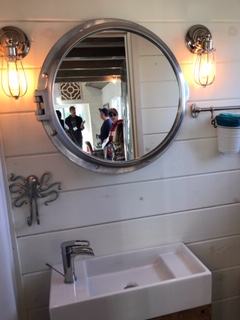 Small fixtures are key in most tiny homes. It was fun to see all the clever solutions designers had come up with.
This gypsy caravan reproduction was designed for an actress who works in historical theater.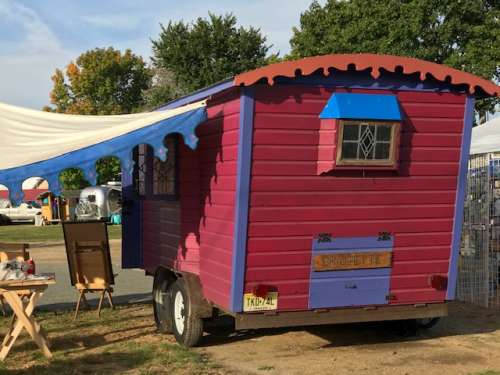 She travels to different festivals which are held at various fairgrounds and needed a private place to change in and out of her costumes and rest in between shows.  The inside is ornate and beautiful as you would expect a gypsy caravan to be!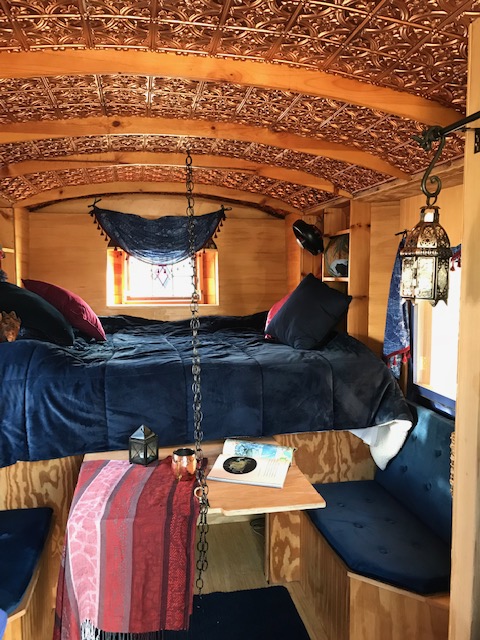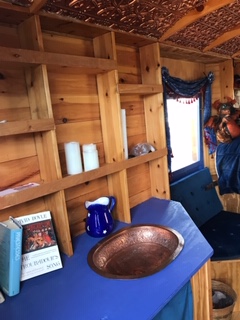 I didn't get a photo of the outside of this next one. It was made of metal and painted Aqua blue. The sleek modern theme was carried out on the inside as well. Nicolette thought this one felt like the inside of a grown up Barbie RV. I had to agree! Or a tricked out airplane.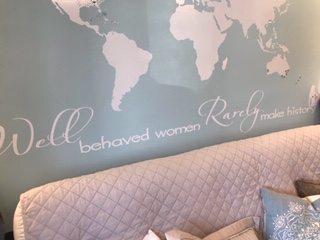 These wall words say it all, don't they?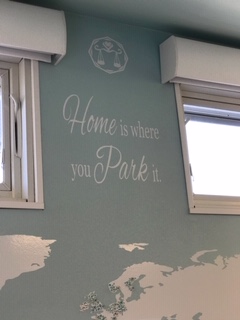 Classic Tiny Home motto.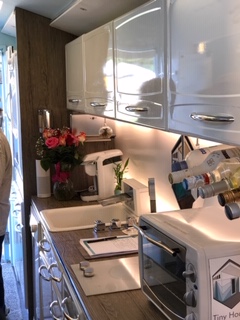 The interior of this one was sleek and modern with genius storage solutions. Someone was living in this one, too!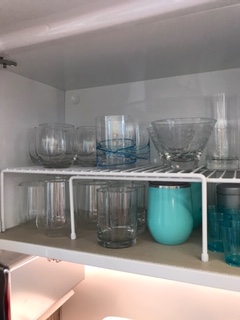 Pull out storage with washer and dryer combo!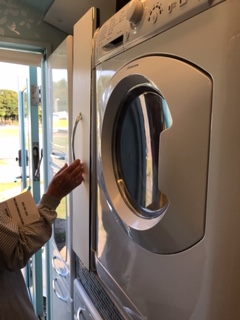 A rain head shower and dispensers for hair and body products so you don't have bottles cluttering up the space.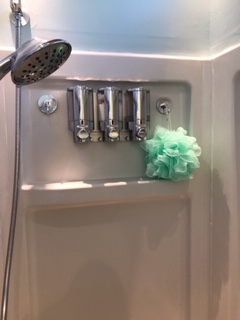 This reminds me of a bathroom on an airplane! It was slightly bigger, but not much!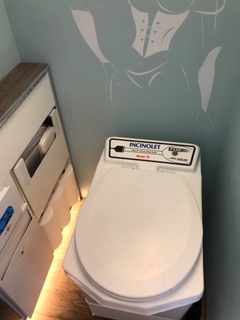 Pretty towel storage and plenty of natural light streaming in.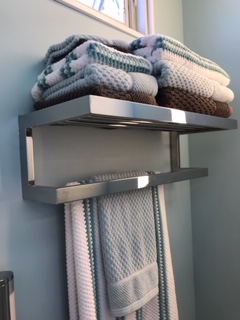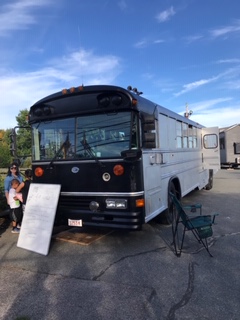 This converted bus was one young couples first attempt at Tiny Living. They were selling it to build another one that has more head room. I guess they don't like ducking.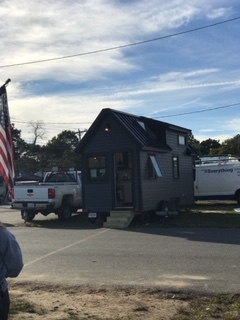 Here are my thoughts about Tiny House living after attending the festival and giving it a good think.
I think I could do it, if I didn't have to move it! I'm a farmgirl not a nomad. I need land to call my own to feed my soul and inspire my work. I would need out buildings for flower farming tools and a floral studio to teach workshops. ( I'm currently designing one for my backyard ). Ideally what I would love is about a 1200-1300 foot barn for living space that would accommodate our family gatherings as it expands with additional outbuildings, or even tiny houses! Could be a great Air BnB property for those who want to experience staying in a Tiny House.
I'm still not sold on a full time gig in a tiny house but just to prove I'm open minded and can see all the benefits let's do the pros and cons.
Pros:
Zero mortgage ( or a very small payment if financed)
Less space to maintain
Lower costs to operate and maintain
Less material possessions to take care of
More mobility
More Freedom
Early retirement
Save money
Small carbon footprint
More time to travel or pursue a second career or hobby
Cons:
Finding a host ( if not a land owner )
Finding affordable, permanent land
Subject to monthly fees at RV parks or mobile home communities
Limited space for guests, family, pets, and hobbies.
Okay, well the pros seem to far outweigh the cons and for the right person and mindset I think it would be quite rewarding in many ways to simplify to this degree, but I'm still not sure I could do it full time! I hope you enjoyed the tour!
Could you, would you, or DO YOU, live in a tiny house?
I'd love to hear YOUR pros and cons in the comments below!
Check out these links for more Tiny House info and inspo!
Tiny House Hosting Facebook Group connects land owners with tiny house owners.
Find a Tiny House Festival near you!
To see more of these amazing Tiny Houses, here's a video link for you!
Until our next shoreline visit~ Love where you are and the ones your with! That's all that really matters.
Beach Blessings and much love!
Deb #1199