[Previous Rural Farmgirl, June 2010 – January 2012]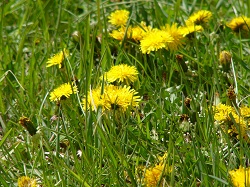 WOW! It's finally here – the dandelions and robins are the harbingers – but this spring is different on our farm, different than any other in so very many ways. Things come and go, and this year there are some biggies.
First of all, however, over the past few weeks I haven't been around here much – and for that, I truly apologize. I love writing and reading your comments and am so encouraged by you all and what you're doing – AND that you care to tell me about it.
First, the biggest change we have had is that a week ago, my dear "Auntie" Margaret moved up to Salt Lake City to receive hospice care. I have hardly been able to stand it – going through her things; making sure that the arrangements that she wants are all set up right; feeling the emptiness of not having her here… If you haven't been introduced to Margaret, you can read more about her here: http://www.maryjanesfarm.org/RFBlog/default.asp?Display=77 . She is the last living woman Marine veteran from WWII – fitting to be thinking of her this Memorial weekend.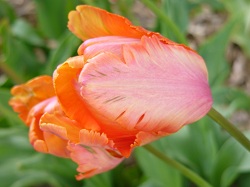 We also lost Doc, our beloved horse, a few weeks ago. He has been William's constant equine companion for a couple of years now, and there is something so, so, heartbreakingly difficult about watching a 7-year-old say goodbye to an old horse. Faretheewell, old horse. Nope, I'm not sure there will ever be another Doc, but, we are starting to look for another kind, gentle beast for him. (If you're in Utah and have a good well-trained horse for a 7-year-old, please let me know!). I'm sorry about the overexposed photo below, but everytime I try to "fix" photos, I end up with results worse than the originals. I AM learning, though!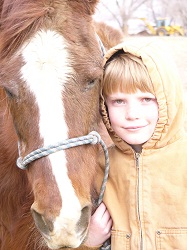 In the midst of all of the sadness of losing those we love, we have also found tremendous joy in the small beauties of everyday on the farm and in a small town. It's wonderful how sustaining the small, predictable parts of daily life can be.
Now, we've had a lovely addition to our family over the past month, too. I would like you to meet Henry, our new little pup. He is absolutely the most incredible thing around, all soft and floppy with too-big-feet and a really soft mouth (except for those little puppy needle-teeth *OUCH*).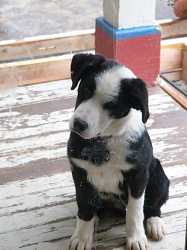 And you know those owls I was talking about a while ago?
Well, I'd like to introduce you to one of their two owlets, which are now about the size of fluffy footballs with amazing yellow eyes. We now have two adults and two babes living in our trees. How cool is that?!?!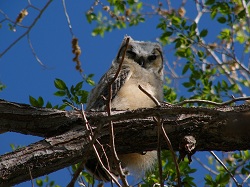 Spring is finally breaking through the wet, cold, wet, wet, wet weather we have been having here (and not just here…sending love and farmgirl strength to those for whom the spring has brought flooding and wildness).
The robins are going in full force around here – nests and eggs EVERYWHERE! William found this one and has provided you with these photos: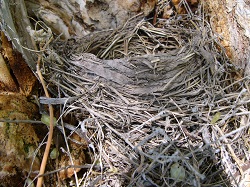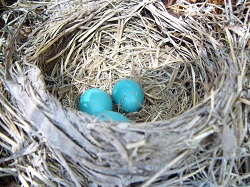 There is a saying that sort of "goes" in our family. I think it started with my great-grandfather, but I know for SURE that my grandmother and mother say it to me when I get in that whiny and somewhat depressed mode. "Out of emotion and into motion." Yeah, it know, it's sort of dorky, and yes, it's probably not too great to stuff a WHOLE lot of emotion, but there is also something so wonderfully energizing…uplifting…purpose-giving about doing the thing in front of you. When you've finished that, look around and do the next thing. When the blues hit, let me tell you from experience, opening your eyes and doing the thing in front of you can bring you back a sort of "can-do" feeling that just isn't that easily achieved by anything else I've found.
So, the gathering of dandelions has begun – jelly is on the way! The spring cleaning is in progress (albeit slow progress!). The family is fed, the animals are happy and the garlic is growing like a weed, which, incidentally, we have a bumper crop of this year. Weeds, as well as garlic! The skies are clearing every now and again, and I find myself humming "Peace like a River" when my mind is at rest. All is right with this little section of the world.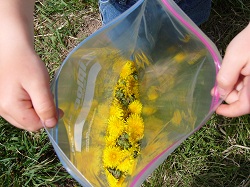 Wishing you all the newfound joy of the springtime – and remember, if you get stuck, bothered or upset, do the thing in front of you. Even if it's cleaning the kitchen floor, and sometimes ESPECIALLY if it's cleaning the kitchen floor!
Much love and farmgirl hugs,
Libbie