[Previous Rural Farmgirl, June 2010 – January 2012]
After a couple of months of being so wrapped up in what's going on INSIDE the farmhouse with my family, I was amazed, AMAZED, when I went outside for a walk and noticed that the entire yard had gone to the birds…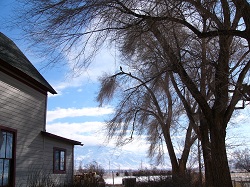 First off, THANK YOU so very much for all of your comments, good wishes, prayers and advice. I read every single one of the comments, and I feel so supported by you all – and I also am one very lucky gal to have all of you feel as though you could share your experiences and expertise with me. It really buoys me up on those days when I feel like someone has popped my balloon.
Now, for the birds part. When I went outside the other day for some fresh air, I looked to the west of the front walkway, and what did I see?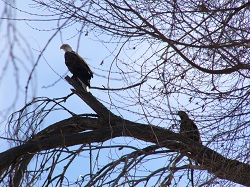 Seriously. Check this out. They are the same birds you see in the first photo, but up closer. It's a bald eagle and a juvenile bald eagle. Incredible. Right above our home. Ummmmm. Symbol of strength? Solidity? Just what I needed? Yep. All of that.
But, you say, where is the other parent, if that's a juvenile? Well, let's just take a walk to the other side of the field and look back at the house: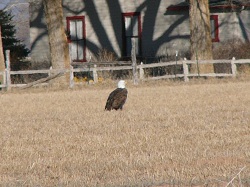 Unbelievable. Those eagles are so very large. Much larger that I had thought, and much larger than they appear when they're flying.
So, I went on my walk, down to the old sugarbeet factory and back – it's about a mile each way, and settled in for the day feeling really lucky to see these majestic birds that live closeby. Somehow their message of strength and freedom and the fact that they had a little one with them seemed to be something that I could gather strength from. I felt really good, solid and optimistic.
But wait, farmgirls, that's not all… Later that evening, I went out the front door to get a breath of fresh air again and looked to the southwest —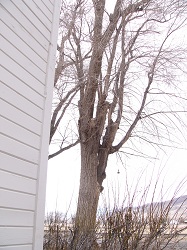 It's hard to see at first, isn't it? Well, here's a closeup…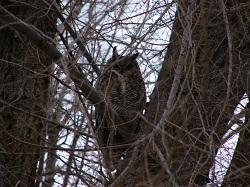 I could hardly believe it! A great horned owl, too? AND, to his right, but not in a place that I could photograph it, is its mate. TWO of them!!!
I am so very proud to have a farm where these wild birds can feel safe and at home. There are plenty of rodents, because we have grain storage (ick, but it's true), and so they are assured of little snacks here and there no matter how bad the weather gets.
And, hey, now that I think of it, we haven't had any mice at all this winter, but I'm starting to get worried about the new lambs that we are expecting at the beginning of March. Hmmmm…. I guess I'll cross that bridge a when we get there.
So, here's to finding strength in nature, and to making a home hospitable to all…
And tell me, have you had any interesting sightings in the natural world lately?