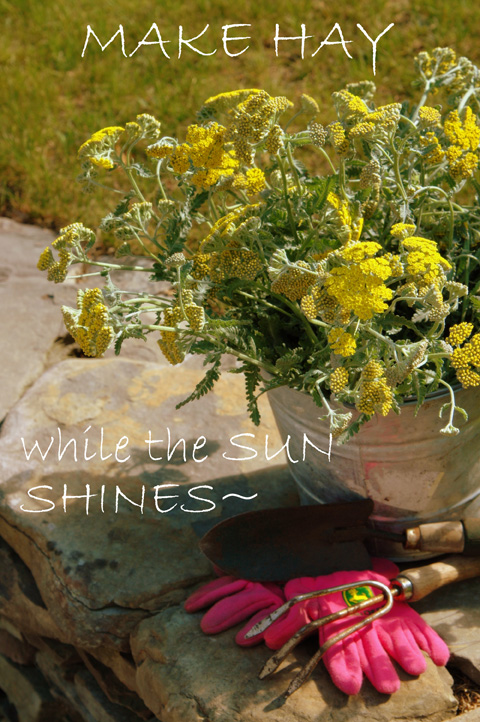 Boy howdy, it's been a busy May here at the

BEACH FARMGIRLS

house near the sea. As the old saying goes, we've been "Making hay while the sun shines! ".  Whew! It feels great to sit down and " pen ' this post to you today! I bet many of you have been

"hard at play"

in your springtime farmgirl endeavors too! I hope you don't mind another post about FLOWERS! I haven't been anywhere except the nursery and my yard for weeks! Wanna see the latest in my

Backyard Flower Farm

? Grab your garden clogs and let's go see what's comin' up!!! I promise a sweet treat at the end of the tour….
Before we get too far along, I need to get something off of my chest. This flower farming business is HARD WORK! Planning and dreaming about farming is EASY! Shoveling 9 yards of loam/compost into a wheelbarrow and hauling it over to my raised flower beds IS NOT EASY. It's a good farmgirl workout though even if I was mighty sore afterwards. I'm not 22 anymore girls! I turned 50 last year remember?! I have to be sure and stay hydrated, wear sunscreen, a hat and break for a light lunch while I REST IN THE SHADE! Those dawns to dusk days in the garden are a thing of the past. So, while I learn to nurture (and nourish) my little seedlings and sprouts I'm getting a lesson on nurturing ME too.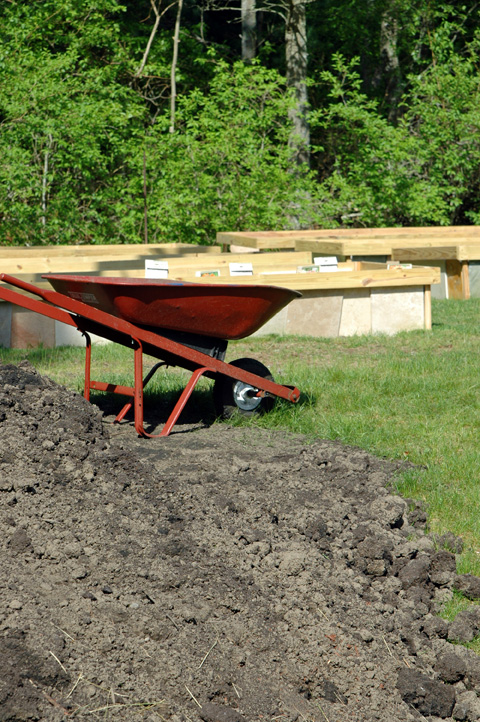 With every shovel full I placed in the wheelbarrow I imagined what each bed would look like spilling over with blossoms! Old fashioned Cosmo's, Bachelor Buttons and Poppies blooming alongside the bold and tropical bright petals of Dahlia and Zinnia. I could see the Drop Dead Red Sunflowers dancing over my head with a bright blue sky behind them. I even dreamed up a few names for my homegrown bouquets! I felt happy thinking about the joy my backyard blossoms will bring to people this summer and fall. I've fallen deeper in love with gardening since I began this adventure! I'm looking at EVERYTHING in my garden as possible bouquet stars and fillers!  See, I even daydream while I work!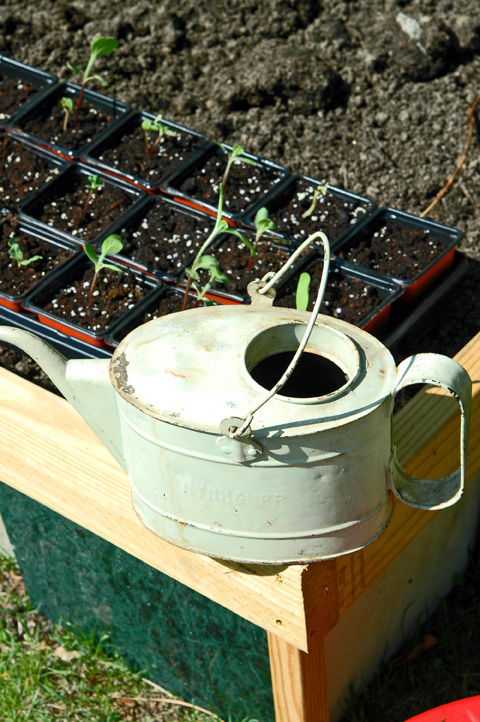 Here in my neck of the sandy shores, Memorial Day Weekend is the GREEN flag for planting!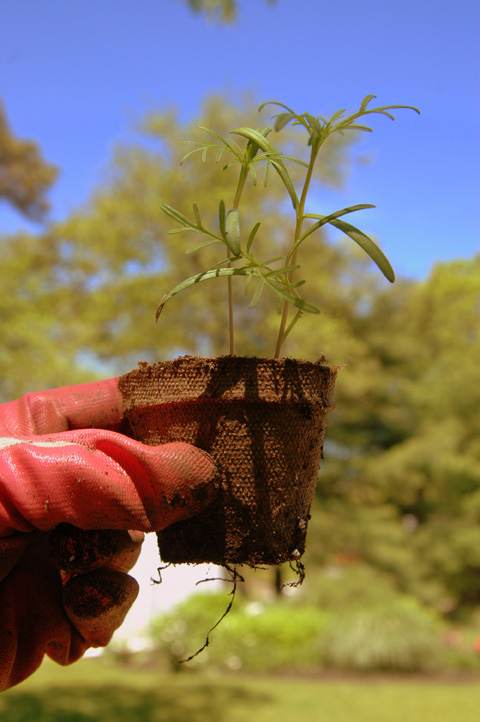 Just in time too because my greenhouse grown Cosmos have outgrown their seed pots already!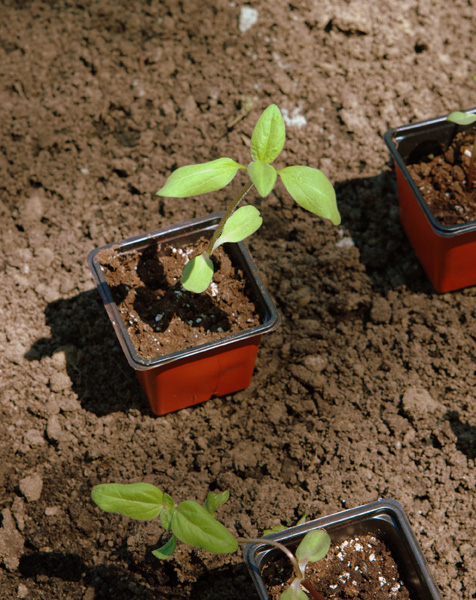 The sunflowers were ready for transplanting too. As I tucked each seedling into their " new beds " I said a little flower farmgirl prayer. GROW BABY GROW! YOU CAN DO IT!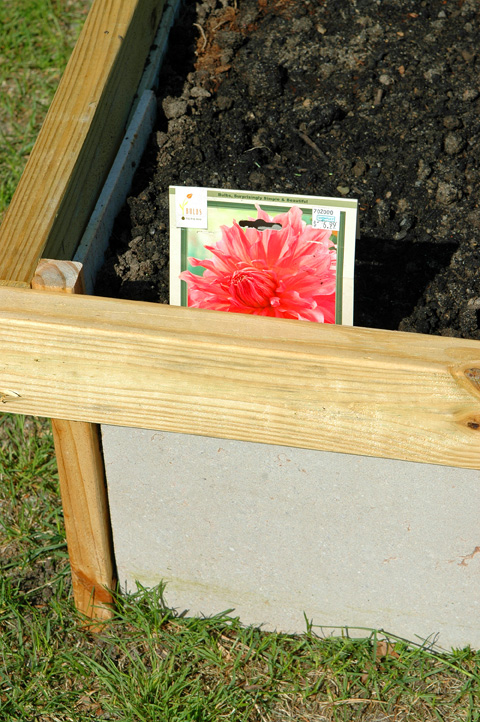 I looked up how to plant Dahlias on you-tube! Even with the description on the bag I still couldn't figure it out! Several of them are already sprouting green leaves up through the soil!  Pray none of them are in upside down!
Don't feel too badly for me sisters, I did have SOME help with the shoveling!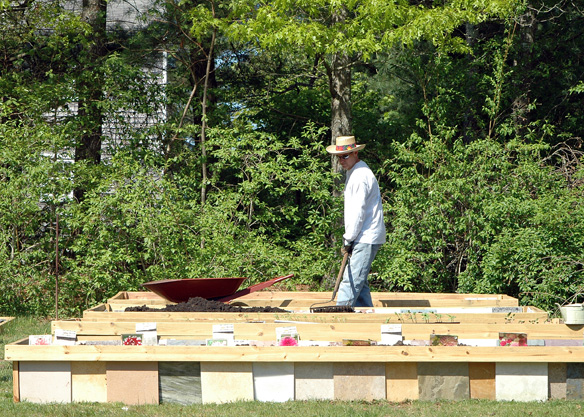 Here's my beloved farmhand working hard in the field !  I think he took pitty on me when he saw how stiff I was the day after I filled the first two of eight raised beds on my own!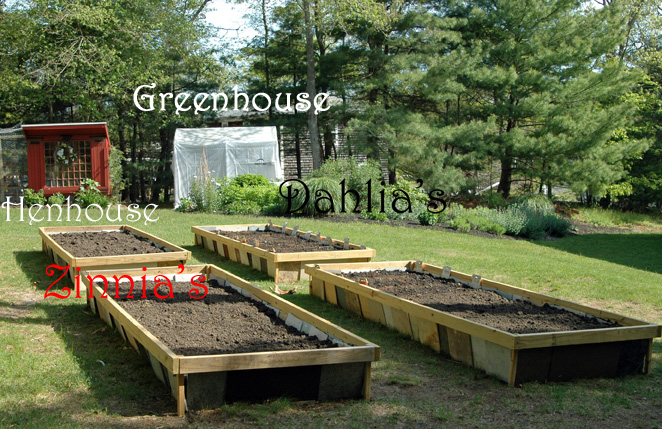 Six of the beds are filled. Only two more to go! Oh, have I mentioned what we built the raised beds with? The frames are 2x12s' and the sides are reclaimed natural stone tiles. My hubs used to work for an international natural stone company. He would bring home the discontinued sample tiles as he picked them up from showrooms and retailers. He worked for that company for ten years. That should give you some idea of how many tiles we had/have in our basement! I used to rib him a little about his dream of building a castle out of all that stone.
But, once again his " stuff " has come in handy for one of MY projects. When will I ( Miss smarty pants ) learn?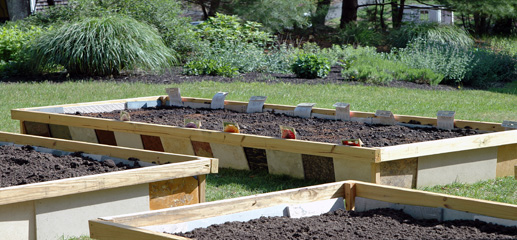 I've planted Dahlia's in the front two beds where they'll get the most heat and sun. Zinnia seedlings (and seeds) will go in the two behind them. Still sprouting in the green house I've got Pacific Giant Delphinium, Choco Sun, and several varieties of tomatoes. Some for here at home and some for the cottage garden!
Here's a little peak at some of the other things I've planted. I managed to get my shed window box planted!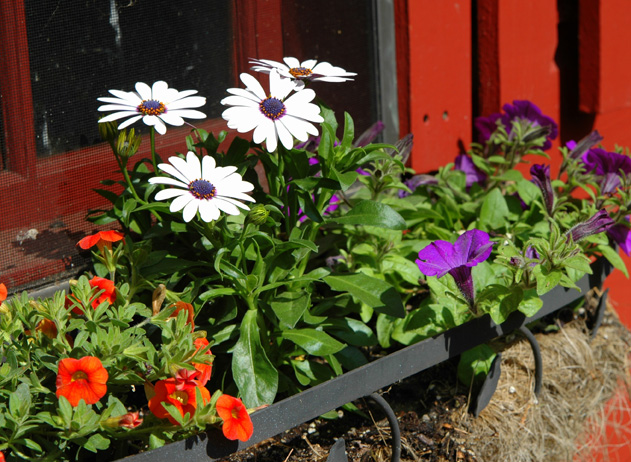 And I've added some Knock Out roses to my established border!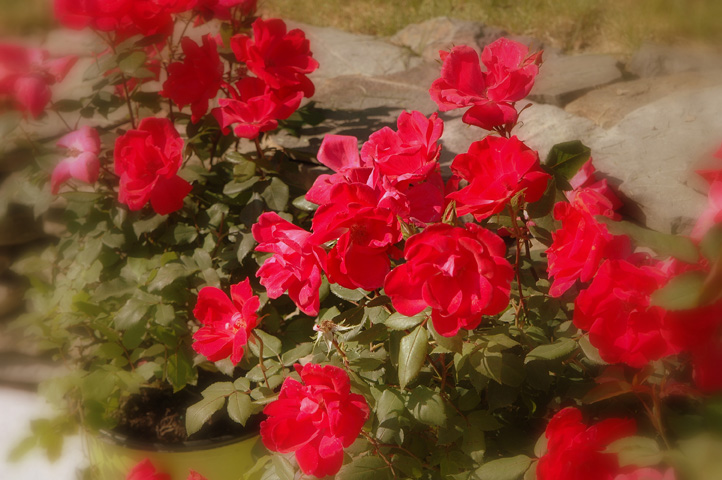 Oh, they smell so SWEET- A -LICIOUS!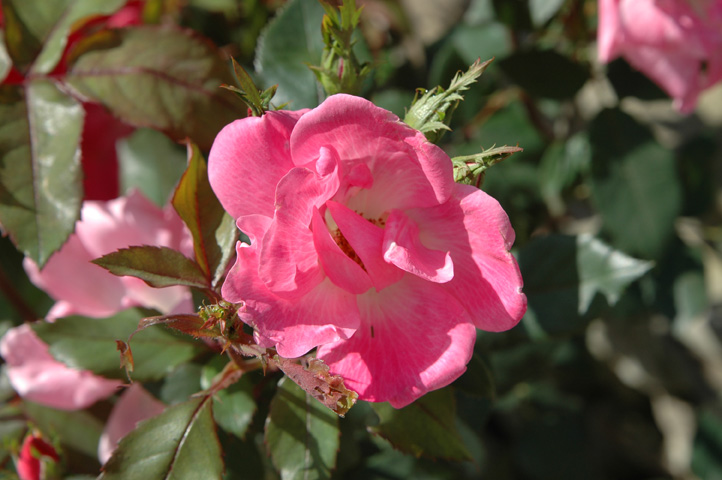 Speaking of sweet, I promised you something at the end of the tour didn't I?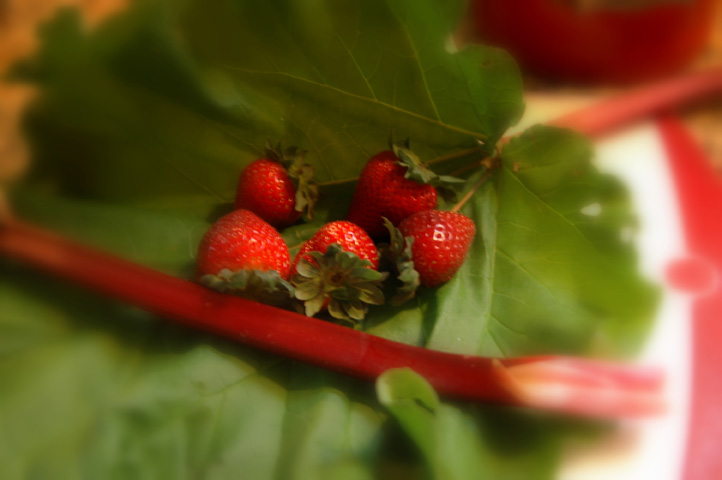 Try some of my homemade Strawberry, Rhubarb, Date Compote drizzled over vanilla bean ice-cream made with our very own homegrown rhubarb!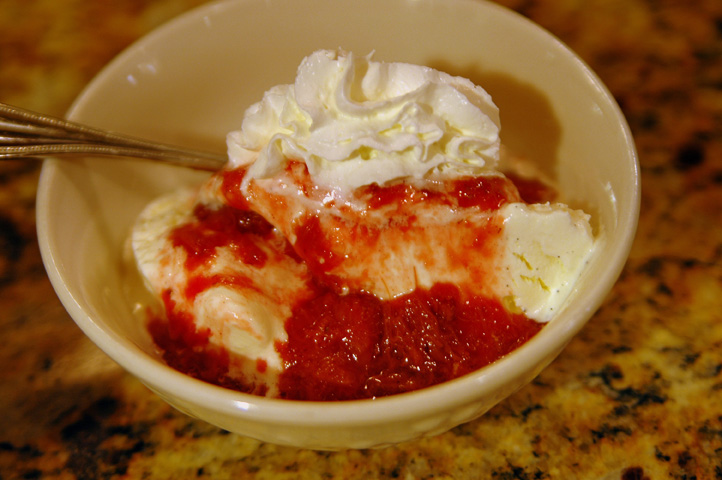 This is a simple and delicious dessert; perfect for your Memorial Day Weekend cook-out!
Strawberry ~ Rhubarb~ Date~ Compote
 2 cups chopped rhubarb
2 cups sliced strawberries
4 dates chopped
1/2 cup sugar
1 teaspoon vanilla
2 table spoons water
Mix fruit, sugar and water in a saucepan. Bring to a boil then lower heat to a simmer stirring occasionally for 10 minutes or until fruit is softened. Add vanilla.
Serve warm over vanilla bean ice-cream, pound cake, waffles or pancakes!
* For a patriotic touch top with blueberries in honor of the brave men and women have served and serve our great country. It's because of THEM we can MAKE OUR DREAMS COME TRUE in A FREE COUNTRY!
Before I sign off and pack for the beach I have to know… Did you all enjoy meeting GIRL GENIUS Kimberly Ryan of Paris Rags in the June/July issue of MJF?  I sure did. I absolutely fell in love with her romantic farmgirl designs! I hope you are enjoying the Girl Genius features! I've gotten the word there will be more coming your way!
Have a wonderful and safe Memorial Day sisters! Be with those you love and remember the ones who have gone.
Until our next shoreline visit~
BEACH BLESSINGS and happy planting!!!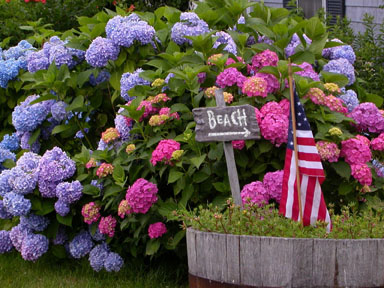 Much love,
Sister Deb # 1199