[Previous Rural Farmgirl, June 2010 – January 2012]
Of all of the things I am thankful this Thanksgiving, my loved ones top the list. They are my lifeblood. Second on the list is my home. Not just the farmhouse I call "home," but the landscape in which I live. I moved down here to farm…and to be close to the southern Utah red rock sandstone. They are both in my blood – and sometimes I get so caught up in one that I forget the other. So you've seen some of the family and the farm – now, here's some of the surrounding land. Here is some of "my country."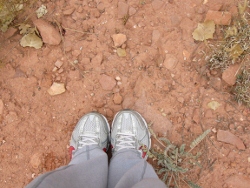 "My Country." We all have places where we feel the most at home – not our physical homes (that's a given, I hope!) – but the landscapes that are homes to our souls. For some, it's the forest; for others, the sea, the mountains, the humid jungles, the icy north or even a big city with all its excitement and bright lights. It's such an individual thing.
For me, the home of my soul is the desert of Utah. The red rock sandstone, the almost surreal river gorges and the animals and plants – both narrowed down to their very most essential, for that's what it takes to survive in the desert. Being "out there" reminds me of how little, really, my soul needs to thrive. In fact, every time I go into the desert, I'm reminded of how much I need to clean out my mind and my home – the spaciousness of the huge vistas leaves me feeling open to so much – creativity, beauty and, as my little Arthur said recently, "a whole stack of love." Unburdened. THAT'S the word I was looking for. Red desert vistas leave me feeling unburdened by anything.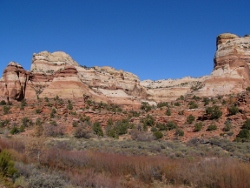 So, inspired by a need to reconnect with our natural world, we packed up the little ones and headed out for the Grand Staircase Escalante area – to a lovely little hike toward Calf Creek Falls. Now, while the falls were the "stated" destination, the actual hike turned out to be the real destination. When you're adventuring with kids, you move at their speed. If you can let go of the need to "get somewhere," it turns out that the speed of a child is always the right one. Just slow enough to really feel the magic…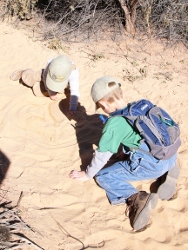 I had this feeling it would be one of the last times we were able to get out without bundling up too much this year, and they day met us with a sunny smile. Natures playground is incredible – the sandstone is out of this world – it looks almost "soft" the way it has eroded into windows, bridges and arches – the ones in Calf Creek are just child-sized – perfect for peeking in and out of.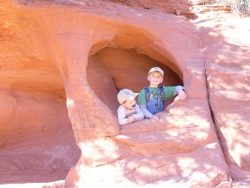 And as a Thanksgiving time present from the world, just as we were nearing the parking lot and getting ready to head back to the farm, we were graced by a little flock of wild turkeys. How amazingly appropriate and so VERY cool!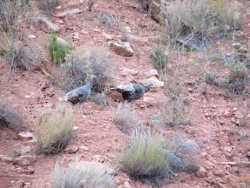 And by way of Thanksgiving, I want to thank all of you for sharing my rural escapades – and responding as you do. What more could a farmgirl blogger want? I am so privileged
Much love, gratitude and wishing you a vacation (even if it has to be in your mind right now!) to wherever makes your spirit sing…
Libbie