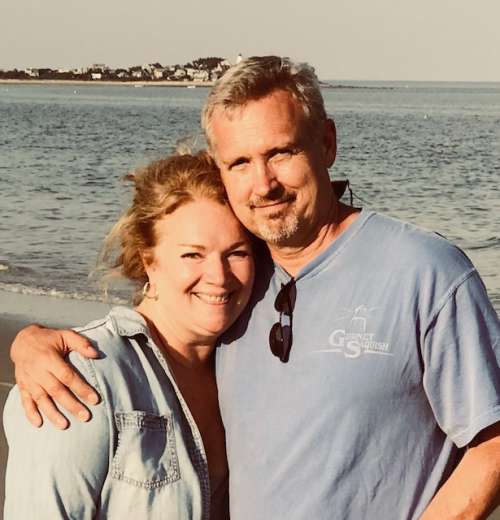 Dear sisters,
Welcome to the beach! My handsome Yankee and I have been busy with some fun and   necessary cottage updates we're anxious to share with you! Now that beach season is F.I.N.A.L.L.Y. here we can relax and enjoy the rest of the summer project free, for the most part.
If you're a New Englander you're probably familiar with Shingle Style- Architecture.  Shingle style architecture began as a design trend in the 1800's but it was the larger applications on large Victorian style " seaside cottages" that made the style stick. Today, most suburban ( and summer) homes on the east coast have some shingle siding on them. Our seaside cottage is far from being as grand or stately as the original homes but, 3 sides of its 16 x 23 foot frame are covered in them. We've been saying for a few years now that it was time to replace them. Some had simply gone missing, others were beginning to warp and some had just worn away right down to the wood siding underneath. Our guess is that they hadn't been replaced on the back of the cottage since the 30's or 40's when the cottage was first built and they looked like it! ( see below) Cedar shingles stands up to moisture, wind and salt spray incredibly well. You can buy them natural and untreated, pre-stained and they can be painted.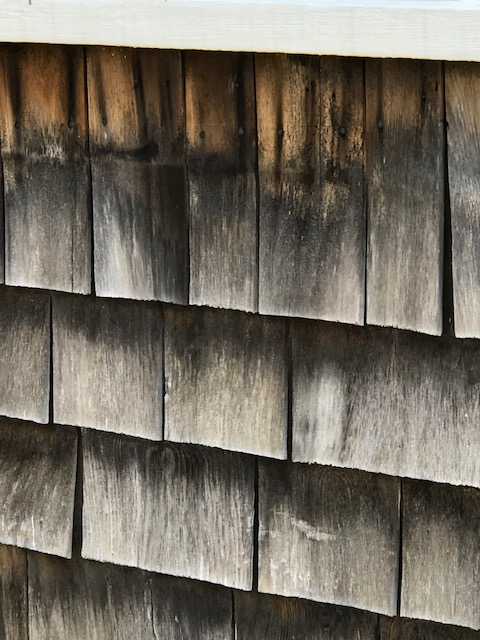 My hubby had never done this kind of project before so he did quite a bit of research on YouTube beforehand. Any project at the beach takes double the time due to being at least an hour away from the nearest hardware store and all power tools must be run on a generator or battery pack.  Remember, we're off-grid out here!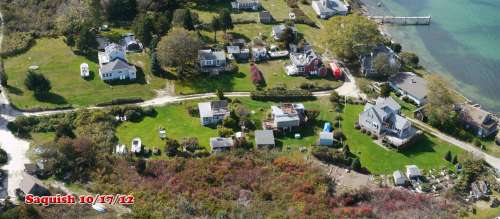 He and our son worked together to get the back of the cottage re-shingled just in time for our first renter this season. I love how cheery and happy it looks now! Between you and me, i wish it would stay this color forever…Sigh. But the wind, rain and salt air will leave their mark and before long it will start to fade, but the shingles will do their job of protecting our little slice of heaven for at least 30 years. When the job was done, my hubby happily announced that he would never have to replace again them in HIS lifetime. Our son was equally happy!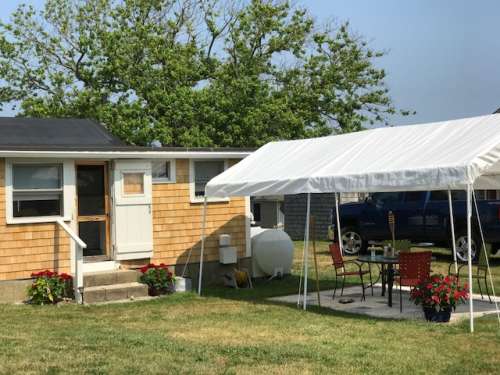 The stone patio ( a custom job by my hubby) and car port cover were new additions last season. Everyone who stays loves this new area. We tried other types of covers and the wind just carried them away. This car-port cover is sturdy and easy to set up. We take it down around mid-September when hurricane season starts. Before the patio we had to try to find a flat spot on a very bumpy lawn for tables and chairs. Now this space this feels like true luxury!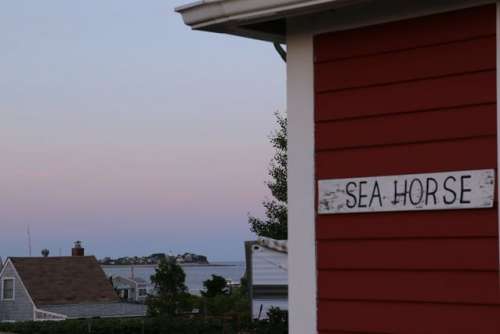 The front of the cottage has been red for several years and I'm feeling like lightning things up a bit. Nearly every other cottage in our community is some shade of gray which we are staying away from. We've already chosen the new color which I'll reveal next month! Wanna take a guess what it is?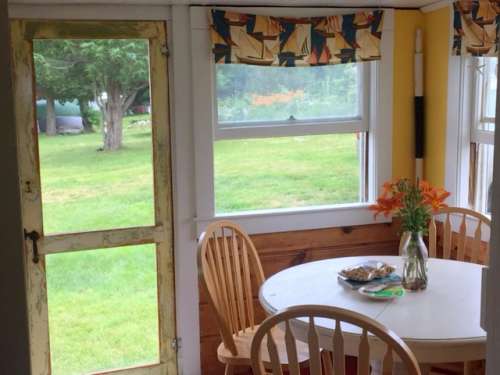 Not much has changed inside this year except a couple of new accessories to compliment the retro/vintage cottage vibe we have going on.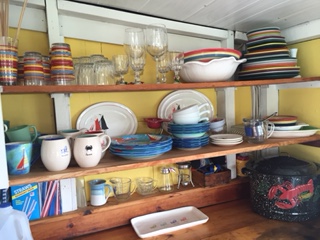 We've had different clocks over the years at the cottage but they don't seem to last long  and most of them have been noisy.  I've had my eye on one of these retro inspired Infinity wall clocks for a while. It's quiet as a church mouse at Sunday service and looks right at home in the cottage!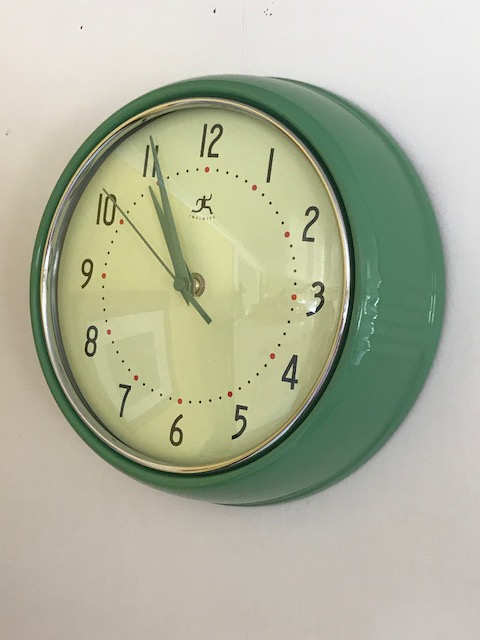 We were also in need of a new kitchen timer. I liked this jazzy little number from Kikkerland.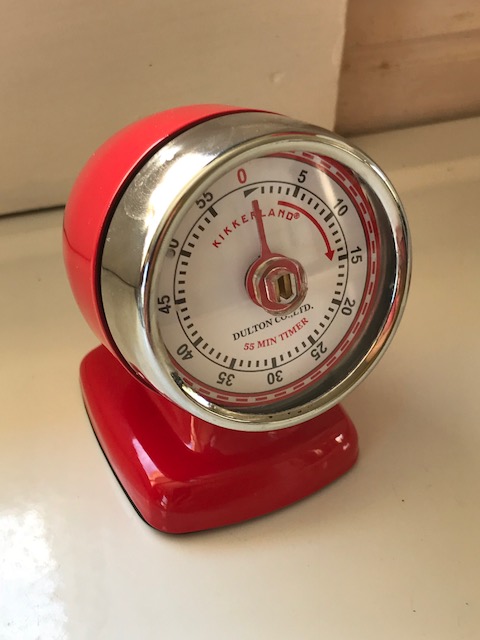 Our returning seasonal guests have been enjoying the cottage this summer and that always makes us so happy! Some have young children who get to experience life by the tides schedule. With no TV to distract them families can reconnect by the sea and return home feeling refreshed and loved with a new appreciation for things like a hot shower and an electric dishwasher.
Now it's our turn to go and enjoy the benefits of our hard work.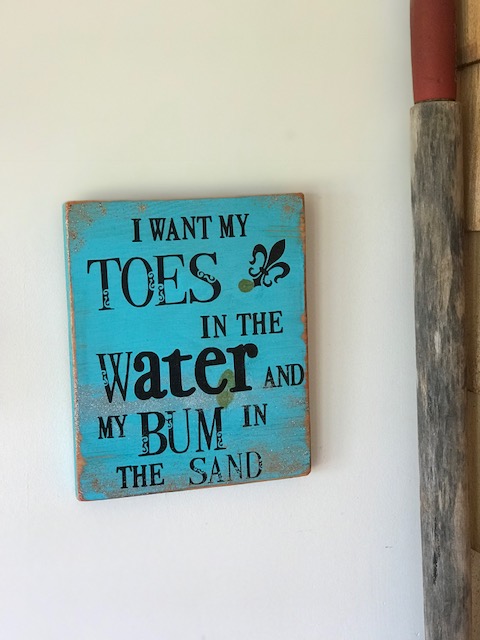 We escape to the beach around the same time each year so my hubby can celebrate his birthday there. I don't think he's missed one in 30 years! He'll raise the flag every morning after his walk and before we have coffee together. ( I'm a sleeper-inner on vacation )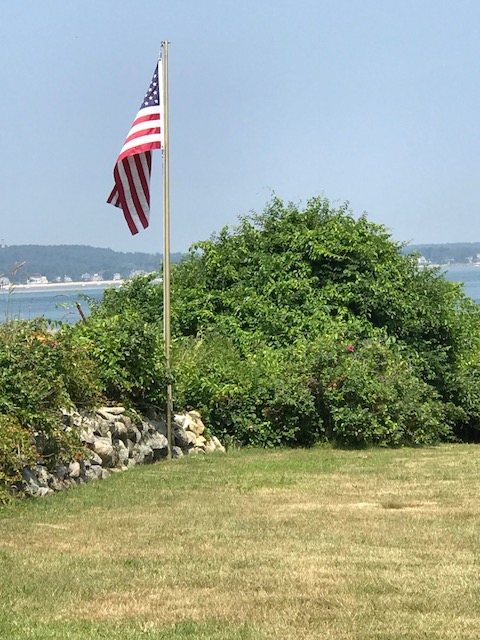 Then he and Max will join me for a walk later on when the tide goes out.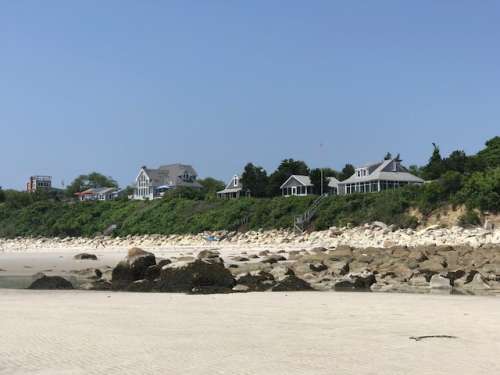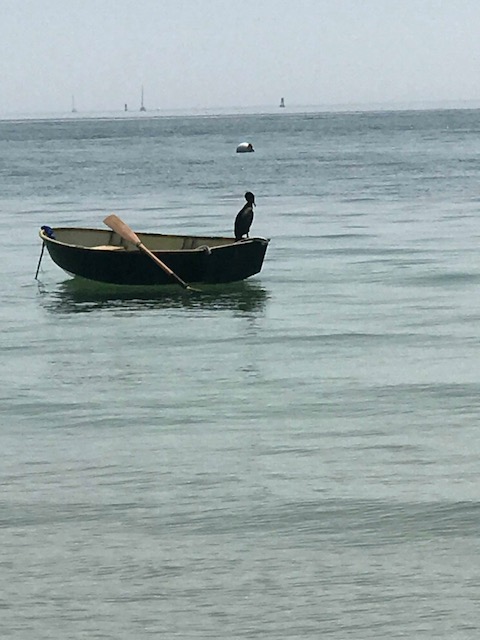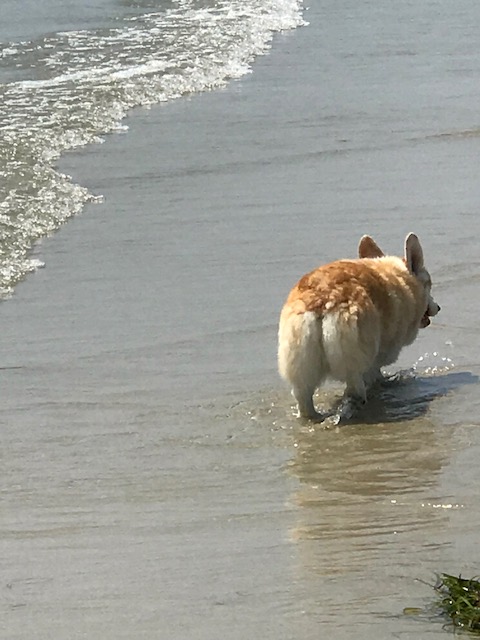 Our " kids" now 20 and 22 join us as their work schedules allow. They love to claim their favorite futon on the sleeping porch. They get the best breezes out there!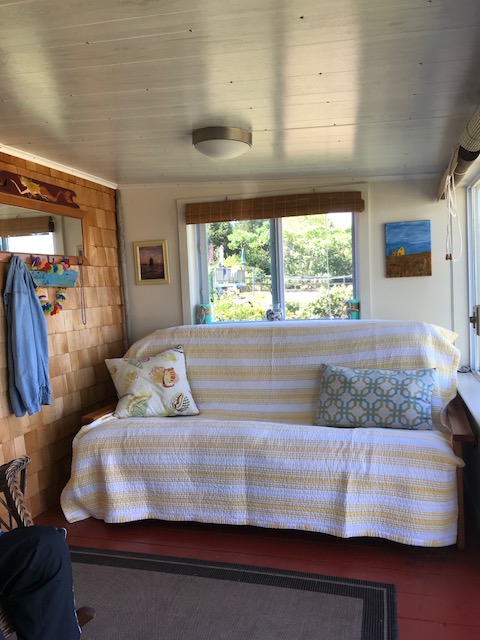 There will be days for kayaking, reading, games, talking, laughing and visiting with neighbors.
We'll try new recipes, listen to music and watch the sun set. Slowly the " real world " will melt away.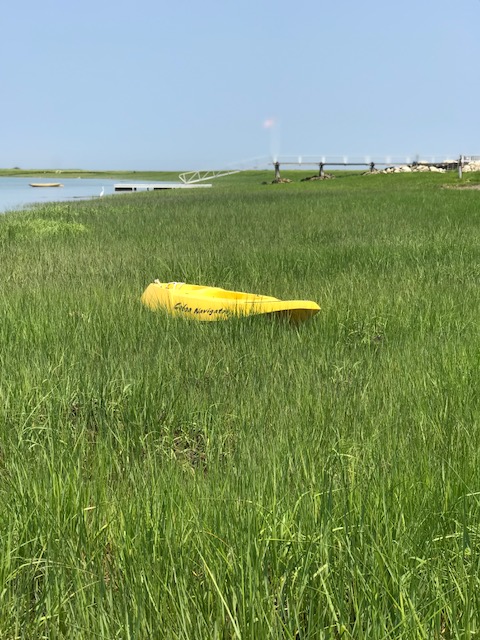 I wonder what hidden gems are inside the community lending library bin?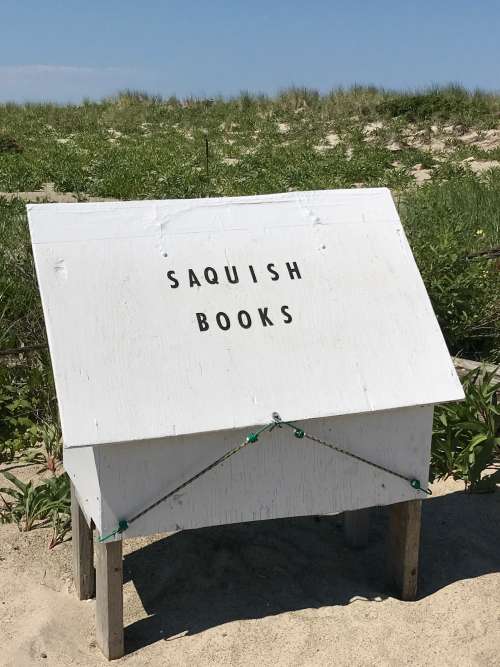 Of course we'll count how many horseshoe crabs we can find on our walks at low tide. Never heard of a horseshoe crab? Learn more here!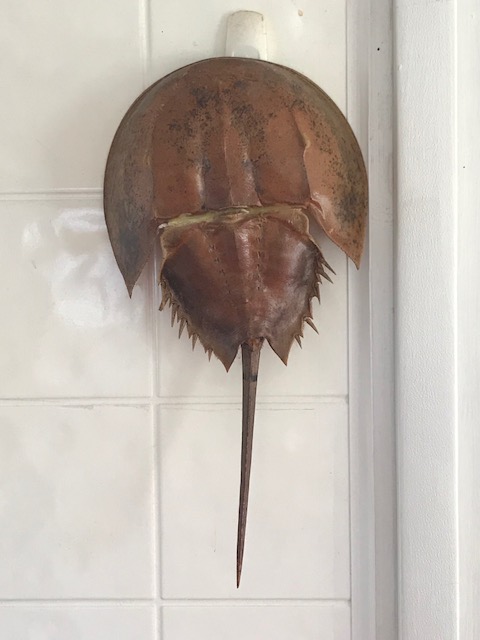 We'll reminisce about summers past when the kids were small and all the funny things we did to pass the time. I always had art supplies handy and plenty of paper for drawing, painting and coloring. This was done by our daughter when she was 9 or 10 I think.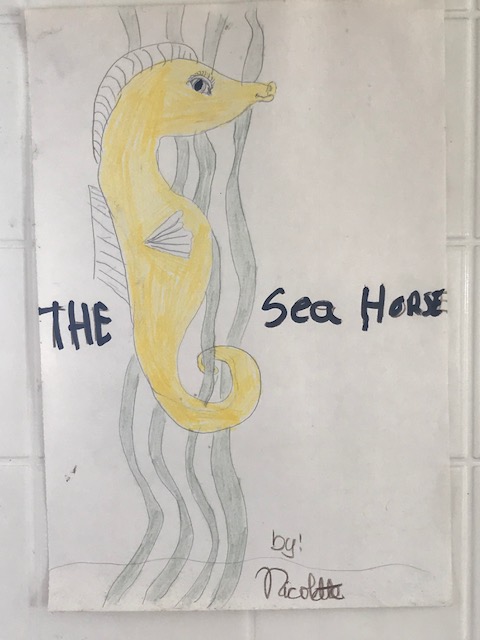 She made this lighthouse in an art class around the same time.  We display it proudly in the windowsill above her bed.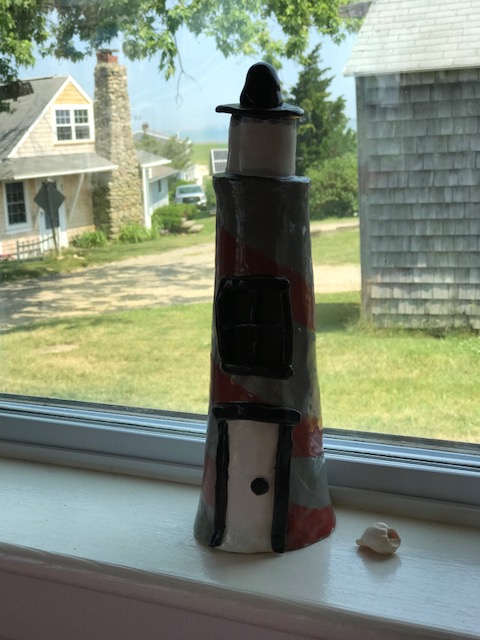 It's funny how the memories come flooding back with the first slam of the old screen door.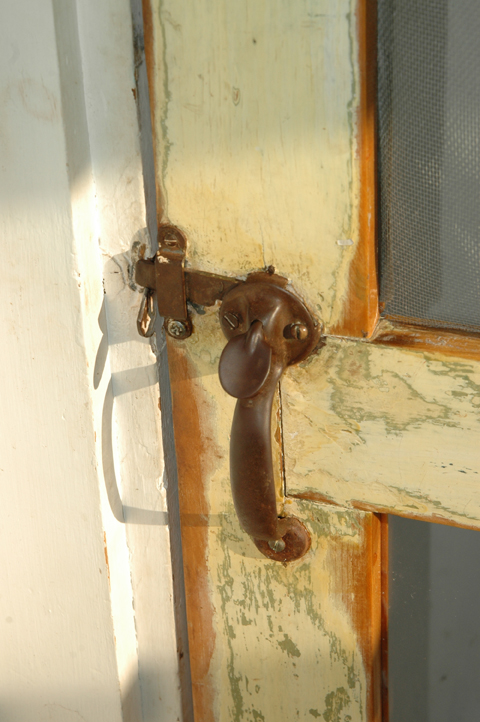 We hope you enjoyed your visit to the beach!
Would love to hear about your favorite summer places!
Until our next shoreline visit~ Stay cool and summer on!
Beach Blessings and Much Love,
Deb and the Yankee
#1199