[Previous Rural Farmgirl, April 2009 – May 2010]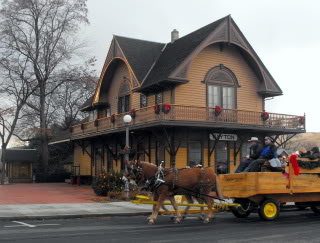 I am just an old-fashioned girl that is for sure, especially around the holidays. I love sloshing through the snow to find the perfect tree, taking sleigh rides, driving around viewing all the lighted homes, and sitting around the fireplace drinking hot chocolate.
I have concluded that my interpretation of what the holidays are about may be vastly different from what even some of my best friends think that the holidays are about. Not that either is right or wrong—we just really see it differently.
I am not one for the likes of Black Friday. I guess I do not fully understand the draw. I see it like this: On Thanksgiving Thursday my pocketbook is full and I am in the black. Then comes Black Friday and I am supposed to hand over all my money to the department stores AND be happy about it, just so that they can be in the black. Oh, and not just hand over my money, but be shoved around, fight with other shoppers, and get up at some ungodly hour to spend time with a bunch of people who aren't really at their best…am I missing something?
I suppose it is only fair to mention that I am not a huge shopper to begin with, nor do I like big stores on a normal day, so I may be starting this whole shopping thing in the hole. I do, however, love little mom-and-pop shops. I love finding out-of-the-way small towns whose main street store owners have ensured that each store in their community offers unique items.
When I think of the holidays, I do not see them through the lens of "shopping 'til I drop" or meeting the wants of everyone on my wish list. I would even go so far as to say that I resent the commercialism of a time that should be relaxing to families instead of stressful.
While listening to the news this week, I overheard the anchors talking about debt and how badly some families get into debt this time of the year. To strengthen their point, they interviewed a couple who were still paying off last year's Christmas, while preparing to use the plastic to ensure a great Christmas this year. WHAT?!? How does that equate to a "great" Christmas? I was up on my feet in utter disbelief when I saw this woman burst into tears at the advisor's mere suggestion to put herself on a $5,000 (cash) Christmas budget. It is moments like this when I want to reach into that silver box, grab "my sista" by her shoulders, and shake her madly. I literally grabbed my soapbox, planted my feet firmly on it, and yelled, "They will think that you have finally found your sanity!" when she had the audacity to ask the advisor, "But what will people think?
You may be surprised to learn that I do not own a credit card. My hubby and I decided several years ago that if we did not have the money for an item, then we did not need it that bad. I have spent more time being grateful for that decision than I have feeling bad about it. Sure, there are times when it seems like we missed the deal of the century or could not do something we may have wished we could…but we are still standing. It has not killed us yet.
I do not mind spending big money on quality items, as long as I am prepared to do so. I have discovered that when you live on a budget, you learn to be smarter about your gift choices. I have found that by taking the time to really know my friends and family, I can find great deals all year on the things that mean the most to them and not settle on whatever I can find in the mad rush between November and December. When I buy according to their passions, I do not need to rely on "what I can find." Rather, I can take all 12 months, and when I find just the perfect thing…I can open up my Christmas money envelope and cross them off the list. As my hubby would say, this way our money is working for us.
I do not fault my friends who love the marathon shopping that begins with Black Friday. I do have a couple of gal pals who even truly love the experience. They are so elated and they cannot wait to share all the treasures that they find, and their gifts are just as thoughtful as the ones I have carefully chosen over time. I am just so grateful that they get that shopping that way is not my cup of tea.
In the month before Christmas, you can find me away from the crowds. I'm the one taking in all the great little Christmas festivals in the small towns around our home, sipping cocoa, pressing my nose up against the glass of some quaint gift boutique, hunting down some perfect stocking stuffers, and working in my craft room putting finishing touches on the homemade things I love to create.
As long as we are truly enjoying the season, there is not a right way or a wrong way to experience the holidays. But for this old-fashioned farmgirl…I want an old-fashioned Christmas.