[Previous Rural Farmgirl, April 2009 – May 2010]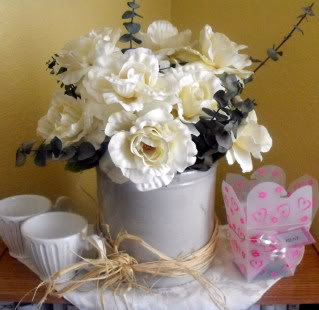 My post last week on letter-writing seemed to hit a nerve. I was thrilled to see that so many felt the same way about such an important topic. Thank you for that.
As I was thinking about all the posts I received, I was reminded of a girlfriend retreat last year. One of the gals brought a cute box for each of us and a pile of adjectives she had taken the time to write out…words like

witty

,

beautiful

,

funny

,

loyal

,

kindhearted

,

approachable

, and

selfless

. The list goes on.
The assignment: As one of us was named, the rest of us were to choose the adjectives that best described that person to us. My mind excitedly raced over the words, trying to pre-choose the words to match the friends. But I was most surprised that it wasn't the words I assigned that stayed with me, but rather the words that were assigned to me. To this day, I can go to the box and recall who assigned what words to me. I still fight back the tears as I recall the love with which they were delivered, each of them adding a tattoo to my heart in ways that are almost indescribable.
As a young woman, I recall being given the advice that if I wanted friends I must "show myself friendly." I have always taken that advice to heart. I think there is value in those words. So when one of my friends placed in my box the word "approachable," it felt like I received an A in that life lesson. I go to that little box often, in those moments when I need to know how others see me. In those low moments when I feel whipped by the world, those words bless me. Words like

expressive

,

disciplined

,

creative

,

selfless

,

empathetic

,

energetic

,

witty

, and

resourceful

. And it's not just the words themselves, but the stories behind the words that were chosen. Some of the stories were funny, some poignant and others…well you would have had to be there.
Words

. They are funny things, aren't they? A bunch of letters scrambled together that can be used for joy or for grief, for healing or for pain. I believe that words have power in them. They can be a creative force or a destroyer. I have literally seen the course of someone's whole life changed by carefully chosen words and dreams destroyed by the careless flinging of others.
Maybe it is because I am a writer that I weigh words. I can sit and contemplate their meaning for long periods of time, trying to give them the value that they deserve. While they all are worthy of interest, I particularly like the adjectives, the very descriptive ones. Those who know me well know that I love the word

brilliant

. I use it a lot, mostly because I think that it is a word that we don't attach to ourselves nearly enough. I think that people are brilliant. I am continually enamored with their brilliance, whether it is in what they can create, or think up, or just who they are as individuals.
So as we write our hand-written letters don't forget to flood them with adjectives telling those we love all the things that they may not be telling themselves. Each one of those letters can become a gift box of their own, full of carefully chosen words.