[Previous Rural Farmgirl, April 2009 – May 2010]
Whether it is vintage clothing, trailers, or albums, it seems that "everything old is new again." Recently my oldest son, who is currently serving in Afghanistan, sent my husband a push mower. Not the motored kind, but a rotating-blade push mower. It was the perfect Father's Day gift, one that showed both the practical side of my Marine and the comedic side. You see, my hubby has never had much success with lawn mowers, and it has become a sort of joke in our family. I am convinced that every mower that my husband has purchased in our 25-year marriage must have been built on a Friday.
So, this mower is a stroke of genius. As long as someone can push it and we keep the blades sharp, we are good to go. I love the little thing, which I guess makes it a double gift for my husband, since so far I have been the one the uses it. Maybe that was the diabolical plan the whole time. I love the little whirling sound it makes as you cut the blades of grass, not the loud, obnoxious roar of the gas mower. No one has to yell at the top of their lungs in order for me to hear them. It is simply perfect.
As I was mowing and allowing my mind to wander, I couldn't help but be grateful for the lawn I was mowing. Just last fall it was a HUGE hole where a pool had been.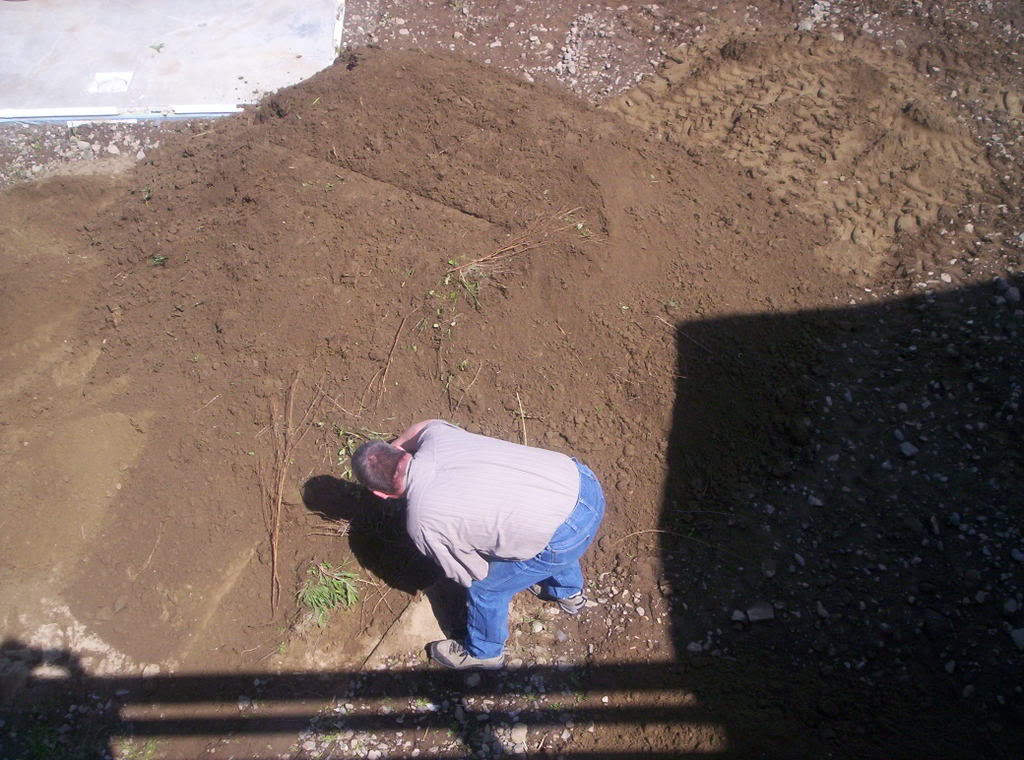 Oh sure, a pool is nice, and I'm thankful there's a community pool where we live. But for this farmgirl, nothing says wealth more than ground, gardens, and the likes. My little backyard has become quite the oasis.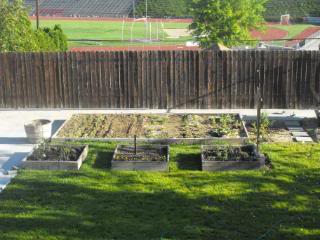 A couple years ago we moved into town to accommodate the kids and their high school sports. Before that, we lived out on the farm and it was 35 miles one way to school. While the boys didn't mind it so much, I, being the somewhat over-protective mom, did. It didn't seem right to have the boys leaving at "o'dark-thirty" in the morning just to arrive home late at night to start it all over again. Not to mention the nights when they had away games and never made it home, sleeping instead on the floor of a team mate.
Moving to town was a hard choice for me. Luckily, we found and old fixer-upper that was no doubt a great place in its prime, but now was definitely no longer in its prime. With its Pepto-Bismol pink walls and glued down "vintage" carpet, we set out to make it a home. Now instead of the boys driving 35 miles one way, my husband makes the drive to the farm every day. I have adjusted to living in town somewhat, although I can't wait to get back to the farm. With the third of our four boys graduating this next year, we will be down to just one, and my heart senses a return to true farm life just around the corner.
I am lucky that I still get to walk the carrot fields with my hubby as he checks the crop on those lazy weekend mornings. I will ride the swathers with my dad this summer and take in the wheat harvest. I have brought much of the farm with me: my garden, my girls, my canning, and such. I have planted huckleberries, blueberries, raspberries, strawberries and a cute miniature apricot tree. As the mower whirls, I am so thankful for the past year…all that I have learned and done and accomplished, and all the people who I have met. My yard stands as a testimony to all the changes that have come about and the experiences I've had.
While this mower was sent in part as a gag gift, making fun of my hubby's follies with the gas powered mowers, I have decided that for me it is simply perfect. Yes, it hasn't escaped me that this wasn't

my

gift, but I suspect the hubby and firstborn don't mind. I also suspect that they aren't surprised that I have latched onto it.
There was a time in my life when I desired all new things. Then, I may not have been swayed by the little push mower; I was young and enticed by the new. But now, I can see that all things new aren't necessarily improved. There is a magic to those things that have a direct link to the past…a history and commonness; they make me feel more connected with the world around me. Here in my little town we have a darling antique shop. I love to just wander around it and think of all the "stories" that may (or may not) go with each new find. I always ask if they know the history of whatever I've found. Usually they do, which makes it all the more valuable to me.
It is obvious that I am not the only one that feels a kinship to old things and to the "old ways". Vintage shops seem to be cropping up everywhere, replicas have returned with a vengeance, and the music industry is returning to turntables and vinyl. Even 50 is the new 40. Yep, seems "everything old is new again."