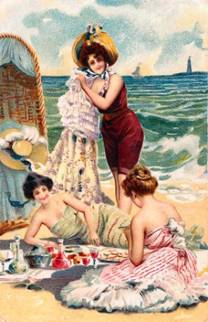 Welcome to my little celebration sisters! I'm so glad you could join me today! Spread out your beach blanket and raise a glass with me in honor of farmgirls everywhere! We would not be here today if it weren't for Sister # 1 bringing us all together! Three cheers to MaryJane for creating a place where farmgirls can gather up to gab and gush! Hip- Hip Hurray! Hip -Hip Hurray! Hip- Hip Hurray!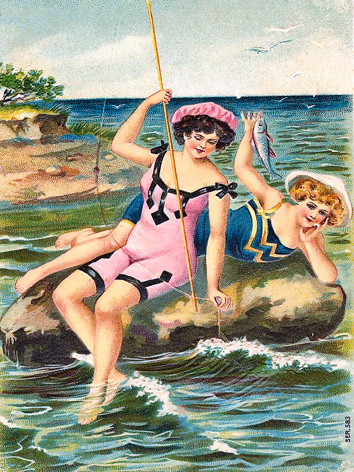 Can you believe we've been hanging out together on the shorelines for a year already? They say, time flys when you're having fun and FUN we have had!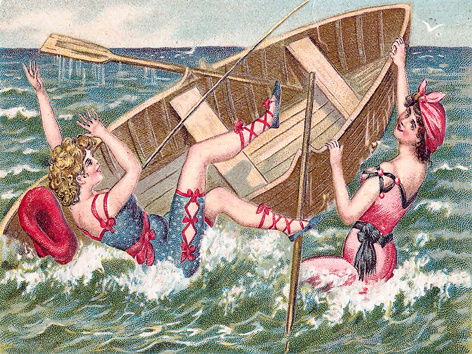 In my introductory post I pledged that this blog would be a place of encouragment and inspiration. A place you could come to let your dreams set sail!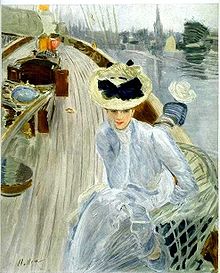 And, in true farmgirl fashion you have been there for me too!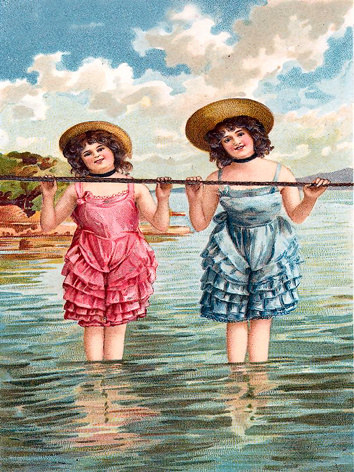 You have played a HUGE part in steering me in the direction of my farmgirl dreams. Some big, some small and a few that have yet to come true. I've been blessed beyond measure in this life but there is still one BIG farmgirl dream pulling at my heart strings. I'm a lady in waiting for her first HORSE! If you were ever ( or still are ) a horse crazy farmgirl, you get it! Whenever I lay eyes on a horse, my heart swells up as big as the ocean and then it begins to ache. I'm betting I'm not the only sister out there with this yet to be dream come true! Even though I'm 50 I believe it's never too late and I don't plan to put this dream to bed anytime soon!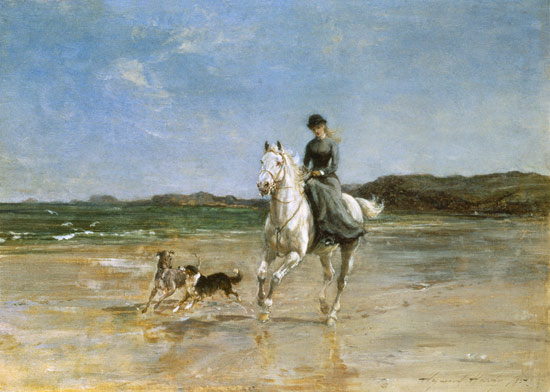 As you well know by now, I enjoy encouraging you to continue believing in and working towards your dreams and to make creativity part of your everyday life! So much that I shared an idea I had with Mary Jane one cold Sunday winters day via email about how we might add a new feature to the magazine where we spotlight and artist in each issue. I just happened to catch her at home having a "MaryJane day "sitting by the fire, knitting and catching up on emails. We went back and forth in a good old fashioned farmgirl brainstorming session and a new idea was born! She would add a new section in the magazine called "yet another "GIRL GENIUS by Deb. The first of three upcoming GIRL GENIUS features is in the latest issue of MaryJanesFarm on page 83! Carol Hill (the design diva for MJF) does a fabulous job with the layout tailoring each design to the spirit of the artist! I love reading about how others make their creative dreams a reality. We know you'll love these features as much as we did putting them together for you! They're sure to inspire the GIRL GENIUS in you too! In the current issue you'll meet our first GIRL GENIUS Sally Jo Pollard. She's a farmgirl at heart and a talented Fine Art mixed- media artist who combines her inspiring sepia toned photography with rust, metal, re-claimed barn wood and other time-worn bits and pieces into stories of the past.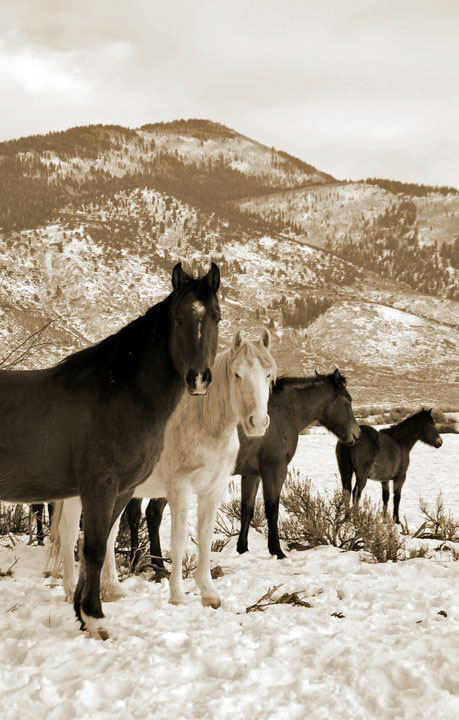 " Utah Beauties "  by Sally Jo Pollard
I believe there's a GIRL GENIUS in all of us! One creative expression leads to another! You might be passionate about painting for years then one day you feel an urge to sew! The best thing you can do is to "listen" to those yearnings… They are the whispers of your soul telling you which creative fork in the road you need to take next. Let go of the outcome and just create. One thing I've come to realize is that having more than one creative outlet is healthy! It doesn't make us crazy artist types, it means we are fully alive and awake just as God made us to be.
 In celebration of my Blogiversery I decided to start a scrap book journal of my farmgirl journey. Now, I'm no champion scrap-booker or collage artist. I've got my hands into too many other creative endeavors, but I wanted a way to honor on the many blessings MaryJanesFarm has brought to my life. I managed to snag a scrap book on sale at Michaels, some pretty pages, a few stickers and I was off and running! Here's a peak at what I've gotten done so far!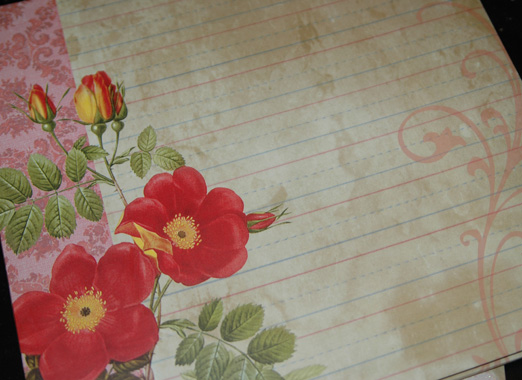 The cover of my scrap book.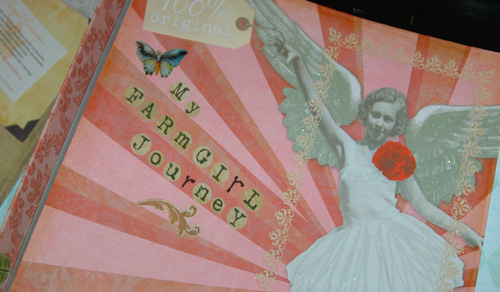 The opening page above. Below are my first two stories published in Megans Keeping in Touch~ Readers Write.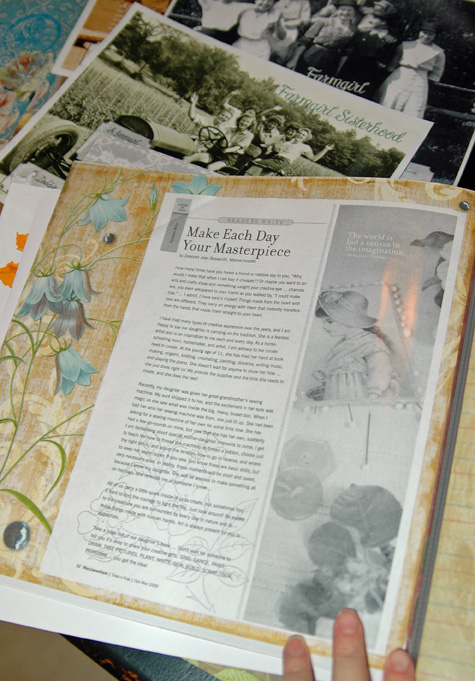 A Pinin' for Pickets
My sisterhood certificates, and Chapter Leader welcome letter.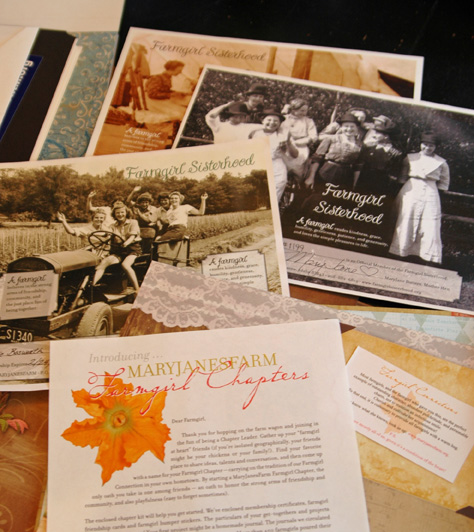 After getting this far I decided to print some photos and hand write some notes on the remaining pages. I'll also include merit badge certificates with stories and photos of how I earned them! I'll keep you posted as I make more progress! I know there are many of you who have also kept track of your farmgirl journeys too! I'd love to hear what creative ways you've come up with!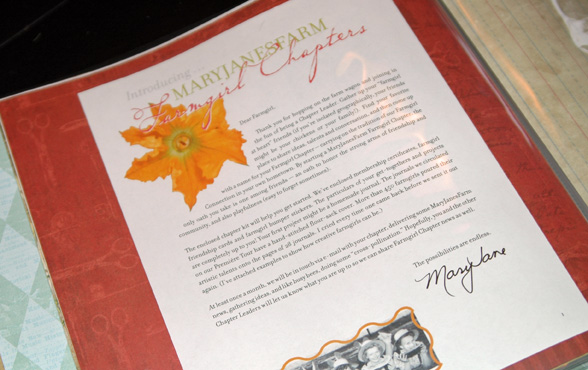 FARMGIRL CONFESSION:  I've yet to sew any of my badges onto anything… I just haven't figured out where I want them yet!
It's just not possible to be part of the MaryJanesFarm family (and by family I mean all of us) without learning, growing, making new friends, and spreading joy! I thank each one of you from the bottom of my farmgirl heart for your emails, stories, photos and farmgirl fellowship!
My world is richer because of you!
Cheers to another DREAM FILLED year on the shorelines!
Until our next shoreline visit~
BEACH BLESSINGS~
Lots of Love,
Deb