[Previous Rural Farmgirl, April 2009 – May 2010]
Last week I was given the most amazing gift – time away camping on the Spokane River. Many times during my mini vacation, I found myself totally mystified that with all the things I had going on in my life, I was still able to just sit and relax. There is something about fresh air and bonfires that lend themselves to relaxation. I caught myself sitting by the fire literally thinking about nothing. I can't remember the last time that I just sat and pondered air. There, I was content to listen to the water rushing, the talking and laughing, of the fellow campers and the occasional mosquito buzzing around my head. Even with the company of the mosquito, I sat there totally relaxed and happy. I melted into the scene as a bystander.
There is something about the "great outdoors" that seems to put all things in perspective for me. My life doesn't seem bigger then it ought to, or for that matter, smaller than I can sometimes be convinced that it is. As I sat there allowing the rhythm of the rushing water to wash away the stresses that had accumulated over time, I was lost in the feeling of immense gratitude.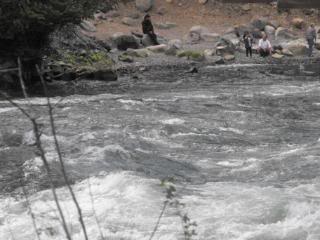 This experience reminded me of the importance of stopping our lives and just breathing in all that is right. I sometimes feel that the world just wants us to absorb the negative. Newspapers and TVs blast it at us. Even well-meaning folks in our lives can begin to sound like Henny Penny shouting that the sky is falling, leaving us little option but to succumb to the alarm and begin to focus on it. Yet in that moment, I heard myself say, "All is well, all is right. I am enough and I have enough." I was totally prepared to put off all the "stuff" for another time, allowing myself to get totally lost in the gift I had been given.
I wish I were one of those happy-go-lucky girls who automatically "live" in the present. I am not. I have to be reminded occasionally. I tend to get my life running too fast with very little effort. Then before I know it, I feel like the cart I was pushing is now headed straight down a steep hill and I'm no longer in control, being pulled at a pace I would prefer not to go. It takes something as amazing as nature to grab me and remind me that all those things that are pulling at me will still be there, waiting for me after I take the time to "refuel."
Since my "time out" it has been easier to let go of the little things, allowing them to just past by and not getting hung up on the things that aren't quite right. My weekend away reminded me of all the things that I tend to take for granted. Things like the effortless way I can move around in my little circle of friends, the joy that my kids bring to me on a daily basis, my health, my garden, a great job and a marriage that has endured the tests of time.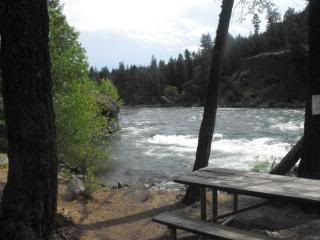 As I sat by the river watching the water rush by, it all felt somewhat surreal. On one hand the whole world seemed to be operating in slow motion as my mind struggled to engage. Yet on the other hand, sounds of fellow campers laughing and talking reminded me that I was not alone. My mind rushed to the day before…the meetings and appointments and to how out of seemingly nowhere an old high school friend had called.
Shawn and I were "partners in crime" growing up, and yet somehow with marriage and kids and life we didn't stay as connected as we always promised we would. As it turned out she was able to meet me on the river and we quickly jumped back into the ease of friendship as if no time had passed. As we sat, at the campsite's picnic table, covering topics like marriage, kids and careers, little seemed to matter more than being present. I felt swept back into time, when summer at the lake called to us, with its rope swings, dirt bikes and  our secret phone calls to our, latest summer crushes. How did so much time pass without me being ever present?
My life has sometimes felt like a log caught in the river's current, being swept to places it didn't mean to go. I thought of the eight rafters I had seen earlier in the day, each with an oar and one of them yelling instructions to control the "pull." I couldn't help but be struck by the amount of purpose and focus they needed to manage the current. I found myself chuckling that they were wearing life jackets and helmets…boy, if that doesn't say it all. When did I buy into the notion that a life well-lived just happens?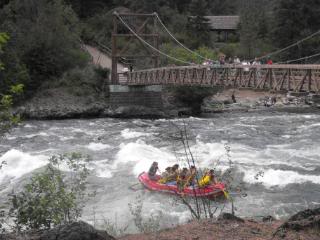 As the weekend came to a close, I found that re-entering the world outside the campground was harder than I expected. As I loaded the car and headed back to my world, the tasks at hand started calling to me with every passing mile.The three-hour drive home seemed to fly by, and as I pulled into my driveway I found myself asking how I could reshape my world so that I didn't need to stop my life in order to refuel.
I am blessed to work out of a home office most of the time. It was one of my top goals when I left the corporate world. I love it, and I feel blessed. Yet I have also discovered that it makes it harder to "leave work," both literally and figuratively, as my office doesn't have doors that can be neatly shut. For me, the creative process doesn't just work between 8 and 5.
I am learning that the 24 hours in my day will always fill themselves with something. Like anything, my day has to be managed so that it isn't filled with everyone else's to-do list, leaving my dreams, desires and to-dos crammed into the hours that should be reserved for refueling. I am learning the importance of spiritual maintenance – not just putting myself on the list, but going one step further and keeping myself there. I'm making it a habit to refuel, not allowing guilt to creep in but rather filling my tank with a balance of work, fun and learning.
Once again, life's bigger lessons have come to me from nature. The lesson, of course, is that the cost of refueling is by all standards cheaper than the cost of letting your tank run dry.