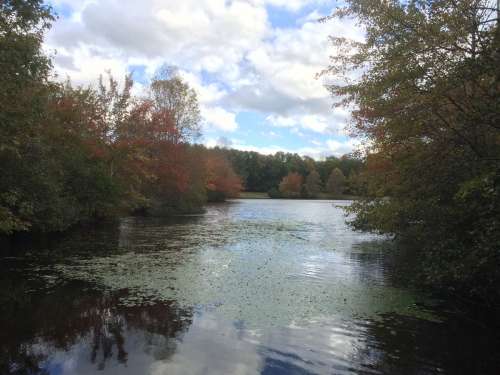 .
Hello Friends!
.
For those of you that have been following along with me here you probably know that I am a Spring and Summertime girl!  And every September when people around me are talking about how excited they are about the coming of Fall and how they love everything about Fall, I just choose to keep my mouth shut.  Because really, who wouldn't LOVE Fall???  But I do not.  And the only reason I do not love it, is because it means that my beloved Summer is over.  And Winter is right around the corner.  So I go into Fall sort of kicking and screaming.
.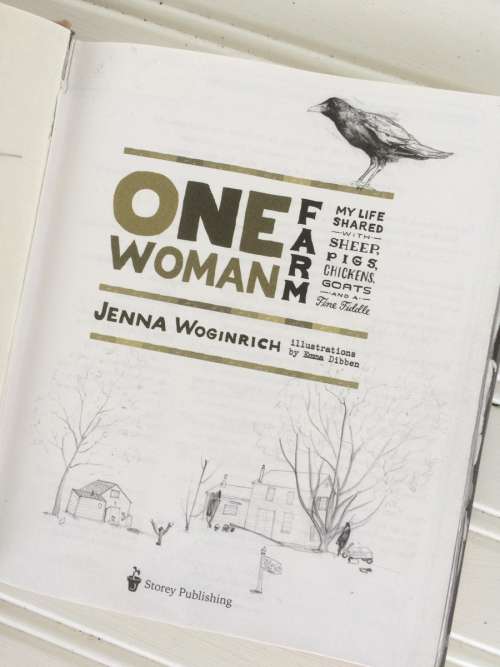 .
But at the library this week I came across a book by Jenna Woginrich called One Woman Farm.  I opened it up to take a look and the very first chapter was titled Days of Grace.  I liked the way that sounded so I stood there in the library and read about it.  She explained that on the wet, dreary days when the busyness of summer is over,  we can be happy for the Days of Grace.  This becomes a chance for quiet reflection when life on the farm is a little slower and mornings start a little later.
.
Upon reading that, I had the most amazing feeling come over me that I need to change my thinking.  I need to look at Fall and Winter as my Days of Grace.  The days that I can enjoy doing all the things I love in my house and around the farm and not just be counting the days until Spring and Summer.
.
So it's been a week of thinking of the things I can be thankful for during this time of the year and stay focused on those things.  (With the time change and dusk at 4:30 now, my positive attitude is really being tested!)  So even though it is a gloomy, wet day today I'm determined to focus on the things that I DO love about Wintertime!  Please join me!
.
.
Baby calves have to be my favorite.  We are lucky that even though we have very wet winters with some ice and snow we aren't typically bitter cold and so our Momma Cows can just go about their business having babies around the farm!  We check them daily and monitor if they need help (thankfully, they rarely do) and then ooh and aww over the precious new baby as it stands to nurse for the first time.  Did you know that baby calves stand up within minutes of being born and that instinct (and their momma's gentle nudging) moves them almost immediately to nurse?  The miracle of it never grows old.
.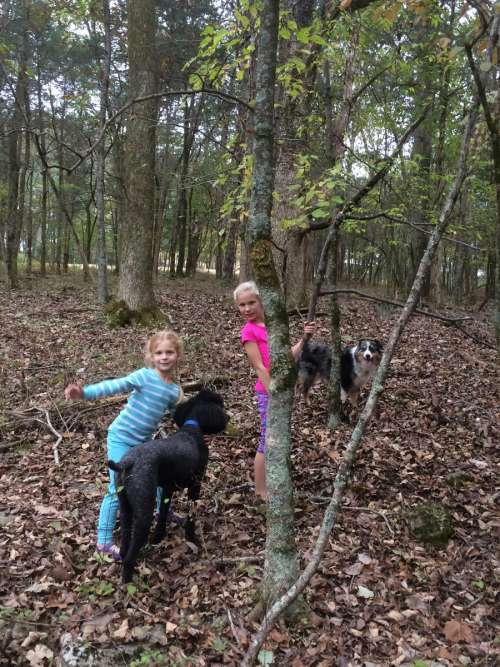 .
I love walking in the woods on our farm in the Wintertime.  In the Summer, the vegetation is so thick it is hard to walk through them.  In the Winter you can see where the deer and the cows actually have trails all through the woods and they are so fun to explore.  My daughter and I love to take her little girls on nature walks and discover all sorts of things in the woods.  (Are you laughing at the dogs?  Our dog is a an Australian Shepherd – very much what you consider a farm dog.  My daughter's dog is a Standard Poodle – what most consider a city dog.  Well, he is quickly becoming a farm dog!)
.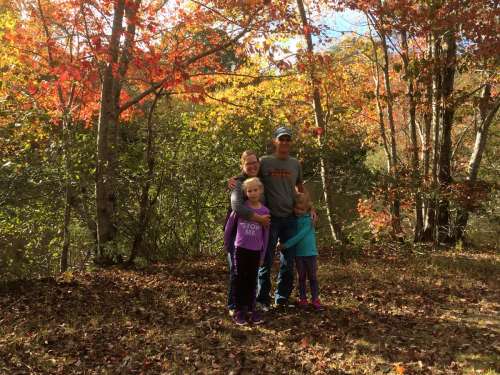 .
,
This year we decided to do some Fall and Winter hikes while the weather is still somewhat nice.  Recently we went to Sewanee, Tn which is not far from us and is such a beautiful place on the mountain.  Our daughter and her husband and little girls went with us and we just enjoyed the day of leisurely walking and enjoyed the Fall colors and crisp air.  You couldn't have asked for a more perfect day.
.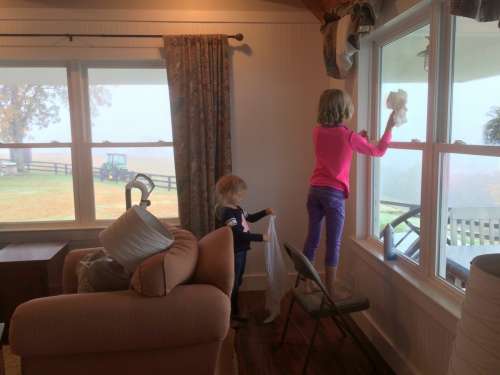 .
With our very busy summer months with our flower farming business, I feel like my house really takes a back seat in the cleaning department!  So I've been slowly working through each room and doing some winter cleaning!  I do have to admit that it feels really good and oh so rewarding.  My grand-girls are the best helpers!  (If you look close in the above picture you can see some Fall colors out the window on the right.)
..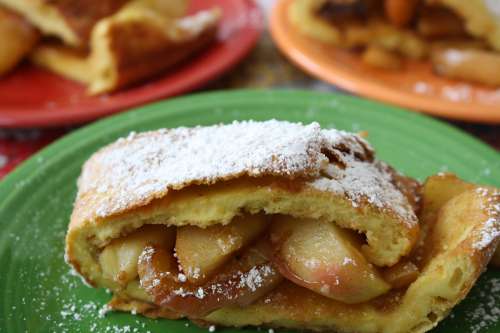 ..
And cooking.  Oh my word, the cooking.  Because when it is cold outside is there anything more fun than cooking and eating?!  One of our family's favorite things to eat when we need some comfort food is Apple Pancake.  And the apples this time of year are so perfect for it!
..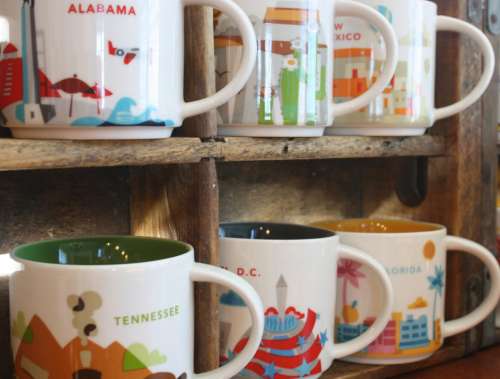 .
Coffee.  I love my coffee in the winter.  I am not a hot tea person, are you?  I've tried.  Really I have.  It sounds so romantic!  But I just can't make it work for me!  And coffee in one of my United States mugs always makes me happy!
.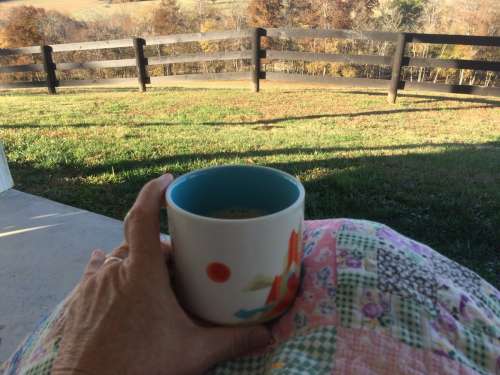 .
I try to do some wintertime porch sitting curled up in a quilt until my fingers and nose are freezing!  Letting go of porch sitting is one of the hardest things to do.  A beautiful old quilt, a cup of coffee and the Hilltop view are something I can pull off almost until December!
.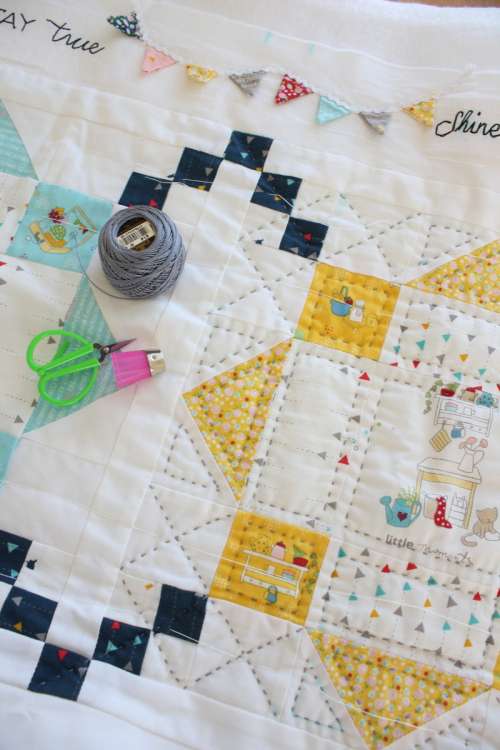 .
And of course sewing.  I've always loved hand quilting and I've decided this is the winter that I'm going to sit and hand quilt!  (This is my first hand quilting project for the winter.  Isn't it the sweetest thing and enough to brighten every gloomy day!)
.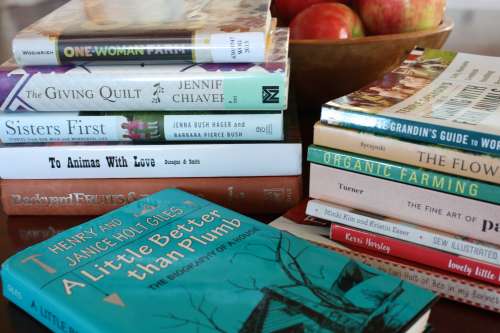 .
Reading daily!  I don't read a lot the rest of the year and so its always a treat to have a constant pile of books on my coffee table!  These are some of the books in my reading pile right now.  (The book, "To Animas With Love" was written by my mother about her heritage.  I'm reading it again because I think it is so important to remember where I came from.)
.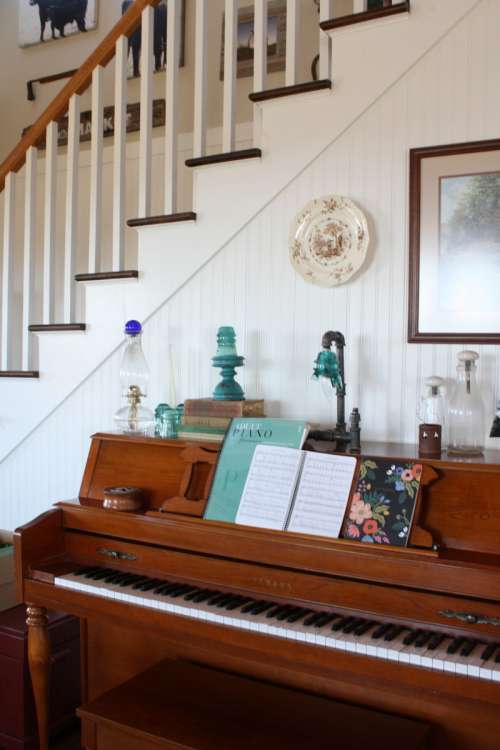 .
Playing my piano is something I've determined to do more of this winter.  I don't play much anymore and I am so rusty that I feel like I am starting over from scratch.  I'm holding myself to 30 minutes a day and already I feel such an improvement!
.
.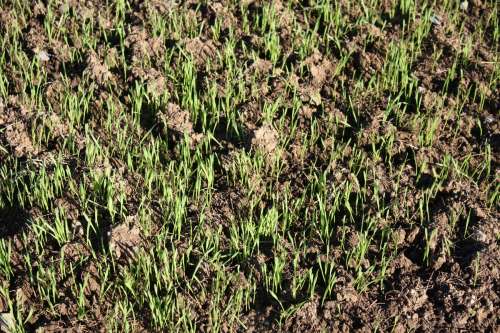 .
So here we are… the winter season upon us.  The flower farm that my daughter and I love so much is completely tilled under and a cover crop of winter wheat is up and growing.  I miss the flowers but love to think of the soil getting the rest it needs to start again in the Spring.  I think I finally realize that I need this dormant season to rest both mentally and physically.  I want to learn to sit still and to enjoy these Days of Grace.
.
Until our gravel roads cross again… so long.
.
P.S.  Please leave a comment and share your favorite book to read and maybe in December we'll talk about that!
..
Dori