[Previous Rural Farmgirl, April 2009 – May 2010]
I have often considered writing a book entitled "Everything I Need to Know About Life, I Learned in the Garden". It is true, really. I would have chapters like Everything is a Weed if It's Growing In the Wrong Place, Proper Planning Makes Things Easier, Oftentimes You Just Have to Pull the Weeds to Make Room for the Good Stuff (And the Ones That Refuse to Leave May Need a Little Hoeing), Proper Soil Leads to a Healthy Crop, Wild Oats Always Leave Residual Work (But the Memories Make You Smile While You're Tending the Mess), The Right Tools Make All the Chores Easier, and Grow Where You are Planted.
One of the more difficult lessons came to me through my little vineyard. I was so excited to plant my grapes. I researched and found the varieties that I wanted and that would do well in my planting zone. I dug the holes, honored the plant spacing, covered the little roots and waited for them to grow. And as they grew, out came the most amazing shoots and HUGE leaves. I was thrilled.
A couple of months after, I had planted the grapes, I could tell that something about them was driving my neighbor crazy. I could see him pacing back and forth past them, longing to reach out and…who knows what? Every night I saw him watching and waiting for curiosity to kill me. Finally, one evening I marched myself out there to find out what the deal was, knowing full well that I had a lot to learn in the area of growing grapes.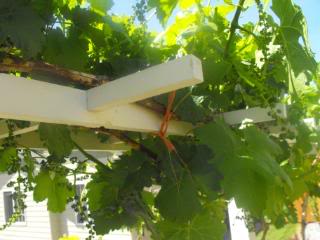 About every other person in my community is a winemaker or a viticulturist, and my neighbor is the latter. Me, planting grapes right out his side door seemed like "bringing work home to him." As it turns out, according to Rocky I needed to get those grapes onto a trellis and prune some of the branches and leaves. Appalled that he would want to prune these beautiful vines, I heard myself squeal, "Why would I do that?! They are full of grapes." His wise reply was, "If you make the hard cuts now, it will make room for better fruit later."
How profound! I have thought of that statement often. When I face hard choices I find myself at the grape trellis, reminding myself that if I cut those things from my life that are sucking the life-energy out of me, it will leave more room for the "true fruit" later.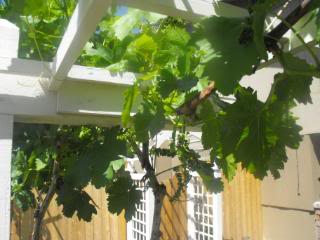 The older I get, the more I look back and wonder if my life has produced "fruit." I often think about all the times I spent being to afraid to prune away things that were sucking the life out of me—things like past hurts, failures, unfulfilled dreams and resentment for allowing others to "put things onto me, which were never mine to hold or to do." I allowed it, not wanting to disappoint or come across as someone less than the person they thought I was. I said yes to all the wrong things. (Not that they were bad things they just weren't mine to do.)
I have found that we can get very distracted trying to live up to other people's dreams and ideas of who they think we should be. Meanwhile, our own dreams and visions go unrealized as the seasons come and go.
Since I have applied this little "pruning lesson" to my life, I have found that I am happier. The fruit I produce is more rewarding to me and to those I am responsible for sustaining.
I love the lessons I have found in the garden. They come softly with the most amazing fragrance, and their truths stand the test of time.