[Previous Rural Farmgirl, April 2009 – May 2010]
In the 25 years that my husband and I have been married, we have moved several times. I, being the more adventurous one, wasn't as stressed by the changes as he was. I saw each adventure as an opportunity to usher in new things, new people and new experiences…blooming where I was planted. I could always hit the ground running, embracing the new venue in which to learn and laugh and love. My husband, on the other hand, warms up more slowly to change, to new people and new experiences. His family roots are dug in deep and uprooting them in any way always brought a time of adjustment for him. I have stated many times in our life together that he is my roots and I am his wings.
As we transplanted raspberries this spring, I thought about all these moves and the differences between how we handled them. Planting those healthy, sturdy plants, then watching them fight to take root in new soil, seemed to somehow bring all those memories back.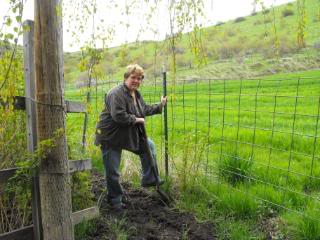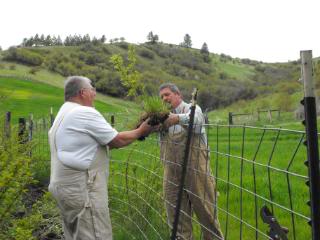 My father-in-law is an amazing farmer. He works tirelessly to keep his gardens weed-free and his yard healthy and immaculate. He takes pride in the old fruit trees, azaleas and peonies. His raspberry patch is just another example of the tender care that goes on at his farm. So when he offered raspberry starts, who could possibly turn that down?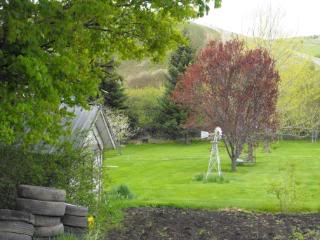 I was almost giddy at the thought of bringing home another small piece of the farm, creating yet another bridge between here and there. With kids in tow, we set out on a perfect Sunday morning with plans to have lunch with my husband's parents, raid the raspberry patch and head home. With our mission accomplished, we returned home and began planting these beautiful plants, hoping and praying that they would take hold and that we didn't waste any of them. Once planted, watered and firmly patted into place, the shovels were put away and all we could do was to wait.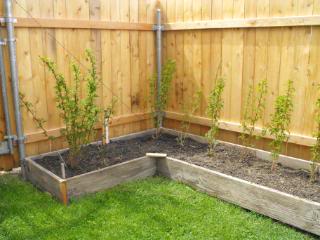 In the days that followed, we saw these amazing plants fight to thrive, at times looking a little wilted as we did all we knew to assist them. Now, weeks later, they are back to the same healthy plants we found in my father-in-law's patch, with the addition of cute little berries starting to show. Those berries are a sign they have weathered the change.
Transplanting is a funny thing. The timing and the environment have to be right, and growing conditions just-so to ensure the best outcome. But it is the wait that can be the hardest. There is a part of the whole process that is simply out of our hands. We can do everything we know, then like it or not, we have to leave it to fate. Oh, what jubilation when we discover that they have taken hold, and we can let out the breath that we have been secretly holding in.
We have managed to stay in our community for the past nine years. While it isn't the place where either of us grew up, where our roots were originally dug in, we have taken hold just like our new raspberry patch. I think coming from good stock helps, but so does having fertile soil in which to grow and sheer determination that you can grow there.
We both envy our friends and family who have never left home, those whose roots were never up-rooted or moved. Yes, we envy those who are firmly rooted on the family farm, with all its heritage and stories and rich traditions, but somehow we are okay with being transplants.