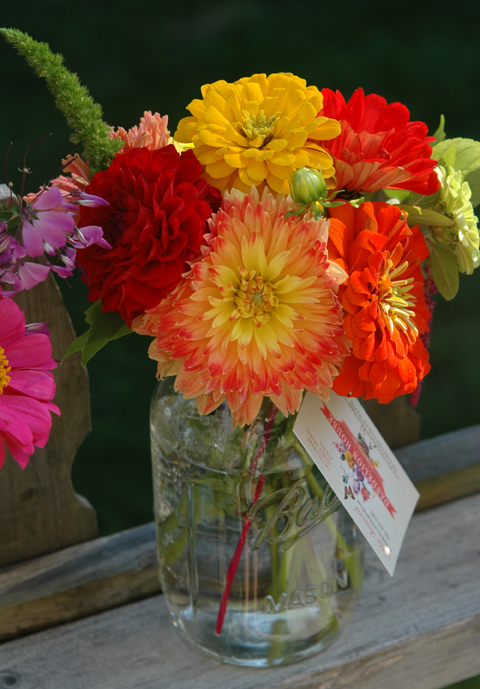 Flowers don't worry about how they're going to bloom. They just open up and turn toward the light and that makes them beautiful. ~Jim Carrey
Dear Sisters,
Happy Fall! Oh how I love this time of year. The summer haze brought on by excessive heat and humidity has drifted out to sea leaving the air clearer, the skies bluer and my brain a little sharper. Something about this time of year stirs my creative soul like no other. My mind races with new ideas and plans and I feel like I have to hurry and scurry to get everything done before we fall back into hibernation. I always have grand plans and I never get it all done but one thing I can always make time for is creating posies in a pinch! Come on in to see the many ways you can make a basic Ball jar bloom!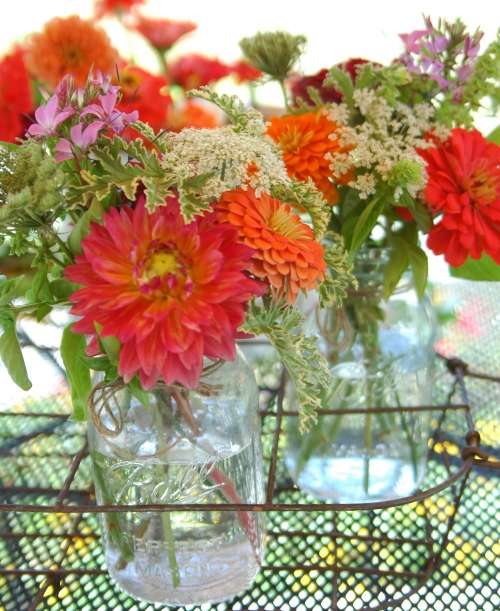 What's more farmgirl than freshly cut flowers tucked in a mason jar? They are perfect for soooo many types of gatherings. From a casual backyard BBQ, or bridal shower to baby showers and barn weddings, Ball jar bouquets fit the bill.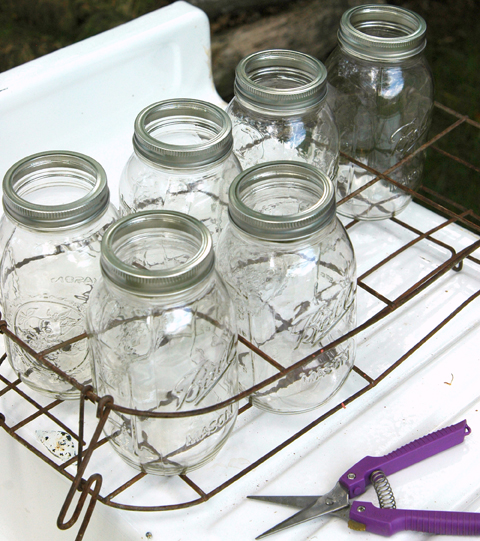 I've had more fun this year creating backdoor bouquets for various events with flowers from my cut flower gardens using classic Ball jars. They just never get old! I guess that's why they're called classics. You can find them easily during canning season and often times on sale.
To me, each jar is like a mini work of art. I call the one below "The Victorian" because of the rich jewel tone of the garnet red dahlia surrounded by more faded, almost vintage shades of mauve, pink, peach and soft greens.
This bunch went to a local fundraising luncheon. Raffia adds a festive fall touch to these late summer arrangements.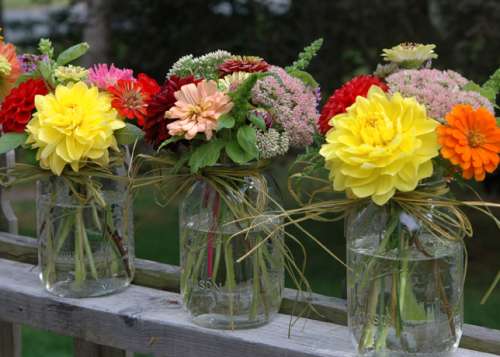 The American Sun dahlia is the star in these arrangements. Nothing adds cheer and sunshine like bright yellow flowers. Everything goes with yellow! Even pink! I chose some new dahlia varieties this season with long stems and medium-sized blooms more suited to floral design. Pop over to Dandelion House to learn more!
Truth be told, you could put a bunch of weeds into a Ball jar and they would look beautiful! In fact, I have!
This late-September bouquet is mostly weeds gathered from our cottage garden with a few hardy cosmos still hanging on to summer.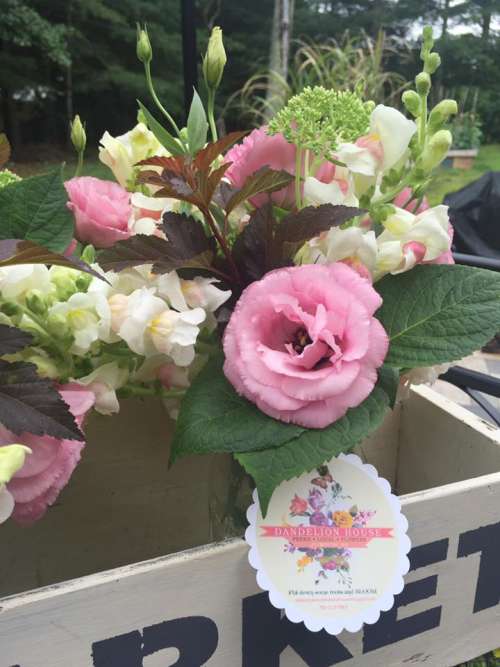 I didn't think it was possible to fall more in love with flowers than I already am. But it happened. Again! Lord, help me! I grew Lisianthus and apple blossom snapdragon for the first time this year and they stole my heart.
Read all about my affair with "Lisi's" and snaps!
Tell me! Do they look elegant in these basic Ball jars or what? These beauts have baby shower, bridal shower, wedding flowers, or garden party written all over them!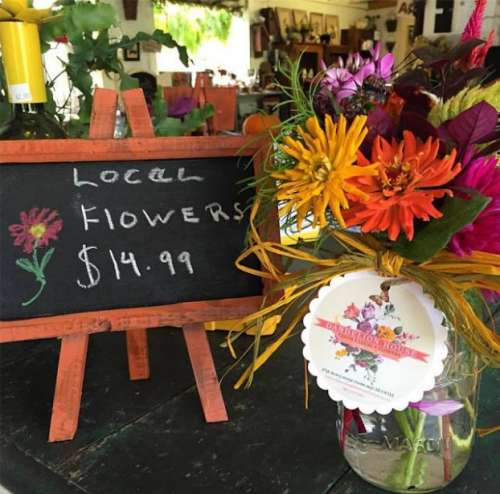 I'm fortunate to be able to sell some of my flowers through the garden shop where I work part-time. They grab the attention of shoppers and I've gotten work for outside events from the exposure. Branding is key if you're thinking about becoming a flower-preneur.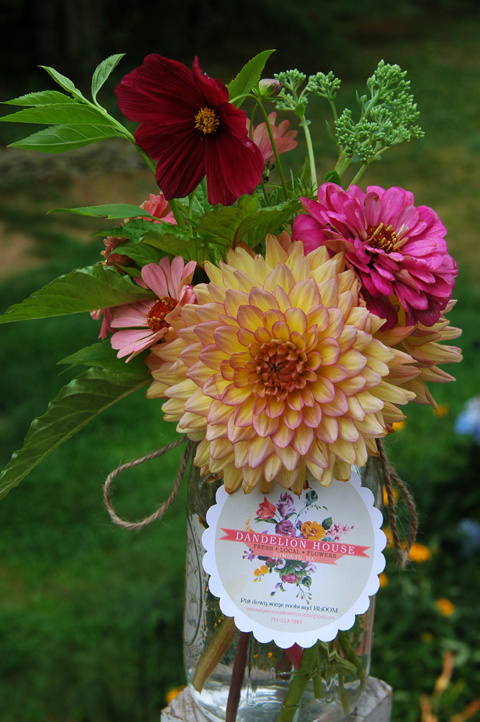 Even on a very small-scale such as my backyard flower farm and floral business people will begin to recognize your brand and seek you out. I have the tagline " FRESH ~LOCAL ~ FLOWERS~ on my tags and business cards because I want to educate my clients about how important it is to support local flower farms when ever possible, whether it's a backyard operation, an urban lot or a field.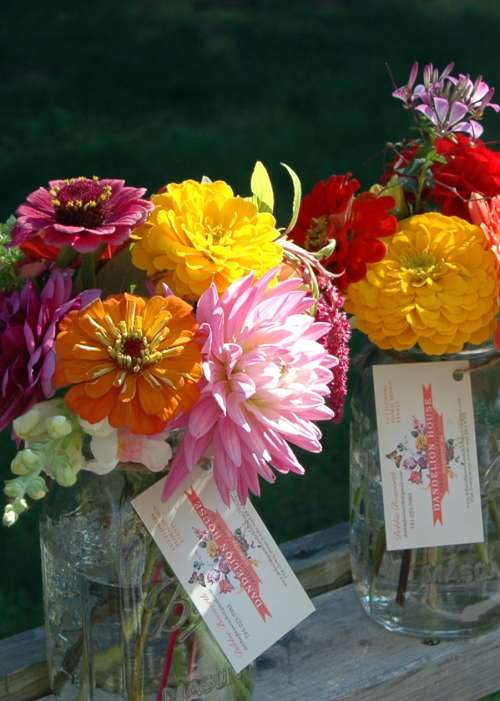 Calling myself a " backyard flower farmer" has gotten me a couple of speaking gigs too! My handsome Yankee and I spoke about creative living for a retirement community last April and I hosted my first floral workshop right here at Dandelion House this summer and it was amazing!
Here's a sneak peek of the floral workshop which included buckets of farm fresh flowers and Ball jars, of course!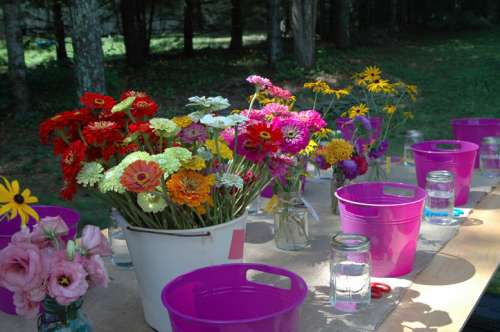 Think "Farmgirl Flower Jam" for your next chapter meeting or girlfriend gathering!
I hope summer was good to you! It's harvest season now. Gather all the goodness you can from this abundant season and stow it away for the long winter. When the days get long and gray, come on back to the Beach Farmgirl blog where the sun is always shining and flowers are always on the table no matter the season.
Until our next shoreline visit~ Be like the flowers and bloom like nobodies watching!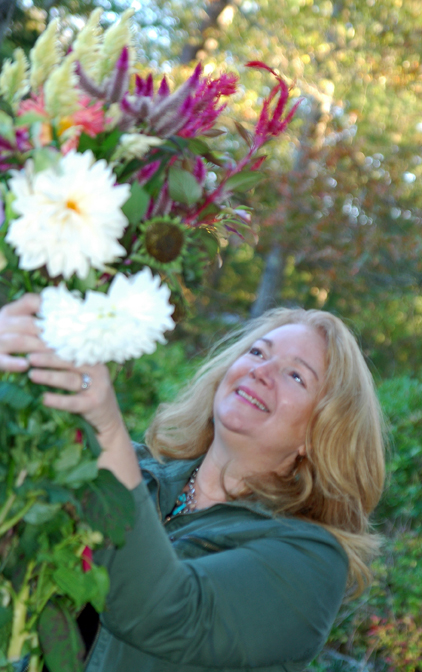 BEACH BLESSINGS AND MUCH LOVE,
Deb # 1199
aka Beach Farmgirl, Flower Farmgirl,
Save
Save
Save
Save
Save
Save
Save
Save
Save
Save
Save
Save
Save
Save
Save