Dear sisters,
When is the last time you stood in front of a large body of water with your arms wide open to the universe and just let out a big… long… sigh? If sea breezes and simple living tug at your farmgirl roots, this post is for you!  We just returned from our annual family vacation at the cottage and I brought back some pearls…
We were more anxious than ever to get back to our little cottage by the sea this summer. We've had it rented out for most of the season but we always schedule ourselves in amongst the other beach lovers. The not so glamorous part of renting the cottage is the weekly cleaning routine. Check out is at 11:00 and check in is at 2:00. My handsome Yankee and I have been there every Saturday to clean and transition renters in and out of the cottage, but, we always say, " it's not the worst place in the world to work". We've made a ritual of packing a lunch and stopping for iced coffee on the way.  The hour-long drive to the cottage is something we both look forward to all week. Bonus!
Pearl # 1. Work isn't really " work "  when you're with someone you love in a place you both love.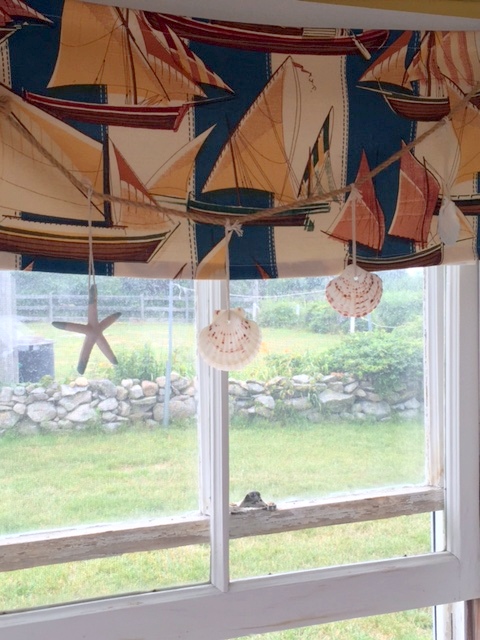 There's nothing quite like returning to the same place every year for rest and play. It's such a welcoming feeling to unlatch the door and walk in to our cheery yellow kitchen. Memories of past summer stays come rushing in but quickly get put on pause as perishables are brought in and put away.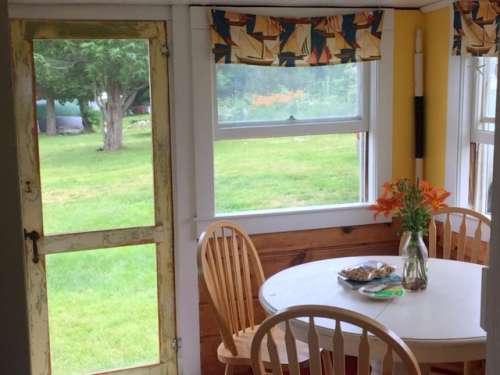 Familiar signs of our handy-work are all around adding to the feeling of home.  I have a confession to make. We've had the same valances in our cottage for over 10 years! Cottage decor trends come and go in the design world but we aren't trend-y at the cottage. We're home-y. Every so often I'll ask my hubby if he thinks it's time to change them out and we always say in unison, " maybe in a couple of years ". 😉
Pearl #2.  You don't have to be trendy to be happy!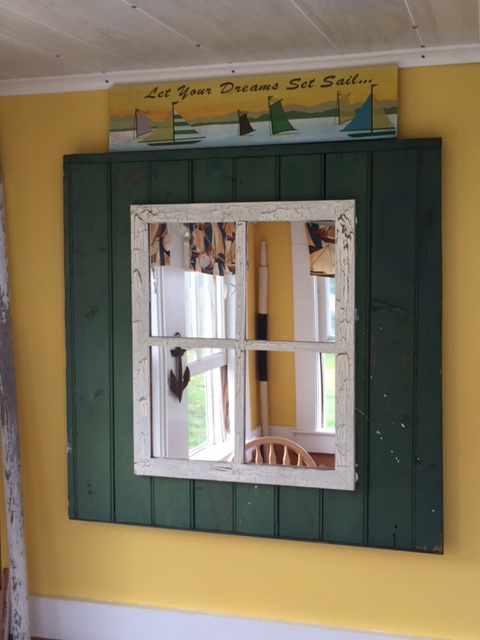 I feel so at ease in this minimal kitchen of ours. Everything I need for preparing meals, snacks, and lunches to go is within arms reach and the colors just make my heart happy!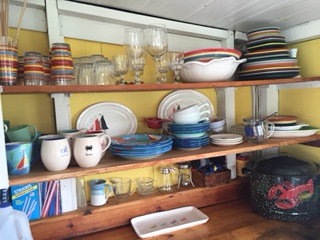 The open shelving is perfect for summer living. Plates, bowls and serving dishes and favorite coffee cups are at the ready. The melamine dishes ( top far right-hand corner) came with the cottage. ( circa 1950's ) The striped glasses on the top left are Fiesta and belonged to my mom.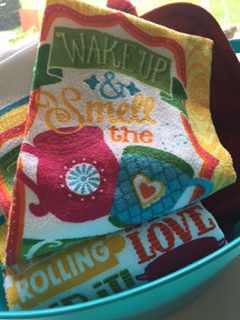 Even our stove is mini! It's similar in size as to what you might find in a tiny house, glamper or RV.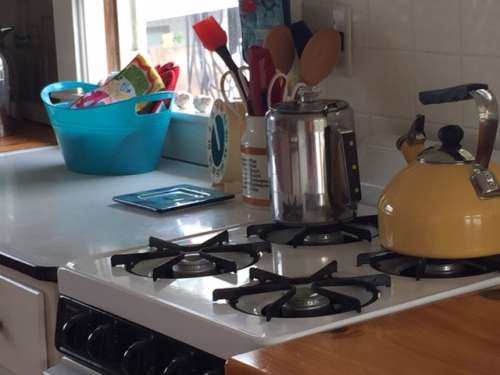 We have more open shelving to the right of the farm sink for dry goods or larger serving dishes and mixing bowls.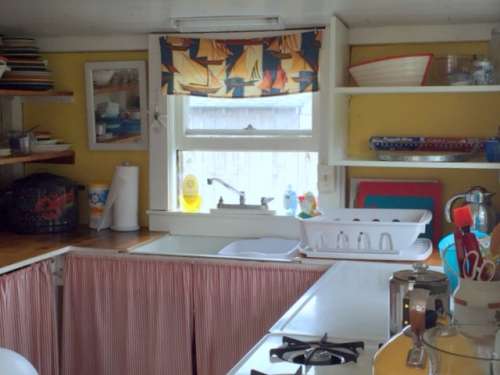 One of my favorite things about the cottage is that we don't have running hot water. Yup! We have solar electricity, and gas for the stove but we don't have a hot water heater which means we boil water on the stove for dish-washing by hand and that's fine by me.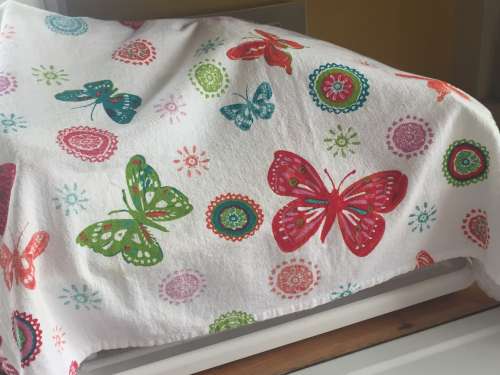 I think we farmgirls enjoy doing dishes by hand sometimes. I remember helping my mom at the sink when I was a little girl, and later on in years I would wash dishes with my mother in law at her cottage. She would wash and I would rinse and dry. That was one of our bonding times together.  One thing we always agreed on was our mutual adoration for her son.
These days it's usually just me at the kitchen sink but when I'm through with the last dish I tuck them all in with a pretty dish towel and call it a night. It's a ritual I love because my bed time follows shortly after that, unless I head to the porch for some chatting or reading.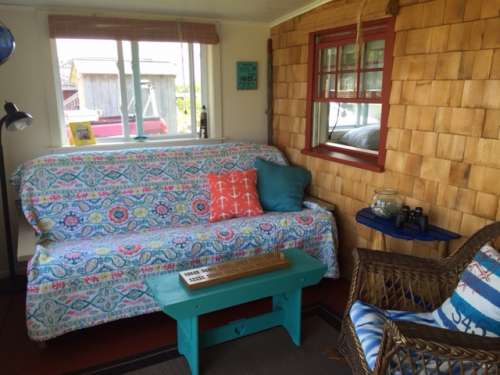 Pearl #3 You don't need a huge kitchen with all the bells and whistles to cook delicious food with love. 
It's hard to believe it's been 21 years since we've been bringing our family to the beach. As our children got older and started working full-time, they haven't been with us as much when we are there, so it was an extra special treat that our oldest took a week off and stayed the entire week!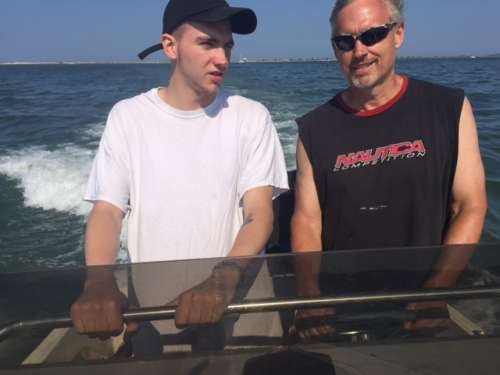 Thank goodness he did because I needed someone else to stand in for me as a play-mate for my hubby. He's like a little kid when he's at the beach. Up with the sun with a list of things to do a mile long before the sun sets. Our son and I take the lounge lizard approach to beach living. The more we can be horizontal readin' and relaxin' the happier we are!
Pearl #4 Playing keeps you young at heart! #playharderthanyour21yearold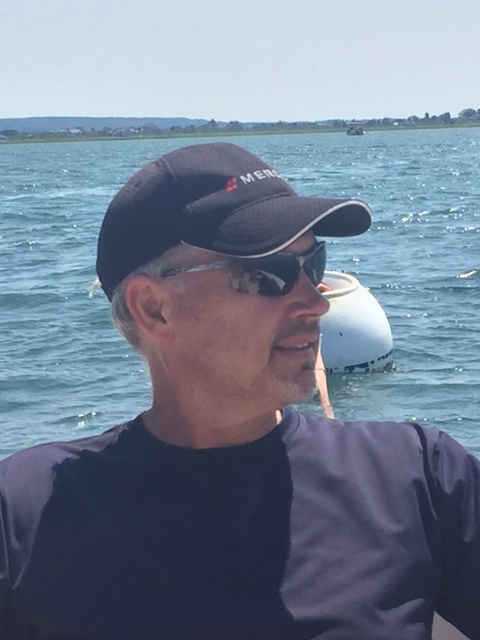 Someone celebrated his 60th birthday this year at the beach. I thought it was fitting we came across this channel marker with the number six on it while out on a boat ride!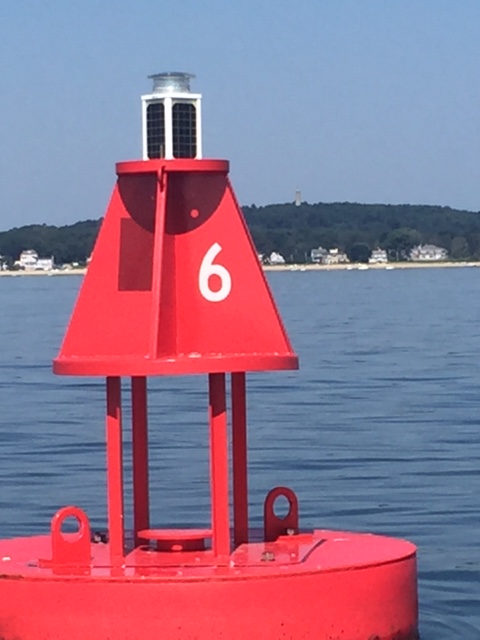 We kept the festivities low-key but we were feeling very festive! I've shared 30 birthday's with this guy! That's a big deal! We took a boat ride to Plymouth for dinner and my mom and our daughter met us there to celebrate.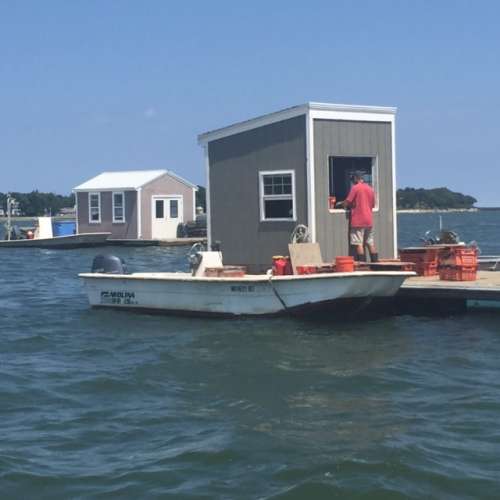 On the way over to the mainland we noticed an explosion of new Oyster Shacks in the bay. Years ago it used to be you'd see three or four of them. With the demand for fresh local oysters and the success of a few local farmers more Oyster Farms have popped up all over coastal New England.
After a nice dinner outside in the summer air we snapped a quick family selfie! Getting us all together in one spot isn't easy these days so I'm grateful to have gotten this one!
Pearl #5 Family and ice-cream are everything! Cheers! 
The best time of year at the beach is upon us. September sends the humidity packin'. The dry air returns along with blue skies and sunshine. The forecast is showing the next 5 days in the low 70's sunny and clear! I guess you know where we'll be.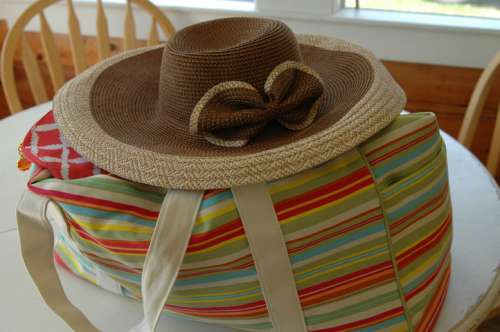 Summer isn't over yet!
Until our next shoreline visit~ Beach Blessings and Much Love!
Beach Farmgirl,
Deb # 1199
PS. Thank you for your sweet comments on our Beach-y Bathroom Vanity Re-do!
Save
Save
Save
Save
Save
Save