[Previous Suburban Farmgirl, October 2009 – October 2010]
Sorry if my long silence has made my corner of suburbia sound dull. Actually, it's been anything but! I've alluded to ch- ch- changes underway — let's just say that if they keep up at this pace I'm going to wake up metamorphosed into a basketcase. Or a fly.
What's on my mind today: Dividing worldly possessions. You know that mental exercise of "what would you take with you in a fire?" Well, what would you take if you could have a whole houseful — er, *half* a houseful? How do you decide?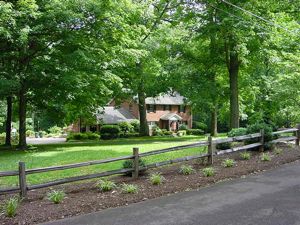 But first my update in a nutshell:

So, my divorce is nearing The End (in my state, North Carolina, it takes so long that Jon & Kate, the Sanfords of South Carolina, probably now even Sandra Bullock and Weird Jesse will have all had their marital crises explode and end in divorce since my date of separation but before my own is finalized!) I've also sold my house, made new housing plans, displayed uncool puppydog gratitude to the Apple employee who transferred the contents of my kaput laptop onto a shiny new one.  Also, sadly, my beloved mother-in-law died, at 94. (Which means my kids have lost all three of the grandparents they've ever known in under 2.5 years, two in six months!)
But I'm not recounting all that as a pity party. More as a re-cap (and explanation for being as quiet a winter field — or maybe more like a field planted but not sprouted?). The general trend is positive.
Dividing the stuff accumulated in a 20-year marriage is yet another seismic recent event. Still ongoing. How to decide?
Here are some related questions I've been mulling to help make choices:
Who started with it? This stuff is off-limits. I bought this ole bookcase as a singleton, for example, and  my sister gave me an oak farm table for my first apartment — and so I'll return to singleness with them, too.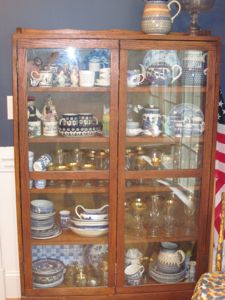 Was it a gift? Gifts stay with the recipients. Unfortunately I gave this lovely painting to my ex as a gift, so he gets to keep it. On the plus side, his mother gave me this old quilt as a birthday gift when I was a newlywed, and I ihope to keep that — and thus keep a tangible memory of her, as I now won't inherit anything. (She also gave me the gold-rimmed glasses in bookcase photo above, which were among her 1941 wedding gifts, but I'm thinking about conceding these to be nice, and hoping that her son will give them to one of his three daughters one day.)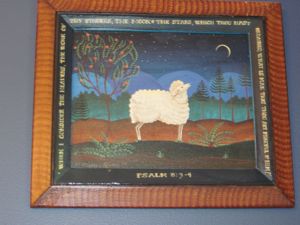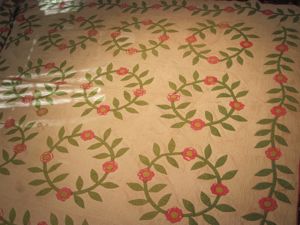 Is it sentimental? I collect Polish pottery and blue dishes. He collects postcards and magazines. Those kinds of delineations are easier. The needlepoint pillow my mom made? Mine. The toy box his dad made him? His. Trickier: Items of mutual affection, like this old hand-carved bowl we bought in Virginia.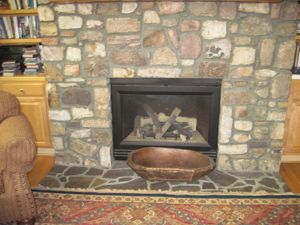 Room by room or piece by piece? We have not one but two rooms that each contain a sofa, chair, ottoman, carpet, end tables, lamps, old trunk to put your feet up on. Do we each get a full room "set" — or get to pick and choose our favorite pieces? I'm opting for the latter, also because I think it will be easier on the kids to see things mixed-and-matched in fresh ways, instead of their old family home recreated like a museum set in two new homes.
Who picked it out? Okay now we're on dicier terrain. Luckily in many cases, we have different tastes. (This might be seen as emblematic of the marriage itself, but that's another post for another day.) Certain items just clearly seem "his" and "hers."
Who used it? My office furniture is in my office, the office from which I've worked and made most of our income for as long as we've been in this house. (At the old house, I worked in our dining room or our basement, so having an office to call my own has been an indulgence of the highest order, nevermind that I spend a 40-50 hour week in it!) So it's coming with me. Ditto his home office pieces to him, even though among those pieces is the sweetest little typewriter table I found at a flea market in Knoxville, Tenn., circa 1987. But he was the one with the typewriter, and he still gets it now.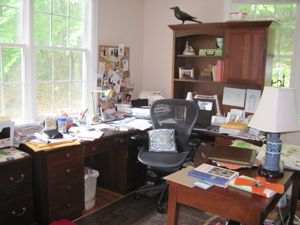 Can it be replaced? Certain kitchen items and linens, for example, will be missed, once we divide, but most of this stuff is pretty memory-free and relatively inexpensive. Bye bye.
And then there's kids' stuff (they'll decide where it goes), CDs (easier if I'd loaded that iPod!), books, family memorabilia (ouch!), Christmas decorations, and goodness-knows-what-lurks-in-the-attic!
And how do we decide about the things we both want? We began with a master list of furniture, carpets, and larger miscellany (e.g. a fabo toaster that friends who'd stayed at our — now sold — beach house gave us as a thank-you gift). I checked off roughly half. So if we had two large carpets, I picked one. Four sofas (don't ask how that happened!), I picked two. Then he did the same. Except it's not a perfect world so of course we still seem to want some of the same things. And some of us want two large carpets and not just one.
How to mediate? Talk sensibly? Draw lots? Take turns (but he marked off more than half)? Assign values (it's old basic suburbia furniture, not worth much)? Argue? I'm hoping for reasonable discussion without (ka-ching!) lawyers…and I'm also hoping for the wisdom of the crowd here, ladies, especially this commonsensical crowd. But fast!! Moving in a month!