[Previous Suburban Farmgirl, October 2009 – October 2010]
So do you have your Christmas tree yet? Where did it, or will it, come from? Chopped down in your backyard? Picked out after an outing in the woods or to a tree farm in the country? Bought at a local farmer's market or  — as is the bane (I mean convenience) of us Suburban Farmgirls — plucked from the nearest corner lot that sprouted last week the day after Thanksgiving?
(Hard to imagine there are any farmgirls out there who go for an artificial tree — are there??)
Welcome to December, that season I wait all year for… yet which inevitably sneaks up on me way too suddenly, just the same. There I was, perfectly content in the whole cornucopias-and-crunchy-leaves groove of the last holiday when, overnight, my pumpkin-and-brown color scheme is all wrong wrong wrong!
When do you typically make the pilgrims-to-Santas switch?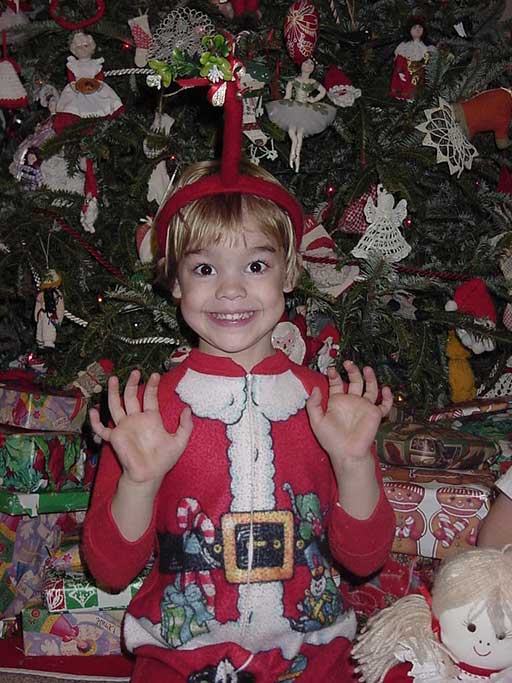 I'm actually traveling right now so I'm off the hall-decking hook for another 10 days or so. Most years I try to hold off on buying a Christmas tree until about the 15th, although I do start to dig out some decorations about now.
(All the ornaments on my tree are handmade, which you can see behind the happy elf in that photo above — but since I haven't dug out the boxes, I can't photograph them to show you, so that's the subject of another post!)
Even though I know winter is a relatively quiet time on a farm, my wannabe-farmgirl cravings seem strongest this time of year, because my favorite kinds of decorations are natural ones — the kind I can't rustle up too easily right outside my door (unless I hop in the minivan and hit the local Whole Foods or aforementioned corner tree lot).
In addition to a tree, there's:
Wreaths: I did put a fresh evergreen-and-pinecone wreath on the front door before I left. Every year I swear I'm going to learn how to make my own and every year I succumb to a pretty one I see in a market (or in this case, this year, on a stand outside my local Harris-Teeter grocery store, $12.95).
I used to have a grapevine wreath that I changed out with the seasons – autumnal flowers, spring flowers, or at Christmas, tiny Christmas ornaments that could tolerate being outside. I lost it in a move a few years back, though.
Other greenery: I love those dramatic swags of greens sweeping up a staircase or covering a mantle. But a) I don't have an open staircase, b) I don't get how to make 'em stay up! and c) I don't get how they stay green (do you have to mist them?) and d) they seem awfully expensive, when you're not dragging them in from your back 40.
Flowers: My old house had a holly tree, perfect for cutting big branches to place in a vase. No such luck with the plants where I live now. So I usually have to buy flowers — is it Christmas without pointsettias? I have a friend who decorates with white ones, which I'd always thought of as too elegant but which actually come off homey-rustic, although I'm a sucker for the classic red ones. Might try both this year.
Potpourri and other scents: I always set out a large bowl of pinecones (picked off the ground) sprinkled with cinnamon. And I've decided that my project with the girls this year will be to stud some oranges with cloves (pomanders) – a Christmassy-scented I learned from my fourth-grade teacher.
Quick pomander directions: Buy the thinnest-skinned oranges you can find. With a large darning needle, pierce evenly-spaced holes all over the orange, or make a patterned design like stripes. You can even write words, like "Peace" or "Noel." Then place a whole clove in each hole, so the top sticks out visibly. Arrange them in a pretty bowl on your kitchen table and inhale!
Has anyone tried this with lemons and apples? I want to, just to see what happens. Doubt the apples will last long, or smell as sweet, but won't they be pretty with their seasonal red?!