Dear Sisters,
Happy, happy summer! Ah, it's finally here! What does summer mean to you? It's different for everyone but I think we can all agree on one thing. There's nothing like a trip to your favorite local garden shop to kick off summer in your home and garden. Follow me to Crystal Lake Garden Shop to see all the flora, fauna and flavorful Farmgirl fare and enter the garden shop GIVEAWAY!!!
Isn't it great that summer is here? We've had a very dreary spring on the shorelines. The upside of cooler days is that it's much more comfortable for planting and preparing the gardens. The down side is that plants need water AND sun to grow. The weather curtailed planting out early this year, but plants have a way of making up the difference when it finally warms up and stays that way consistently. Meanwhile at the garden shop ( my part-time seasonal gig) the garden girls and I have been celebrating right along and we want you to celebrate with us! In honor of summer, the garden shop is sponsoring a giveaway just for you! The prize is SECRET because we have so many neat Farmgirl things in the shop I can't decide what to giveaway! Just know it will be fabulous and farm-girly! Are you in? Good!
We call ourselves the A-Team because like all Farmgirls, we know how to get r done! And we do! If you've ever worked at a garden center you know that it's hard, physical work. We unload trucks and move nursery stock, water and feed two large greenhouses worth of hanging plants, tender annuals, herbs and house plants. Plus we take care of the outside areas which are brimming with perennials, shrubs and bedding plants. Some days we barely have time to do anything creative between taking care of plants and people. Still, somehow we always have time for laughs. Laughter comes easy with the garden girls. The harder the day the more we laugh! Maybe we need a sign that says, " If you want it done right the first time, hire a farmgirl!"
The photos below will give you a taste, ( more like a meal ) of what we have in our little garden shop/country store during the summer season. I have no doubt something will delight each and every one of you!
Step into the garden shop and let the quiet music wash over you. Imagine soft piano music playing in the background as you browse the different sections of the shop.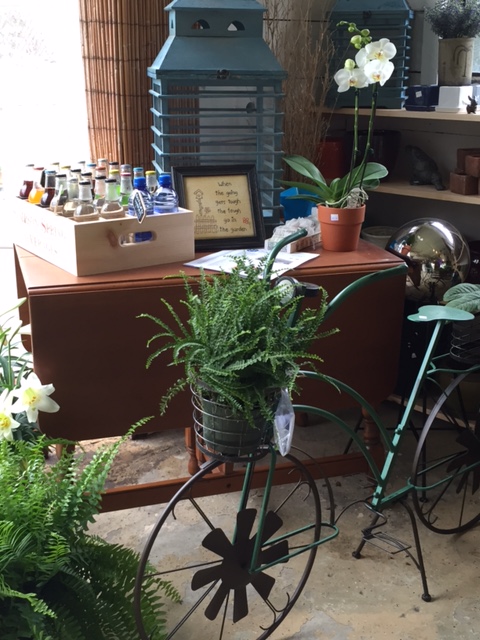 The garden section is where we display specialty pottery, vases, dried herbs, beach finds, candles, and watering cans galore!
Earlier in the season we created more display space for garden tools, gloves, hooks, hoses and hoes and the front section of the garden shop needed new shelving. ( see  below ) Gretchen is a whiz with power tools!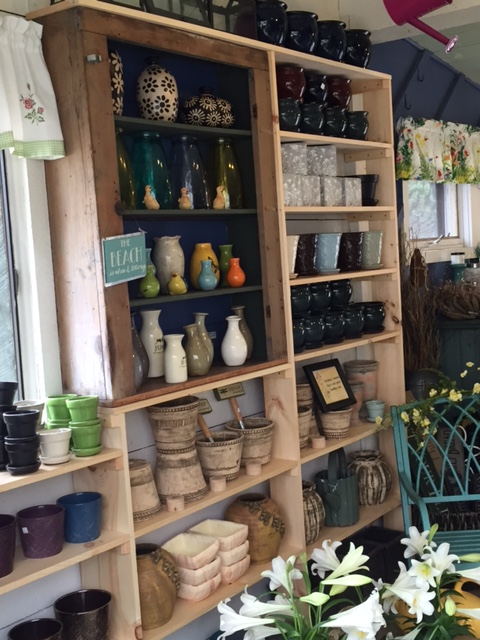 She built the new shelving unit for all the new pottery this season.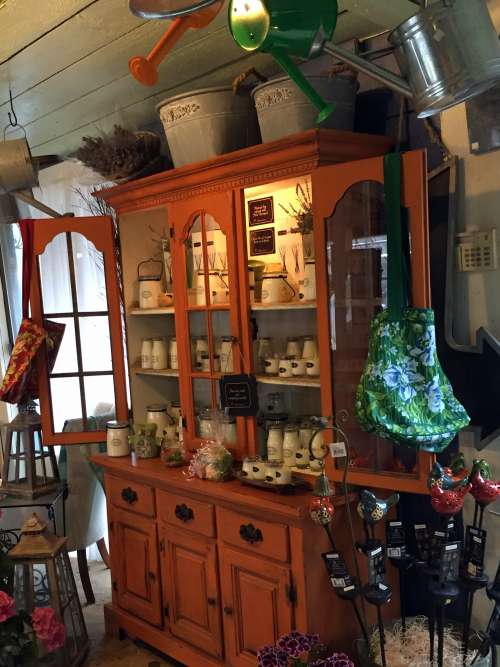 I'm not safe with power tools, but I'm dangerous with a paint brush so they turn me loose on furniture and merchandising which I love! I've mentioned the Milkhouse Candle Company in a past blog. They are a favorite among the staff and customers!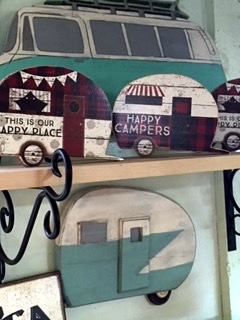 These painted wood vintage trailers have " glamping " written all over them.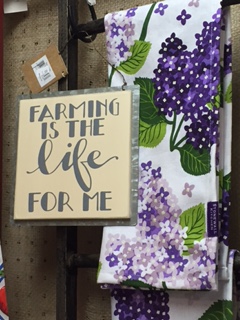 We have signs for days with the cutest sayings. I didn't take a photo of it, but the one that hangs over the check out counter says, " Your husband called, he said you can buy anything you want." That one always gets a good chuckle.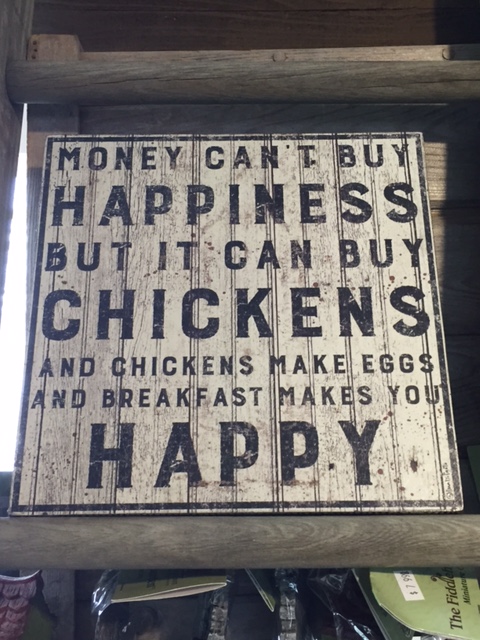 Something for the chicken keepers and cat lovers too!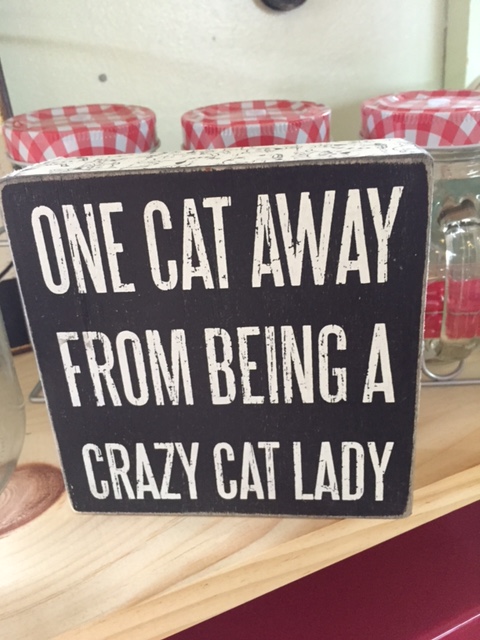 This is my favorite of them all! Doesn't summer make you feel wild and free? If I had this sign hanging in my home ( or barn) I would feel more like summer all year long, wouldn't you?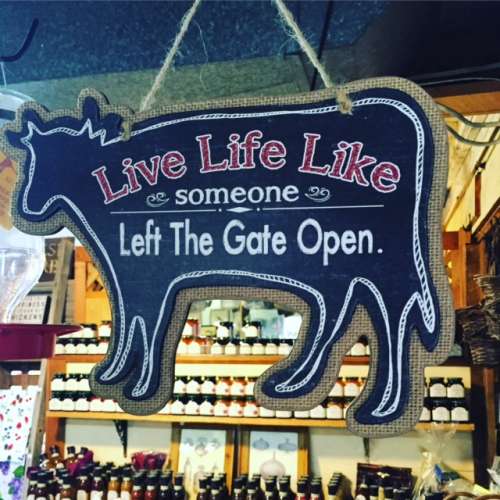 No good country store should be without a few pretty aprons and linens. These adorable aprons are made by Jessie Steele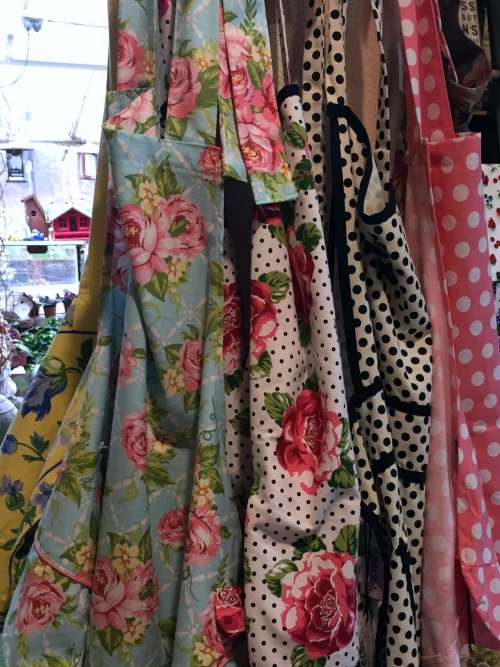 Bridget modeled one of the floral aprons while cooking samples of Apple Spice waffles for our customers last fall. Bridget organizes our shop classes and she has a big hand in the procurement of the gift ware that we carry. She loves baking cookies and is a cookie cutter collector of sorts.  So, yes. We have cookie cutters in every shape, size, and occasion imaginable.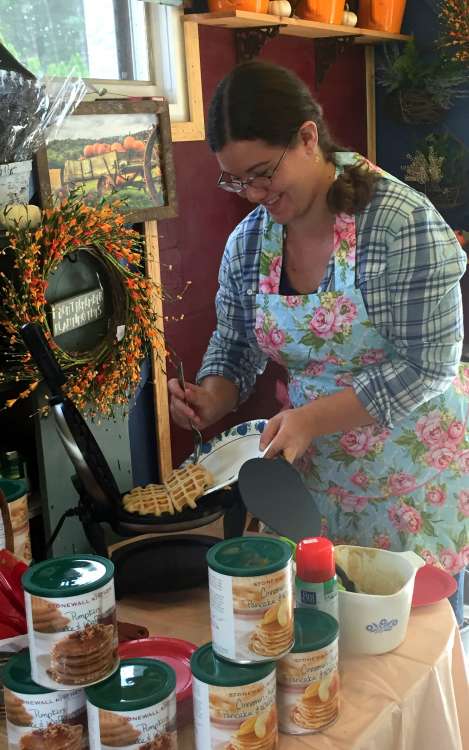 Napkins and dish towels in cheery summer shades brighten the kitchen section of the shop.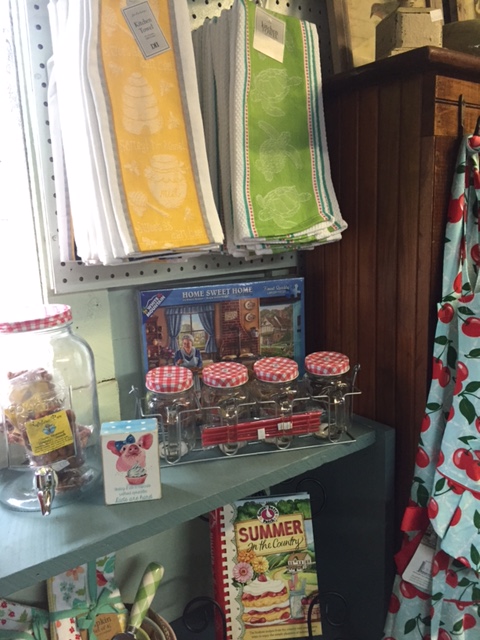 We even carry a few cookbooks to get taste buds warmed up to classic summer dishes.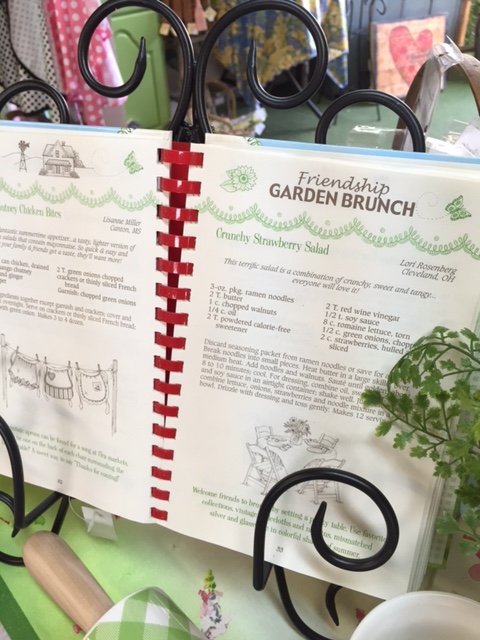 And what would summer be with out at least one, garden brunch with friends?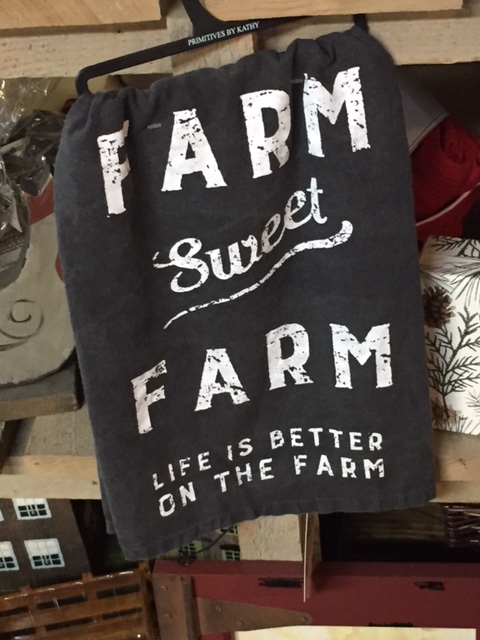 People say the shop has a country store feeling to it which we love because we've worked hard to create a unique shopping experience for our customers that they won't find anywhere else in town. I'm sure the friendly faces and commentary add something to the mix.
We carry as many local products as well! Each one is worthy of a separate blog post so be sure to check out the links to learn more.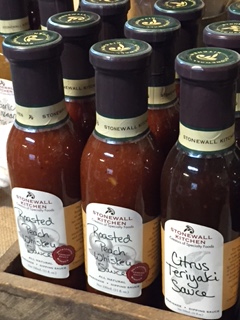 Stone Wall Kitchen is a popular local product from Maine that we carry in the shop. Summertime is the perfect time to try new savory sauces, salad dressings and delicious dessert toppings.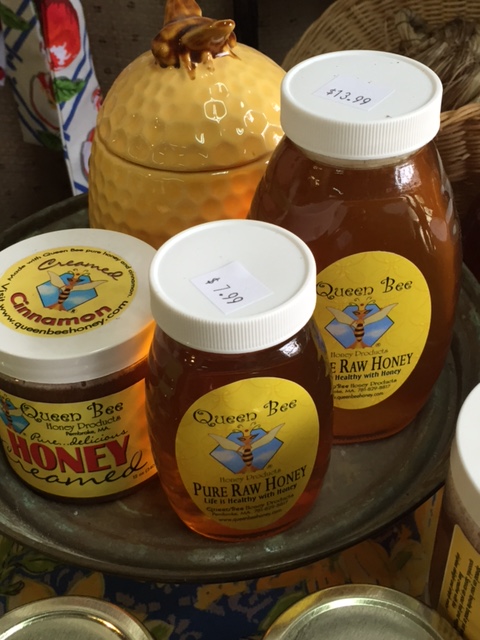 It seems like just about every town has a local honey supplier these days. We love our Queen Bee Honey products. They have the best lip balm! Every Farmgirl needs a good lip balm, right? They also make soaps, candles, body scrub, seasoned nuts, and candy.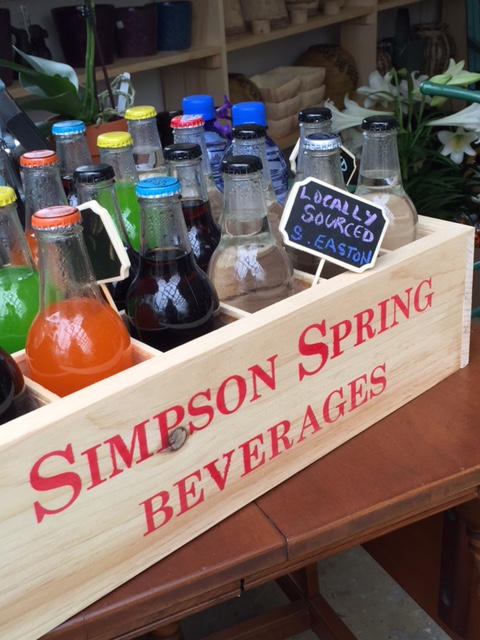 Why, we even have delicious locally made soda from Simpson Springs.  They make all natural hand-mixed soda beverages from spring water right on property in old-fashioned flavors, such as creme soda, grape, orange, sarsaparilla, and root beer. I love their citrus flavored  drinks with grapefruit and lime! Nothing better on a hot, hot day and our customers love having the option of a cool drink after they do their shopping, or during!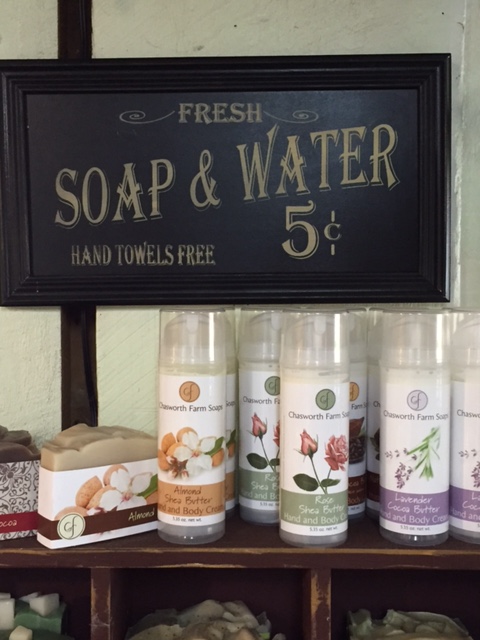 I discovered Chasworth Farm Soap on a recent trip to Vermont. I fell in love with the packaging at first, but I give the product my full endorsement too. These goats milk soaps smell almost good enough to eat and leave your skin feeling naturally smooth. I wish you could sniff them too!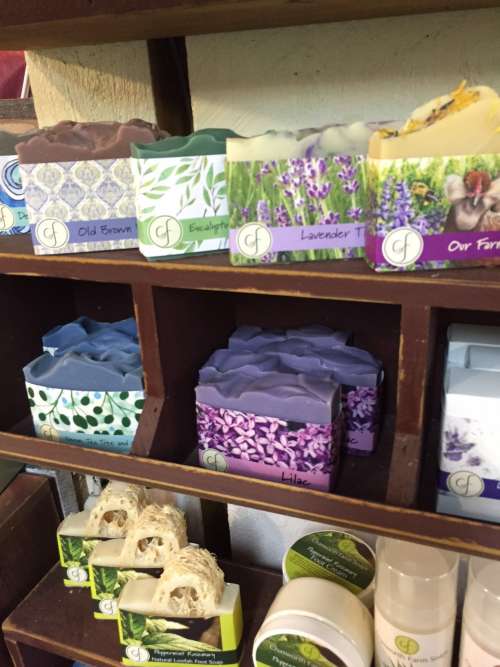 Not a day goes by when I'm at the shop that I don't think of all of my farmgirl sisters. There are so many reminders there that make me think, I bet they would love this place as much as I do!
In other shop news… We got bunnies this spring! Say hello to Cookies and Creme!
 It's going to be tough to choose from the wide selection of great gift-ware for the GIVEAWAY PRIZE, but, we promise it will be full of summer fun from the garden shop girls! Be sure to enter in the comments below and tell us what your favorites are from this posting! Bunnies not included! 
Cheers to summer 2017! I hope it's all you dreamed and planned it would be. Get out there and be a little wild! You'll just feel better, I promise!
Until our next shoreline visit~ Happy Fourth of July and God Bless America!
BEACH BLESSINGS AND MUCH LOVE,
The Beach Farmgirl , Deb
( and the garden girls, too )
PS. We ARE going to the beach next time!
Save
Save
Save
Save
Save
Save
Save
Save
Save
Save
Save