Last week marked my twenty-first wedding anniversary.  I'm a lucky girl having married my handsome, sweet Dane.  I'm  also blessed for another reason: my in-laws.  They're my "bonus" and I love them to pieces!  Last month, we got to spend two weeks together when they came for a visit.  We so enjoyed them! Living so far away, we always cherish the time we have together. In honor of my beloved in-laws, Torben and Ulla,  join me on a "virtual tour" of Denmark, and enjoy some of our favorite Danish recipes!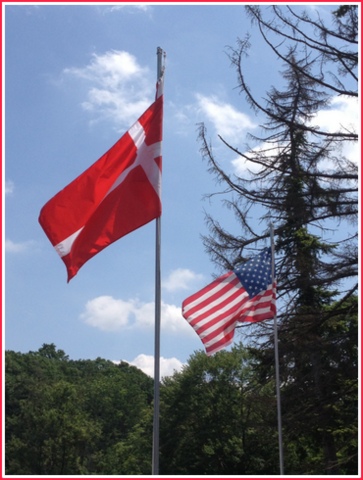 Denmark was recently in the news again as having the "happiest people on earth".   There's been much discussion as to why they're so happy, but I think it's their commitment to family and community, their balance between work and play, and their ability to "be modern" while still  holding tight to "tradition". Danes get at least five weeks' vacation each year, and enjoy a long maternity and paternity leave.  As for my in-laws, I was welcomed into the family the day I married my husband, and they've always treated me like a daughter.  Knitting is very popular in Denmark, and my mother-in-law, Ulla, and I both love a cup of coffee and a bit of knitting in the afternoon! There's knitting patterns in magazines, yarn by the cash register at markets, and yarn shops galore.  Denmark's a knitter's paradise!
Denmark's an amazing place to visit, and Danes are warm and friendly. Copenhagen is a big, bustling city.  The legendary Tivoli Gardens are there. It's the world's second oldest amusement park with places to eat, beautiful architecture, rides, and stunning gardens.  Something I have in common with my father-in-law, Torben, is a love of museums.  The rest of the family can zip in, see the sights of a museum, then go for ice cream, while Torben and I can spend hours, reading all the info and taking mass quantities of photos. Denmark has amazing castles that have been standing for centuries. Of all the museums I've been to all over the world, my most favorite is the Rosenborg Castle, also  in Copenhagen, built in the 1600's as a summer home for the royal king. There's so much to see there including  royal jewels, wax figures of royal kings from centuries past, and priceless Royal Copenhagen china.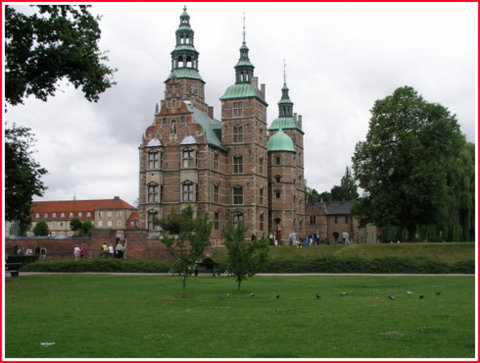 My favorite museum, Rosenborg Castle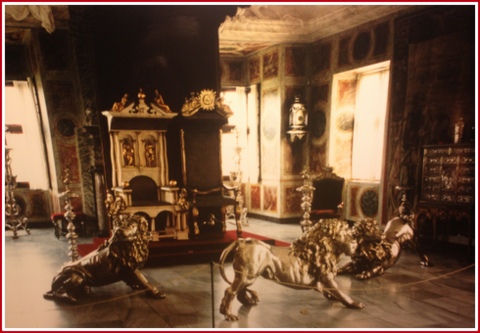 Inside, some castle rooms are as they were centuries ago.  The silver lions were made in the 1600's.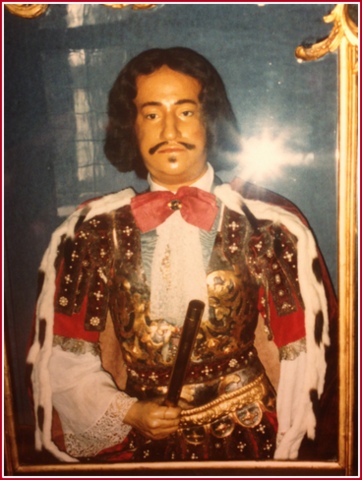 I took this photo in 1998.  This exhibit still fascinates me.  This bust is King Frederik III and was made in 1751.  There is a bust of Queen Sophie, as well,  made during her lifetime.  It's one thing to see a painting of someone from so long ago, but to stand next to such a lifelike likeness is quite something.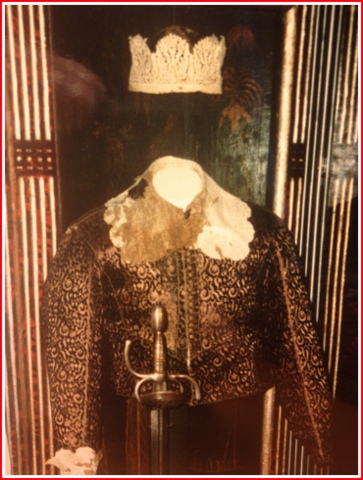 A bit macabre, perhaps, but fascinating.  King Christian IV's blood-stained clothing is on display at the castle.  The king was injured during a naval battle in 1644 by cannonball and cannonball fragments.  Amazingly, he lived and was only blinded in one eye.  It was his wish to keep the clothing.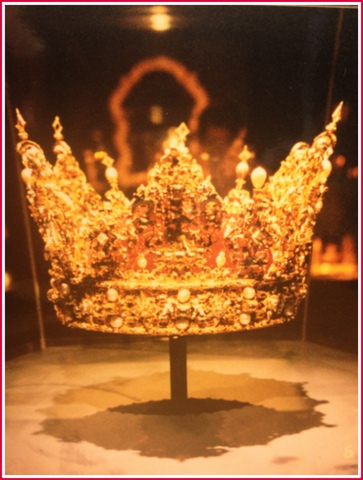 Royal crown jewels
Another castle to see is Kronborg, where Shakespeare's play Hamlet is set. A true storybook castle complete with a moat, it houses the great "Holger Danske" (Holger the Dane), the sleeping stone giant.  Legend holds he will wake up and fight should Denmark ever need him.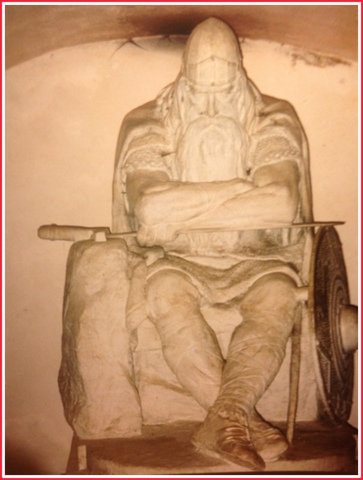 The Roskilde Cathedral is another very, very old structure, housing the tombs of the royals, with an the altar in front dating back to the 1500's!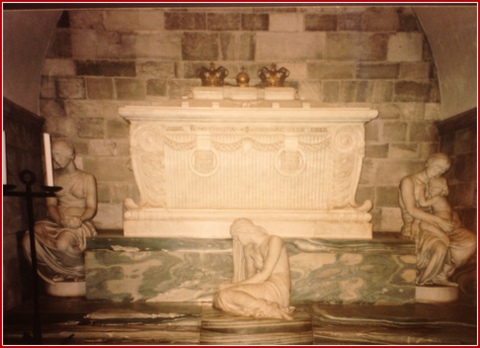 Tombs of the royals found inside the Roskilde cathedral.  Each tomb looks different, reflecting the period of time and the style of the century.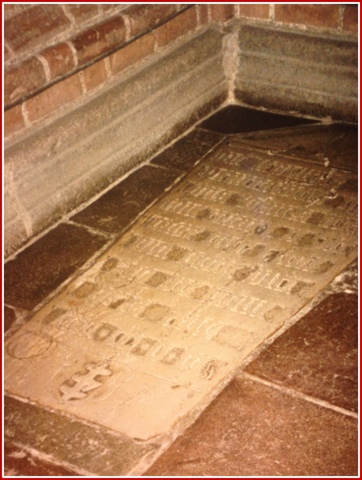 Some of the tombs are in the floor, so old from so many centuries ago that they are not sure who they are (but that they are of Royal blood)
Great things have come from Denmark: Danish furniture, Hans Christian Andersen, and Legos!  Legoland in Billund is a fun place for all ages.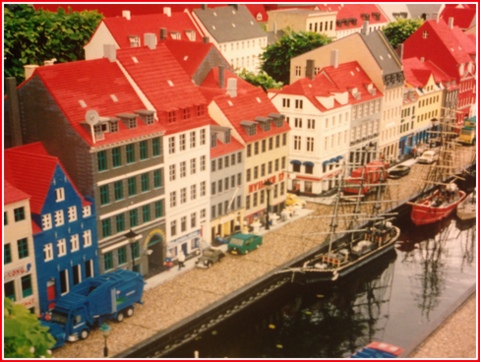 Whole cities, airports, and monuments from all over the world are made into scale miniatures at Legoland in Billund, Denmark, where Legos were first designed and made.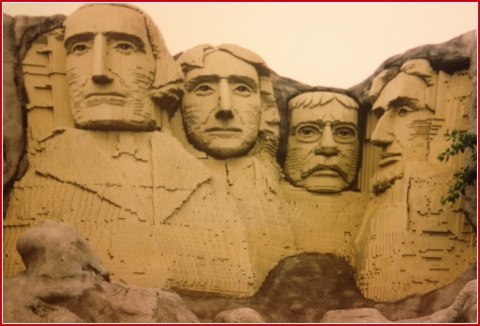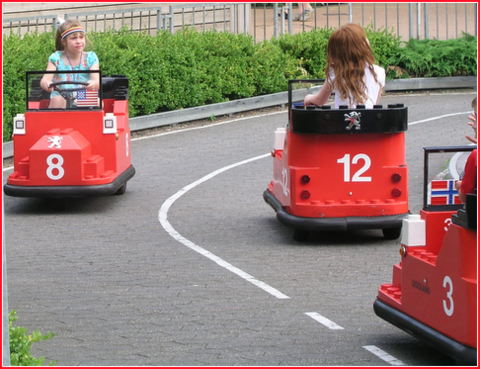 Kids take a "driver's course" and drive all over a small "town" in Legoland.  Each child is given a plate representing his/her country.  My daughter's was the only US flag that day.  I have the exact photo of my husband driving at Legoland from when he was a small boy.
Skagen, Denmark, at the very top of the country, is a small but beautiful town with a beach where the North and the Baltic Seas meet.  It feels like you are standing at the top of the world when the waves hit you from both sides.  It is an amazing sight.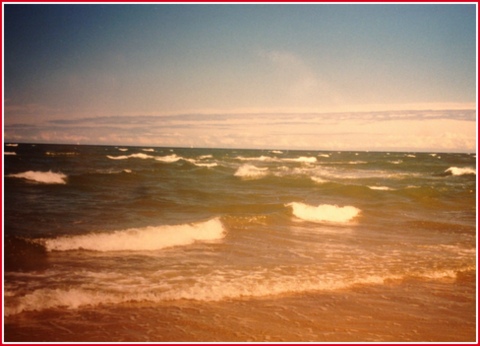 The waves come from two directions at Skagen.  The sound of the waves crashing into each other is something, as is the experience of standing in the middle between the two seas.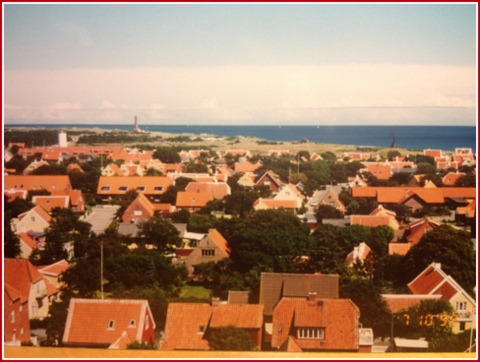 In Skagen, all the houses are white or "Skagen yellow" with red tile roofs.  Such a pretty town with cobbled streets.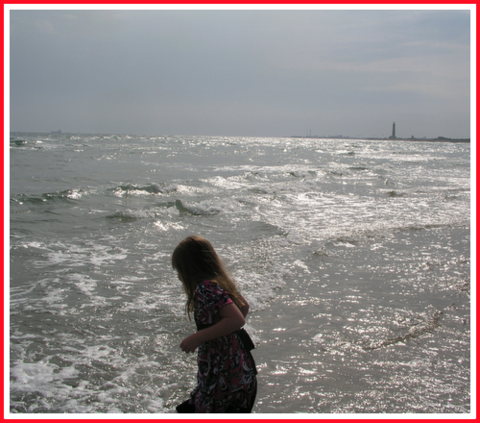 What I love most about Denmark is the countryside, the many farms, and small towns.  It's clean and beautiful.  Cobblestone streets are lined with small, local mom-and-pop-shops like butchers and bakeries.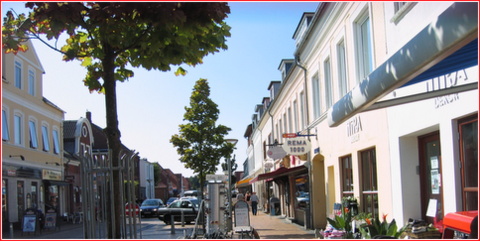 A typical little town in Denmark.  All towns have bike lanes and sidewalks.
Danish farms and countryside is peaceful and storybook quaint.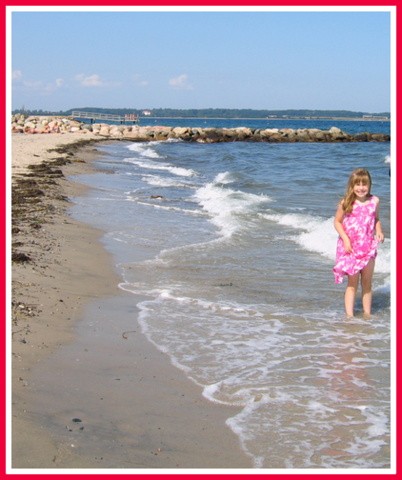 In the water, Horsens, Denmark.  The debris on the beach is a strange phenomena…ladybugs!!
Danish food is simple and hearty, with open-faced sandwiches, incredible cheeses (a major export), and of course, pastries.
Hope you enjoyed our "tour".  Here are two of my family's favorite classic Danish recipes.  Enjoy!
Boller i Karri (Meatballs in Curry Sauce…Danes love their meatballs)!
Mix two pounds of ground pork with 1/4 cup flour, 1/4 cup milk, 1/4 tsp. salt, 1/4 tsp. pepper, 1 very finely chopped small onion, and 1 egg, beaten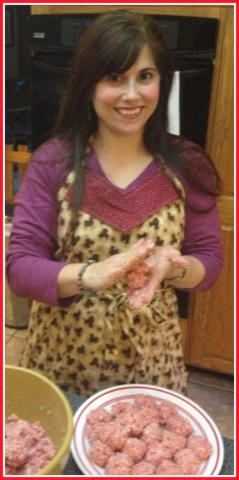 Roll into golf-ball sized meatballs.  Place meatballs in a large pot of salted boiling water.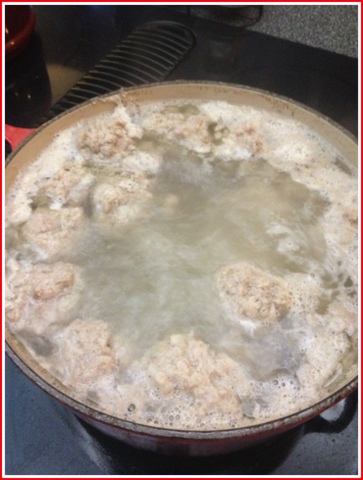 You'll know the meatballs are ready when they turn grey and float. Remove the meatballs and set them aside. Strain the remaining water to remove loose bits of meat.  This liquid will be used to make the sauce.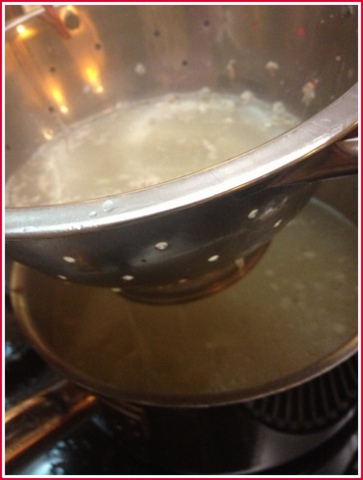 In a small bowl, whisk 1/2 stick of butter with several TBSP of flour until smooth.  Add the water from the meatballs to make a sauce (about 4 cups worth, adding a little at a time for the right consistency, which should be not too thick but not runny, much like a creamy soup).  Add 1 tsp of curry. (Add more if you like, to taste).  Salt to taste. Add the meatballs and simmer on low heat for twenty minutes.  Serve over hot cooked rice, with pickled beets as a side dish.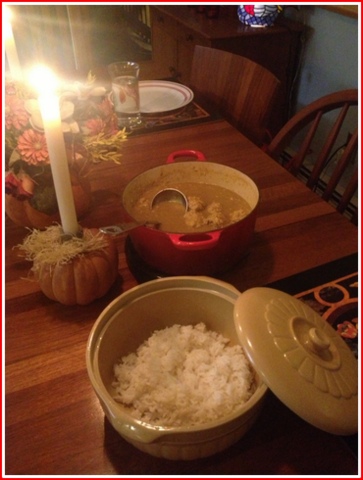 For dessert,another favorite Danish recipe, "Aebleskivers", little puff pancakes.  Aebleskiver pans are now available in the USA.  The pans look like a frying pan with little "wells" for the batter.  This is one of my favorite oldest Danish recipes.
2 cups flour
1/2 tsp salt
1 tsp sugar
2 cups buttermilk
2 eggs, separated
1 tsp. baking soda
melted butter (or use cooking spray, or coconut oil)
Mix flour, salt, and sugar.  Beat the buttermilk and egg yolks, and add to flour mixture.  Stir in soda.  Beat the egg whites until stiff, and fold into mixture.  Heat the pan on  low heat and put a little melted butter in each hole.  Fill each hold 3/4 of the way full.  Heat over low heat, turning each one with a bamboo skewer when half down.  Place aebleskivers on a platter, sift with powdered sugar, and serve with strawberry jam.
God Fornojelse! Enjoy!
Hope you enjoyed our "visit". Do you have any favorite international recipes? Take a moment and share them here, in the comments section!
Until next time…Farmgirl Hugs, Nicole