I've lived in Sandy Hook/Newtown almost half my life. If you've read this blog, you know just how deep an affection I hold for my town. It's breathtaking; even twenty years later, it's beauty moves me. We'd originally moved to Connecticut for business, and could've lived anywhere.  Coming to Newtown, with its picturesque scenery, structures bursting with character, and majestic flagpole anchoring our Main Street, we knew Newtown was where we wanted to settle.  My beloved town's the only home my child's ever known, where everyone knows everyone else. Businesses call patrons by first names; you can't go to the store without seeing someone you know. Our community's very active. It's the perfect place to raise a family, a storybook setting. Calling Newtown "close-knit" falls short…the community's more than that; it's a big family. When evil descended upon us, he swooped right into our town's very heartbeat…one of our beloved schools.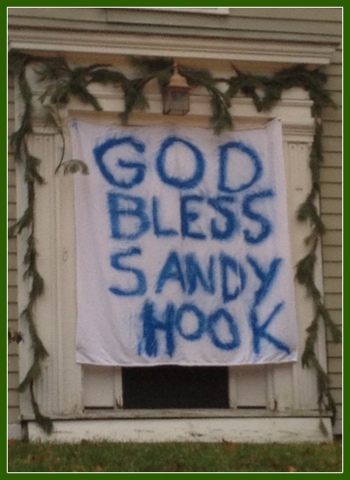 It was a sunny, beautiful Friday, after a week of dreary weather, and started out as a regular day.  My daughter had been ill the first four days that week with a stomach bug. Her first day back, I had a rather large to-do list, with Christmas being right 'round the corner.  Around 10:00 am, the call came that would signal life in Newtown would never be the same; a message from our Superintendent.  She indicated that due to a shooting at one of our schools, all schools in the district were on lock-down.  Then the call ended.  We weren't told which school was in peril.
Every Newtown parent felt the searing blade of horror, fear, and panic. My heart skipped a beat, my world spinning.  I quickly dialed my husband and turned on the t.v.  Surfing channels, I found nothing.  Since we have a satellite dish and live closer to New York than Hartford, I don't get "local" channels. I phoned a neighbor, asking her to turn on her t.v. to see if she could find out which school was in trouble.  The mom of my daughter's best friend called to see if I knew.  She and I would talk throughout the day, sobbing, there for one another. No one answered the phone at our school. They can't during lock-down.
For the longest, agonizing time, we didn't know which school was affected. Finally sometime before 11:00, we learned it was Sandy Hook Elementary… I can't even begin to imagine what horror it was for those parents.
The rest of the day was a blur of fear, panic, disbelief.  My brother, a policeman in his thirtieth year on the force in another state, advised me not to go to my daughter's school, as long as hers wasn't involved. Conflicting reports abounded.  At first we thought it was one teacher hurt with a wound through the foot.  We hoped that would be all. Sandy Hook School parents were in a parent's worst nightmare, one no one should have to ever face. There were (false) reports of a second shooter loose.  I desperately worried about my daughter at her school, and for all the sweet, innocent children at Sandy Hook Elementary.  I thought of those working there, some I know personally, all moms themselves, and for the sweet kids I've met in my knitting classes.  I wanted time to stop…to rewind to before 9:30.
Phone calls from everywhere rang my cell and home.  My email box flooded, and farmgirls from all over the United States posted messages on the forum. While I was alone at home anxious, waiting for news, my husband trying to get home from work, I felt comfort knowing so many were praying for us.
I was one of the lucky ones.  My baby's school was unaffected, and she came home.  Waiting for that bus to come was agony. When she finally arrived, I felt immense joy. I ran to hug her, couldn't judge my distance for the tears and running mascara, and literally knocked us both flat to the ground.  In typical tween fashion, she informed me she was just fine, but I'd just severely embarrassed her in front of the whole bus. I didn't care and hugged her again. Someday, when she's a mommy, she'll understand.
I've held her close, and hugged her often.  Cookies for breakfast?!  Here, have two.
The night before the incident, at a restaurant, another table was loudly discussing how "nowhere's safe."  Audrey became concerned, and I told her not to worry, ours is a safe area. There was some truth to that statement. Up until that day, our typical police blotter consisted of cars colliding with deer and the occasional bashed mailbox.  The sad truth is what happened to us could've happened anywhere.  From the minute our babies are born, our instincts are to protect them, but bad things can and do happen in life.  Each day we have, every breath's a blessing.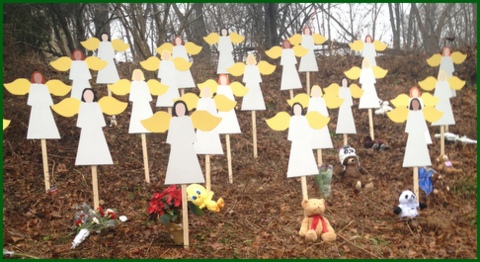 My heart aches for those whose babies didn't come home, and for the families of our great teachers and staff who died so bravely, fiercely protecting their students. I can't fathom the depth of their grief. The world's feeling our pain, but as residents, whose friends, family and neighbors were involved, our pain is especially great.  Over a week later, I still feel like the wind's been knocked right out of me.  My daughter's hurting, as she realized one of the teachers lost was a beloved substitute she'd had often last year, "Miss R.". One of the children is the baby sister of a former knitting student…my heart literally breaks thinking about this beautiful family.
In the midst of a horrid, despicable act of pure evil, a sea of love poured in to Newtown, and remains.  Memorials are everywhere.  Our town's filled with strangers, coming to pay their respects and help. Media's been in town from all over the world. We've seen them weeping with us. There's messages to our townspeople from everywhere…we hear you…we thank you.
When our town was visited by the President, our clergy from all faiths said what was in all our hearts.  I was so proud to be an American, and never, ever more proud to live in Newtown!  I love my town and her people. I'm proud of our teachers, our police, our fire department, our leaders.   Our residents are supporting one another with so much love.  As hard as it is to believe, we will somehow get through this…together.
We are Newtown.