It's been a big summer for my daughter, turning ten ("Double-Digits, Mom!").  I spend lots of one-on-one time with my girl, and the upcoming school year will be transitional, as she heads to a new school, in a grade that "promotes independence".  We're starting the "tween" years, and I can't help but feel a bit of "empty-nest syndrome" setting in as she gets ready for back-to-school.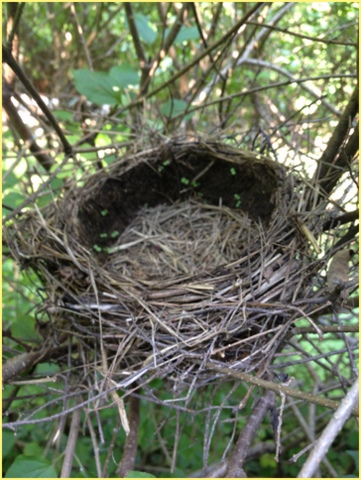 I teach knitting lessons to all ages, and have friends with daughters older than mine.  I've watched them grow up.  It  amazes me the difference in a girl who's between eight and ten, and one who's between twelve and fourteen.  I've noticed that girls my daughter's age are more like my generation was at twelve, and twelve and thirteen year olds are more like I was at fifteen. (Moms of sons: do you feel the same way?  Leave a comment, I'm interested in knowing if you feel this way about your boys, too).
This summer, our hopes to see family in Denmark were put on hold due to the entire world flying into Europe to see the Olympics.  While we were disappointed, it  gave us the chance to spend some quality time with our daughter.  When asked what she wanted for her tenth birthday, the answer was always a trip to the American Girl Doll store in New York City.  I think I was just as excited about going as she was!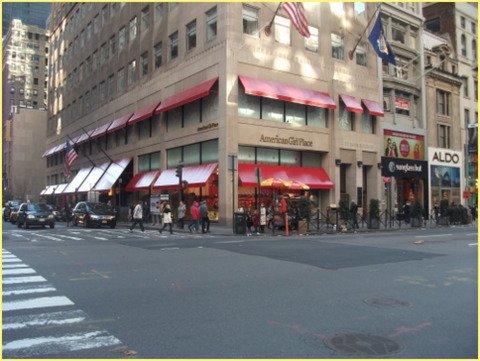 When I was a little girl, I had two great loves: dolls and books.  I wish American Girl dolls were around when I was a kid! The closest was my "My Friend Mandy" doll, which I kept and have given to Audrey.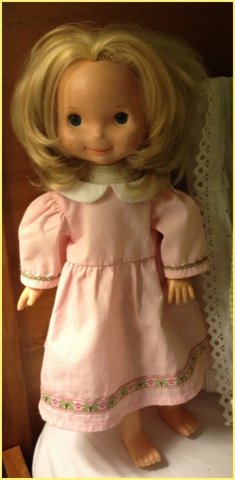 "My Friend Mandy"
I had a beautiful doll house my father built, and Madame Alexander baby dolls from my mom each Christmas. When I was three or four, my dad's sister made me a life-size rag doll. She had long, brown yarn hair, arms and legs jointed together with huge buttons, and an embroidered face.  She wore my clothes, and I literally loved her to rags.  When I was old enough for my first Barbie doll, it was an event:  my mom, grandmother, and I got dressed up, went  to lunch, then to the "T,G&Y" dime store to pick out a Barbie. Playing with dolls, I could be a princess, a cowgirl, or a superhero. I'd play "school" and be a teacher, I'd play "house", or be a mom grocery shopping with my baby in the cart.  Funny how grocery shopping with a youngster in tow wasn't as much fun in real life as I had imagined …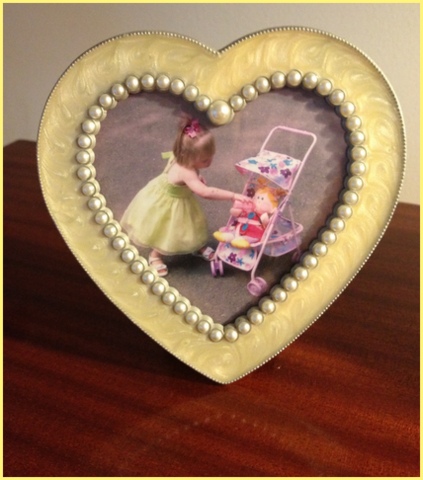 One of my most treasured pictures of my daughter. It was her second birthday, and she had picked out the doll and stroller herself.
Don't get me wrong, I'm not a mom trying to re-live youth through my daughter. She's her own person, but we're a lot alike, and share a love of dolls. Childhood is short; I figure there won't be many more birthdays where she'll want dolls.   The American Girl doll store is part big department store and part museum, with displays of dolls and the era of history their stories occur. There's much to see and do.  Inside the restaurant, girls are seated with their dolls next to them, and the menu is as delicious as any other fine New York restaurant.  Even my husband walked away stuffed like a Thanksgiving turkey… although he had an overwhelming desire to watch the movie "Rambo" when he got home.  The visit ended with Audrey spending her own money on a new doll, "Kit Kittredge", from the 1930's.  While some argue the dolls are expensive, each one comes with a book, and we don't spend money on things like pricey video games.  I admit, I've been caught styling the dolls' hair when Audrey was at school.  Okay, how many of you have played with your kids toys when they weren't around?  Admit it…
My daughter's love of reading was turned into a passion by her third grade teacher.  I'm always surprised when I hear, "Mama, I need something else to read. I finished my book". She certainly doesn't need me to read to her, and it tugged at my heart when I realized she no longer had me read her a bedtime story. It didn't happen overnight, just sort of gradually, like a whisper in time.
One of the things I've wanted to do forever was share the Little House on the Prairie books by Laura Ingalls Wilder with my daughter. I remember the Christmas I got a new, boxed set of the  books, circa 1977. Those books were one of my favorite gifts ever. I read and reread each one until they literally fell apart.  We checked out Little House in the Big Woods from the library, and have spent time this summer reading it together on a blanket in the shade by the cutting garden.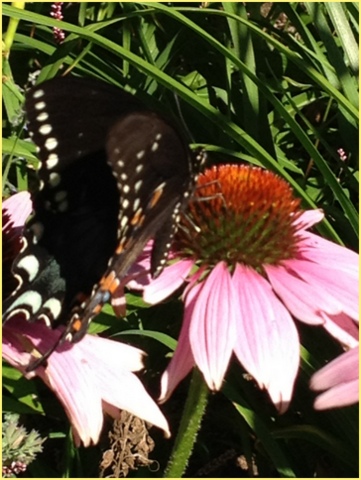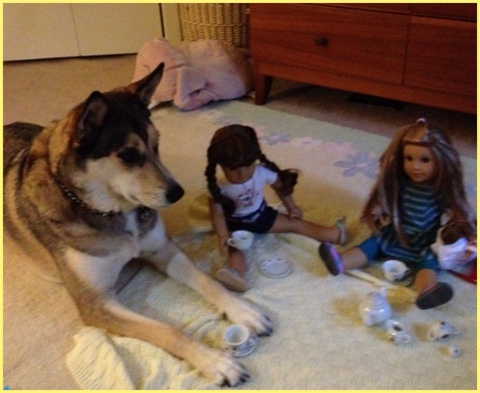 "Just one of the girls having a tea party on a rainy day"
Kids have much pressure to grow up fast.  There's shows and movies aimed at my daughter's age and younger, with "sassy" characters or that focus on "older" subjects like dating. Everywhere, kids are being told they need to be a pop star to be somebody.  Try clothes shopping for a tween girl! So much is inappropriate for any age.  I'm horrified that most "training bras" nowadays are plunging, push-up, and padded! Our society definitely sends mixed messages.
So this summer, I've spent happy moments playing dolls, catching butterflies, and reading classic tales with my daughter.  I know the clock is ticking on childhood, and I wouldn't trade these moments for anything.