"Nope, we're not going to have a winter this year," the young guy said as he loaded bags of sand into the back of my car. The sand is for my chicken run. I'm sure the guy was just making conversation and had no idea I'd take his comment so personally.
"What?!" I replied, "Winter is soooo coming! It's only January! Just you wait."
"Not this year," he continued. "My PawPaw says we'll have a mild winter and a hot summer. And my PawPaw knows his weather stuff. He's old, almost 60."
Well this young-un sure knows how to get on my nerves! First taking away my hope for winter and then an old age comment.
"Well, I think your PawPaw is wrong," I said to him, shutting the hatchback. As I got into the car, I added, "Winter is definitely coming. Definitely!" And then I pulled the door closed real quick before he could respond.
I wanted to have the last word on the matter. Yes, perhaps the last word would stick. Like the snow we haven't had. But which we are definitely, surely going to have. And soon. And lots of it. Tons, really. Sticking to trees and rooftops and roads and the backs of cattle. And I'll be sipping hot tea by the hot fire, looking out my window at the winter wonderland. And later in the day, my daughter will build a snow person and we'll tromp around in our snow boots. And then we'll come in with a bowl full of fluffy fresh snow and make snow cream. Because PawPaw doesn't know what he's talking about. Hmmpf.
When I looked up to back the car out of the parking space, the guy was still standing there just shaking his head at me: "No."
Ugh. He got the last word in after all.
Do you know that I still have my firewood stack from last year? We've had maybe a handful of fires. That's it. 5. Tops.
And we've only had one nice snowfall. It stayed for a few days. 'Twas lovely while it visited.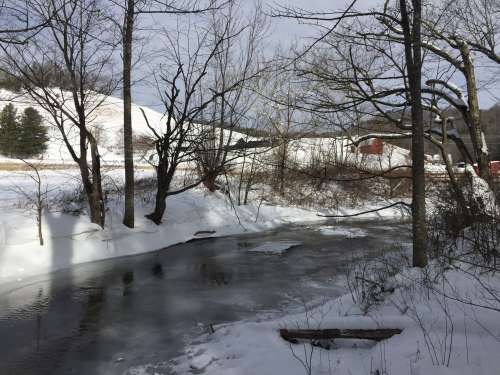 But ever since then, it's been warm. And we've had a lot of rain.
I turned over a new leaf the other day. I have decided that I will take whatever comes in the weather department with a smile. I will not complain. If it snows, it snows. If not, I'll live. It's fine. Really. And I won't get involved this year like I usually do. I won't bring the snow on with my "snow dances" in the meadow. Nope, Whatever.
Why? You might ask. What's gotten into this winter freak?
I think it was those surgeries I had. I was so cooped up. I'm just happy to be outside and moving around again, I don't care what the weather is. Rain, snow, sun, whatever. I am so content to breathe IN deeply the fresh air all around me. These days, it is scented with Christmas trees, horse manure, hay, and the damp earth.
You know who loves that this winter has been so mild? The animals who live on my farm. They are having a blast.
I usually show you Mustache Cat because he is such a star, but there are other stars on the farm. This is Hoshi. You probably can't see his pink nose because he is licking his lips. He has the cutest pink nose ever. And one of his ears looks like a yummy black and white cookie, half black, half white. When we first got him we called him Sgt. Pepper, but the name he was given at the animal shelter, Hoshi, stuck. It just fits him perfectly. Hoshi means "star" in Japanese, which he is. Excellent mouse catcher. Likes to be petted, but not confined to your arms. Hoshi.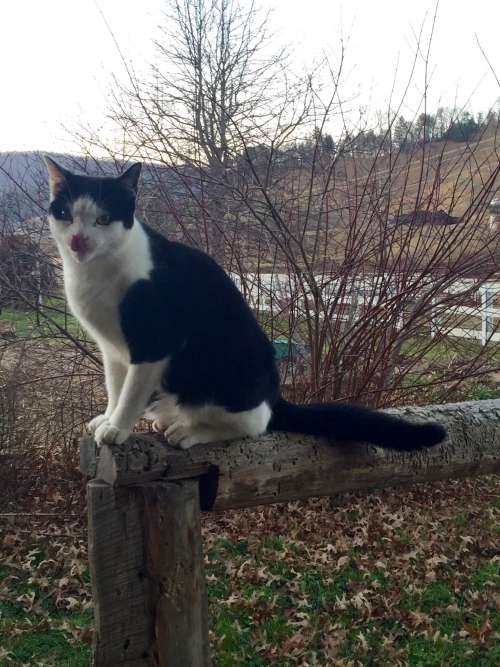 Actually, I have a super cute photo of Mustache Cat and Hey Jude from Christmas morning I should show you while we're talking about cats.
Santa must have brought that little pool table for the cats. We can't keep them off of it. Hey Jude plays with the balls and rolls them into the pockets.
All the animals here are enjoying the warm winter. The cats, the dogs, the chickens. I think the cows across the street are as well. And the cattle farmers too. It's easier to take care of things on the farm when it is 52 degrees instead of 25 degrees.
Yep, 52 degrees means no frozen water in the chicken house. It means I don't have to get out with my sledge hammer to break up ice on the pond. It means I don't have to wrap up in three layers to go out and give the horses some hay.
Our 4 horses are really enjoying this weird winter. The pasture is still green; they LOVE that. The don't have to hunker down to avoid the usual harsh winter winds. They just hang out in the pasture or barn all day and night, munching and relaxing. Easy life.
I'm even thinking about tilling up my garden. How nuts is that? It's January! Maybe that boy's PawPaw is right. Maybe winter isn't coming to us this year.
I am so happy to be the one who goes into the chicken house in the evening again. My husband took care of the chickens for 5 months, so he is pretty happy about me taking back over that job as well. It was definitely not his favorite farm chore!
My big rooster on the roost, surrounded by his ladies.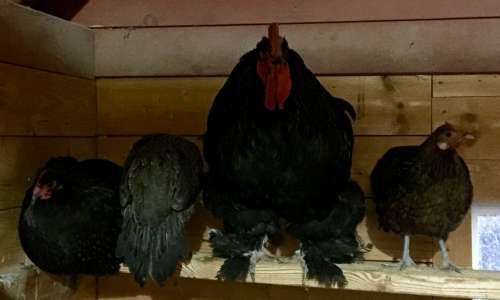 I missed hearing the lullaby of the rooster and the replies of the hens. I have always sung them a song in the evening when I lock them in their house. They seemed perfectly delighted to hear my song again. I started doing this when they were baby chicks, as a way to count them every night. You see, I was in the musical "Music Man" in high school, and I remember every word of every song. I sing them the "Goodnight Ladies" with a variation of the words. Every now and again, I'll add some of the part that goes: "Pick a little, talk a little, pick a little, talk a little, cheep, cheep, cheep, talk a lot, pick a little more…"
So here's how my chicken lullaby goes, in case you wondered. It's pretty awesome and impressive for sure. HAHA! In any event, my chickens like it. For real; they do. Strange, but true.
"Goodnight Ladies (and rooster!), —the "and rooster" part is spoken and I do jazz hands to it—
Goodnight Ladies (and rooster!),
Goodnight Ladies (and rooster!),
I'll see you in the morning.
One, two, three, four, five, six,
Seven, eight, nine, ten, eleven.
Twelve, thirteen, fourteen.
14 sweet little birdies."
I've had to change the words as I started with 17 chickens 4 years ago.
Anyway, it sounds stupid, but I've missed that, singing to the birds. Watching their eyelids get heavy and blink. Hearing their coos. And finally, their eyes close for the night. And then I begin to hear the scurrying and squeaks of the mice kingdom in the walls.
When I was walking to the barn yesterday, I noticed the Lenten Rose starting to bloom. WOW, that's early, isn't it?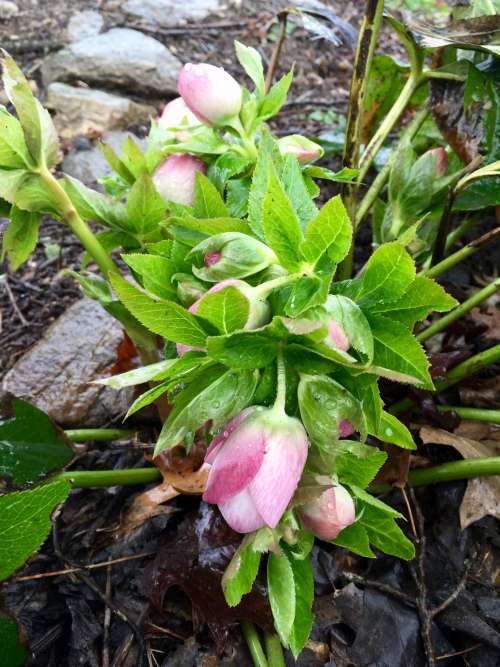 And the fern in the woods hasn't died down. It is staying green this winter. SO FAR.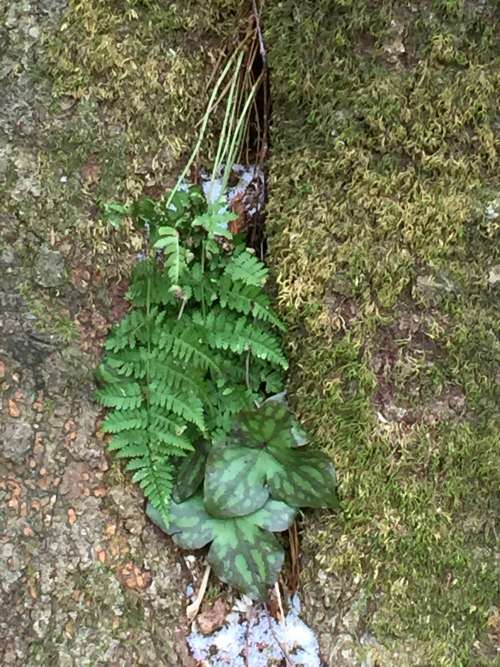 I can't explain to you how much I missed the barn and the horses. There are no words. No. Words. You'd just have to experience it to understand it. The barn is a place of peace and quiet and love. Horses munch hay and come over for pets and kisses while you are shoveling manure. The barn is a place where the outside world is completely outside. I don't take my phone or put on music. It's quiet and meditative and restorative.
Almost six months of not being able to work in the barn took its toll on my psyche. Sure, I'd go out there and sit in a chair outside of the barn. I'd inhale the aroma of Merlin's mane. But it's not the same as communing with them in the barn, being one of the herd.
And when you have a clown of a horse like my Merlin, the barn is often filled with laughter. How I missed that.
The many faces of Merlin.
"Hiya, my wonderful Mom! You're here!!! Oh, how I love you!"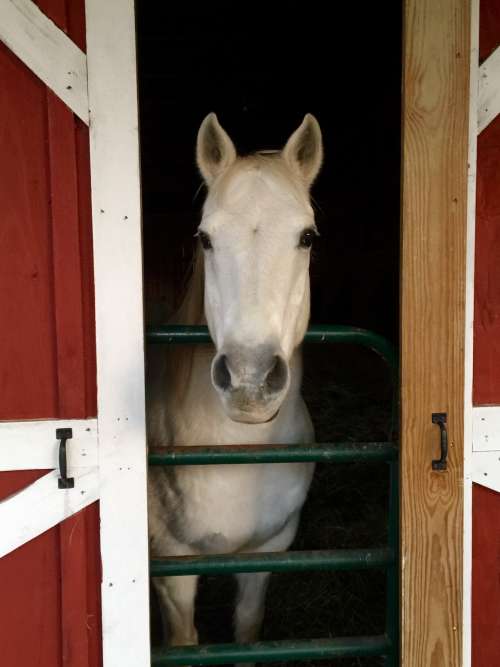 What is that I smell? Is it my favorite gingerbread cookies you make for me? YAY! You're the most awesome-est Mom ever!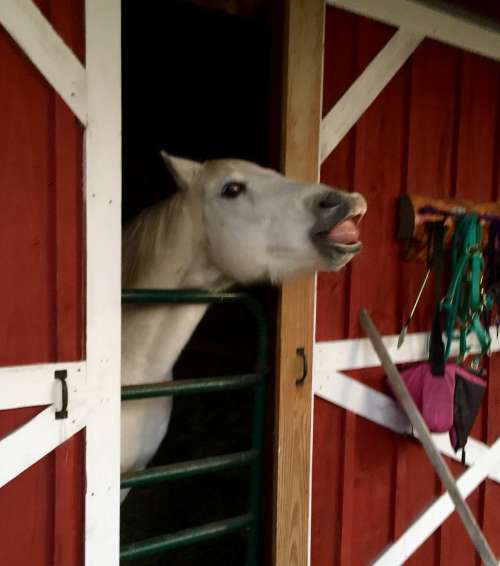 What?? What did you say? You have no cookies?! Why not??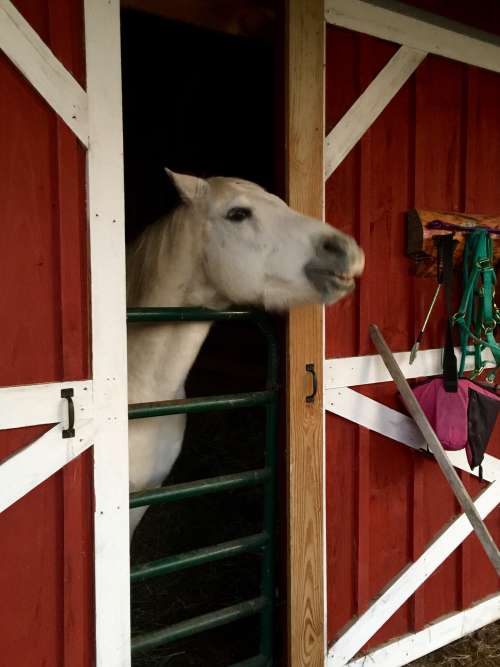 Blah, Blah, Blah, quit making excuses. I need cookies! I want cookies!

I am so mad at you right now.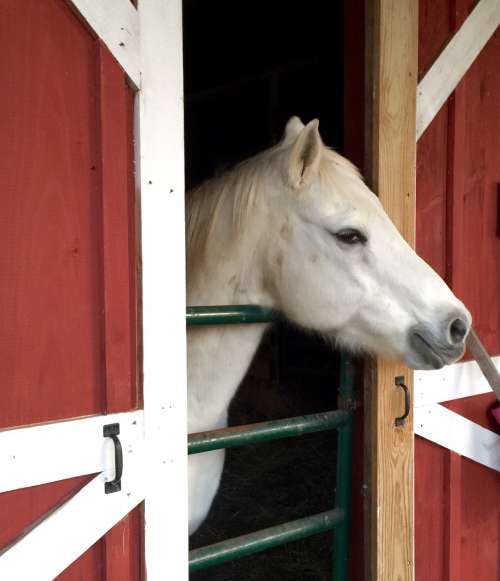 Some mother you are. (And then he blows a raspberry.)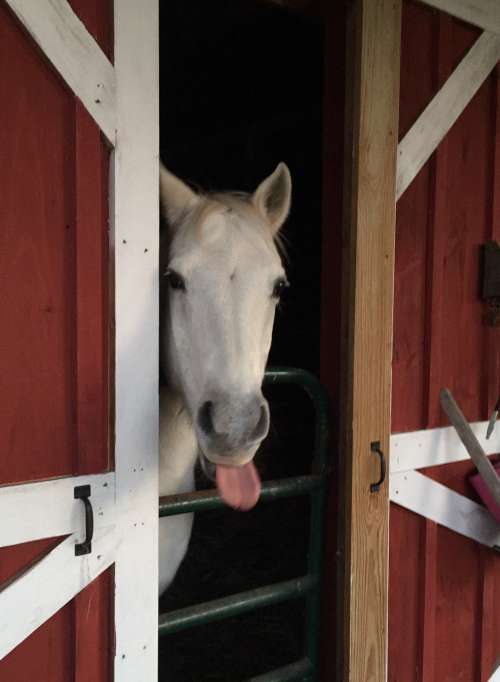 And that is My Merlin. He's animated and personable and silly and yes, a little grumpy. (We're twins.) I missed him so much. And, yes, I will make him a batch of gingerbread cookies soon.
Now that I think about it, I guess I haven't given up on winter just yet. Remember the old refrigerator I found in one of the raggedy outbuildings we have? I cleaned it up and brought it inside and decorated it for winter. "Come on weatherman, give us a forecast snowy white…"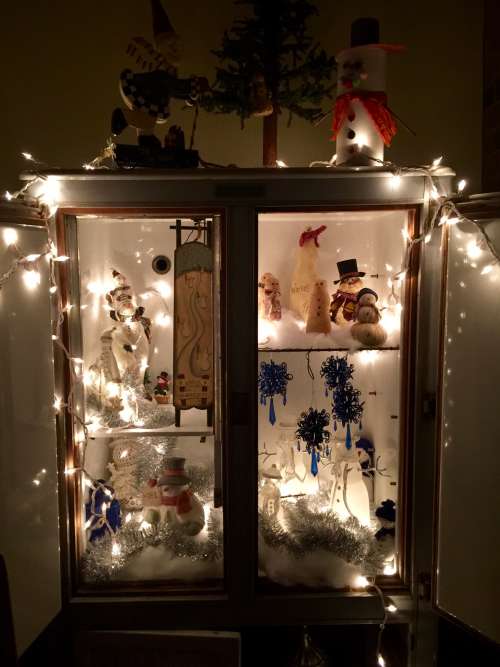 I do love snow. And cold north winds. And sledding down the hill beside our house. And the routine of putting on gloves and hats and bright red wooly thick socks and coveralls to go outside.
I'll be okay either way. But yeah. I've got my fingers and toes crossed after all.
Until next time, Friends, savor the flavor of life!
Lots of love, The City Farmgirl in the Country, Rebekah