At my house, holidays are a time for us to be home together, have fun, eat great food, and remember times gone by. Being a native-born Texan, married to a Dane, living in New England, our holidays are like a quilt of different cultures! Come do a bit of celebratin' at the Christensen household!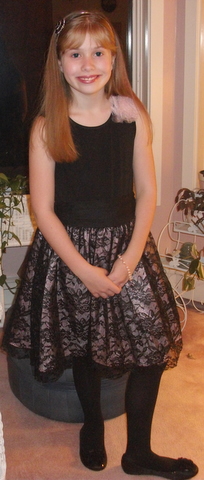 Got your holiday best on?
The weekend after Thanksgiving, we try to get our tree. While we decorate, my husband makes "Aebleskiver", Danish pancake-type puffs made in a special pan, and eaten with strawberry jam. The best "American" version of a classic Aebleskiver recipe is found in MaryJanesFarm magazine, June-July 2010, page 92. It's got my hubby's approval!
Our decorated tree is part American/part Danish/part Victorian. The year we married, we didn't have a lot to spend on decorations, so I designed my own. Dreaming of a "Victorian Style Tree" with lots of white, I used bridal tulle, cut little squares, filled the center with dried potpourri, and tied the little puffs with tiny satin ribbons. Since they only come out at Christmas, and are stored in plastic, I'm amazed at how the scent still lingers almost twenty years later!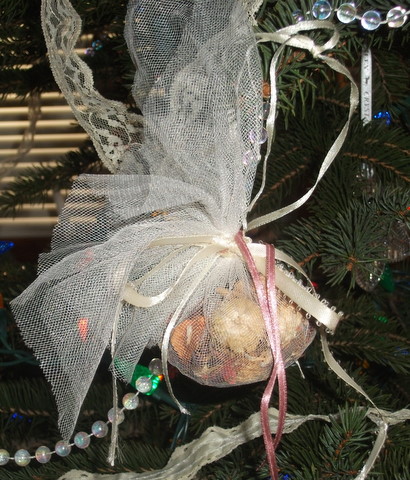 Also on our tree are Danish-style candles. When we were first married, each Christmas, Kim's family would send us a candle holder or two for our tree. Now, we don't actually light them, but they make a beautiful tree, and remind us of our Danish family, past and present.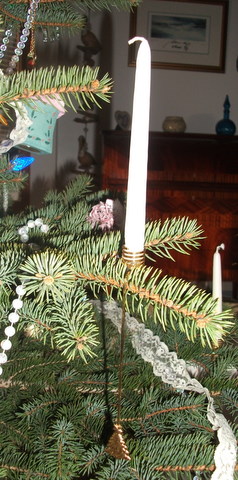 There's also ornaments I made as a child, when I was no more than age seven or eight. Growing up in Houston, the Turners from Michigan lived next door. Jeffrey was my best friend. We'd play sun up to sun down! One Christmas, his mom, Sue, had me to their house each day to make the ornaments as a present for my parents! I remember how fun it was, and how excited I was to give my parents their special gift on Christmas Day. I think it's then I first caught the 'crafting' bug. Over time, a couple ornaments were lost, but my mom sent the rest to me a few years ago. Sue, if you're out there, thank you! Making those ornaments is a happy Christmas memory!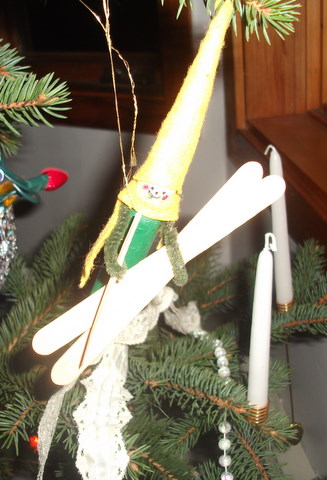 This little ornament is one of a set of ornaments I made as a small child.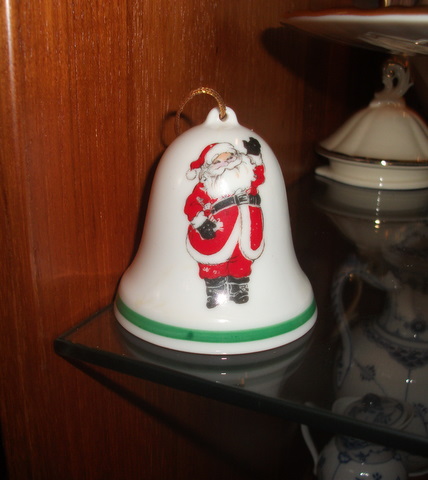 The other side of this Santa bell ornament reads "Merry Christmas 1978″, a gift from Lucy, who was like a grandmother.  Too precious to hang on the tree, each year it goes in the china cabinet.
I also have a few ornaments given to me from Lucy, a neighbor who was like a grandmother. She loved Christmas, and would always say she believed in Santa no matter what age she was! As a kid, I was scared of Santa. Whenever I'd ask if Santa was real, my well-meaning mother, not wanting to lie to me, would answer, "He's the Spirit of Christmas." I thought she meant literally, as in a ghost! The closest I ever got to sitting on his knee was the year I wanted a Wonder Woman doll so badly I thought I'd die if I didn't get it. There was a Santa sitting outside the town square. When my mom stopped at that traffic light, my older brother rolled the window down so I could shout out to him, "I want a Wonder Woman doll!" It was like visiting Santa at a drive-through.
Nowadays, Christmas Eve I make a Danish-style meal, with pork roast and caramelized potatoes. Afterward we drive to see Christmas lights (a tradition my Daddy always did), and head home to eat traditional Danish rice pudding with one hidden almond. Whoever gets the almond gets a prize.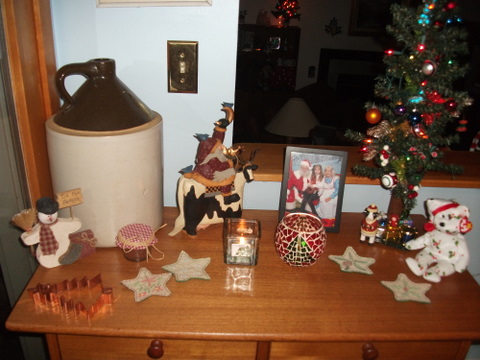 I change the display of this sideboard in my kitchen with the seasons. All the items here were gifts from friends and loved ones, and the picture is last year's Santa picture.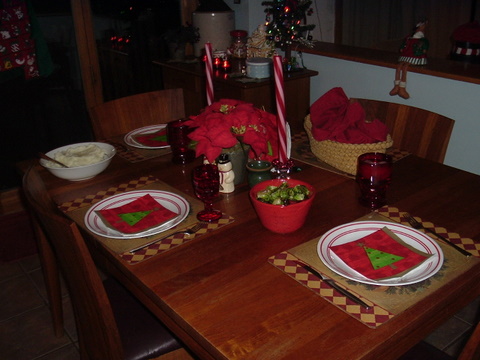 We eat our Danish-style Christmas Eve meal in the kitchen.  It's casual.  Christmas Day, we sit at the dining room table, and I set a more formal table setting, even if it's just us three.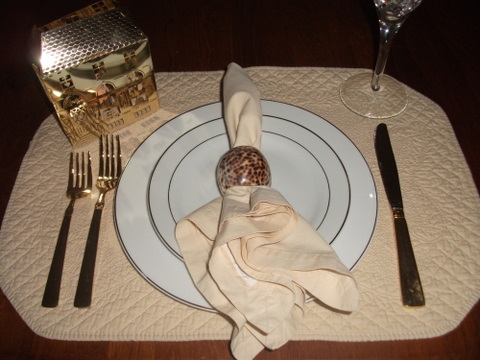 I love tables with red and green, but also love the simplicity of cream, white, and gold.  The little house is a traditional Danish tea light holder, made from laser-cut, paper-thin brass.  The conch shell napkin rings belonged to my grandmother.
Christmas morning, while opening gifts we have coffee and eat "Koulourakia", my grandmother's cookie recipe. She was from Greece. I make a big holiday meal in the afternoon, although this year it will be ham, not turkey, after our Thanksgiving turkey "incident". I was going to teach my daughter how to cook a turkey. Upon opening the package, I was horrified to find one side was still covered in feathers! On the top, there were no feathers, but quills still stuck in the skin. In desperation, I ended up pulling them out with tweezers! (Where was I going to find another thawed turkey on Thanksgiving Day)? One drumstick looked as if something had bitten it, and the entire length of skin from the neck was left attached to the bird. At that point, my daughter was completely grossed out, and ate no turkey that day. (The store where I bought it blamed mechanical error, and sent me a gift card). I don't think Audrey is scarred for life, but ham sounded better for Christmas this year.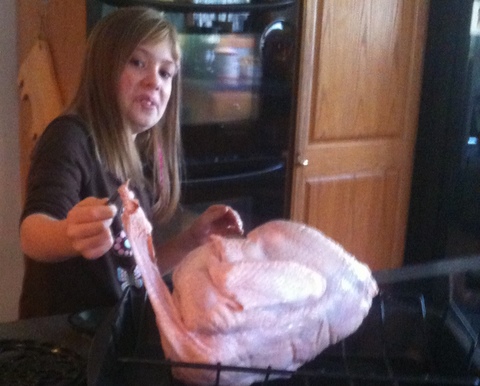 Audrey with our "mechanical-error" Turkey at Thanksgiving.  Not funny at the time, it's something we'll laugh about for years to come.
Also during the holidays, I host my Sisterhood Chapter's Christmas Dinner, where we exchange homemade presents. It's always fun to see what everyone comes up with! My daughter's fourth grade class did that too. Audrey made pony tail holders from leftover knitting yarn, similar to the "hair feather" craze.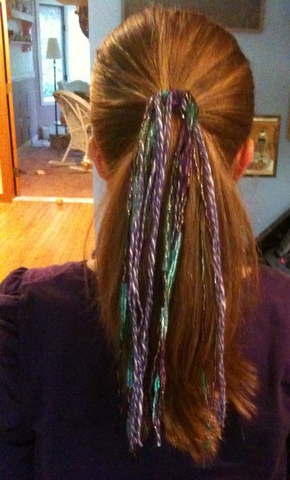 To make hair ornaments, we re-purposed leftover yarn and ribbons, tying them to a hair elastic.
We leave the tree up until after New Year's for good luck. We might get invited to a party or two for New Year's Eve, but our favorite tradition is  eating Chinese takeout and watching the ball drop in New York City on television.
New Year's Day, most New Englanders eat cabbage for luck. With my Texas roots, I eat Black Eyed Peas! (This year I might eat both for good measure)! Here's a favorite recipe.
Black Eye Pea Salad
2 ½ cups frozen black eye peas, boiled and drained
1 cup of corn kernels
1 cup finely diced carrots
1 cup finely diced celery
1 cup finely diced red bell pepper
1 ½ teaspoons minced red onion
¼ cup seasoned rice vinegar
½ cup cilantro
Fresh pepper and salt to taste
In boiling water, for one minute, blanch corn, carrots and celery until just tender. Drain well. In large bowl, toss all ingredients and chill for half an hour before serving.
What traditions do you have? Are there special decorations you put out or dishes you eat? Leave me a comment and Happiest of New Year's to you all!