As a mom, my year isn't a calendar year, but one that ends when lazy days of summer bid farewell. A new year starts with the return of fall. Even when my daughter grows up, I bet I'll still feel that way. I still love the smell of new pencils, a fresh box of crayons, and the scent of new leather shoes! Back-to-school means a fresh start, more hectic schedules, and saying goodbye to long summer days of fun. Having grown up in a climate that is hot most of the time, I really appreciate the four seasons we have in Connecticut, savoring every minute of our short but beautiful summers. My daughter doesn't attend camp, but has plenty to write about when her teacher asks "What did you do all summer?" Come sit a spell with me while I reminisce about what we did and share some fun ideas for entertaining young'uns.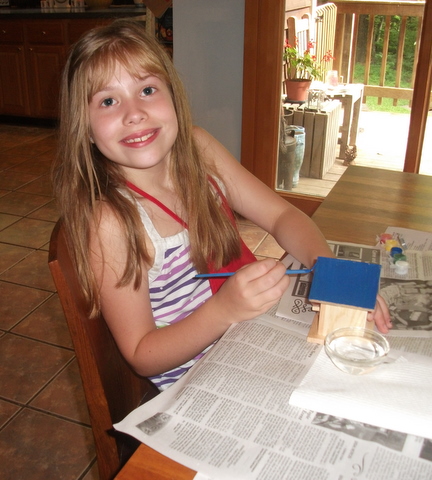 I love technology. Occasionally, I'll enjoy video games or watch a movie while knitting. But, I don't want us being a couch potato family. On pretty days, we head outside! We love to watch our feathered friends at the bird feeder. I have a copy of the National Audubon Society's Field Guide to Birds, and from the time my daughter was a tot she loved to look at the pictures and memorize the birds. When she was three, she was sitting with her dad on the porch. "What kind of bird is that, Daddy?" "A little grey bird, baby."  With that, my daughter put her hands on her hips, rolled her eyes and said, "No Daddy! It's a tufted titmouse!" My husband then asked me very sweetly not to teach her things he didn't know! Precocious at three, she's become a smart, nature-loving young lady.
We love to hit our town's walking trails. I walk the dog, and she rides her scooter. At home, my daughter loves butterflies, and we've filled our yard with flowers and plants that attract the fairy-like creatures. My father sent her the Field Guide to Butterflies of North America, by Kenn Kaufman. We delight in seeing what kinds of butterflies grace us. She can tell you details, such as the difference between a male butterfly and a female, and what they like to eat. My daughter and her friends also love to "go frogging", studying the different breeds of toads and frogs here. The rule she's to follow is that she can't harm them, and must let all creatures free before dusk.  In early summer, nothing's more peaceful than watching the lightening bugs sparkle and shine.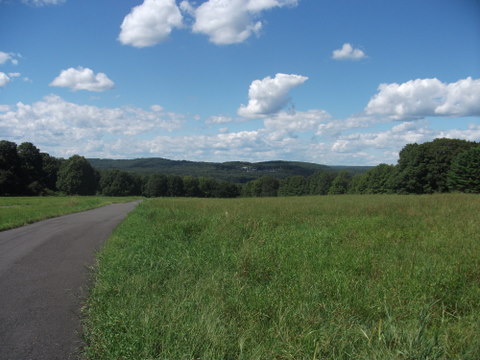 This is a view of  one of the walking trails  in my hometown.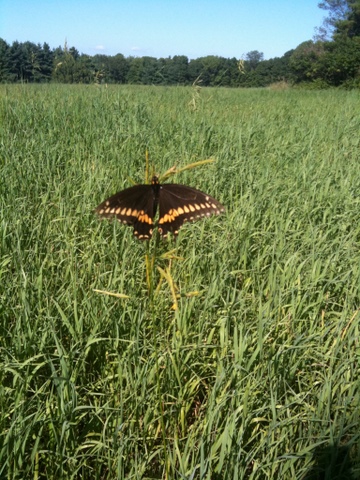 My daughter took this picture of a butterfly on one of our walks. 
Every year, as summer is winding down, we love to make "Sunprints". I first came across the special paper when our Farmers Market was giving the kits to residents, in an effort to get families outdoors. The kit consists of special photo-synthesis paper and an acrylic sheet. We take flowers and leaves from the yard, arranging them on the paper, placing them in the sun with the acrylic over them.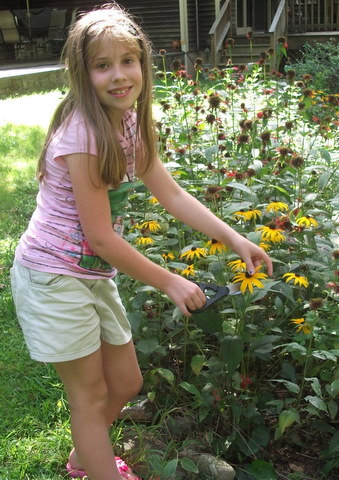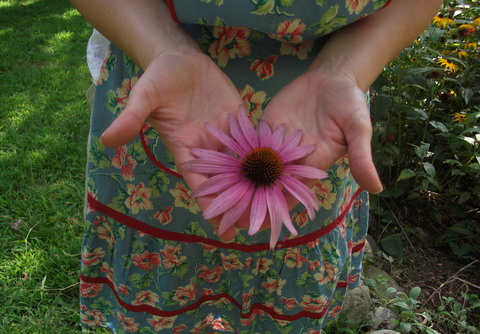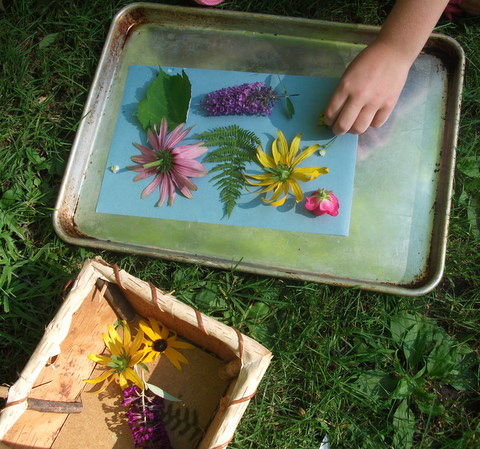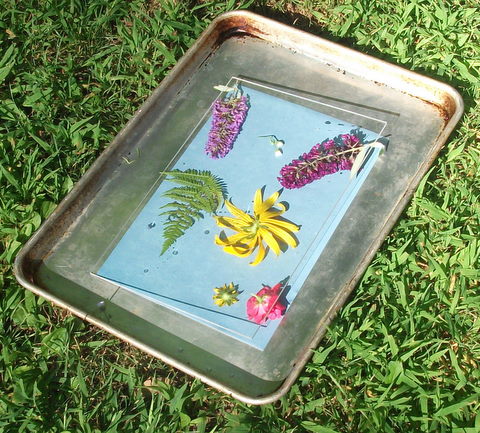 Afterwards, the paper is rinsed in water, and allowed to dry in the sun. The result is a beautiful "print" of whatever you have placed on the paper. We love trying flowers, leaves, and ferns. You can order the kits at  http://www.sunprints.org/.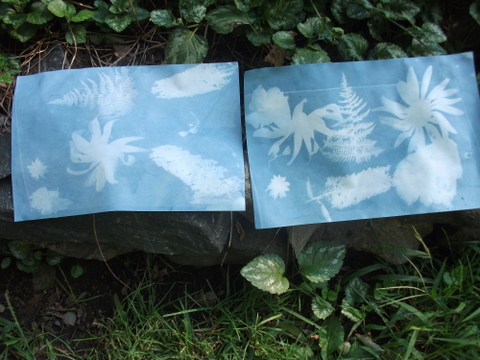 The finished result!  Flowers are our favorite thing to use, but you can use almost anything at all!  Keys, shapes, cut-outs…whatever kids come up with. 
Another fun thing to do is press flowers. We pick the prettiest ones we can find, and together press them in my flower press. Mine was purchased in the 90's, but is a simple contraption that would be easy to make. It's simply two square pieces of wood with holes drilled in the corner of each. Four big bolts screw through the holes, held together with four big nuts.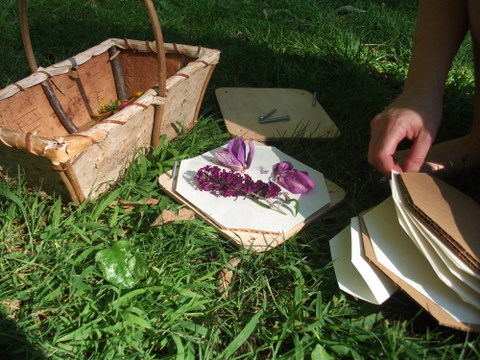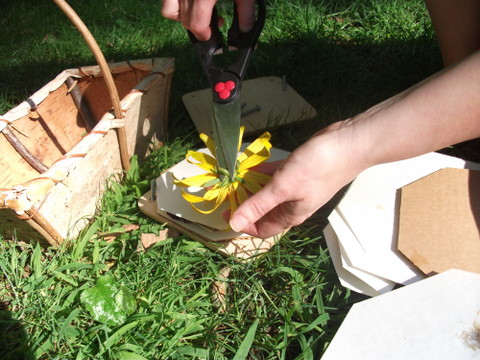 When pressing flowers, the stem must be cut away as much as possible so that the flower can lay straight.  Arrange them in layers between the cardboard and the paper.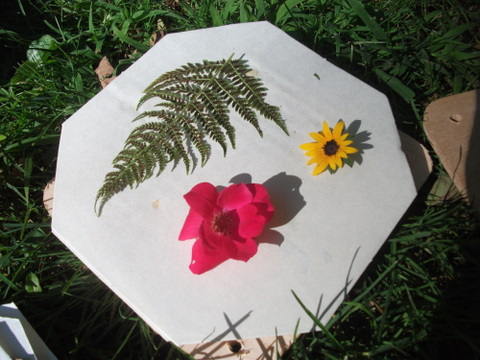 To press the flowers, we stack them between square sheets of cardboard and then paper, making sure none of the petals touch, then "sandwich" it between the boards with the bolts. Each week for six weeks, we turn the nuts tighter. We love to see how each flower will change once pressed and dried. We use them for crafts, such as for making bookmarks, pictures, or sometimes I'll mail them along with cards and letters.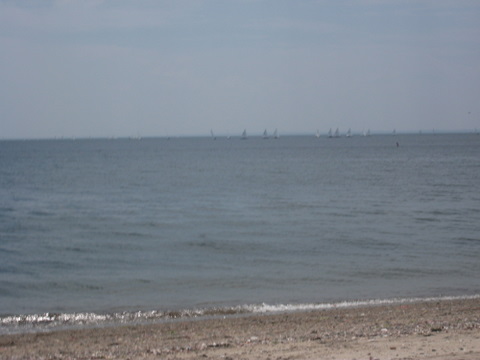 A view of the Connecticut beach we like to head to on really hot days.  We read, swim, picnic, study shells, and visit the free Nature Center.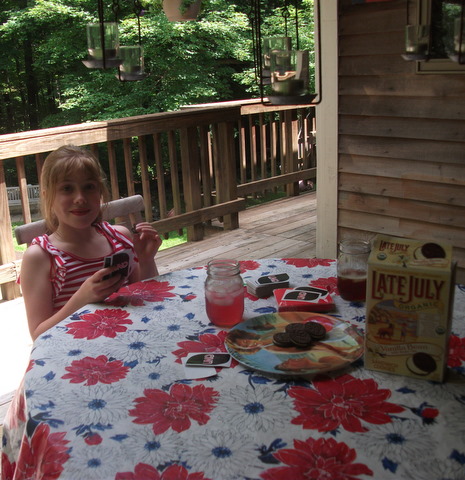 Other things we do in summer is head to the beach for the day, garden, read, poke around the library, do crafts, or play softball or Frisbee together (the dog loves to join in, too). I'm proud of the fact my daughter doesn't have to be "formally" entertained every moment, and is happy to ride her bike or play with her dolls. She's so busy during the school year; summer is her time to just be a kid. This week we have houseguests: my brother-in-law and his wife and daughter, who's eighteen months old. As we pulled out the highchair, it seemed just yesterday that it was part of the kitchen. Kids grow fast!

 Spend as much time as you can with your babies and grand babies, because, like summer, childhood is fleeting!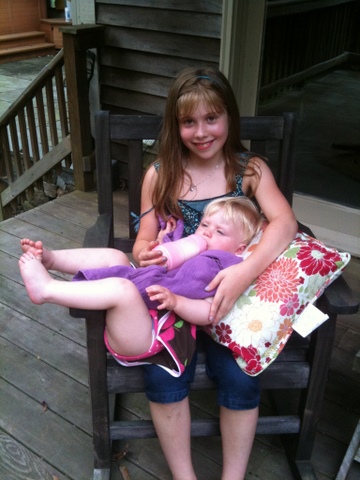 My daughter and her cousin.