Summer's here…time to whip out the grill, dust off the patio furniture, and have some fun!  Ready to hostess another Farmgirl Sisterhood get-together, I wanted to do something easy and fun, an activity that wouldn't take too much time, considering in New England this time of year is hectic, and not yet quite the lazy days of summer.  The Farmgirls and I decided to have a "Tag Making Party".  Come on over… relax, and share a cup of coffee!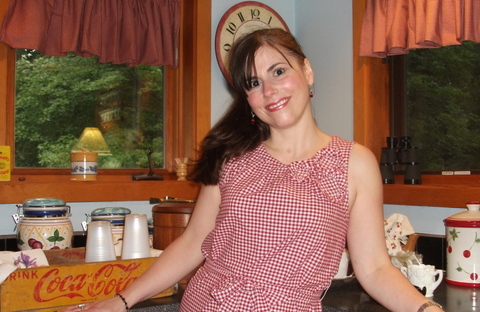 The last weeks of June leading up to Fourth of July tend to be busy, busy.  The public schools are just now out, a result of many snow days in winter.  There are graduations and ceremonies galore, yards need tending, bushes and trees need trimming, and gardens are going in.  Whew!  I needed some kicking-back time with my Farmgirl Sisters!
I once took a two-hour class on "stamping".  Over the years, I've picked up rubber stamps here and there, and most recently found some of the cutest ones at my local dollar store.  I find sitting down with rubber stamps and ink pads to make homemade cards and greetings relaxing, and a craft that one can perfect easily.  One of my favorite things to make: gift tags.   Easy and simple, a homemade gift tag adds such a nice, heartfelt touch to a simple gift, be it a bottle of wine for a hostess, a stack of hand-knitted washcloths, or a jar of jam.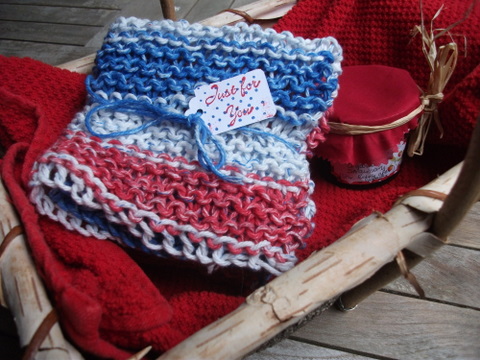 I made this red, white, and blue gift tag to go with the July Fourth Striped dishcloth I knitted as a gift…
For our evening, I kept things simple. Instead of our usual potluck, I did dessert and coffee, making my favorite coffee cake, MaryJane's "Farmgirl Saturday Cake".  We sat at the dining room table, covered in newspaper to protect the wood.  Everyone was asked to bring a stack of card stock. In the middle of the table, I provided a big basket full of rubber stamps, a few ink pads, and some borrowed markers and colored pencils from my daughter.  Jackie's a teacher, and brought over her tag-cutting machine.  We had fun taking turns with this little wonder, but you can also cut tags free-hand with scissors or pinking shears, or buy ready made ones at the craft store.  (Keep one as a "template", then make your own from there).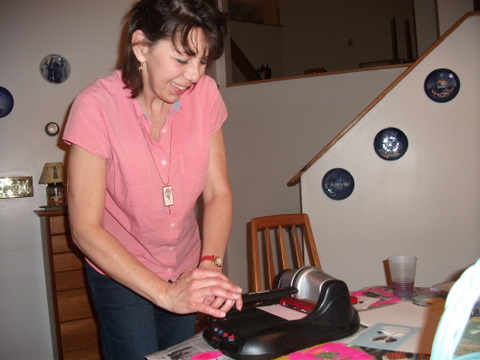 Jackie demonstrates how to use her tag maker.
The other hit of the evening was my embosser, a hand-held appliance similar to a hair dryer, but smaller, that blows out very hot air.  Embossers are inexpensive, and found in any craft store, along with the embossing powders.  Embossing powders come in all colors, my favorites being glittery and metallic powders.  After stamping your card stock or paper, while the ink is still wet, shake embossing powder over the stamped area and then use the embosser on it for a few seconds.  The result is a "raised" effect, or embossed look to your cards and tags.
Another fun tip is avoid stamp pads altogether, and "color" the stamps directly with markers.  I do this often for my strawberry jam tags, coloring the strawberry red and the top green.  Before long, we were making all sorts of all-occasion tags, sharing ideas and giggling…I think this craft brought out the "little girl" in each of us!   It was another fun, relaxing evening for the Connecticut Simpler Life Sisters.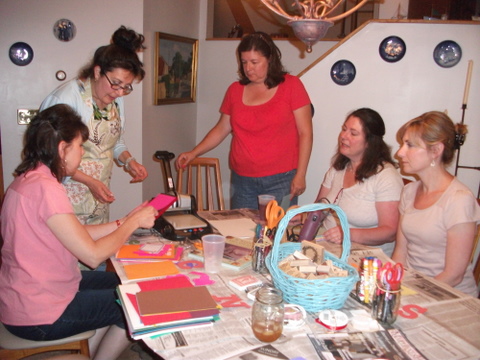 Pictured: Jackie, Ali, Sheila, Jolene and Kristen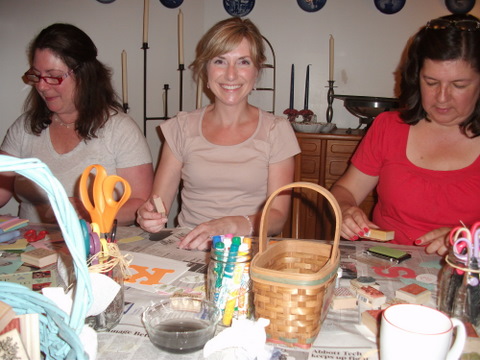 Jolene, Kristen, and Sheila..three "busy bees"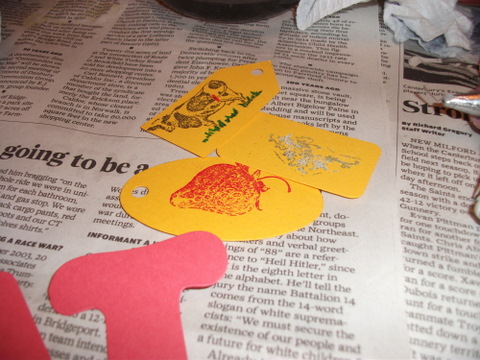 A few fun tags we made.  Remember to keep your stamps clean between uses.
On another note, Jackie shared with the group this website: http://www.plasticbagrecycling.org/plasticbag/s01_consumers.html.
It's a great place to find where and how to recycle all the consumer plastic such as wrappers from bath tissue or dry cleaning bags.  Thanks, Jackie!

Ali also shared a magazine, "Where Women Cook", featuring our favorite person: MaryJane!
This week ended with the last day of school, and another (crafting) tradition I started for my daughter.  During the year, I collect all her graded papers from school, any programs from school plays or other activities, artwork, and my daughter's class photo and last report card. At the end of the school year, I "weed" through it, making a scrapbook. I present it to her when she gets off the bus the last day. It's fun to see how her work changes and grows, and I hope she will see it as a keepsake when she grows up.
I hope you've enjoyed my ideas.  Drop me a comment and share with me.  What kinds of craft ideas do you have?  I'd love to hear about them.
Hope your summer kicks off to a great start, and have a HAPPY FOURTH OF JULY!!