My in-laws were visiting the last few weeks from Denmark.  They've been here many times, visiting New York City more times than we can count.  So, last weekend, I decided to head the other direction to one of my favorite places, a true taste of New England…Old Sturbridge Village, in Massachusetts.  Farmgirl road trip!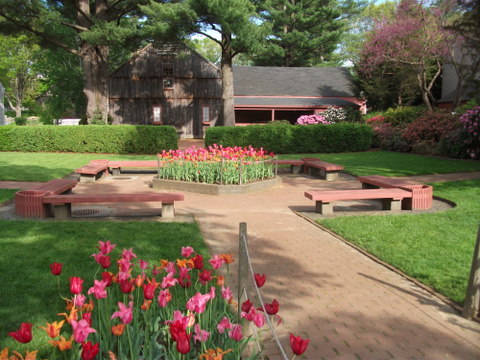 I got hooked on American history as a fourth grader after reading a book on the Civil War.  Last summer, we stumbled upon Old Sturbridge Village, an outdoor, interactive museum, and I love visiting whenever we can.  (It's very "farmgirl"…read on and I'll tell you why).  The museum's goal is to illustrate life as it would have been in the years 1790 – 1840.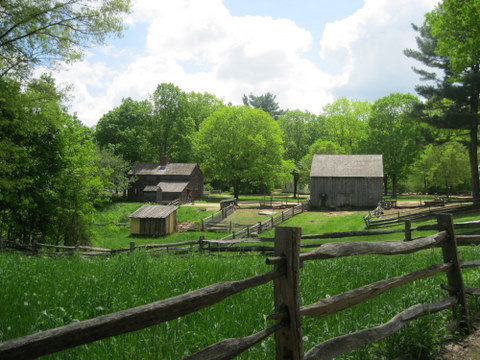 Walking through the gates, it's like you've been in a time machine.  There's 59 old-fashioned, antique buildings and homes, with places such as the bank, a General Store, a shoemaker, a sawmill, and a working farm.  There are "villagers" walking around, dressed up in costume,  greeting you as you step inside the buildings.  They are so knowledgeable, and will answer questions just as if you were speaking with someone from the past.  I've seen them spin and dye yarn for knitting, right outside in a big iron pot. I learned how people dried food from their gardens to last through winter.  There's a claymaker, busy molding clay into inkwells, cups, and other items.  There's a shoemaker making shoes, and a tinsmith.  My favorite structure has to be the General Store (Lord, help me, I would've loved to shop, even back then)!  There, shelves are filled with bolts of fabric, antique hair accessories, antique china, tools…anything a person would have needed or found in such a place.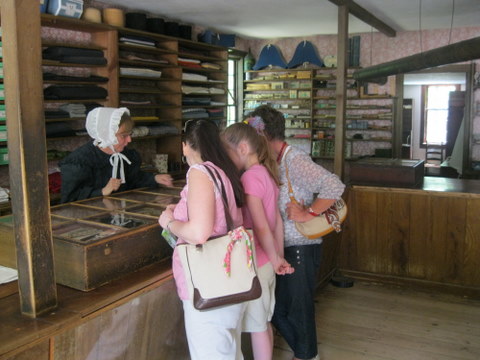 My father-in-law waits patiently, taking pictures as we three girls check out what shopping was like way-back when.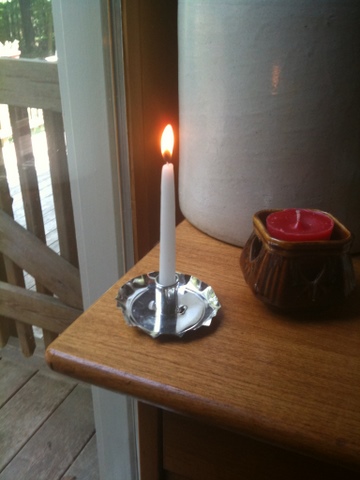 Hands-on crafts are also offered at OSV.  My daughter made this tin candle holder for me there last summer..
What I love most about this museum is how it's ever-changing.  Each time, we see something different or learn something new.  In August, there are Civil War re-enactors who come from all-over, pitching white tents and spending the weekend in character.  Last year, we witnessed a battle in one of the fields! Things also change with the seasons.  I'm told Christmas is an amazing time of year to visit.
Civil war re-enactors ready for battle, August 2010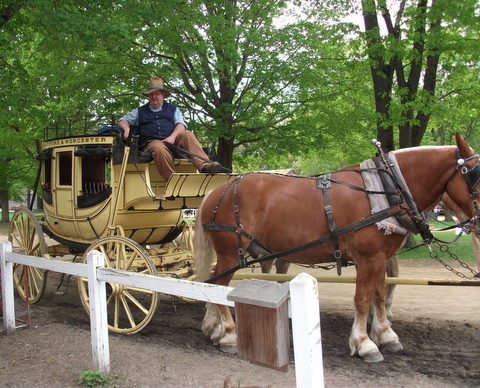 Taking a carriage ride through OSV is a historical treat!
Old Sturbridge Village sits on 200 acres, a breathtaking piece of New England.  The heirloom gardens are inspiring.  I love to see what they've planted and how they have their plants arranged.  I've taken with me ideas for my own home gardens.  This particular trip, each family visiting that day was given an heirloom tomato plant.  I chose the Amish variety, and can't wait to taste the tomatoes when they appear!
There's also hands-on crafts. This visit, my daughter painted a wooden miniature of one of the homes.  The other special craft offered that day was old-fashioned broom-making.  I had to try my hand at that!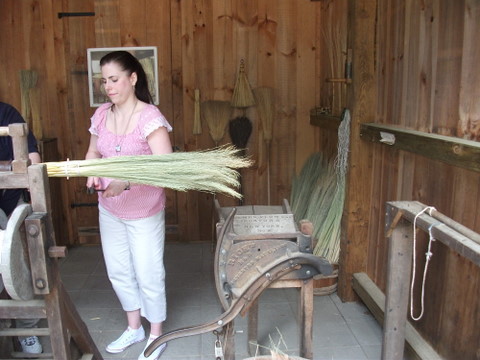 I learned that corn brooms are made from a specific type of sorghum, which produces a tuft of bristles suitable for sweeping.  Back in the 1800's, making brooms would have been a task for a young, unskilled laborer.  After completing my broom, I have to say that it's an art!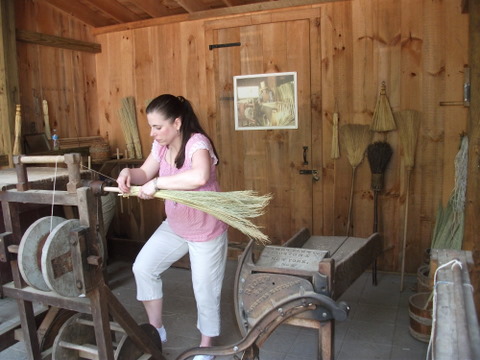 The "machine" we used to aid us was all wood, a reproduction of one from the time period.  The handle of the broom goes in a type of vise, with a very large spool of twine at the top.  At the bottom, there's a foot pedal to turn the broom as it's created.  There're wooden pegs hammered into the handle, and we laid the first layer of bristle around those pegs, then used the twine back and forth in an "X" pattern to secure it.  We repeated this several times, and then started weaving the twine though the layers to secure it.  The instructor told me that at first, they weren't sure how the original brooms were "ended", so they x-rayed one and found two, small, iron nails hammered into the sides of the broom.  We did that, using an old mallet-type hammer, and then cut the pegs down with another iron tool.  Lastly, we put the broom into another wooden device with a sickle-type cutter at the end, to trim the bristles down even. It reminded me of a giant paper cutter!  The whole process took about a half-hour.  It was a physical task, testing my upper body strength, as the twine must be tight in order for your broom to be strong and hold-up.  We then swept up the mess, and that little broom works great!  Later in the day, we asked a gentleman "working" at the store for directions, and he noticed I'd made a broom.  He complimented it, telling me he was the "head broom-maker", and that I'd done a fine job.  I was so proud, and couldn't help but wonder – is there a farmgirl sisterhood merit badge for that?
Now my broom sits in my kitchen, a useful souvenir, and reminder of a wonderful day spent with my family.  If you find yourself  in New England, Old Sturbridge Village is a great place to go.  You can visit their website at http://www.osv.org.  Maybe you'll be "swept away" by the beauty and history, as well!