Recently, I sat down with my box of seeds, and started dreamin'. It's still chilly, but with seed packets poppin' up in stores and catalogs brightening my mailbox, the promise of warmer weather beckons the gardener in me. More "suburbanites" are putting in backyard gardens.  Perhaps it's the economy, or perhaps folks want to slow down, take a break from technology, and grab the joy digging in the earth brings.  Putting in a garden can get costly, but mine was done on a shoestring budget! I call it my "Repurposed Garden".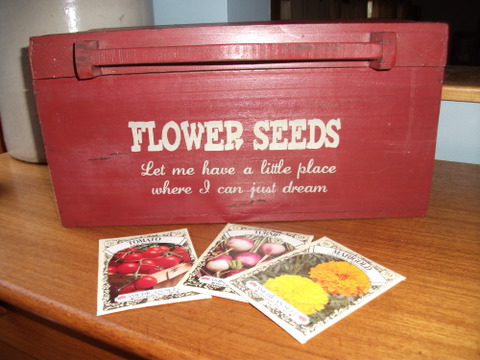 I used to garden for several years, but then stopped for awhile. But, every summer, I'd find myself missing my garden.  Several flower beds kept me busy, but nothing is as satisfying as eating veggies you grow yourself! Last year, after finding MaryJanes Farm and the Sisterhood (and feeling like I found home), I was inspired to garden again.
I buy seeds early, and usually on sale. They then go in my "special" seed box.  Have you ever walked into a store and saw something you just HAD-TO-HAVE?  That's how it was with my seed box.  It's a weathered, red, hinged box, but it's the message on front that inspires me so: "Let me have a little place where I can just dream".  After Christmas, out comes my box, until it is emptied of seeds, then repurposed in summer to my front porch to hold red geraniums.
My seed starters are egg cartons, with holes in the bottoms for drainage. The organic eggs I buy at our local store come in plastic cartons; with the lids closed they become mini-greenhouses. With paper cartons, I use a bread wrapper over them. Next year, I will try the newspaper starters MaryJane recently posted on the newsletter "The Cluck".  I also use a repurposed teak bread box as a mini-greenhouse to start my seedlings, in paper cups.  Just about anything can be used to start seeds in a sunny window.
For the garden itself, we repurposed our old Cyclone fencing "dog run".  (My "furbaby" doesn't know she's a dog, so it's unused).  We moved it to a sunny spot, dug up the grass, and used an old sandbox as a raised bed. We then put the soil down, my only real expense, bought at a home improvement store.  We bought bags that had small tears in them at half price!  One package of bird netting over the top keeps out the birds.  The raised bed is not as large as the inside of the fencing, so I repurposed old red bricks laying behind the tool shed, unused for years, making a path around the perimeter of the bed so I don't get my feet muddy or step on my plants.  It looks great!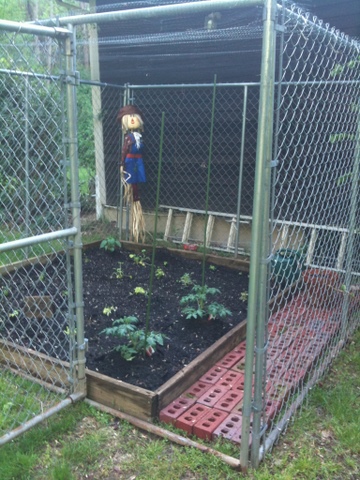 This is last year, when we first put in the plants.  It's on the side of the house, out of the way, but in a sunny spot.
Last year, I had tomatoes, cucumbers, green peppers, lettuce, green beans, carrots, and squash. That little garden fed our family of three all summer long, and into the fall. My grocery bill went down because I didn't buy produce for months. The yellow squash were so huge and plentiful, we dubbed our squash plant "Squashzilla", and we made lots of squash casserole.  When the squash developed blight, I used a spray bottle mixed with water, sour milk, and baking soda, spraying the leaves everyday. I learned this trick from the gals on the Farmgirl Connection Chatroom, and it worked without harsh and expensive chemicals.  For slugs, I used an old pie pan with warm beer in it.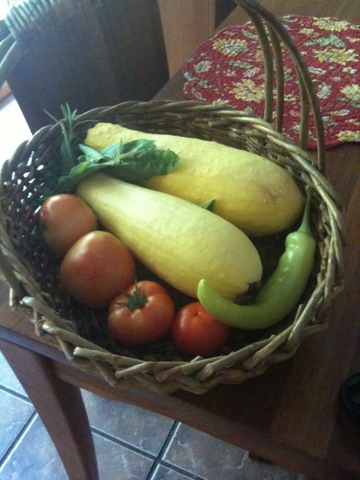 This is one of my favorite pictures.  Yum!
The last of the fall tomatoes, small and green, were made into a feast of fried green tomatoes!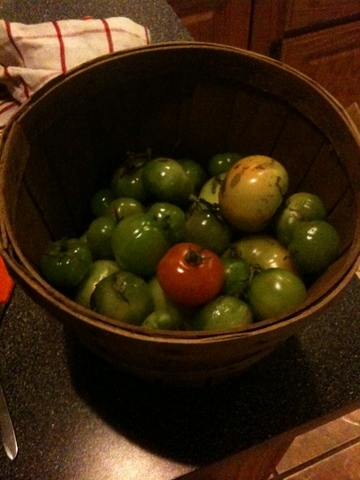 I was surprised to find these left in the garden in fall.  There's nothing like Fried Green Tomatoes!
Even my decorations were repurposed or recycled.  For markers, I did the project found in MaryJane's Ideabook, using punched tin can lids, attaching mine to old popsicle sticks with Christmas ornament hooks.  I found the cutest garden angel at a flea market for fifty cents, and she provided the right amount of whimsy.  My father sent me a sign he made from old barn wood and pvc pipe, proclaiming my garden.  It's my outdoor escape.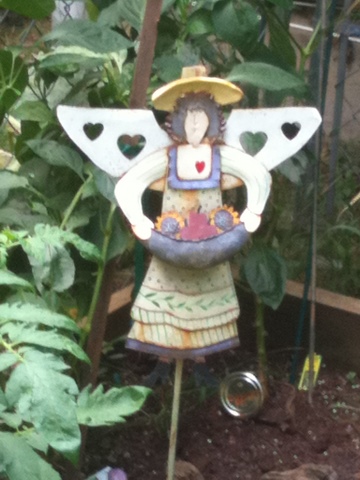 Easy-to-grow herbs are in the front bed. This year, I'll use the long flower pots on my deck rails to grow my lettuce, like we did at my daughter's school in Garden Club. Container gardening is a great way to go if you need more room or don't have a large garden.
For a composter, I cut the bottom off a plastic garbage can, burying the bottom quarter. We fill it with scraps from the kitchen, and use less garbage bags.  I keep a coffee can under the sink for scraps emptying it every few days.  I didn't spend a ton of money on a fancy composter, and for my needs this works just fine.  I was so happy when worms had moved in!  I keep it moist, and use a pitch fork to turn it every so often.
For now, I will keep checking on my little seedlings every day until out they pop. Can't you almost smell and taste those fresh, ripe tomatoes, warm from the sun? Try a garden with me this year!  I may not have a farm, but I am a Farmgirl!  "Let me have a little place where I can just dream…."