.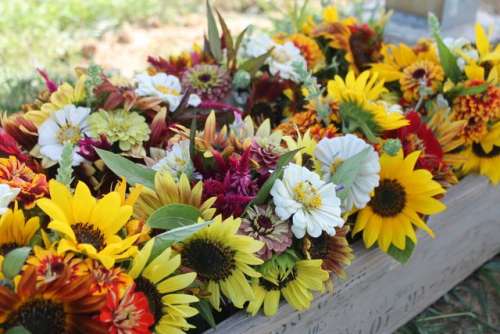 .
All summer I've been wanting to write a blog post about the flower farming business that my daughter and I have. Every time I think about it, this thought comes to my mind: "How would I describe why our flower business is so special to us"? And the words just evade me.
.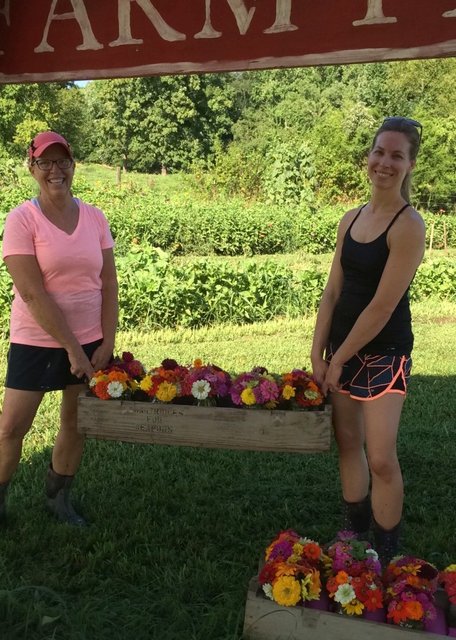 .
Because our flower stand is operated on the honor system, we don't always have much interaction with our customers, beyond Facebook and Email. But a few weeks ago as we were tying the labels on our bouquets and putting them on the stand there were two things that happened. A very beautiful and classy Southern lady drove up and got out of her car. I smiled at her as she walked towards the flower stand and she said, "Good mornin' Darlin, 9:00 couldn't get here fast enough for me. I've been drivn' around the country roads waitin' to see you come with the flowers. Do you know how happy I am to see y'all?" Honestly, my heart was just smiling. I couldn't even think of what to say. I actually wanted to just hug her. Over her arm was a large basket and she carefully placed four jars of flowers in the basket and she was talking in that totally beautiful Southern drawl that I love so much. She thanked us, put her money in the box and said "I'm so happy I finally got to meet y'all. You make so many, many people in our community happy." And she got in her car, tooted the horn and drove off. I stood there blinking back the tears. It just meant so much.
.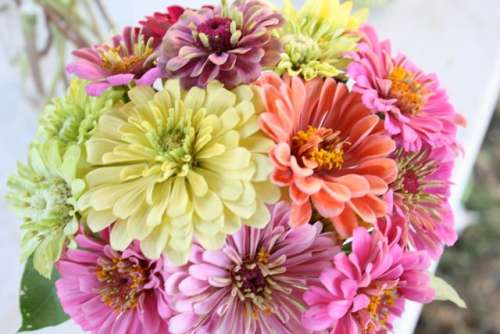 .
A few minutes later as I was finishing up filling the flower stand, another car drove up. The lady in this car also got out with a basket – this one was more like a basket tray. I smiled and told her good morning and she said these words, "Do y'all have any idea what a special service it is that you provide to this community"? I said something about how much we love it and what it means to us to have customers that buy our flowers. She proceeded to tell me that her daughter is in the hospital having a baby and when she told her she was going to go buy her some flowers her daughter said, "Momma, buy some of our flowers. Don't buy flowers from the store or the florist". And the lady explained to me that they consider the flowers my daughter and I grow as their flowers. I felt like that was one of the greatest compliments we could receive. I know I was smiling from ear to ear.
.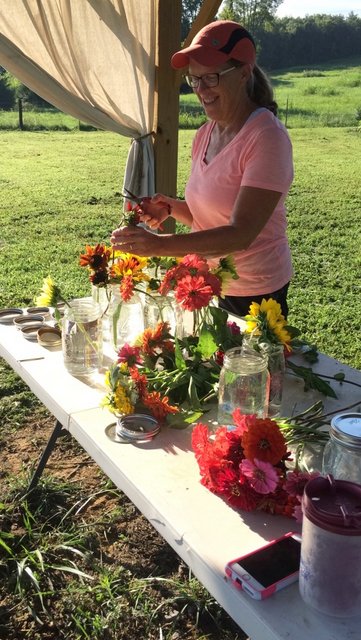 .
After those two incidents that morning, I finally felt like I could sit down and write what our flower farming means to me.
.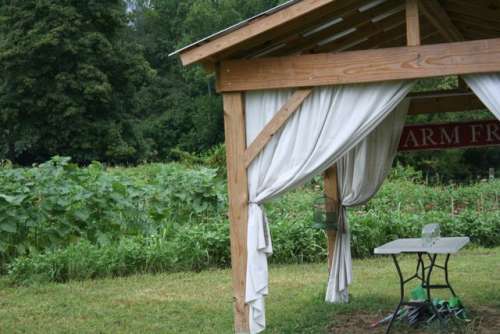 .
You cannot see our 1/3 acre of flowers from the small road where our flower stand sits. If you know exactly where to look through the fields you can see the roof of our open work shed in the garden that our husbands built for us last summer. But you cannot make out the plants or the blooming flowers. So people have this assumption that our garden must be this amazingly beautiful place. An English garden sort of beautiful. But it is not. It is a working garden. Rows and rows of plants that get thoroughly picked every single day and magically bloom overnight to be picked again.
.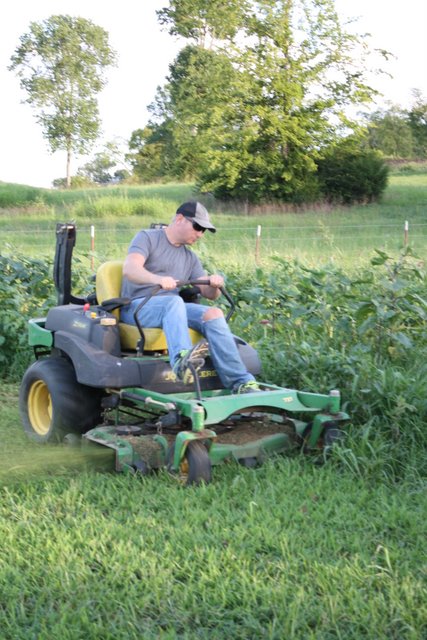 .
A garden with grass that grows between the rows faster than our husbands can keep it mowed for us. Weeds that take over when we have a super busy week and can't keep up with them. Flowers that need dead headed so that they will continue to bloom.
.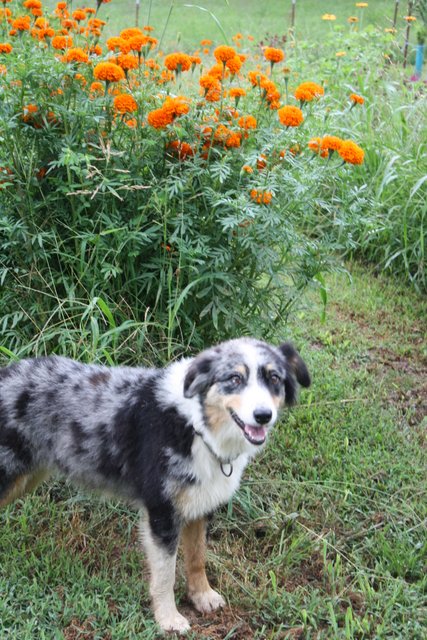 .
But the garden is the most beautiful place to us.
.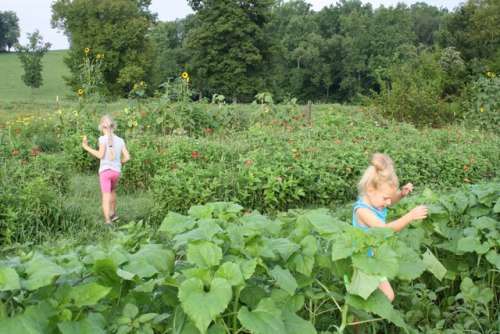 .
It is the place where my grand-daughters play amongst the frogs, butterflies, caterpillars, bees and other bugs.
.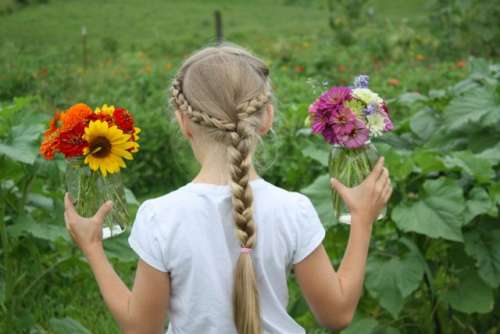 .
The place where they are learning not only the names of all the flowers but how to cut and arrange them in jars all by themselves.
.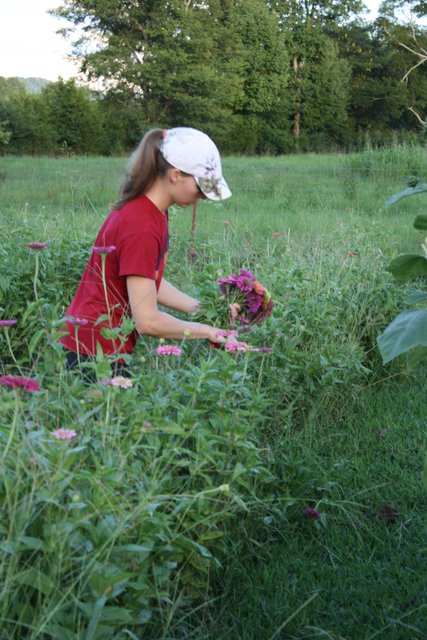 .
It is the place that my daughter and I talk about everything under the sun as we pick together, weed together, and arrange flowers together.
.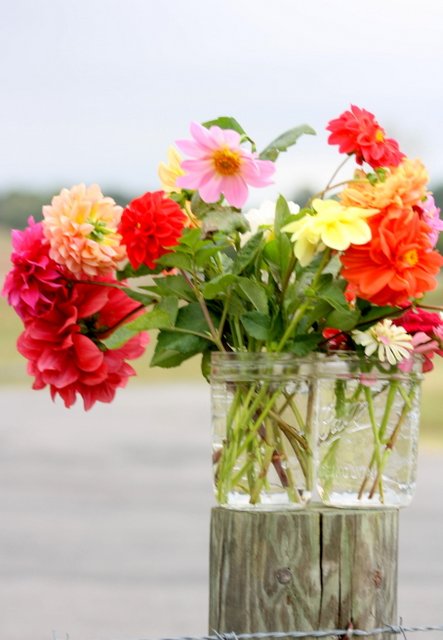 .
It is the place that I go when I need to cry. The place that has a healing that makes the troubles of life seem so insignificant. The place that makes me happy, even when I'm on my knees in the dirt pulling weeds by hand, or stressing over the fact that all the sunflowers came up but the birds pulled them out one by one, or the caterpillars that are eating every zinnia bloom they can get their mouths on. It is still the happiest place on our farm!
.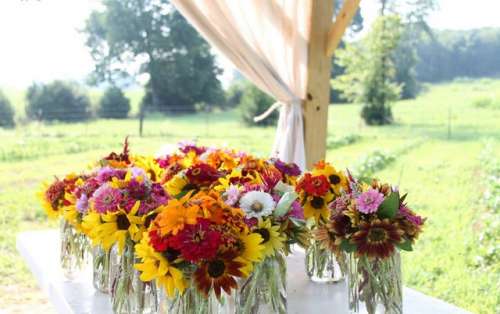 .
The funny thing is that I don't get these feelings in my vegetable garden. There is something about growing flowers that is so magical, it is actually beyond describable.
.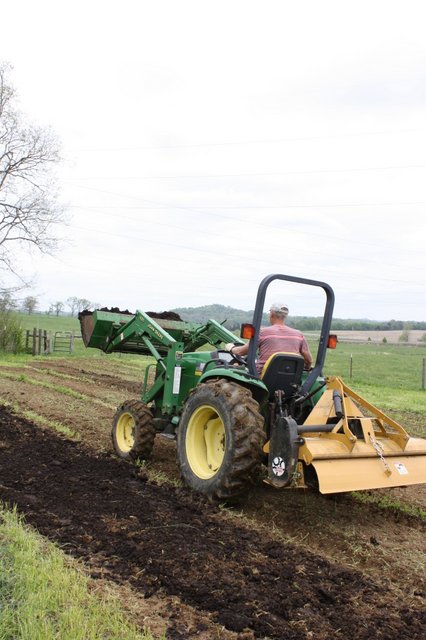 .
.
I love that even though my son-in-law has a full time, very busy job off the farm and my "retired" husband has a full time job keeping up with the farm, they love the flower garden as much as we do. My husband does all the tilling and hilling for us. He diligently gets a dump truck load of manure every week all summer and composts it for a year to spread and till into the soil in the spring. They both mow, string trim and help us however we need it. It truly is a special thing for the whole family!
.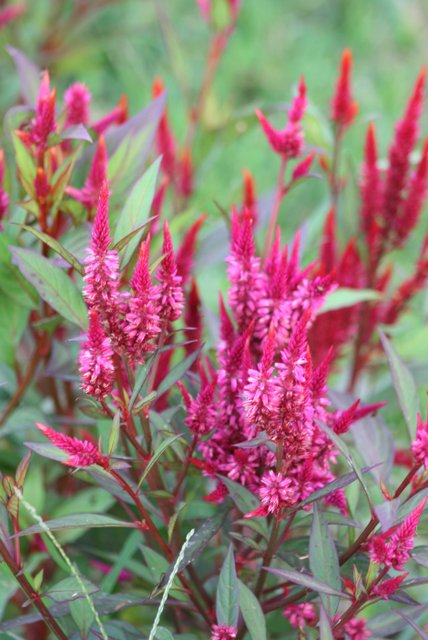 .
By this time of the summer we are tired. The plants are tired. They are actually looking very rough around the edges but still they keep producing and we keep picking. And even though meeting at the flower garden at daylight every day is starting to take a toll, the thought of the season coming to an end is very sad.
.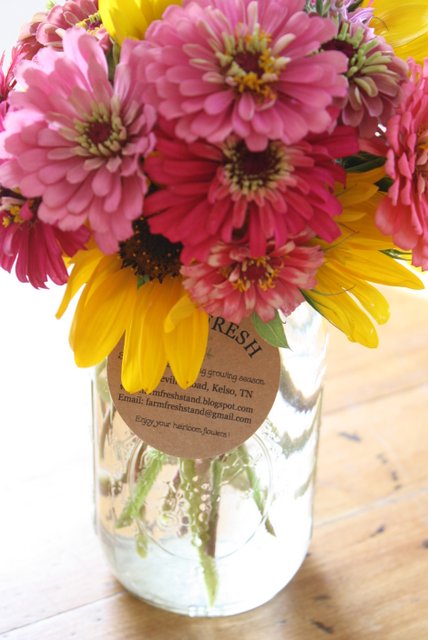 .
When we started this flower farming endeavor, we never dreamed what joy it would bring to us. We had no idea that growing flowers could be so complicated, yet so simple. We were not prepared at all for the demand that our flowers would be and the stress that comes from trying to keep up with the demand; but the opposite side of that is the absolute reward that comes in providing something that brings utter joy to the person… so much so that they will drive out of their way to pick up a simple little jar of flowers.
.
.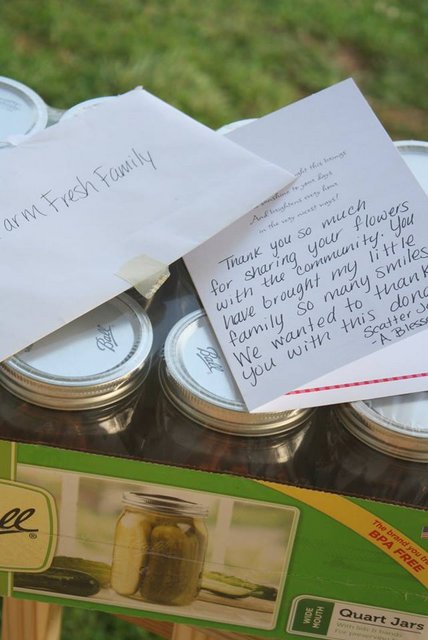 .
We were not prepared for the kindness and honesty in people; the cards left with words of thankfulness and appreciation for our flowers. The notes that say, "I didn't have money for flowers today but I'll be back tomorrow with my money" and they are. The boxes of brand new jars left by an anonymous customer, with a note of gratitude. The pictures shared with us on Facebook of parents teaching their little children to buy flowers for an elderly grandparent, or a Daddy bringing them to buy flowers for their Momma. The letters that tell us they buy our flowers because they are the same flowers their grandmother grew and it brings back happy memories.
.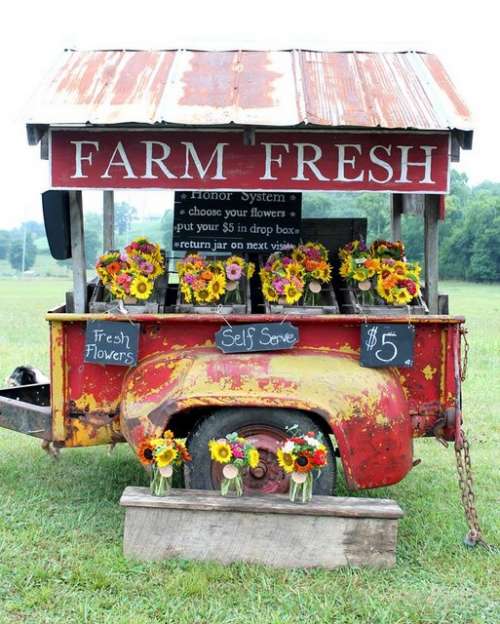 .
I hope that I never forget what a special privilege it is to grow and provide flowers for such a wonderful little Tennessee community that has not only purchased flowers from us, but embraced our flower stand like it is a "place to go"!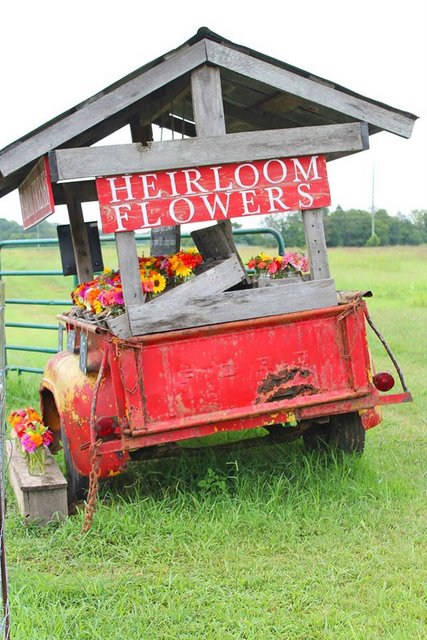 .
I hope I never lose the pitter patter in my heart when the flower stand is full and ready for the mornings customers.
.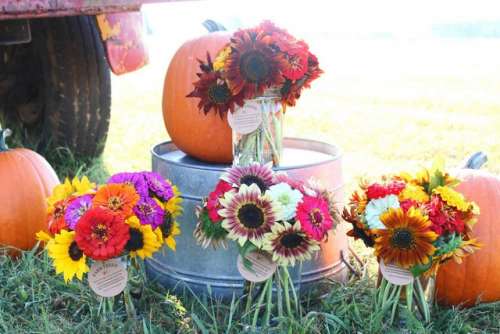 .
Fall is here and we are at the end of our flowers and ready to begin the next phase. Going over our notes from the summer so that we can learn from mistakes we made this year. Talking about changes that may improve our production and maybe make it a little less labor intensive. And even though we will have a winter to rest, sleep in a bit, and not stress over the flowers… they will never be far from our minds. And we'll be dreaming of another year of flowers.
.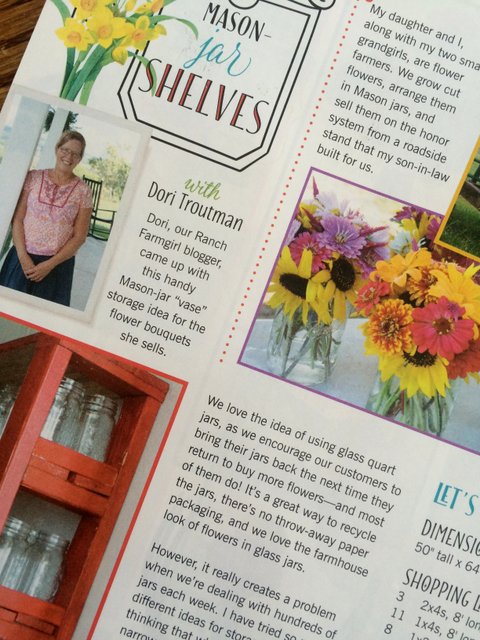 .
And now!!!  The winner randomly drawn to receive a copy of MaryJanesFarm Farmgirl DIY issue is…
Jennifer!  
She's been notified and her issue is in the mail today!  It is a fantastic issue that I have been poring over since it arrived in my mail box this week.  If you haven't already purchased one, please do!  It is amazing!
.
Until our gravel roads cross again… so long.
.
Dori