Lately, we've had so much snow and ice, it's unbelievable! Schools have been closed here eight times the last few weeks due to weather, and most families are getting out only when absolutely necessary. What's a mom to do? Create cozy meals of comfort food!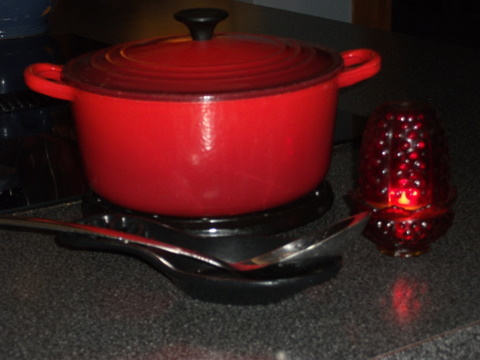 Food is such a big part of any culture, and our home is no different. I love creating meals that coincide with what's going on with my family and our lives. In summer, we eat lots of salads and foods on the grill. Last summer (which now seems like a lifetime ago), inspired by MaryJane, I put in an organic vegetable garden, which yielded a vast amount of delicious fresh vegetables, and our daily menu revolved around what was ready to pick that day. We became spoiled with our warm from-the-sun, juicy tomatoes!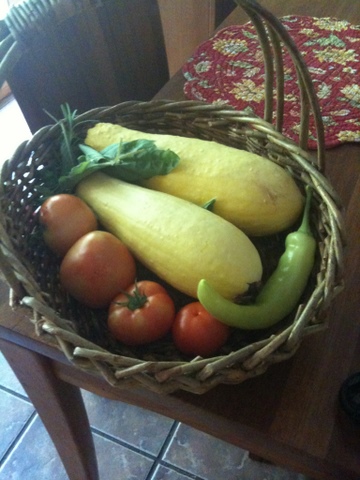 Missing my garden and its bounty, especially with over 100 inches of snow and ice in the yard now!
When winter's cold brings its chill, we want warmth in our stomachs. Stews, roasts, and casseroles are at the top of our menu. Texas-born, chili is one of my favorites, especially when paired with homebaked cornbread! When my husband and I were first young newlyweds, we moved across the country. The first day he went back to work, I wanted to present him with a special homemade meal. I assembled my chili, and simmered it all day.  When my husband came home, he was starving and our little apartment was draped in the chili's aroma. As we sat down to eat, he was all smiles…until he took his first bite. Being from Denmark, he was not used to anything spicy. He began to choke, sputter, and turn red. I thought I killed him! He then turned a funny shade of purple! I was horrified! I learned to tone down the spice, but to this day, almost twenty years later, he still asks me if he's "in the doghouse" before taking a bite of chili!
There are some recipes in my recipe box that I consider "family heirlooms". My grandmother was Greek, and she was an amazing cook. The only connections I have left to her are a handmade embroidered tablecloth she made, and a few recipes. I make her "Greek Macaroni and Cheese" recipe often as a winter side dish. One recipe I consider "sacred" is her "Koulourakia," a traditional vanilla Greek cookie. At Christmas, I mail them to family and friends. My father once told me I'm the only one who makes them exactly like she did, something I take great pride in. Once, an acquaintance desperately wanted the recipe. She invited me to her house for a day of baking, saying we would trade special recipes. When the time came to make my batch of cookies, she decided my dough would be better with raspberry liquor, pouring in enough to turn the whole batch pink! Normally, I wouldn't care if a recipe was changed, I "tweak" recipes all the time, but for some reason, this change made me feel like I'd been punched in the stomach. It may seem silly, but I haven't shared that particular recipe again.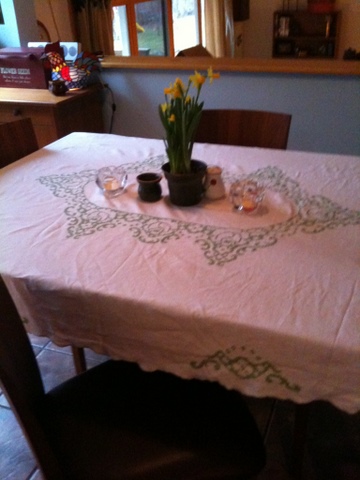 This is the tablecloth my grandmother made and gave to my parents when they were first married. Here, the table is set for St. Patrick's Day.
One favorite dinner is from my childhood, an easy, one-dish meal my mom always made in the seventies. It's quick and simple, just a few ingredients, but the scent as it cooks is mouth-watering! It's a great, kid-pleasing meal. My earliest memory of it is smelling it on the stove on my first day of kindergarten, as a special hot lunch. Now, each year, I make it for dinner my daughter's first day of school, and often during the winter, as it isn't time consuming or require a lot of ingredients. The only change I do make is to use all organic ingredients.
Mom's One Pot Macaroni and Beef
1-1/2 lbs ground beef
1 medium onion, chopped
1 green pepper, chopped
2 cups uncooked elbow macaroni
1-1/2 cups water
2 (8oz). cans tomato sauce
2 TBSP Worcestershire sauce
1/4 tsp. pepper
Brown beef with onion with and green pepper over medium heat in large skillet. Pour off fat. Add uncooked macaroni and remaining ingredients, stirring well. Cover and simmer 30 minutes, or until pasta is tender. Stir occasionally, adding more water if needed.
Enjoy! And remember…every day brings us one day closer to Spring!