New England has been hit with one of the worst winters anyone can remember. Sure, we are used to snow and ice, but not THIS much at one time! We've been hit with five storms the last four weeks, with more to come. Schools have been closed, roads are challenging, and everyone's getting tired of the cold (even though it is only January). How do you keep a sunny disposition when winter is being so wicked?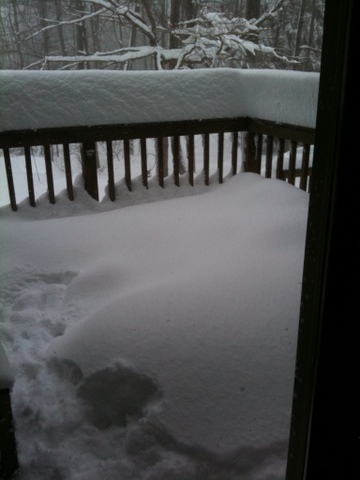 I was raised in Texas, in a city where it's relatively warm most of the year, but have lived most of my adult life in Connecticut. "Cold" for my Southern family is often a temperature that, here, would be defined as short-sleeve wearin' weather.  My relatives wonder how I have "survived" all these winters, especially this one. You know it's cold when you open the refrigerator and think the air in it is warm! But, just as my family wonders how I manage, I marvel how residents in other parts of the country who deal with this kind of winter every year bear it. Truth is, it's just a way of life here, as it is for residents in many states, and it's amazing what you can get used to.
When the sun does decide to pop out a bit, nothing is prettier than the trees and bushes glistening in white. If the temperature is warm enough (and I use that term lightly), we can suit up and go play out in the snow. Never having seen snow as a child, I discovered I love to go sledding, even if the hill I go down is more of a "bump". I once learned not to go down big hills, since there are no brakes.  After picking up momentum, I hit a rock which acted as a ramp and sent me airborne.  When I landed, I picked up warp speed,  going until I finally slowed down in the woods, landing face down in a heap of snow. Thankfully, only my ego was hurt. Now, I stick to smaller hills.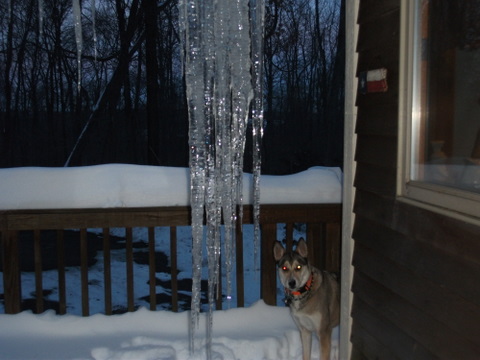 Watch those icicles form!  They are really pretty to look at.
The temperatures lately have been too cold to go outside and it's dark and dreary. After a few days of school being called off, cabin fever sets in. Playdates have been cancelled, school events rescheduled, and my Sisterhood Chapter and I have not been able to get together.  One morning, my daughter begged to go out to breakfast, something our family never really does. When roads are bad and snow is piled high like a mountain, I do not go out unless I really need to. The plows hadn't been by yet, and driving would be treacherous. When I told her no, she sulked and went back to her room. I decided to make a breakfast better than any diner, with homemade muffins, eggs, and sliced grapefruit. I set the table with linens, put music on, and lit candles. My daughter loved her surprise, and we lingered at that breakfast table for a long time, catching up on what was going on in her third grade life. The rest of the day at home was made a little brighter by our special morning.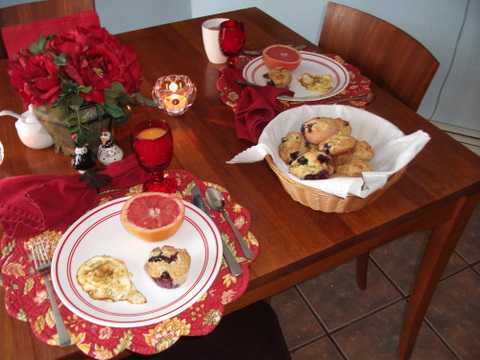 I love being outdoors, especially in the garden. But, as any gardener knows, keeping up a yard can be alot of work. Winter here gives us a reprieve from weeding, and an excuse for me to indulge in one of my favorite hobbies, knitting. I've taught my daughter to knit, and it's one of our favorite ways to spend an indoor day. While I'm resolving to slow down this year, I don't want us becoming couch potatoes in front of the television, so we bake, play board games, play with dolls, and catch up with friends on the phone. We look at old picture albums, read books, and make use of the extra time we are given at home, knowing that our girl won't be little forever. Once everyone is safe at home, being "snowed in" can actually be quite refreshing. Although, with the snow piled so high and heavy it is hard to imagine spring will ever be back!
With a hard winter, we do have extra worries, like getting stuck in the driveway, not being able to find the mailbox after it's been knocked off the post by the town plow, or missing too many days of work. However, one life lesson I've learned is that you can't let things you can't control make you crazy, and weather is one thing that is out of our control. I don't know who said it, but my favorite quote is, "Bloom where you are planted." So, when asked how I survive, I shrug, choose to be happy, and let wicked winter weather become nothing more than an inconvenience.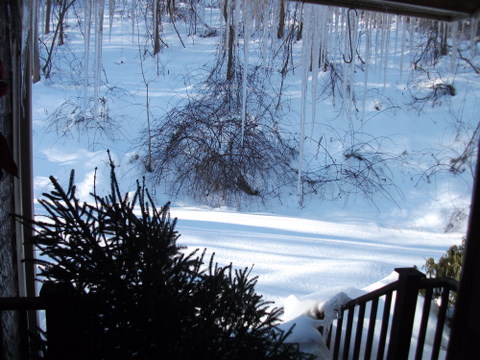 This is the view from my front porch.  Yes, that is the Christmas tree, frozen to the deck.  Sigh…