One of my all-time favorite songs (from one of my most favorite movies) is played frequently during the holidays: "My Favorite Things". It always brings to mind a long list of personal "favorite things". Some are seasonal, such as seashells, pumpkins, and snowmen. Others are functional like teapots, and cake plates. When I see a cookie, it's a cookie, but put it on a footed cake plate and my heart skips a beat! Often, we women find we need to have more than one of our "favorite things". A girlfriend once told me that if you have two of something, it's a "couple", but if you have three, it's a "collection". Aprons are another favorite for me. They make me happy. When I'm home, I'm wearing one, especially since my favorite place is the kitchen. I knew the Farmgirl Sisterhood was for me as soon as I saw the Henrietta logo of a chicken with her apron! I can never have too many aprons! I guess that makes me a collector…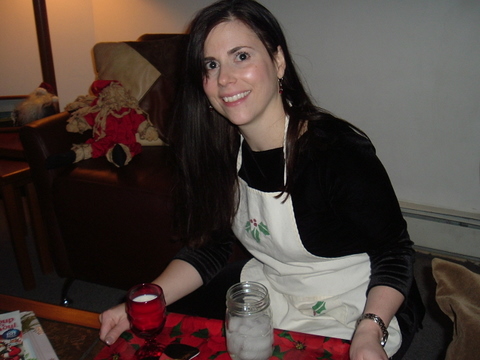 I recently read a very interesting list of the "Most Worthless Collections". Having been an avid collector of this, that, and everything else since childhood, I was intrigued. It listed things like Beanie Babies and Hummel figurines, saying these items hold no resale value whatsoever. However, it didn't take into account sentimental value, and in the hearts of true collectors, isn't that what drives them? Any object can have a price, but one has to have a buyer for said item. If a collector is collecting something for a dollar investment, that's what can make it worthless. My personal favorite collections hold sentimental value, with items that are useful at the same time (like aprons).
I have Christmas aprons, gardening aprons, and aprons for the seasons. My newest apron is one recently sent by my Secret Sister, Kathy, from what was a year-round Secret Santa swap on the Farmgirl Connection. It has the cutest chicken print that matches my kitchen, and knowing that she made it just for me warms my heart. Another favorite is the apron that started out as a joke, from a girlfriend who gently teases that my domestic skills are a bit antiquated. She was cleaning out her mom's house on a visit, and sent me an apron her mother made in the sixties — a half-apron, in cheery yellow and green, with a green dish towel sewn to the front. I think the design is clever, and very useful when I'm cleaning house. My friend was shocked when she saw me actually wearing it. Joke or not, I love it! And my Farmgirl Sisterhood Chapter and I wear our best aprons when we get together!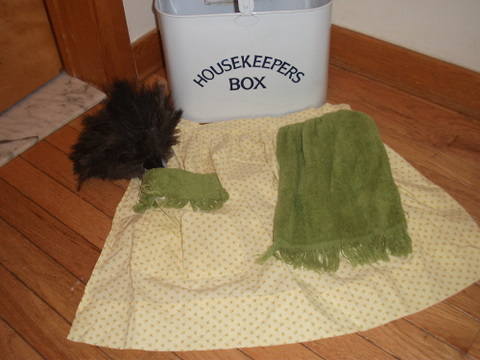 I really love vintage and antique aprons, none of which I've paid more than a few dollars for. I like imagining the women who made and wore them before me, and what their lives were like. I've always said I was born in the wrong generation, and when it comes to many things, I love the 1920's to the 1940's. One favorite vintage apron is a "farm apron" I bought on Ebay. It's blue and white, in a print of another of my "favorite things", cherries. As old as it is, it is sturdy, and I wear it often.
Imagine my surprise last summer when I saw that print on a dress worn by a historian at one of my favorite museums, Sturbridge Village, in Sturbridge, Massachusetts. This museum is a village of old buildings, put together to recreate life in New England in the late 1800's. The historian told me her long dress was a reproduction, and that the fabric was a copy of a real fabric from the late 1800's. She imagined my apron had once been a dress, put away when the style was no longer current, and brought out during the Depression, to be repurposed into said apron.
At that, I thought about putting my beloved apron away, and never using it again, but then, that defeats its original purpose. I can only imagine its creator, laughing at the idea of it being a "collectible". With all the comfort-food cooking I do in the New England winter, it will be well-used, and I will think of the strong, practical women who wore it before me.