Every year, I'm faced with a dilemma. A kid inside when it comes to all things Christmas, I find my adult self more Scrooge-like when it comes to the mess associated with the focal point of decorations: the Christmas tree. The question that comes up every December: do we pull up the artificial tree from the basement or get a real one?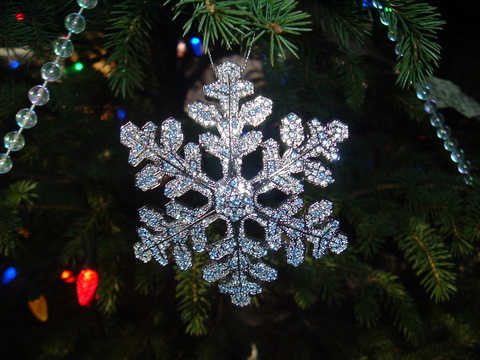 We've had both kinds. The first artificial tree we had years ago was, well, ugly. So ugly, in fact, it suffered an unfortunate accident. Strangely enough, it jumped behind my husband's car. After a loud crash from the garage, my husband came in to report that he 'accidentally' ran it over and we needed to get a real one.
I haven't been a fan of real trees for awhile. There's the trail of needles leading from the door to the tree. Branches aren't always strong enough for heavy ornaments. Cats want to climb it and dogs…you know. There's the fire hazard and chance of a beloved ornament stuck in the branches when you throw it out.
Our last real tree left me scarred. We picked out what looked like a fine tree at a reputable store. It's first strike was the sap left on my carpet. But it smelled amazing!  I watered it faithfully. However, soon it was no longer 'Holiday Green', but more of a sickly yellow.  We could hear the 'ping' of dried needles floating down past ornaments, as it shed. Christmas Day, it was dead. Afraid to turn on the lights, we held our breath as we walked past, lest the droopy branches drop the ornaments.  It was the year of a blizzard, with snow piled high and deep.  After removing the decorations, my husband put the tree on the front porch, promising he would move it out back to the woods as soon as the snow stopped.  The tree froze, and stayed there until almost Easter.
Artificial trees aren't without issue, either. There's the assembly, and the fluffing of the branches since they're so rumpled after storage for a year.  Pre-lit trees are great, until a bulb goes out and the whole tree goes dark. Once decorated, the tree looks the same, year after year. In Christmas photos, we change each year, but our tree doesn't.  I could just recycle the tree photo…no one would know.
My childhood memories of fresh trees are wonderful. We'd pick our tree out in the country and by Christmas it would be perfect. I want my daughter to have that same memory. She's been asking for a real one for awhile. Now that we are devoted to going green and organic, it's important that a real tree is biodegradable, while a fake one is just that: fake, and going to take forever to decompose. We decided this is the year we'd cut our own tree from our neighbor's tree farm down the road.
Off we went to get our tree on a beautiful, sunny day. The farm behind us is breathtaking with it's postcard-worthy scenery. After walking a bit, there was our ideal specimen.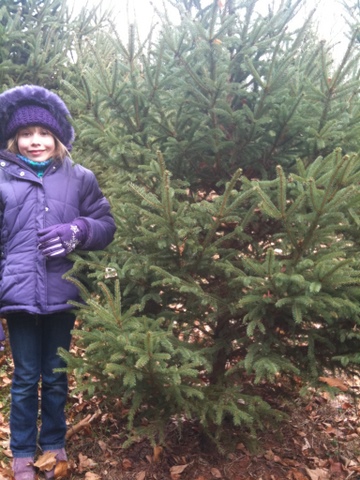 My husband cut the bottom while my daughter and I looked on. I wished for a video camera when the tree fell in a direction we didn't expect and landed on my daughter. (She was fine). Not exactly a Norman Rockwell moment, but very funny.
We brought the tree back and onto the car, and shared a hot cider with the farmer.  It was the perfect memorable family moment I wanted to create. My daughter was beaming.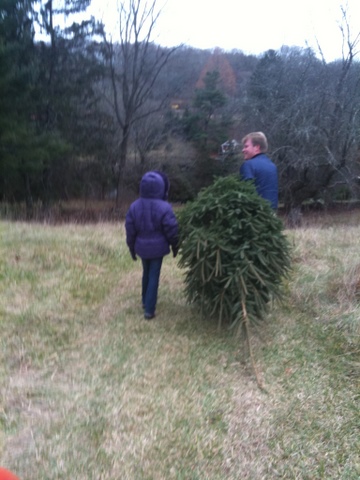 Getting the tree inside was not the horrible chore I remembered. It was great fun decorating our beauty.  The next morning, it looked like it was leaning some.  By afternoon, it resembled the Tower of Pisa.  That evening, it crashed!  With my husband at work, I realized we needed backup.  I called a dear neighbor, who put her husband's dinner on a warming tray, sending him right over.  What we thought would take a minute, took two hours.  I began thinking the tree was a mistake.  Needles and ornaments went everywhere!  We couldn't get it to balance.  In the midst of holding it up, I smelled smoke from the kitchen.  Dinner was burning!  Running to the stove, I stepped in my dog's bowl she had placed in the middle of the floor (a reminder to feed her), and slid, airborne, hitting the tile.  Nothing broke, but it wasn't much fun.  I felt like the Three Stooges rolled up into one!
After much drama, the tree was upright.  We fixed the ornaments, hit the lights, and stood in awe of our beautiful, fresh tree.  It was then that I knew it was not a mistake, but a new, annual family tradition.