Many of you have been asking in the past several weeks for updates on the yurt and yurt life. However, there hasn't much to update you about!  Living in the yurt is still very much like glorified camping. The interior hasn't changed too much, and I'm still too embarrassed by all of the stuff spilling out of boxes to post real pictures of the interior.  I have been living in a kind of suspended animation since the end of September for several reasons. Nonetheless, I can give you a small idea of what living in the yurt has been like.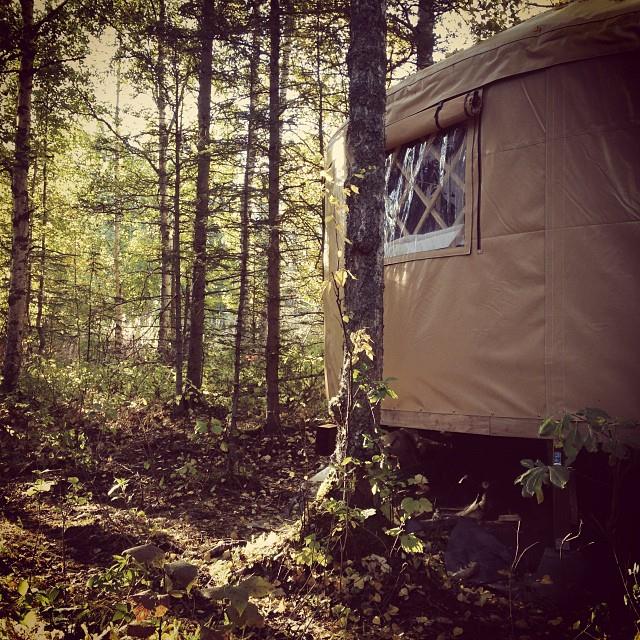 Our yurt exterior. We are in a beautifully wooded area, the neighbors are fairly close, but it's okay for now!
You see, the transition between summer and fall is busy for a farmer/teacher. I have had one day fully off out of the last 2.5 weeks. Even though I am not farming or teaching as much as I did last year, and the days haven't been very long, I'm still pretty exhausted after work. After spending a day doing mostly physical labor or activities, I am left very unmotivated to build or organize or unpack boxes that have no place to be unpacked to anyhow.
Furthermore, Evan has been out of town for three (you read that correctly–THREE) weeks. As a fairly independently minded woman and Farmgirl, I shouldn't let this get in my way…but I really haven't felt like doing much in the ways of home improvement on my own. We should be doing it together. Plus, with this little babe in me I should stay away from heavy lifting and being around a lot of building materials.
The biggest improvement we've had in the last several weeks is the installation of our woodstove. It is an old Blaze King Princess and it is okay. It is really large, and we have had to install it in the middle of the yurt as the yurt dome has a ring pre-installed for a chimney. Like most things, it took about three times longer than we thought it would to install the chimney and stove pipe and all that good stuff. Luckily, everything was finished exactly 36 hours before the first snow fall. Even more luckily–it hasn't snowed since and the temps have stayed mostly in the forties.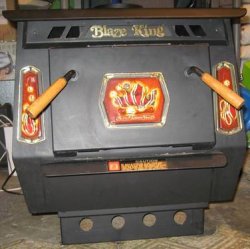 This is very similar to our Blaze Princess, but ours is in a bit better shape.
I have slowly been getting used to using the wood stove. Do any of you rely on wood heat for your homes? I'm making the realization that I very much want a supplementary heat source. The heat from the woodstove is great when it's burning, but coming home late night to a cold yurt is no fun. Also, if the stove must be  stoked in the middle of the night to keep any semblance of a fire going until morning. This is fine, since I will soon be up many times during the night anyhow!
I've learned a lot about wood and woodstoves over the past several weeks. For one, I've learned that the woods native to Alaska aren't very good for burning in woodstoves. We have primarily spruce and birch. Spruce is really bad for a stove, and birch isn't the best. They both are pretty dirty burners, and spruce is excessively smokey, so we will have to clean our chimney often. Since I am really paranoid about a chimney fire, I'm thinking we will have to clean the chimney about once every two or three weeks until we get an idea of what the creosote build up is really like. This will be a fun skill to learn.
We plan on cutting our own wood in the future, but, as many of you know, wood must ben seasoned before it will burn properly. The general rule of thumb is that wood be cut and seasoned for at least a year before burning it. Since we don't have wood pre-cut for this year, we have had to rely on buying wood from sellers in the area. I was told by several people that Alaskan wood sellers are notorious for selling wet and green wood; and I'm sorry to say that this has proven to be true. We had two cords of wood delivered the other day. It doesn't seem very green, but a lot of it felt like it had been sitting in a lake for a few days.
I've also learned that we will need about four cords of wood to make it through the winter. A cord turns out to be WAY bigger in person than it was in my imagination. 4 by 4 by 8 feet didn't sound like that much, but since we are stacking the wood in alternating rows (to help dry it out faster) it takes up a lot of space. The two cords we have procured take up almost the entire wood shed space. Perhaps we can create a new wood pile that will block off the neighbor dogs that love to bark at anything that looks like it could move…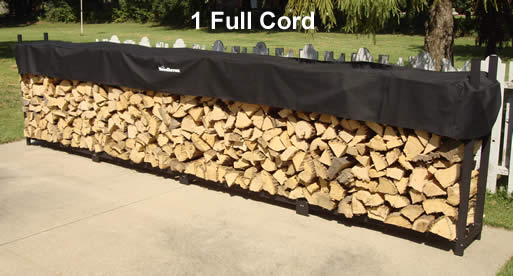 Our cords look bigger than this, I swear.
In other yurt news, we will soon be working on the interior design and construction of the yurt. We have been drooling over the loft construction found at this tiny house blog: http://tinyhouseblog.com/yurts/yurt-living-in-upstate-new-york/ And we will be making ours soon. Evan was home for two days between his weeks away, and we went to pick up some rough cut lumber for interior paneling. it is local spruce that was downed from beetle kill, so it's pretty cool that we get to use it. I've been researching natural stains for the wood as the warnings on the cans of stain at Home Depot are SCARY. That stuff can spontaneously combust! craziness. So, we I will be experimenting with some natural oxidation techniques that involve using steel wool dissolved in vinegar. Since spruce is low in tannins (which interact with the steel wool vinegar mixture) I will also be experimenting with pre-applications of black tea. Maybe I'll try cheap red wine, too? I can't drink it so I might as well use it for decoration! I will be sure to post pictures of the results.
We have been hesitant to purchase any real furniture for the yurt until we have it all finished on the inside. For now, we have a futon that serves as our bed and living room. We have our old, small kitchen table that, at the moment, has been taken over by dirty dishes and is serving as our "kitchen." The only other furniture is stuff that we've constructed out of storage bins stacked on top of each other with plywood on top. Evan also made a little coffee table out of plywood and small rounds from trees that were removed from the yurt site. It's all pretty measly and slightly pathetic…but it will be okay for a couple more weeks. I don't know if I can handle it for much longer than that!! This is the only real picture of the yurt interior that we have…
The yurt kitchen. Don't worry, the Jack isn't for me. It is a remnant of a bachelor party that Evan attended. Do you notice our lovely shelving system made of boxes? How about the fuel for our camping stove that we use to cook on?
A typical day in the yurt looks something like this:
Wake up in fairly cold yurt. Make fire if planning to stay more than an hour.
Boil hot water on Jetboil camp stove if planning to have tea or hot cereal.
Grab milk from cooler outside (we don't have a fridge yet).
Make and eat breakfast.
Go to work or library at the farm to work on thesis.
If coming home before 9–make a fire and relax for a bit.
If coming home after 9–make fire and go to sleep.
Stoke fire at about 2 if I wake up.
I've been showering at friends houses for the time being, as we don't have a bathroom set up yet, and I have been doing most of my eating and cooking at school or work. Again, this is all okay for now, but I'm very much looking forward to having a home to do all of this in! The yurt mostly feels like a place to sleep right now more than anything else. This will change soon, and I can't wait to share those improvements with you!
The farming season ended on Monday with our final CSA, I have been given the luxury of only teaching one day per week through October, and Evan will be home for good on Saturday! The yurt progress will pick up quickly from here on out.
I hope to have more exciting updates for you in two weeks! Until then fellow farmgirls, take care of yourselves and share any tips you have for living with a wood stove!
Sending you peace and love,
Alex, the Rural Farmgirl