"Sometimes I sits and thinks and sometimes I just sits."
Been doing a lot of sittin' since my surgery. A. LOT. And a lot of sittin' and thinkin' too.
I have never before in my life experienced anything like this. Where I'm just stuck. Still.
But what it has done is given me time for all this sittin'. And thinkin'. And I have indeed thunk.
And also done other things with an apostrophe at the end instead of a "g" while I'm sittin'.
Sittin' and Listenin'.
Today, I heard the rumble of the school bus engine. It was going down the country road in front of our house. I thought about that big orange-y bus taking the kids to school on this first day of school. And I thought about the sweet, sweet woman who drives that bus. Summer's over.
Sittin' and Missin'.
I missed back-to-school shopping this year. It has always meant something to me, even before I had a child. And even now that my daughter is in high school and there's not much school shopping at this point. It means end of summer. This time of year, I always pick up a big stack of notebooks and boxes of pencils and highlighters. Composition notebooks for 17 cents. A 12 pack of pencils for 49 cents. Nothing like a freshly sharpened yellow pencil. My favorite brand? Ticonderoga. I like it sharp, sharp, sharp. I often do my writing with just a composition notebook and a sharp pencil.
Back to school also means plaids and sweaters and blankets and boots and hats and pleated skirts.
And newness. New friends. New schedule. New classes. New teachers.
One of my all time favorite quotes:
Education is not the filling of a pail, but the lighting of a fire.
William Butler Yeats
Just wow.
Sittin' and Lookin'.
I look out the front door and I see yellow flowers in bloom beside our mountain brook. Another sign that summer is coming to an end and autumn's on its way.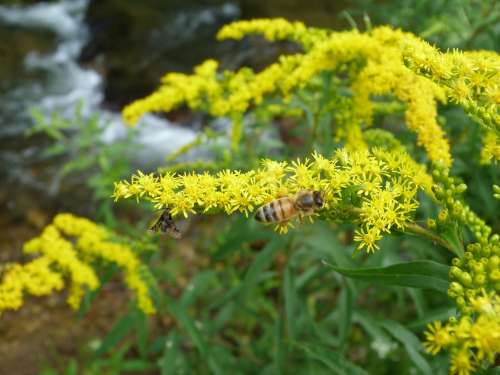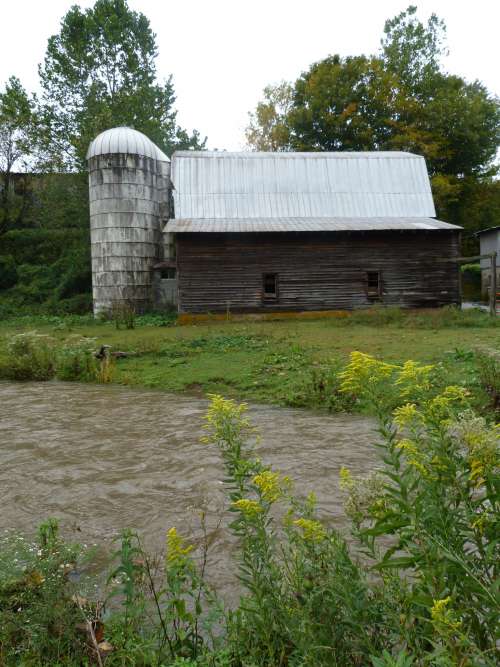 Apples have fallen from the tree.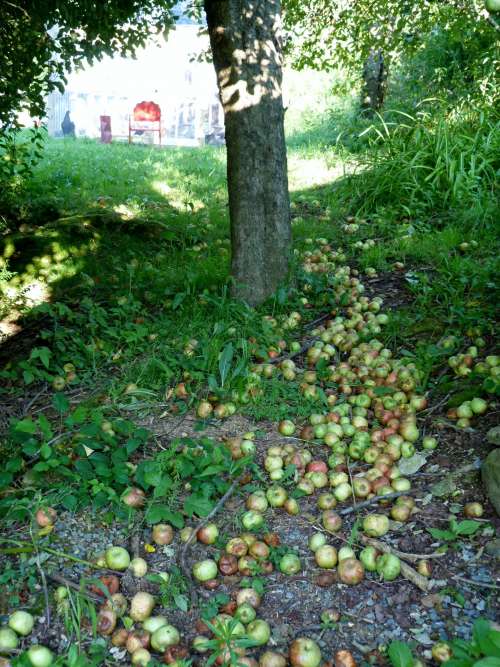 Monarchs are feeding on the milkweed patch. This one looks tattered and torn. There will be another generation hatched before their long trip to Mexico later in the year. Thank goodness; I'm not sure how many more miles these wings can go.
Siitn' and Wonderin' about Winter.
The old tale is that for every foggy morning in August, there will be a snow this winter. Unfortunately, since I'm kinda immobile, I haven't been able to tract the foggy mornings this year. I'll have to rely on someone else's count.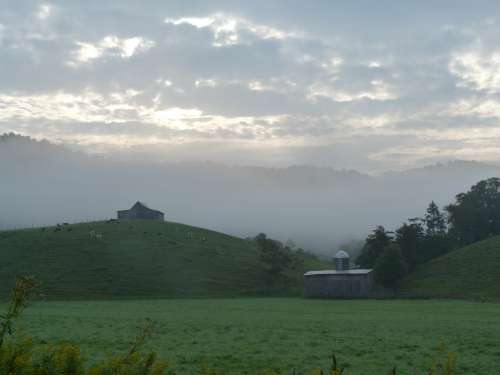 Sittin' and Hayin'?
Eh, not me. But soon my neighbors will cut their last cutting of hay for the season.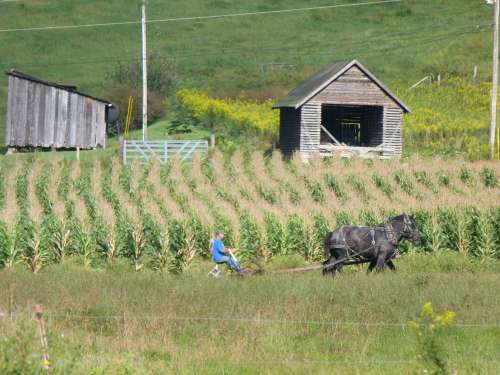 Sittin' and Not Walkin'.
I haven't this year, obviously, but last year I walked our property across the road and took some photos. That white thing in the middle of the photo is my house. You can see some of the Christmas trees on the hillsides behind the house.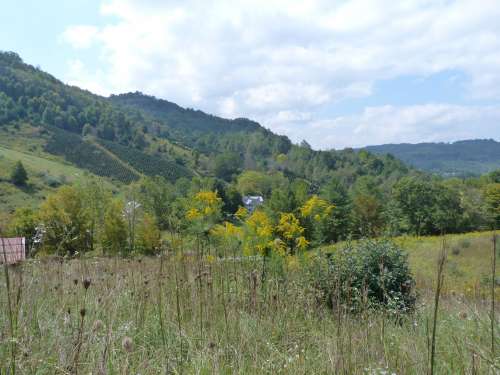 Sittin' and Enjoyin'.
Brown-eyed Susans planted by some previous owner.

Sittin' and Croakin'.
Again, not me.
But all our toad friends stay close by. We have TONS since our ditch became a pond.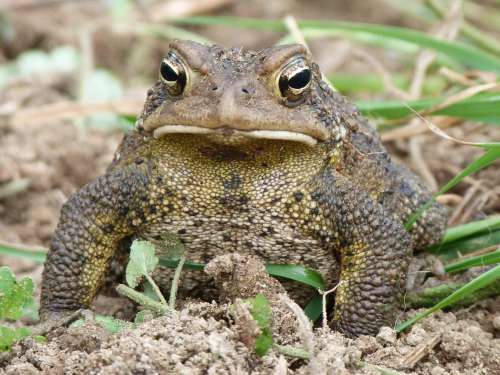 Sittin' and Admirin'.
Queen Anne's Lace is in bloom all over the farm this time of year.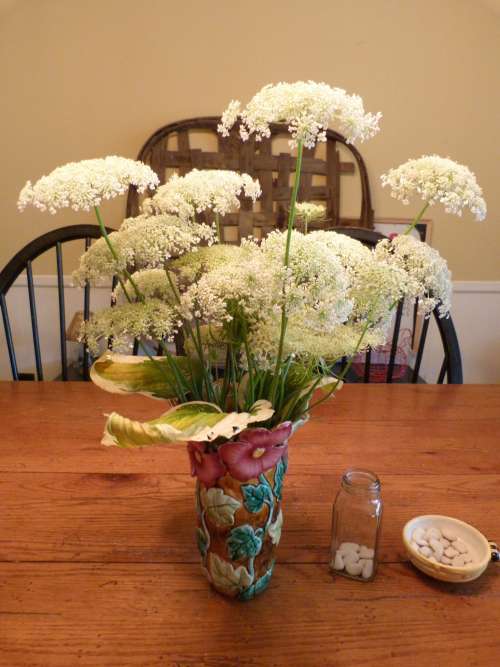 Oh, this. Sittin' and Wishin' I had invented this.
THIS.IS.LIFE.CHANGING.
Am I right? Just raise it up and voila!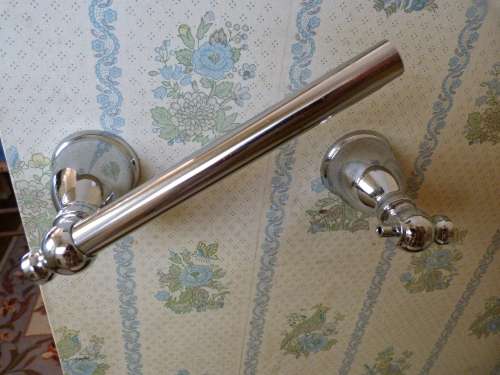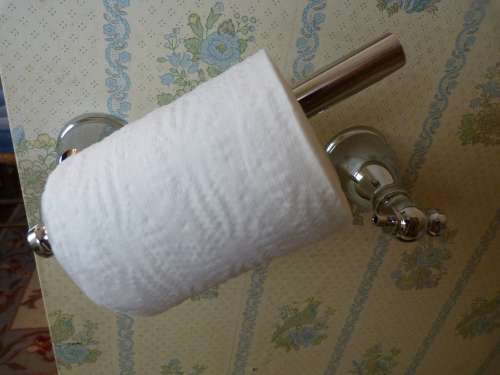 Sittin' and Dreamin' of Autumn.
Soon I'll take out my Grandfather's '51 Chevy and fill the back with hay and cornstalks and pumpkins.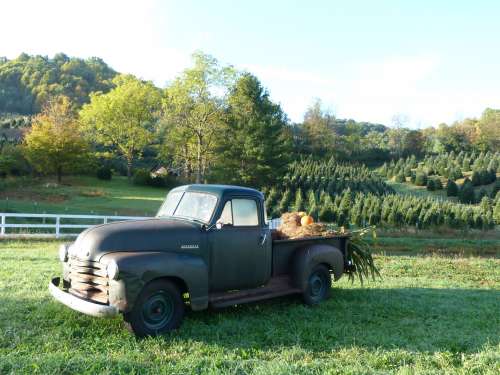 As I mentioned in the last post, I've moved down to the guest room because I can't climb stairs. The guest room is in the front of the house, in the original part that was built in 1890ish. My daughter was down here late one night with me, keeping me company, and she said, "You think anybody ever died in here? In this very room? What's your position on ghosts?"
I've been so busy fixing things up since we moved here, that I never really did the research on the property that I wanted to. Her inquiry prompted me to find out more. Who could the possible ghosts be? Hmm.
So I did some Sittin' and Researchin'.
The internet is an ominous and wondrous thing. The stuff that is available online will blow your mind. What you can find is previous owners, census reports, war service records, tombstone inscriptions, wills, even some death certificates.
Our beautiful farm was in the same family for generations, until us. It came out of the family when the heirs sold it to us.
The man who built our house was born in 1848 and died in 1928 of "kidney and liver trouble." He was 79 when he died. His family settled this quiet mountain valley when they purchased 2000 acres in 1826. They had come from Wales, England in the 1630's and settled in Halifax County, Va. They applied for land grants from the state and also purchased some property from private owners. They settled here and founded the local Baptist church. They also gave the land to the school board to build a school, as well as land for a local cemetery. One of the settlers became an early judge for the county. It is said that the first court session was held in his sheep barn and that the complainants were eager to resolve their cases due to the large population of fleas in the barn.
I was able to find many interesting stories about the family online. The man who built our house was 14 when his father died. His father served as a Captain in the Civil War and was captured. He was eventually exchanged. And then released from service. But he probably never even knew he was released because he died a few days after the notice was issued. He never made it back home. The man who built the house served in the state senate in 1889. Very cool.
I think people who are not from the South sometimes think that we are all like the characters on Hee-Haw. Or that the typical male who lives in the Appalachian Region smokes a corn cob pipe, drinks moonshine, sits on the front porch all day playing the banjo, and wears overalls without a shirt and no shoes. This is a falsehood promulgated by the entertainment industry. It is hurtful and harmful.  The people who settled this area were refined, intelligent, hard-working God-loving, schooled, motivated, ethical, resourceful, independent, vigorous, adaptable, sharp-dressed, and incredible people. Not the "hillbillies" you see in cartoons, I assure you. And as far as the people who live here today? Nicest people I have EVER met. EVER. In my whole, entire life.
Our Farm has been a cattle farm, a tobacco farm, a dairy farm, the local phone company, and a Christmas tree farm. So far.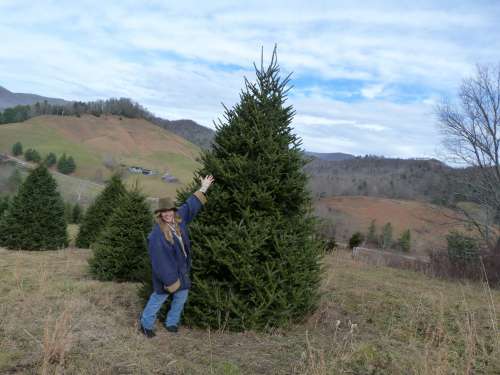 Yes, you read that right. "local phone company." One of the owners of the house (the son of the man I mentioned above who served in the Senate) established the phone service in our very rural area, buying the equipment to do so in 1924. They ran the switchboard from this house. Later in 1952, his children sold it to the large company whom I now pay my phone bill to. In fact, when we first toured the house, there was all sorts of old phone equipment in the cellar. We didn't have any idea why at the time. When we closed on the property, all the phone equipment was gone.
The house has undergone many renovations, but we have done our best to remain true to its history. I honor this property and the people who created it and made it what it is.
(I just hope they aren't interested in haunting the front bedroom.)
(Or any room, for that matter.)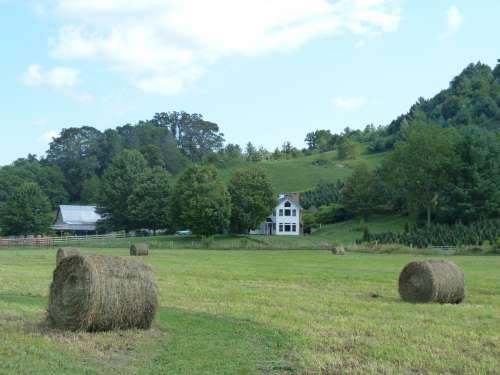 I've also spent a great deal of time Sittin' and Writin'. I finally got that book going! At long last. And I've also been Sittin' and Drawin'. So many of you have told me to paint and draw, that I finally decided to give it a go. I've never been artsy or craftsy but have to admit that this is fun. I'm working on trying to make something I can put on our Christmas cards this year. I was thinkin' ' "Our Farm" and "Will Moses style." And yes, that's Merlin. I couldn't have a Christmas card without my Soul-Horse. No way.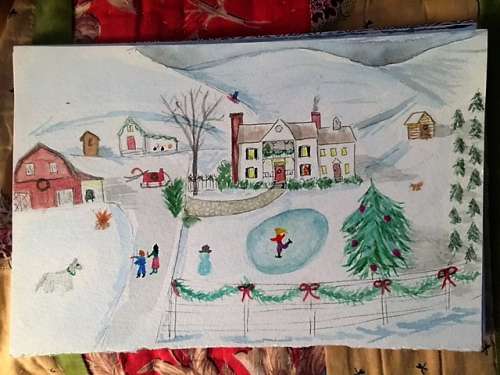 But in all truth, I'm sick of sittin'. I'm ready to get up. And go.
Until next time, Friends, savor the flavor of life!
Lots of love, The City Farmgirl in the Country, Rebekah