"We are made wise not by the recollection of our past, but by the responsibility of our future." George Berrnard Shaw
Our pasts, however much we want to think of them as static things, are ever changing. Think of the word 'recollection.' Every time we look at the past we are re-collecting, or collecting again, thoughts and memories of times past. There is no doubt in my mind that this act of re-collecting continually results in changed versions of memories and the uncovering of thoughts long unthunk. How have I come to this point in my life of dreaming of being a farmer? As a kid, farming wasn't even a consideration. What happened between then and now to influence these present dreams of farming?
I'll have to take a trip down memory lane…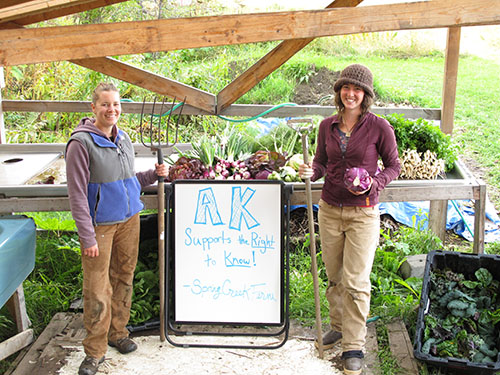 How in the heck have I found myself immersed in Alaskan agriculture?
While the spring is generally a time that lends itself to thoughts of the future and all it has in store for the new animals, plants and long awaited summer projects, I have been thinking of the past. This is driven by many things, the most notable being the visit of one of our friends that we met in Korea a few years ago. While talking with him, I realized that I left Korea more than three years ago! This, naturally, got me thinking about where I've been and what led me to being here, in Alaska–a place I didn't even think about living in until I was well into my adulthood. Furthermore, how did I come to be interested in farming in Alaska?! Up until two years ago, I naively thought that Alaskan farming was an oxymoron.
Life brings us (or us, it!) into such wonderful and mysterious places. I've often found that the places and experiences that just happened to fall into my lap were the best and most formative in my life. This started with college. I applied to many colleges while in High School. I'm happy to say that I was accepted to all of the colleges that I wanted to go to, even my first choice. However, I decided to go to UW-Madison because of its proximity to my family in Minnesota. The campus was one of the only campuses I hadn't visited and I kind of just decided to go on a whim. I will never regret that whimsical decision. Madison is such a cute, cool, progressive town. In one class, we took several field trips to farms in the area. Part of the field trips was volunteering on these farms, I remember weeding at nearly every farm we visited (such a good way to put energetic college sophomores to work).
One of the most formative farming moments in my life was a volunteer trip to Costa Rica with my buddy, Jon. We worked on a macaw sanctuary, clearing an acre of overgrown land, using only garden hoes and shovels, and then planting the field with corn and several almond trees. It took us nearly two weeks to clear the land, working about ten hours per day. We made up songs and games to play in the fields, we learned the best ways to keep ourselves cool and sunburn free, and we helped save some endangered, beautiful birds.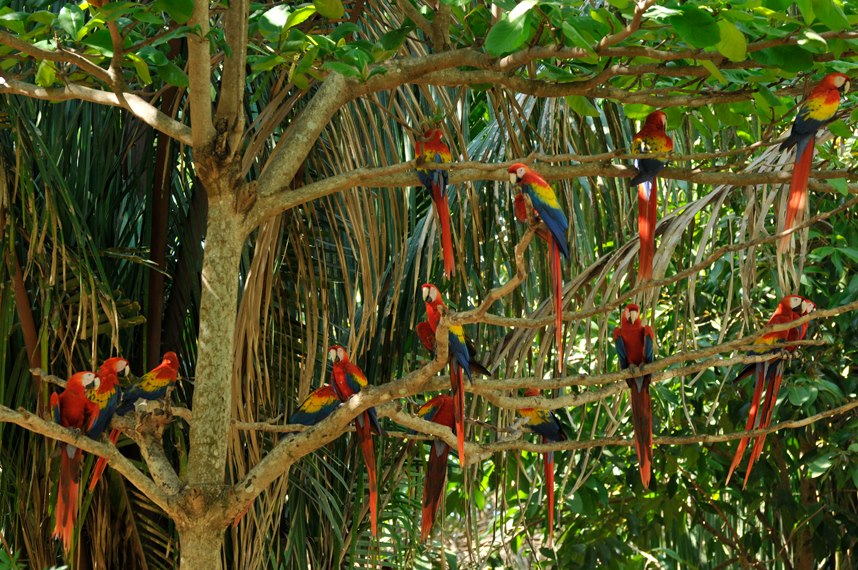 Ruby Macaws at Finca de las Lapas, CR, Summer 2004
While studying environmental studies at UW, one of my professor's husbands was looking for some farmhands for the summer.  This was my first paid farming gig. It was really great. The farm grew produce for the bed and breakfast that was located on the farm. I was working with my best friend, picking strawberries, learning how to use a rototiller, potting up seedlings of all varieties in a makeshift hoop house, and digging up my first fingerling potatoes. From this moment on, farming was on my radar.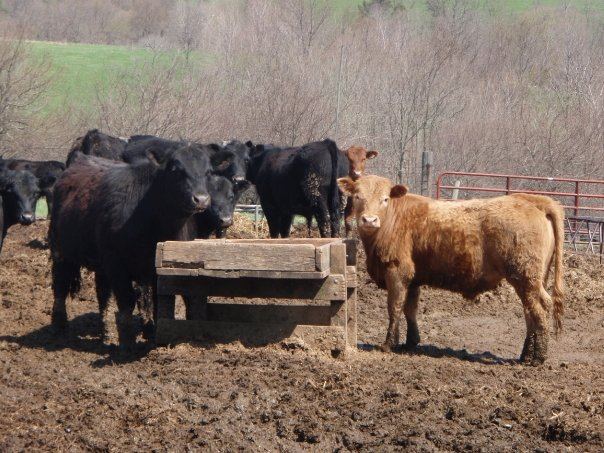 Cows on a small farm in Wisconsin, Early Spring 2008
Shortly before graduating college, a project in an environmental literature class brought me to some farms in the rural parts of Wisconsin's driftless area. We visited a confined animal feeding operation (CAFO) but they wouldnt let us in–questionable? Of course. The small organic farmers in the area were more than happy to share their inner workings with us. Is this telling or what?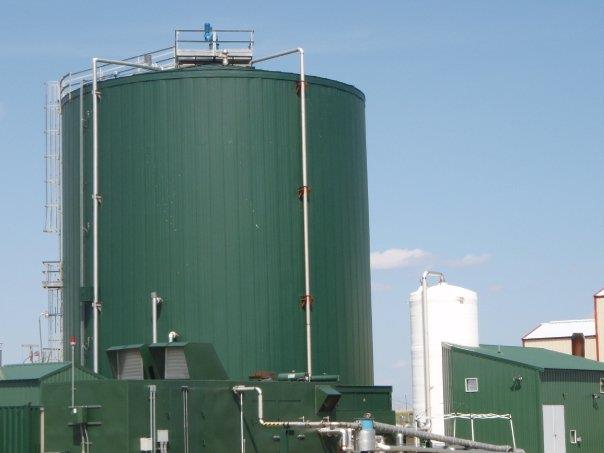 The CAFO that wouldn't let us in… Wisconsin 2008
I then went to Korea after a recruiter contacted me about teaching English as a Second Language. I took up this offer, with lingerings of my escapist tendencies pulling me to a place where I wouldn't know anyone. While in Korea, I never actually grew anything, not even a house plant–sad, I know. I thought about growing lots of veggies and flowers, though!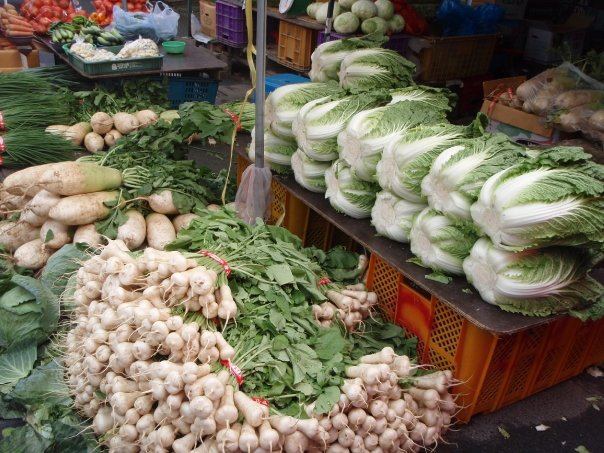 Korean Farmer's Market Goodies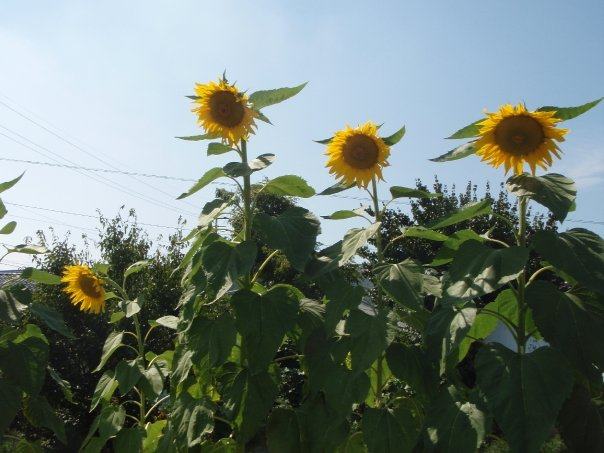 Korean Sunflowers along the road, 2008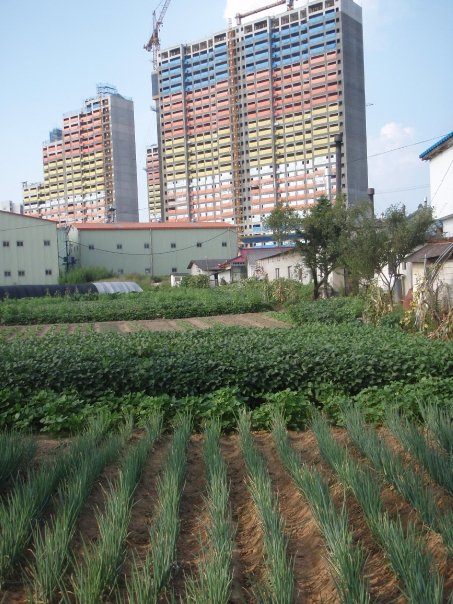 Urban Gardening at its finest, Yeoju, South Korea 2008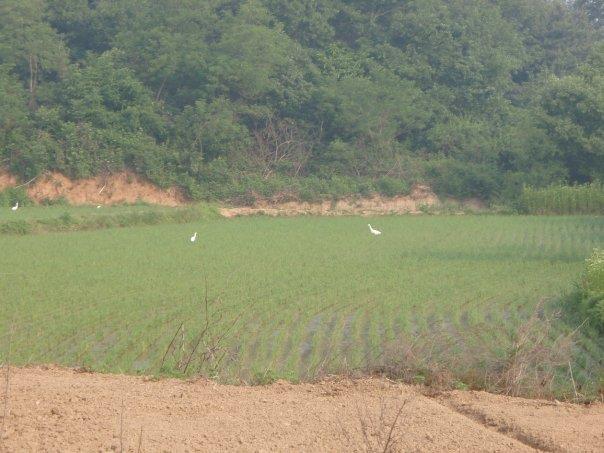 Egrets in a rice Paddy, Yeoju, SK 2009
In Korea, I lived in a city about sixty miles southeast of Seoul; farm fields butted right up against the road throughout this city. I taught at a rural school about ten miles outside of that town. I purchased a bicycle shortly after moving to Korea, and I often rode a bike to school. So many of the images that flash to my mind from my times in Korea are from these bike rides. The image that is most often triggered is of two women bent over in a rice paddy, planting little rice plants in perfect rhythm with one another. I wish I had a photograph of this, but it is just burned in my memory. Later, in these same fields, white egrets would land in the flooded paddies for early morning snacks on the resulting macro invertebrates. Watching the seasons change across this beautiful landscape, from my bicycle, really made me feel connected to the place I called home for a year and a half of my life.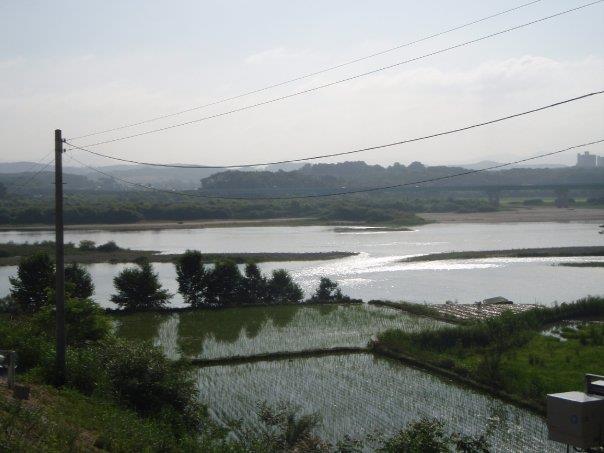 Flooded rice paddies along the river, Yeoju, SK 2009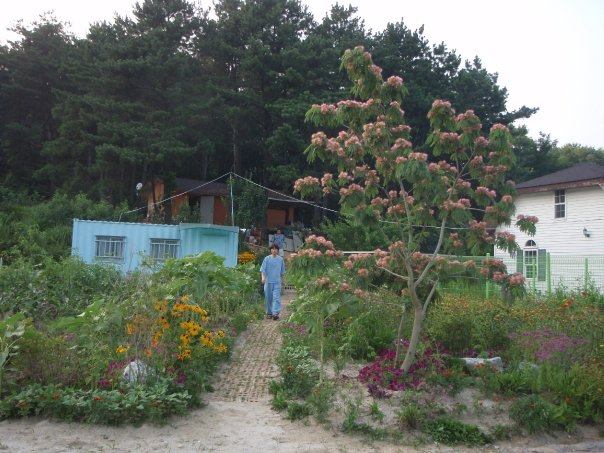 A Korean Garden, 2009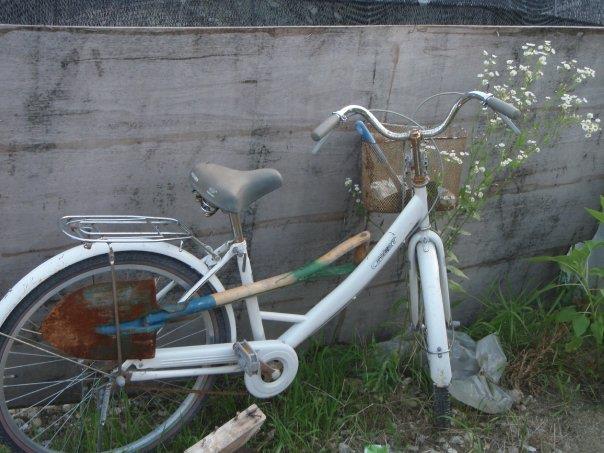 Scenes from a Korean Garden, 2009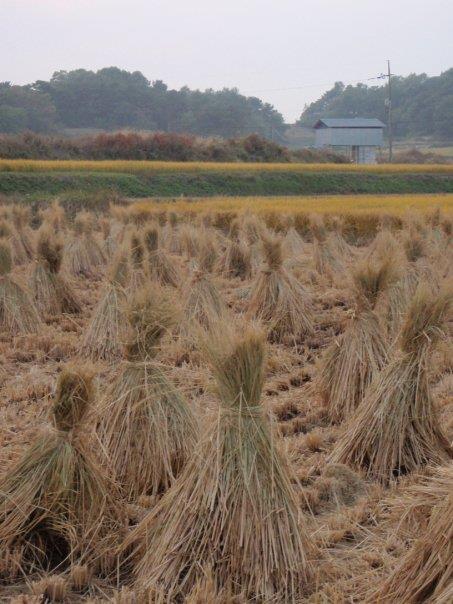 Harvest Time, Yeoju, South Korea, Fall 2009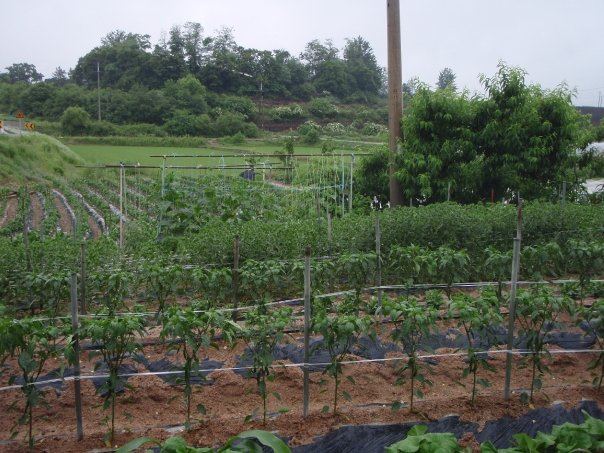 Yeoju, South Korea 2009
From Korea, I traveled through Nepal and India, taking in the amazingly different sights and sounds that extend from Pokhara to Kerala. In Nepal, I trekked the Annapurna Circuit, solo. In doing this, I was exposed to a new kind of agriculture–high altitude, low technology farming. Almost all of these farms grew two crops: buckwheat and potatoes. Other foods were grown amongst these as well, like onions, tomatoes at lower elevations, hardy greens, and lentils. Rice was also widely grown, as it is a staple food. Because of the amazingly hilly landscape, the hills are terraced up and down with these beautiful fields. Areas that weren't suitable for food production were grazed by goats, yak and yak/cattle mixes. The largely Hindu population won't eat beef unless it is more than fifty percent yak. Consequently, the food that is eaten morning, evening and night in Nepal is Dal Bhat. Dal is lentil soup, Bhat is Rice, and there is always a little side of some kind of curried vegetable. Buckwheat pancakes and yak milk tea (actually, nak milka female yak is called a nak), were the best snacks to get at tea houses.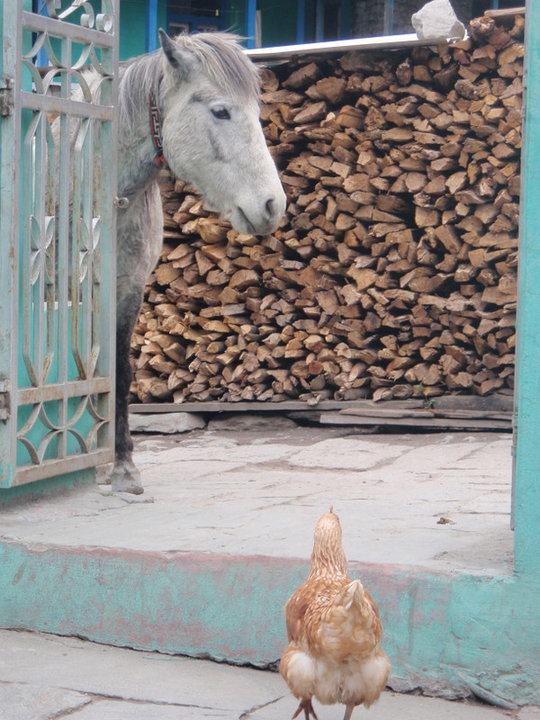 One of my favorite pictures ever, Nepal 2010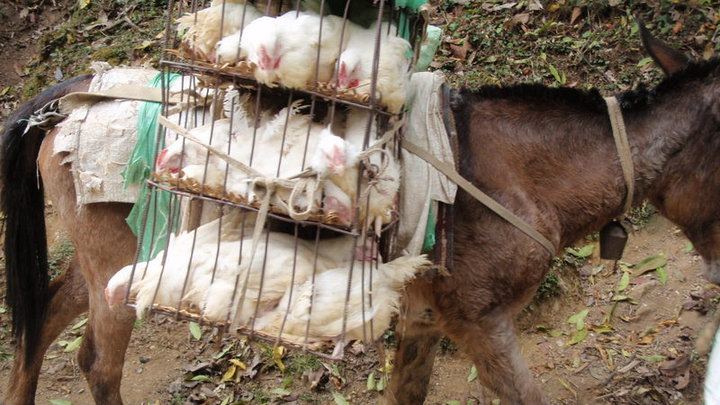 Chicken Transport, Nepal 2010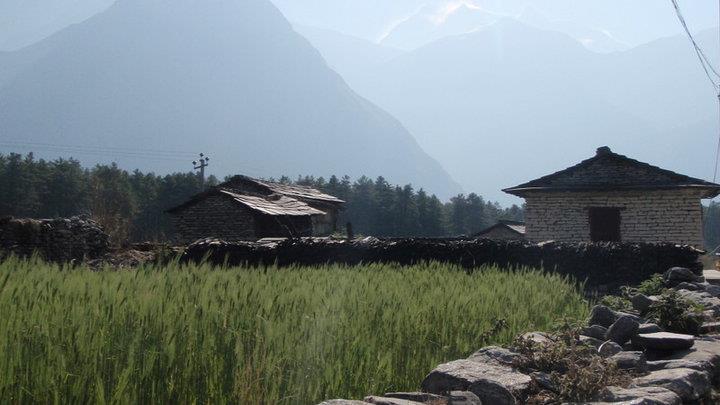 Growing Buckwheat, Nepal 2010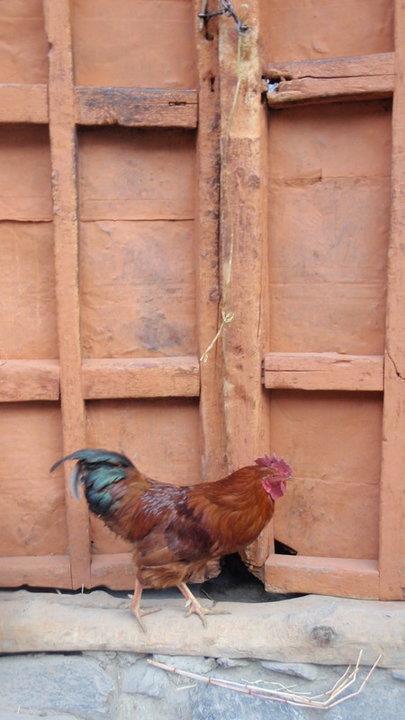 A Rooster in Kagbeni, Nepal 2010
The seasonality and local production of foods throughout Nepal and India is wonderful. The regional foods are easily distinguishable, yet they are all particularly from these countries. This cultural heritage of food systems was (and is) fascinating to me. Upon returning to the United States, it was refreshing to see that we have some of these traditions still quite evident in our regions.
This brings me back to the United States, several years later and not a plant grown or seed sown throughout the time abroad. I slowly got back into planting some seeds here and some seedlings there–wherever there was some open space in my mother's garden. My thumb wasn't black at this point, but it wasn't very green either. That first summer I planted a topsy turvy tomato plant with cilantro and peppers, to make a small salsa garden. I ended up with about two tomatoes that tasted horrible and a bunch of cilantro that went to seed. Oh well.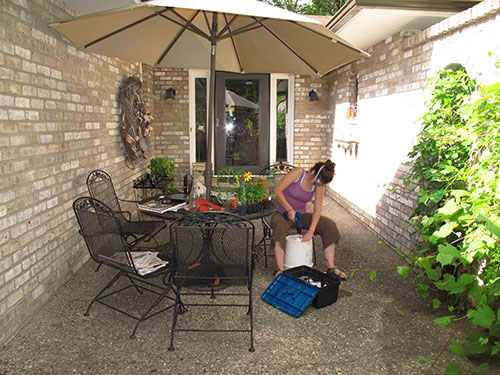 Constructing a topsy turvy tomato grower, Minnesota 2010
Finally, I couldn't find a job that was worth anything to me in Minnesota, as it was the deepest part of the recession, so I decided to embark on graduate school. Alaska was on our radar, and we came up here to add another chapter to our lives. This is where farming made its way back into my repertoire, and I am so happy it did! I love the soil in my hands and the sun on my back. While sun can be a fickle thing at times, I'd much rather be outside during bad weather than stuck inside at a desk on a beautiful day. Farming is what connects me most to the environments that I have grown to love so much.
Along these paths and trails that brought me from suburban Minnesota to Alaska were many forks in the road. What if I had gone to Boston instead of Wisconsin for college? California instead of Korea for a post-graduate job? Utah instead of Alaska for graduate school? What if I had stayed in Minnesota throughout it all? While I'll never know how these paths may have turned out, I do know and deeply appreciate the fact that 'Ive had these opportunities and options. This is a luxuryexperienced by few. Recollection allows me to reflect upon this and truly give thanks for the journey.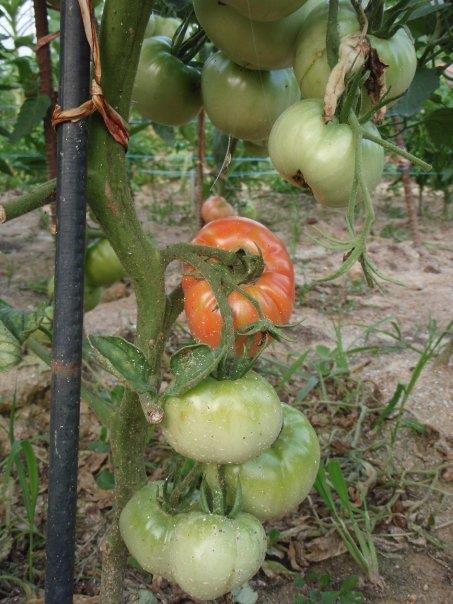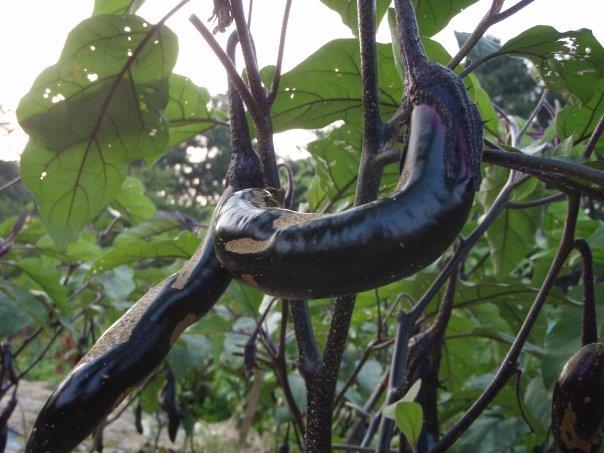 Someday, I'll grow tomatoes and Thai eggplant as well as the Korean Ajummas…
While the road hasn't exactly been smooth at many times, I cannot help but wonder how much different it could have been had I been born in many other places in the world where women are second class citizens, or where there are barely any opportunities for any class below the top tier. While I do agree with Shaw's quote that our wisdom relies on the responsibility of our future, I also think our future is highly influenced by the recollection and reflection on our past. Without an acceptance and appreciation of what has brought us to this present, how can we even determine the responsibilities of our future?
After his recollection of events, places, and experiences that have led me to become a nascent Farmgirl, I am excited for my responsibilities as a woman supporting her family and community through food, farming and education. I am even more excited that this dream is shared by women all over. Even in the face of huge corporate farms and legislation that is deleterious to women, the future of females in food and farming is hopeful. I'm happy my past has brought me to this present, and that I have the ability to trace those trails of influence.
What are some of the formative moments in your past that have influenced your inner Farmgirl? Take a quick walk down memory lane and re-collect an anecdote or two…
Until next time, Sending You Peace and Love,
Alex, The Rural Farmgirl