I know what you think.
A blog post about summertime must be about tomato juice dripping down your chin, fresh corn on the cob, and lightning bugs. That would be a lovely post, wouldn't it?
But that is not this one.
No. This post doesn't even mention the ambrosia of summer: tomatoes.
Okay. Wait. I'll mention them.
You know how I brag about the weather here? Snow in May. Cool summer nights. Frequent rain showers. Early September frosts. All of that means that I can't grow a decent tomato here. The growing season is too short. It's just not hot and dry enough. My tomatoes this year are all small tomatoes. Roma. Cherry. Pear. I have decided that the only way I can grow a Beefsteak Tomato is to build a greenhouse.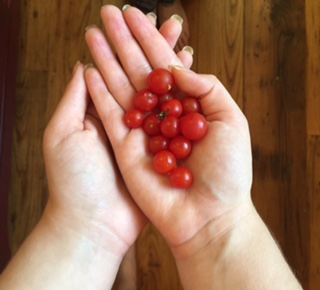 No. This summertime post doesn't even mention corn on the cob.
Okay. Wait. I'll mention it.
I gave up growing corn too. Not because of the weather, but because of the crows. My corn has been an epic failure since I moved here. However, I have to say. Some guys grow silage down on our old tobacco field and they have grand success. Maybe it is the scale. In the years we've been here, I've planted about 10 corn seeds each year in my small garden. That doesn't produce enough for the hundreds of crows AND me.
No. This summertime post doesn't even mention lightning bugs.
Okay. Wait. I'll mention them.
This year I tried to get tickets to this very special event in the Smoky Mountains. The tickets to the Synchronous Firefly Event are by lottery only. I didn't win. (This is a hint that my luck has indeed changed for the worse. I've suspected it for a while now. You see, I have always led a charmed life and win things. I've been losing lately. I'm taking notes. Hmmm.) But rest assured. I have a firefly show in my very own front yard every night. I'ts beautiful.
This summertime post does indeed mention haying. I can't tell you how fabulous it feels to already have enough hay in my barn for all of my horses for the whole winter. Such a relief. And the sweet sweet aroma of freshly cut hay is divine.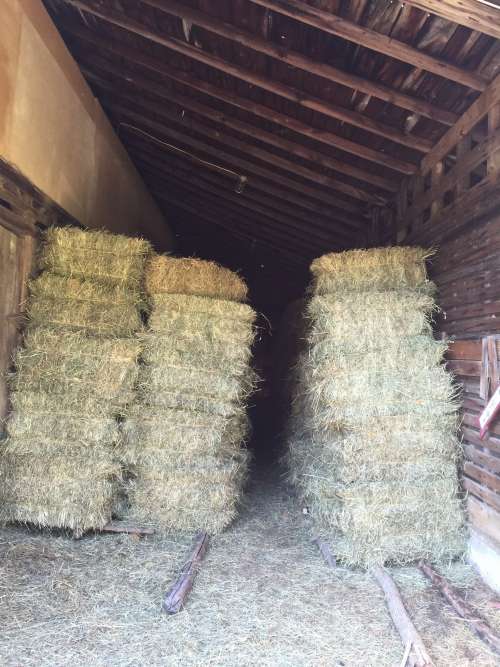 This summertime post also mentions mowing. If you look at our grass closely you can see it grow. We have such abundant rain and mild temperatures that its seems like the grass needs to be cut every other day. Come with me as I mow one of my favorite paths I like to walk on our farm.
It's always cool on this path because of the shade from the overhanging trees and bushes.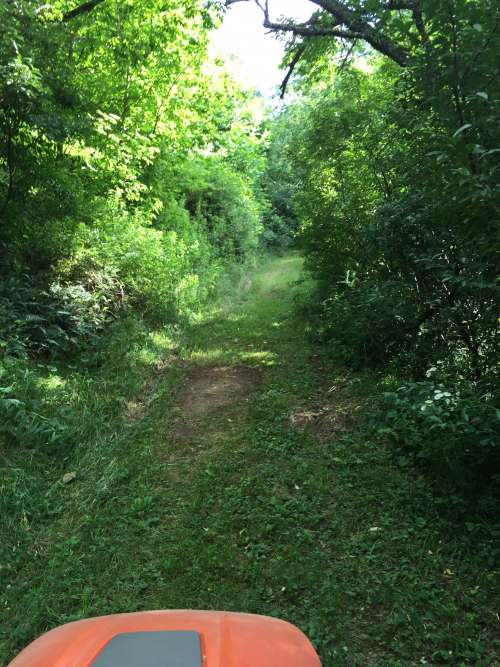 Random wild flowers.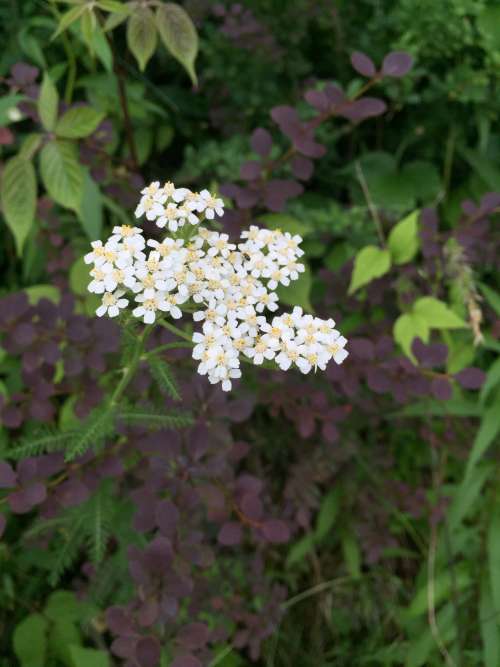 A few of the overhanging trees are apple trees.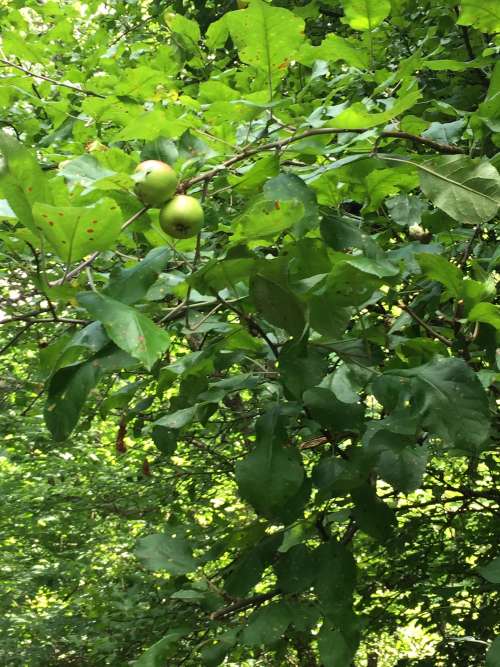 There are fruit trees up here because folks used to live up this path.
There is a falling down one-room cabin that was lived in 60 years ago or so.
The rock chimney is still standing.
This is the view once I turn around and come back down the path.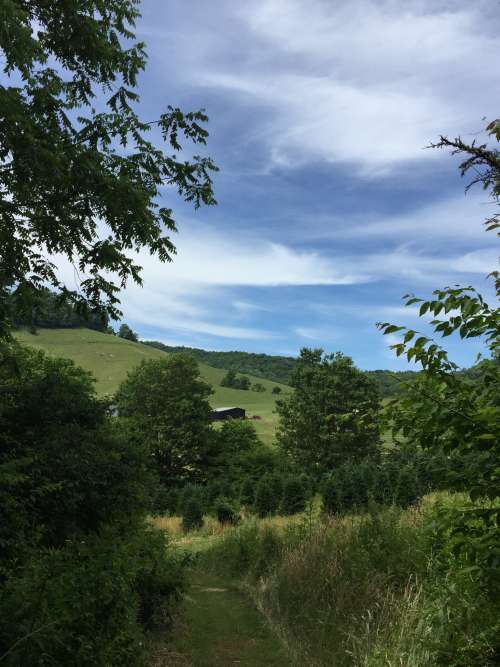 This path also includes some Christmas Trees.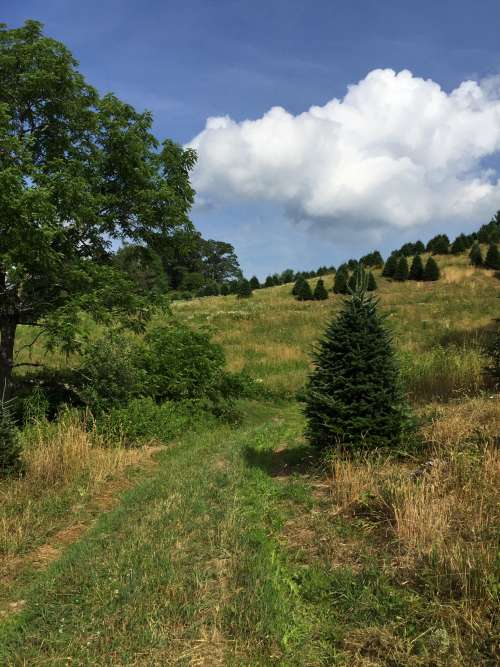 What is happening on a family Christmas Tree farm in the summer? Hand trimming and weed control.
This summertime post does mention snakes. Y'all. I am doing better with my snake phobia. As I mowed the path, I saw ahead of me in the grass a thick black stick. Now I learned (THE HARD WAY) my first year living on a farm that not all sticks are sticks. Some sticks are snakes. So I stopped the lawn mower to look more closely and sure enough, up came a black head to look back at me. It just lay there in my path looking at me. I finally remembered that my phone was in my pocket and got it out to take a photo. Of course, that is when he decided to get out of the way of the mower. The important thing here is that I was okay. I didn't freak out. I attribute this to my "desensitization experiment" in the springtime. There was a ginormous snake skin on some wood right beside my chicken house. I saw it one day and totally wigged out. I asked my husband to please move it so I didn't have to look at the ugly thing and freak out every day. Before he had the chance to move it, I changed my mind. Leave it there. Several times every day I'd walk by the snake skin and I'd make sure to look at it. I'd mutter under my breath, "I'm not afraid of you…" It was good because I knew it was just a skin and I knew it was there. No surprises. This process helped me. It sounds stupid, but it helped me.
I also believe that this snake is living under my bridge this summer. It is a harmless Northern Water Snake. I have been able to look down at him from my bridge and just quietly watch him. No stress or adrenaline. He's rather large (what I personally consider large anyway–5 feet probably) and there's no way I would ever get in the water here and tube down the creek again. EVER. But from the bridge I can appreciate him. Kinda.
He's very well camouflaged, but can you see him?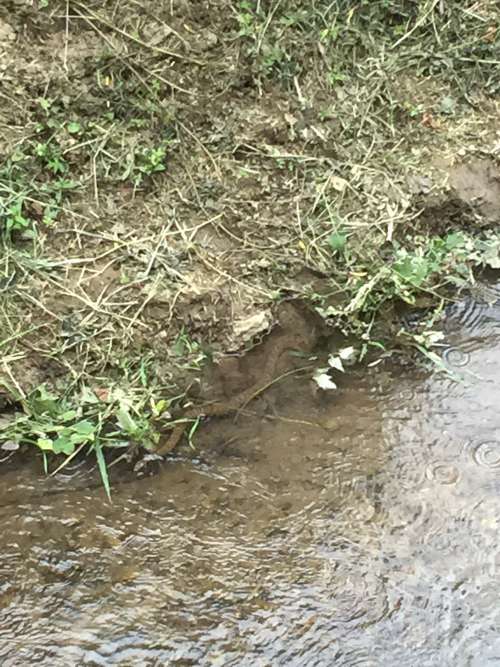 This summertime post also mentions my horses. My Soul-Horse Merlin hates flies. Wake up, Merlin, and tell them how much you detest flies. No? Okay, I'll tell them for you. You just keep dreaming those sweet dreams.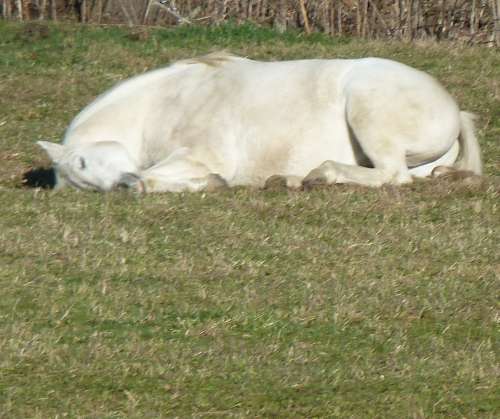 Summertime on a farm means flies.  He is bothered by their bites much more than my other horses. It must be all that dreamy beautiful white fur. I have tried lots of fly sprays. The organic ones don't do much, so I even tried the ones chock full of chemicals. They don't do much either! I finally made my own fly spray.  I named it Merlin's Magical Fly Spray. Unfortunately, it's not magic. You need to keep applying it to keep the flies away.
Merlin's Magical Fly Spray
Mix together:
1 cup Avon Skin So Soft Oil

1 cup Braggs Organic Apple Cider Vinegar

1/2 tsp lemon eucalyptus essential oil

1/2 tsp citronella oil

1/2 tsp tea tree oil

1 tsp grapeseed oil

1 TBSP dish soap
Add 3 cups water to the mixture and pour into spray bottle.
Shake before use and keep out of direct sun.
This summertime blog post also mentions Barn Quilts. And that I need your help with mine!
I have wanted to make a Barn Quilt for our barn since we moved here. But, just couldn't figure out how to design it and get it done. I finally took a class and am almost finished with my Barn Quilt.
I showed up with a quilt block pattern I had found online. It had Christmas trees and hearts.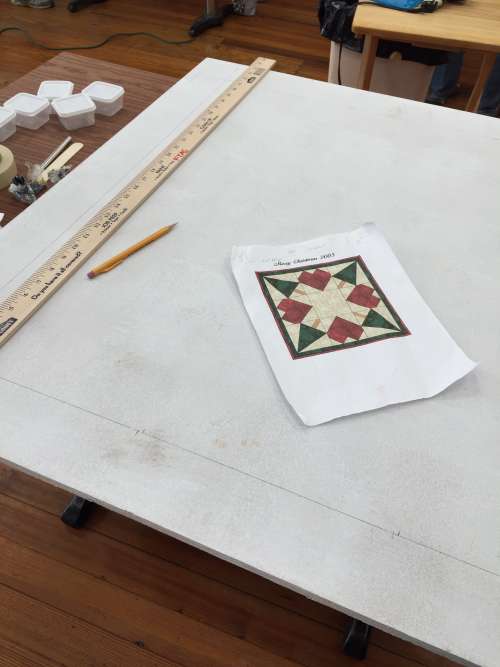 Drawing out the grid and then my design on the grid was very labor intensive for me. I needed lots of help and advice from the teacher and the other students.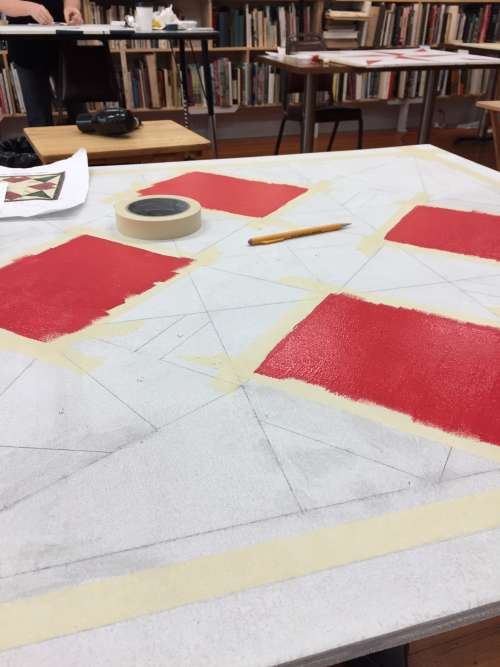 AND. Even though I intended to use the traditional Christmas colors of just red and green, when I saw all the other pretty colors available at the class, I couldn't resist.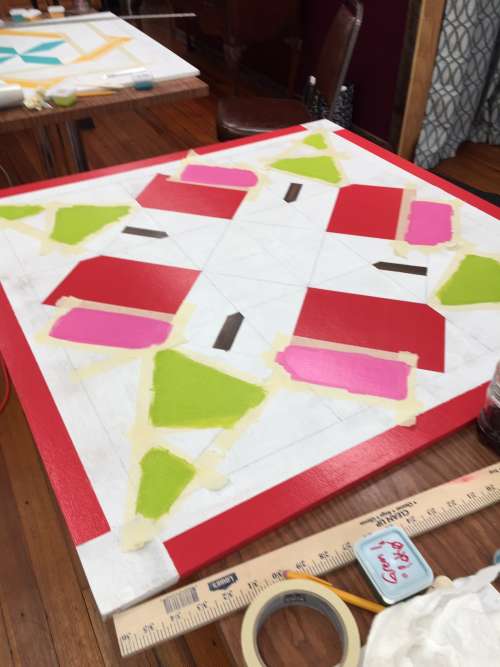 Here's where I am now. I have to add the dark green border on the top and bottom and then I'm to the background.
My dilemma is what to do with the background color. I originally was going to paint all the background a crisp white. BUT.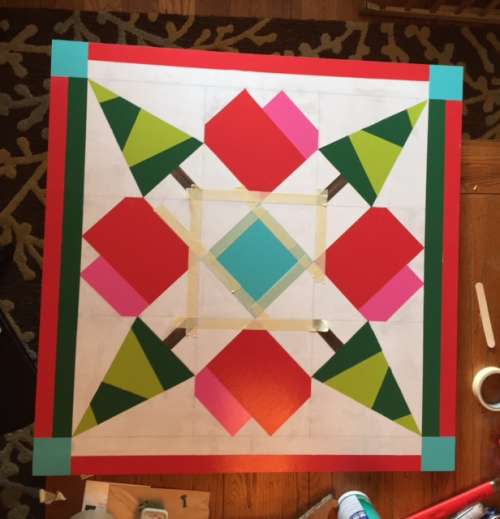 I need your help to decide background colors. I have the turquoise center taped off ready to paint the background. Should I use that bright pink? Or white? Or the lime green? Or introduce another color? Or I could paint it four different colors. Or two. I'M STUMPED!
And how about behind the Christmas trees? White or something else?
And the hearts? What background color should I use?
Thanks in advance for your sweet and helpful comments! I cherish every one.
Until next time, Friends, savor the flavor of life!
Lots of love, Rebekah, The City Farmgirl in the Country