Dear Sisters,
Happy Summer! And, while we're spreading joy around, Happy American Flowers Week, too! Yes! Flowers have their own week now. I couldn't be happier about that. I hope your farms and gardens are off to a good start this season and you're digging into this lush and colorful time of year. As you know, Summer is my favorite time of year to be " in the flowers" or, "at the beach". Today, we're talking flowers, slow flowers to be exact. Just what the heck is a 'slow flower' anyway? Put down your garden spade, pull up a beach chair and I'll fill you in…You may have seen MaryJane's piece in "The Cluck " last month about author Debra Prinzing's book titled, Slow Flowers, Four Seasons of Locally Grown Bouquets from the Garden, Meadow and Farm.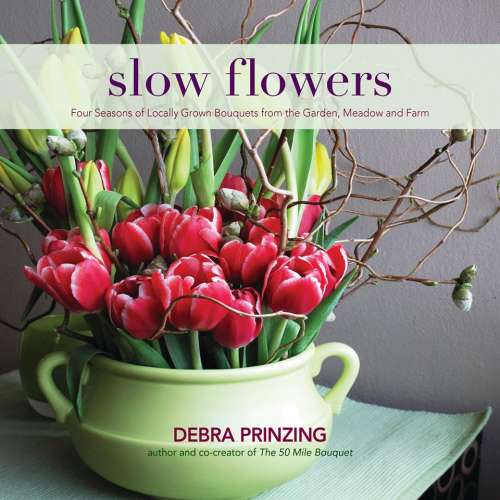 MaryJane touched the surface with her brief introduction to the Slow Flowers Movement and how Debra Prinzing is changing the face of flower farming in America (and abroad) by supporting local farmer/florists world-wide. Debra puts the spotlight on budding, blossoming and FULL BLOWN farmer/florists by giving them a voice on her weekly podcast program. Each week Debra features a farmer/florist on her program who is out to change the way we grow and sell, distribute and design with seasonally grown flowers in America. She also launched an online directory SlowFlowers.com for growers and designers so Eco conscious consumers can find local flowers state by state at the click of a button. I am a proud member and supporter.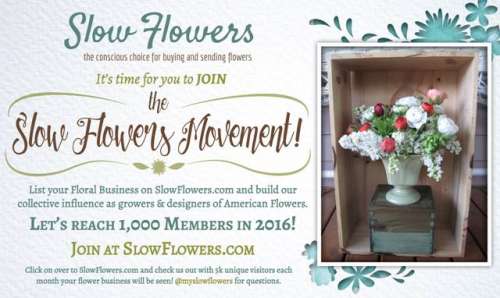 It wasn't so long ago that most of the flowers in America were grown right here at home.  Flowers were tended by human hands that got their start in rich soil and were visited by  important pollinators such as bees and butterflies. When harvest time came, you can be sure it was a farmer who cut those stems, put them in buckets and delivered them to the local florist shop or down the road to the nearest farm stand or country fair. Think Ranch Farmgirl's (over the top in the cuteness factor) Farm Fresh Flower Stand that sits at the end of her country road brimming with her field grown flowers every summer in Tennessee.
More growers are adding flowers to their product list for farmers markets and I've recently  learned that some growers have been bewitched by the power of flowers and have switched to growing 100% flowers!
We farmgirls don't have to be reminded that things made (or grown) by hand with a human touch have an energy, a life force if you will, that is part of the art of creating, which is why I'm sure it hasn't gotten by you that flowers sold in the supermarket or out of season flowers used in design work often look, feel and smell soulless. These factory flowers may appear perfect at first glance, but if you look closer they actually look and smell dead. Floral designers I know that work with imported flowers tell me that flowers shipped from overseas often change hands 5 times before they get them and many often arrive unusable so they must pad their orders just in case. But it's not all about looks. Amy Stewart, author of Flower Confidential, The Good, Bad and the Beautiful, ( her personal story about what she learned talking to flower growers and florists around the world) warns us not to lean too closely into that factory made rose, or scientifically made Gerber daisy. It's more likely than not, laden with chemicals, none of which you want going straight up your sinuses. It doesn't matter how hard you sniff you won't get a whiff of anything sweet-smelling.
MaryJane dishes out her organic lifestyle tips and recipes in adorable farmgirl fashion. We eat it right up and she gets her point across, too. After decades of hearing about organic food, we, as a nation are finally learning to connect with growing, eating and shopping organic, but why should we buy local flowers? Allow me…
They're Local and you'll be supporting your local business and encouraging future growth in the flower industry in your community.
Local cut flowers are typically sustainable grown on a small acreage or backyard. They're fresher, last longer and offer the consumer a wider choice of flowers and foliage to learn about and enjoy.
They just smell better. Remember Grandma's garden flowers? Many heirloom varieties such as sweat peas, lilacs, roses and peonies have a natural fragrance.
Flowers make you feel better. They brighten your day, cheer the sick and sooth the grieving and if their local, they'll last all week!
That's why I'm excited to invite you to participate in American Flowers Week ( June 28th – July 4th) (sponsored by Debra Prinzing)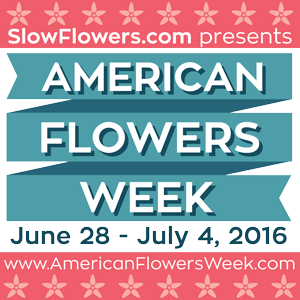 There's a coloring contest! Click on the photo to enlarge it and print it off.Color it in and share it across your social media, take it to work or hang it in your office to remind you to shop for local and seasonal flowers as often as you can. Let the kids in on this fun activity too.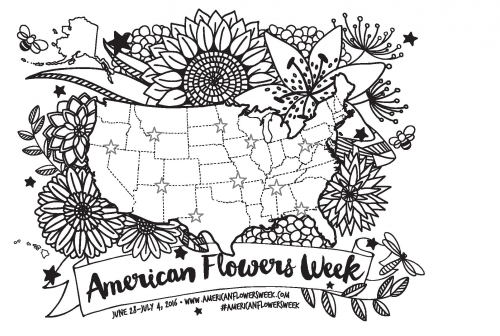 Make an in season, American inspired bouquet with flowers from your garden, local farmers market or local garden center.
It doesn't have to be big or elaborate. Just local and American inspired. Try using your state colors, or state flower if you can locate it.
There are prizes too! Visit www.americanflowersweek.com to find out more ways to participate and learn more about the talented growers and designers who have a hand ( or two ) in the Flower Farming Renaissance happening right now in America.
Until our next shoreline visit,
Put down some roots and bloom!
BEACH BLESSINGS AND MUCH LOVE,
Deb # 1199
Save
Save