In my very best southern drawl Forest Gump voice (which, My Friends, is pretty darn good), "Lie-ph is lack a waul-k through them woodz."
There are places that heal. We, as humans, are especially drawn them. They help us (re)connect our mind, heart, and soul to something bigger than ourselves. These places offer us a peace deep within if we allow them to. Sometimes people call them their "holy ground."
What is your place? Is it a particular spot on earth? A cabin? Or do you go to the mountains, or the ocean, or a cathedral? Or the woods?
I go to the woods.
I go to the woods alone.
To be among ancient stones, running water. To be surrounded by living and quiet things, trees, plants, water, and woodland animals.
I usually grab a stick on my way to the woods. Just in case I encounter a certain slithery woodland animal. The stick is to scare it away, no other purpose. I'm not sure that would work, but it makes me feel better. So, I do it.
As I have settled into a new life, a new farm, and a new place, I get outside every morning and evening. I walk to the barn, the chicken house, the outbuilding. I walk down to the creek.
And sometimes, I walk through the woods.
I have a little patch of untamed woods on the farm, most of it is pasture. It's been unwelcoming since I moved here, grown up and invested with imaginary snakes. And probably some real ones too.
Today I decide the snakes are either asleep or slow with the colder temperatures. Time to try to walk through those woods.
Usually I simply bask in the way in which the woods and forests calm and nourish me. Usually I am fine-tuned to the nature around me. Usually I try to quiet my mind.
But this morning is different. The walk is hard because the woods are thick. It is slow. I brought my machete to hack us a way through.
This morning, as I walked through those woods, I noticed that life is like a walk in the woods. Or maybe better stated, a walk through the woods is like life.
Woods like Life #1 Sometimes your path is well-marked and clear.
When the path is obvious and well-laid out, you feel secure. Yes, I am on the correct path. This path may be well-travelled and a little manicured. I walk this particular path every day.
It follows the bank of the creek. I've outlined the path with rocks and logs. I try to keep the path clear, although I haven't blown it clear lately.
Ah, look. One of my Encore Azaleas is still in bloom. It blooms in spring and again in fall. Most of them got hit a few nights ago with freezing temperatures. But this one's hanging on.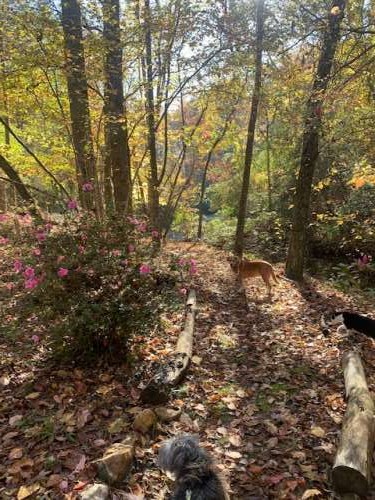 Woods like Life #2 Sometimes friends join you.
On this particular walk through the woods, 2 dogs and 4 cats join me. Is it funny that the cats like to walk with me? They are a constant companion on my morning walks.
Blue (orange dog in front, leading the way), Strudel, (little black and silver terrier, on a leash), and Hoshi (black and white cat on a log) are the first to join.
Next comes Jude, a cat with a fluffy tail, long vampire teeth, and dainty feet. Jude is definitely MY cat. And I am his person.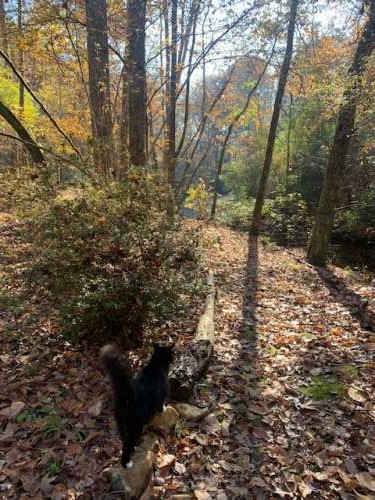 Mr. Mustache shows up. Most of you have followed Mr. Mustache since I saved him as a feral cat caught in a "trap and kill" program in NC. He's a great cat. Still a little wild, but sweet and loving, everything they say a feral cat can never become.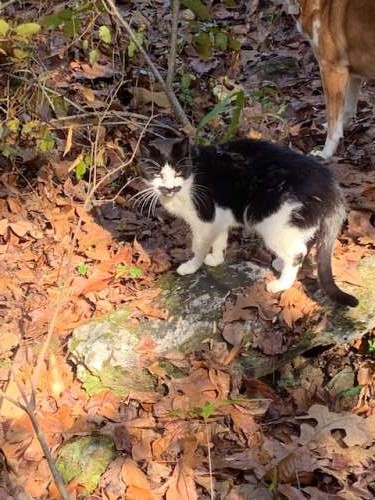 Mayor Hayes, the cat that came with the farm and refuses to come into the house. (You guys asked if he is named after Mayor Hayes in "Heart of Dixie." Yep.)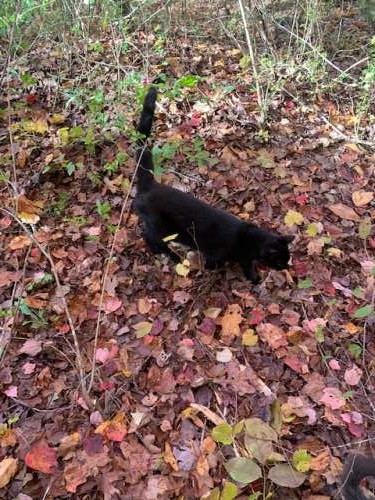 Woods like Life #3 Keep your eyes (and mind and heart) open.
If you do, you might see something you wouldn't have otherwise noticed. Like this little bee. I don't know what bees do during the winter, but this little guy is getting the last of the yummy sugar in these azalea flowers. I should have asked him his plans for the next few months.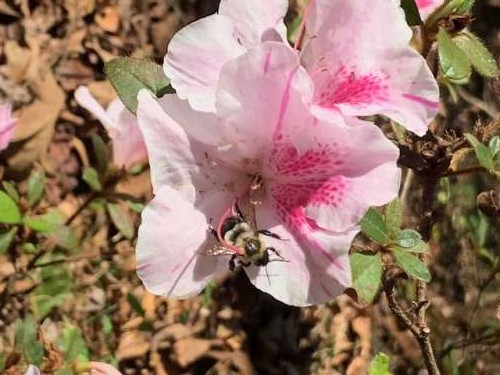 Woods like Life #4 Rest is important.
If you need or want to sits and thinks, please stop and sits and thinks. Or just sits. A body needs rest.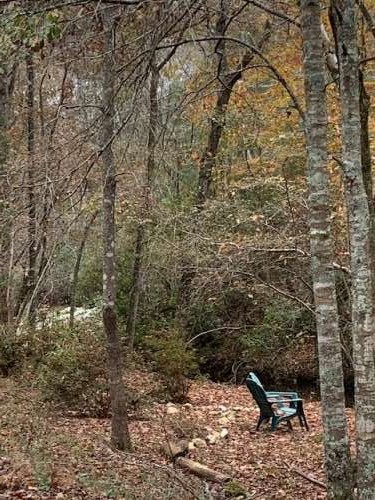 Woods like Life #5 Explore different viewpoints.
Sometimes your view will improve when you look between the lines. Or narrow your focus. Or broaden it. The main thing is to try from different angles and viewpoints.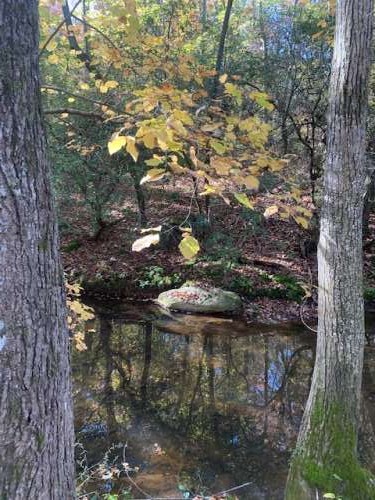 Woods like Life #6 Sometimes you cannot find your way.
It happens to everyone. You can't find your path at all. You feel lost and confused. Which way to go?
Don't fret too long in this situation. Just start moving. One foot in front of the other. You don't have to have all the answers when you set off.  If you can't  progress in this path, then turn around and find another.
In order to not get stuck here, just keep moving.
And don't fret.
Here, there is no path at all. You just have to keep trying and looking.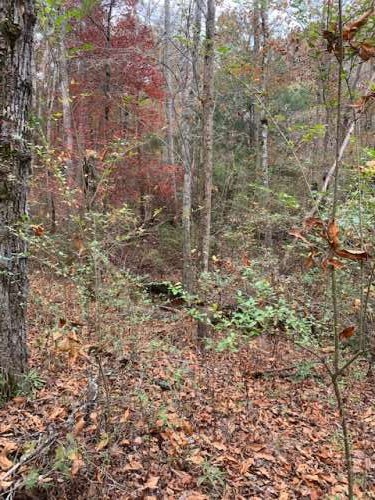 Woods like Life #7 Be quiet and trust.
Yeah, sometimes you have to be quiet and listen intently to those who (may) know more than you do. Perhaps they've been through these woods before. Maybe they know a way. Listen and follow.
Here's the backside of Blue. At this point, we're all following him through the woods. I'm guessing he found a deer path. He shows us which way to go.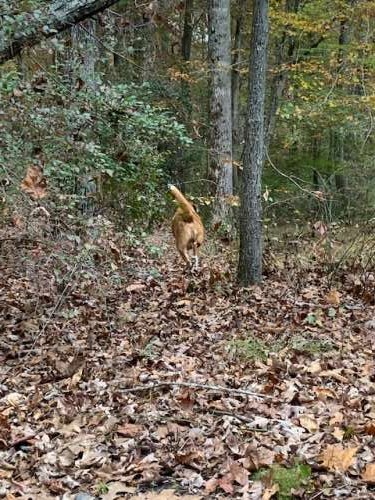 There's a saying about horses. If you're lost, you are told to drop the reigns and let the horse lead. The horse will find his way back—to the trailer, to the barn, to where the trail started—every single time.
Woods like Life #8 There comes a time when you could use some support.
Don't be proud, just take the help in whatever form it comes. You might have to find it for yourself.
In everyone's life there are times when we need to find something that will support us, that will make you feel more secure.
It is weird, but sometimes you don't even realize you need support. It just shows up out of nowhere, right when you need it.
In the woods, that might be a walking stick.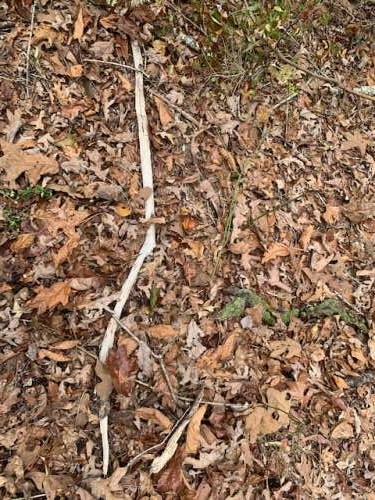 I'll take it!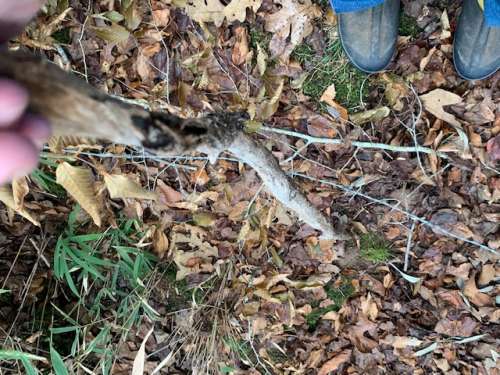 Woods like Life #9  Find What Keeps You Hopeful
You can locate things, situations, and people who give you hope. Sometimes you don't recognize them for what they are, hope-givers. Other times you have to look hard for them. Whatever it takes, keep hope thriving.
Hope of green. Hope of better days ahead. Hope of vibrant life under the fallen brown leaves and stone.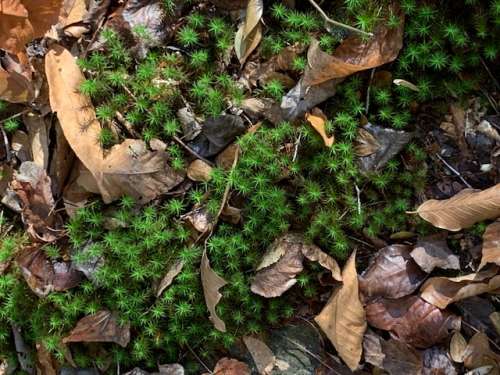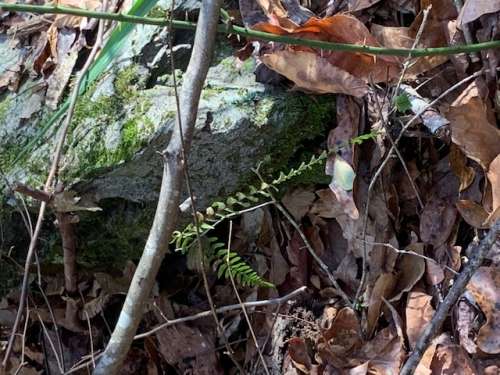 Woods like Life #10  Things are not always what they seem.
I walked past this and thought it was a moss-covered rock.
Looks like a moss-covered rock, feels like a moss-covered rock.
It is not a moss-covered rock.
It is wood. Hard, hard wood covered with moss.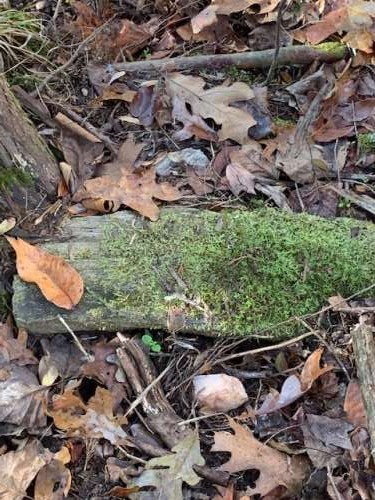 Woods like Life #11. When walking through darkness, keep going.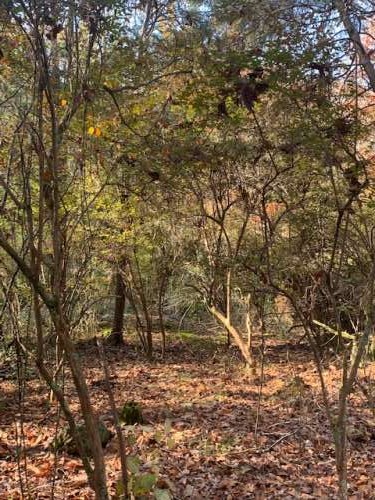 If you're feeling covered up, like you are suffocating, keep going. If darkness surrounds you, go towards the light. Find a way out. Catch your breath.
Look at this little tree is lighted with sunshine peeking through the upper story.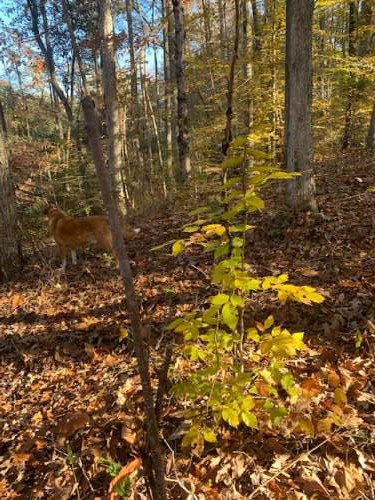 Woods like Life #12   Keep your eyes open for hearts and love.
Never turn away from healthy love.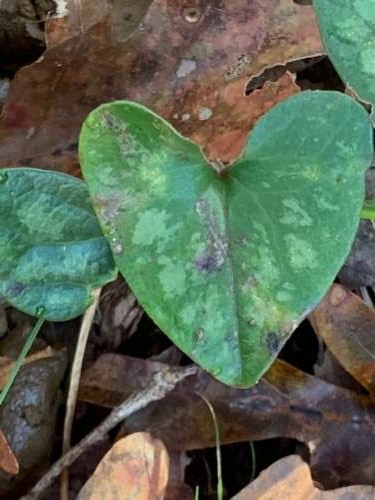 Woods like Life #13  All Obstacles can be overcome.
Sometimes you come upon obstacles, things that are blocking your progress.
When that happens, acssess. Look for ways to overcome and continue your journey—if you think you are on the right path. If you have doubts, might be time to try a different path. Only you get to decide what is right for you.
And hey, your path might as well be fun.

Woods like Life #14  There is astonishing beauty all around.
Rock formations. Rain. Leaf colors. Moss. Reflections.
Swirly patterns.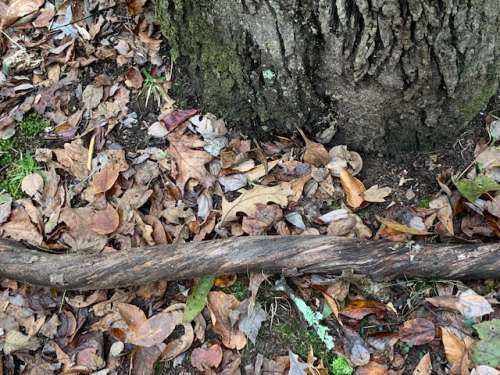 Find a path that interests you, not one that bores you. Be engaged and pay attention.
This hole under the tree. Who lives in it? I don't know, but I heard him/her/them hit the shallow water when I approached.
And check out the straight roots coming out of the tree, searching for solid ground.
The roots will never find solid ground there.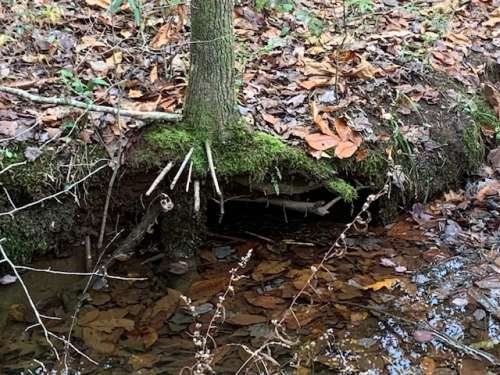 Words like Life #15   Find redemption when you need it.
Around here, this little fern is called "Redemption Fern." I'm not sure why. My sweet cousin showed me this fern, growing on plant life, rock, and dead tree branches. Redemption is all over. Find yours if you need to. Forgive yourself and everybody else.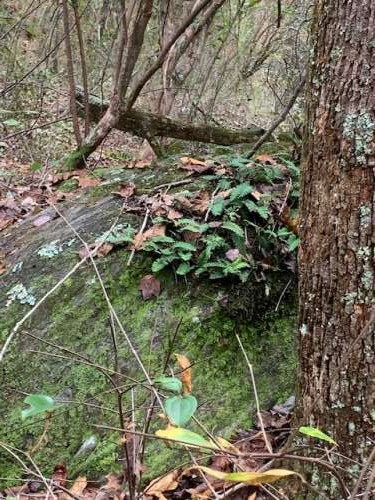 Woods like Life #16 Sometimes life is hard and unfair. Accept it.
We all, all of us, know this to be true. Yet we fight it. And get mad about it. The sooner we accept this as truth, the sooner we can move forward and get happy again.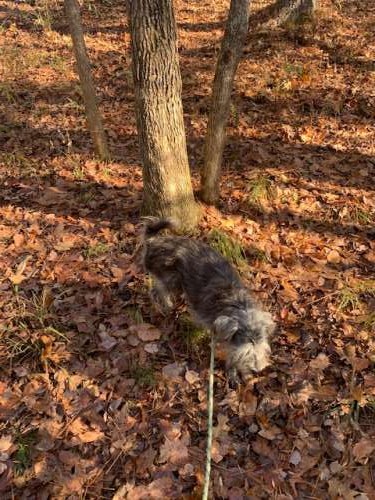 This is my precious Strudel, my Walt Disney farm dog. Now my miracle dog.
As some of you know, she was attacked this spring by two neighborhood dogs. She almost lost her life. It took months of care by a skilled and talented veterinarian to put her back together again. (Thank you, Dr. Williamson!) My tough little Strudel.
Strudel has always valued her freedom.
But she can no longer have that kind of freedom. Now she must be leashed at all times. Now she is constantly supervised by her bestie, Me, whenever she is outside.
I was afraid that she'd be miserable, maybe even want to commit suicide, when she realized this was her new life. We went through all this together, and I wondered if she would  struggle and be depressed.
Nope.
She is happy.
Happy in all things.
She appreciates the freedom she has. And when I walk her on a leash, I give her as much freedom as I can. I often follow her, letting her go where ever she wants. In other words, I don't control her every step.
And she loves to go walking where ever and whenever. The outside is her aesthetic (just like me.)
Woods like Life #17 Don't buy into stereotypes.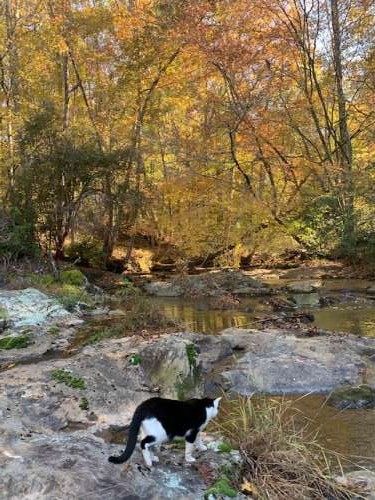 Who said cats don't like water? All of mine do.
Woods like Life #18 Find beauty in everything.
Appreciate what others consider to be ugly and unacceptable.
Sometimes you look at things as an "invasive species" and don't appreciate what they bring. These two plants are not indigenous to this region. But here they are, deep in the woods.
I think they add interest.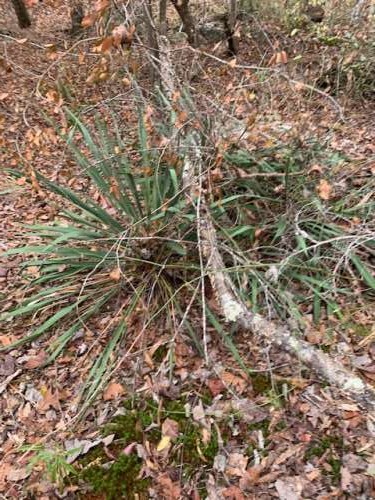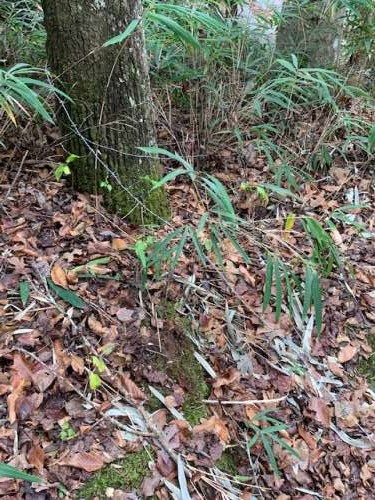 Woods like Life #19 Sometimes small, unnoticed things can really trip you up.
In the woods around here we have these thin and lengthy thorny vines. Lots of them! They come up from the earth in groups and quickly wrap around trees or anything else in its path. If you're not paying careful attention, you will get caught up in them. You might trip over them. You might get the thorns caught in your skin.
They are troublesome. Small, but mighty.
Try to look for things that interfere, that can make your day harder. If you spot them, go around those things.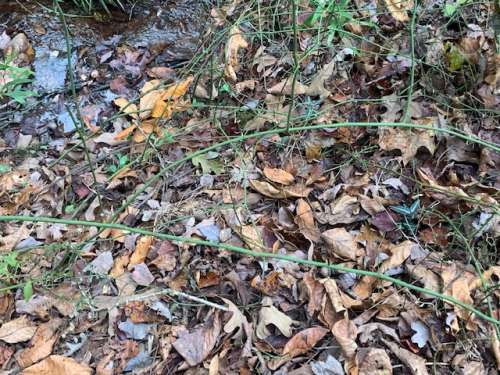 A lovely, easy part of the woods finishes up our walk. That's Hoshi the cat in front now.
Woods like Life #20 Drink more water.
Water prevents stroke. Is thirst quenching. Is better for us than any other beverage. Drink more.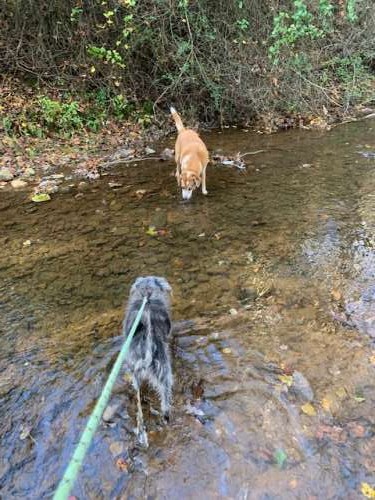 I have some work to do on a path. I haven't picked the path yet.
Next time I'll leave the animals at home and take loppers with my machete, see what I can do. I like to see where I'm stepping, so ultimately need to rake or blow the leaves. And might need to get some help from someone who knows how to use a chainsaw. I should have a nice wide, clear path before spring!
Has your "spot" (ocean, mountains, open space, church, woods, etc) taught you anything??Leave a comment and share it with us all!
Until next time, Friends, savor the flavor of life!
The City Farmgirl, Rebekah