"When chickens get to live like chickens, they'll taste like chickens, too."
-Michael Pollan, The Omnivore's Dilemma: A Natural History of Four Meals
Bacon. It is my weakness. You may wonder why I have a quote about chicken as an introduction to this post–but we'll get to chicken later. Right now I have bacon on the brain. In recent years, bacon has become a kind of fad–chocolate covered bacon, bacon scented cologne, bacon salt, bacon cookies, bacon martinis, bacon t-shirts; I do, in fact, own a pair of knee socks that say in large block letters up the shin: BACON.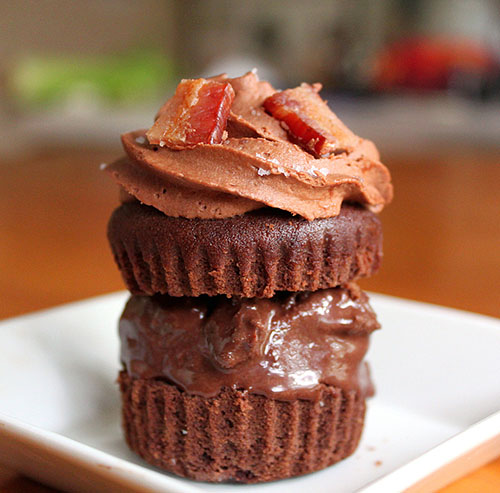 A trendy bacon cupcake
However, I have only eaten bacon twice in the last six months. What a sad realization! This is due to the fact that Evan and I decided to start practicing vegetarianism in April. The switch was fairly easy to implement, especially since we ate mostly vegetarian before this decision. I guess that's what we still are: mostly vegetarians; but we are stricter in our exceptions than before. We still eat meat now and then, but we try to only eat meat from local, organic sources that we are familiar with.
We lovingly call ourselves "Meat Snobs." This kind of meat snobbery was hilariously portrayed on the sketch comedy Portlandia, when the characters ask endless questions about the source and name of the chicken at a restaurant. Luckily, we aren't that obnoxious. Perhaps it is a lack of conviction, but we will eat meat when with our families, no questions asked. We will also eat meat at restaurants with poor vegetarian options–we rarely resort to this, but it is an exception we have discussed and accepted as okay. I'm sorry, but I really don't want to pay fifteen bucks for a plate of overcooked pasta and bland veggies. Plus, having meat once in awhile helps keep those meat digesting enzymes in our guts for when the really good meat is available!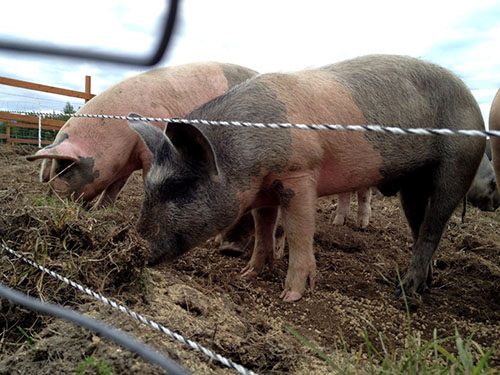 You had a good life, pig.
Speaking of good meat (specifically bacon), those little piglets I've piglet sat for at Sun Circle Farm are going to be slaughtered and butchered this coming weekend. Evan and I, along with a few of the folks on the farm, all pitched in for half of a pig, and we are excited to process and savor the delicious, local, GMO-free goodness. It is a bittersweet event, the raising and subsequent slaughtering of animals for the betterment of our lives and palates. However, these animals wouldn't even exist without us. The best we can do is give them happy, humane lives in the open air doing their piggy things and allowing them to be the most "pig" they can be. This is so much better than the factory raising of hogs–where they spend all of their lives under one roof, tails and ears snipped, not allowed to root in the mud and bask in the sun, pumped full of antibiotics and fattened up on food-like products.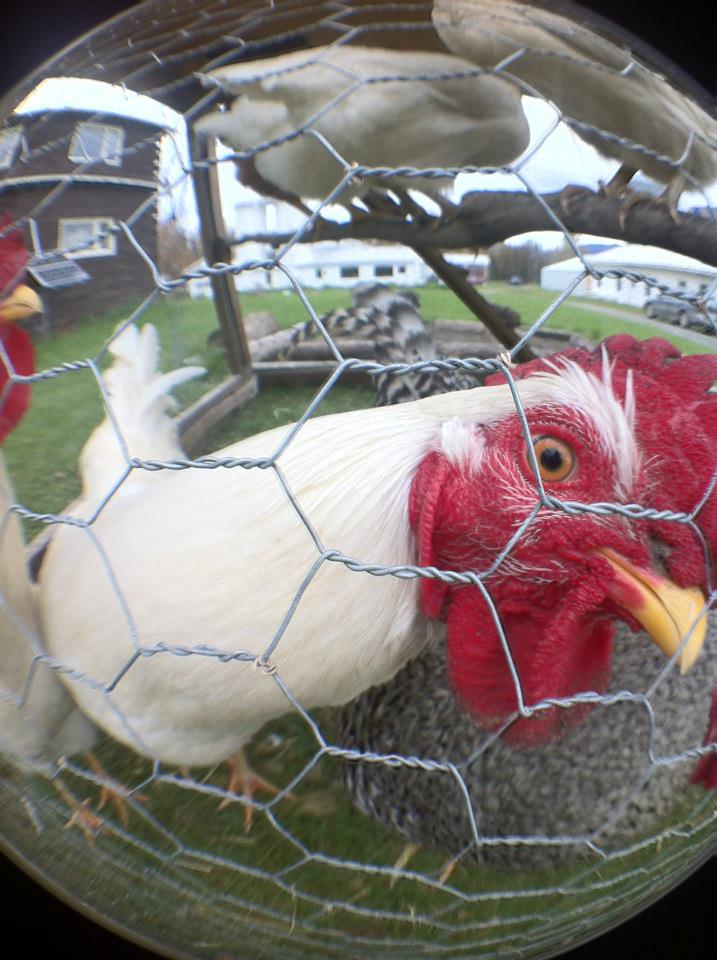 You had a good life, rooster.
I have a good friend who loves meat, but she cannot bear the idea of eating an animal that she once knew. I'm starting to think more and more that this is the only way I will eat meat (from animals that I have known and raised). It is the best way to feel grateful for the nourishment that an individual animal has provided for you. I learned this firsthand last week, when we finally decided we had to slaughter some of our roosters–roosters from the clutch of eggs we raised in Farm School last spring.
Perhaps this story will resonate with some of the other Farmgirls out there. Perhaps it will conjure up memories of the first time you killed an animal for food. I have never killed anything bigger than a slug, and the thought of killing one of my roosters freaked me out way more than I had expected it would. Out of the clutch of eggs that we hatched last spring, five of the ten were roosters, so I had mentally prepared myself for killing four of those before the summer was over. Well, summer came and went, and we still had five roosters. Two weeks ago, the roosters were well on their way to killing each other, so we knew the time to "slaughter before they off each other" was upon us.
Evan had to work the day we wanted to do the deed, so I set up the station before he got home. While I was setting everything up, I was crying and freaked out and probably looked like a crazy mess. My friend Gil came down and helped me out a bit, and upon seeing that I was crying comforted me. The conversation went something like this:
GIL: You knew you were going to do this all along, right?
ME: Yeah, but it's still so sad. I knew them when they were eggs! (tear)
GIL: Well, you could sell them to somebody else for them to do it.
ME: But I want to eat them! (sniffle)
GIL: Being an omnivore kind of sucks, yeah?
ME: Yeah, it sucks a lot. (sob)
Well, the night went on. Jared and Amanda (who also live on the farm), instructed us how to kill, feather and clean the birds. I couldn't actually kill any of the birds, but I did the other portions of the process. I was amazed at how much the chicken carcass smelled like chicken. It makes sense, but I had never sensed the scent of chicken on raw chicken before. While the slaughtering was going on, most of my effort went to calming down the other birds and making sure they couldn't see what was going on.
In retrospect, the biggest mistake I made in the whole process was setting up the station directly in front of the main entrance of the farm–the door that students, visitors, employees and administrators use daily. I just wasn't thinking straight. Needless to say, I spent quite a bit of the next day (Sunday) raking up feathers and trying to cover up bloody grass before Monday rolled around. Only one person not involved in the process saw the mess before it was cleaned up, and she was convinced (before we told her what had happened) that a grouse had been killed by a wild animal in the front lawn.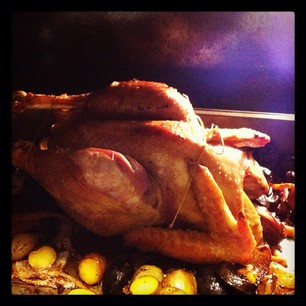 Brined and roasted rooster.
I brined and roasted one of the chickens the other day, and it was delicious–perhaps the best chicken I've ever tasted! The meat was a bit rubbery, I think because the roosters were a bit old, but the flavor! The flavor is outstanding! Michael Pollan was right–chickens that are allowed to live and act like chickens, taste like chicken! Yum, Yum, Yum.
Michael Pollan was also right about the Omnivore's Dilemma. As humans, our palates are nearly infinite. This is a blessing and a curse. It might be easier if we were like cows–just eat the grass! But then we wouldn't have the pleasure of eating a thick slice of applewood smoked bacon. So, we might as well use our omnivorous appetites for good by eating sustainably grown fruits and veggies, supporting our local communities through purchasing local goods, cultivating healthy relationships by sharing good food with one another, and by purchasing meats that are ethically raised and killed. Our world, and our taste buds, will thank us for it.
Thanks, Farmgirls, for sharing in my experiences in discovering what Farmgirl life is all about! Your words of wisdom and support inspire me more than you know!