It's that time of year again–the time of year when we yearn for a vacation! These wanderlusting times seem to pop up, at least for me, at the end of the busiest parts of spring, and the end of the busiest parts of summer. Just like spring cleaning and fall cleaning, our bodies and minds are ready for some nice decluttering action! While I won't be able to go on an extended vacation soon, we have put our last few weekends to GREAT use!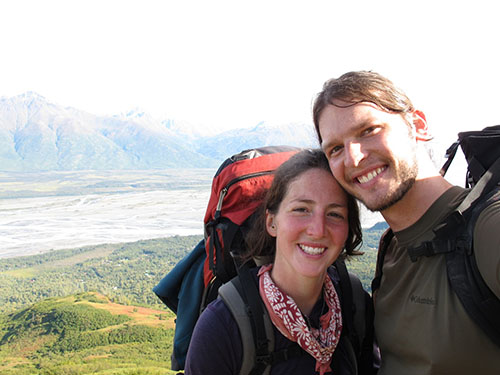 Alex and Evan go backpacking!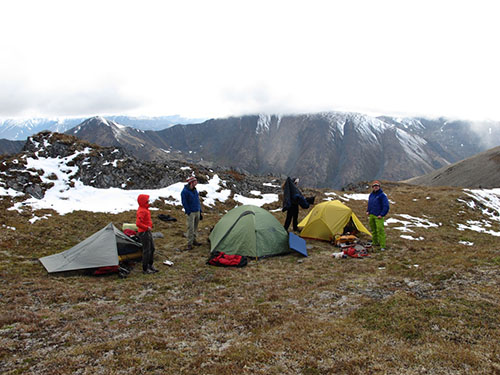 The climbing crew finds a beautiful camping spot–Wolverine, ptarmigan and pika tracks all over the snow!
First, we climbed the mountain that, like a good friend or a loyal dog, greets us every day (at least when there isn't cloud cover) from our front picture window–Pioneer Peak. Well, we didn't climb that peak, but rather the peak right behind it that we can baaaarreeelllyyy not see from our farm. The climb was steep and hard, but beautiful and rewarding. The rain has continued to plague us here in Alaska, fortunately, we climbed on one of the clearest days all summer–we were able to see Mt. Denali to the northwest (130 miles away!) and Mt. Iliamna to the southwest (nearly 170 miles away!), and finally the huge Knik Glacier to our east. We couldn't have asked for a more pristine, crisp fall day to complete this climb–especially after it had snowed on the mountain the previous week!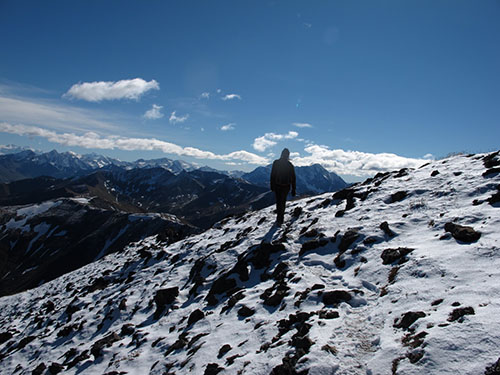 Nothing but blue skies!
 The following weekend, we went to Denali National Park. At the end of every season, the park holds a lottery, the winner of which gets to drive a private vehicle as far into the park as the roads will allow. This is a big deal because usually the park is only open to buses after the 17th mile of the park road. We were extremely lucky because the road was open for the whole 90+ miles! While we weren't blessed with the amazing weather of the previous weekend, it was still gorgeous. The fall colors were still fairly vibrant, the bears were out and very active, and the fierce wind was kicking up a dusty haze that gave the landscape that beautiful early morning fog look for much of the day.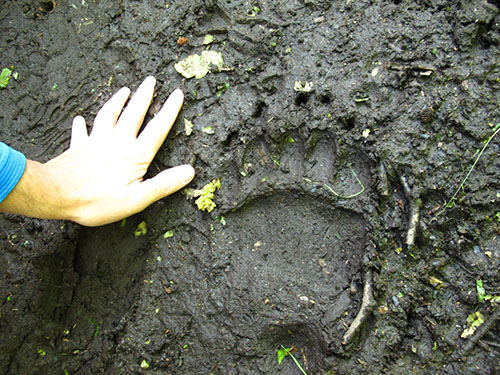 BEARS!
 Unbeknownst to me, there is an old homestead at the end of the park road. The home has been transformed into a small museum, and the history is incredible! The history focuses on Fannie Quigley, the matriarch of the home and land. She moved to the area in 1906 as a gold prospector and she lived in her tiny home until her death in 1944. Her whole life is fascinating–she grew up on a Bohemian settlemnt in Nebraska in the late 1800s where her family's farms were plagued by locusts, blizzards and other pestilent problems. She started to roam west via railroad at the age of 16, worked as a gold miner in Klondike and eventually made her way to her little settlement in Kantishna, near Mt. Denali. There, she married Joe Quigley, they both mined for a while, but eventually the claims were closed.
Fannie and Joe separated at some point, but Fannie stayed at the homestead and continued to provide food for the mining camps. Talk about a true Farmgirl here, sisters! Although she had never hunted before moving to Alaska, she was a great hunter and trapper of caribou, moose, hares, fox, wolves, wolverines and bears!  She also fished and foraged the wilds surrounding her homestead. She created and tended a large garden in an inhospitable place–building large raised beds out of rocks, situated on south facing slopes. Her pie was said to be some of the best in the land–the crust made with rendered bear lard, and her cold storage was an abandoned mine shaft–providing a perfect and constant humidity and temperature to keep her pies tasting fresh for months.
Fannie Get Your Gun!
There are so many inspiring and influential women in Alaska's history! I know there are stories of women like this all over the United States and the world, but the history of women in this state still astounds me. There is a new deoderant commercial that declares "Women are strong. No asterisk, no 'women are strong, but…' Women are strong. Period." Yes, commercials are annoying and cheesy and cliche, but I like this one. Women are strong, and Fannie Quigley proved it more than a century ago!
Okay, back to vacations. The last few weekends have been lovely mini-vacations, we've seen beautiful vistas, eaten some pretty good not-cooked-by-ourselves meals, and gotten some history and culture in there, too. On the farm front–our last CSA dropoff is next week–this is both sad and a blessing! Our last farmer's market is this coming weekend–again, sad and a blessing! The trellises, blackened squash plants, brassicas and other spent plants are coming out of the fields, the last crops are being harvested and we are slowly putting our beds to bed!
I heard on the radio the other day that Americans have been increasingly saving their summer vacation time for the post labor day time period–does this ring true with you? There is also the news that Americans don't take all of their vacation days, or don't get vacation days at all–do you, fellow Farmgirls, have time for vacations?