Stories have played a large role in this Farmgirl's life for the last week and a half.  From teaching, to reading, to interacting with people and plants, words and their transformative powers abounded enough for me to take note.  I read an Orion piece in which the author, Brian Doyle, reflects, "My god, stories do have roaring power, stories are the most crucial and necessary food, how come we never hardly say that out loud?"  So here I am saying it out loud: Stories have roaring power!  Fact or fiction, long or short, succinct or rambling, the best stories transport us, transform us and leave us changed.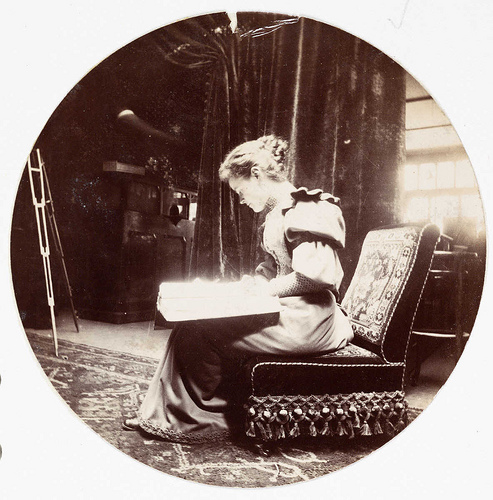 Image of a woman reading from the National Media Museum, circa 1900
The last couple weeks have been pleasantly busy.  I had the pleasure of coordinating and co-teaching a nature writing field trip for a group of creative writing students out of the University of Alaska.  They arrived on the farm on a rainy Sunday to take a tour, learn about sustainability in Alaska, do some team building and practice some nature writing.  I love writing (in case you didn't know), and getting to share some of that passion with master's level students was invigorating.  They did, of course, rip apart the essay I shared with them.  Luckily, it wasn't my essay; it was the aforementioned Orion article, titled "The Greatest Nature Essay Ever."  I did expect them to shred it, they are, after all, writers.  They have been trained for years, some of them decades, to rip others' writing apart.  The best part of the essay is that it isn't even a story, it just urges us to create good writing with stories.  While reading it aloud I always start to cry, and I don't know why!  It doesn't even really say anything; it is a "meta-essay" of sorts.  Of course, I cried (just a little whimper) while reading it aloud to these graduate students.  Sheesh.  At least I got a good story out of it!
There is also a summer camp going on at the farm this summer, and this week the theme is "Fun Down on the Farm."  I gave tours of our greenhouse, CSA field and the Children's Garden.  The kids were enthusiastic, full of questions, and truly enjoying one of our only days of sunshine in a long while. What could be better than kids voraciously eating organically grown lettuce leaves the size of their faces that were picked mere seconds before biting into them?  It might be kids eating handfuls of chickweed and asking for more!  There's nothing like getting nutrition while rescuing some weed crowded produce.  It is also very fun to have kids guess what kind of vegetables they are looking at.  It must be weird to see where those little trees of broccoli really come from.  
Along with the visitors, I've been working in the farm fields, delivering CSA shares and working the farmer's market with our lovely Farmer Amanda.  In these situations, when we are incredibly close with the land and the people who benefit from the land, the stories come fast and furious.  Once in awhile in the field, I will listen to podcasts from A Sustainable World Radio which educate through the use of interview and story.  These shows provide me with insight into life skills that I want to pursue (like dying local fibers with handmade dyes, how to cultivate a food forest, and bee keeping), while linking the information with a story.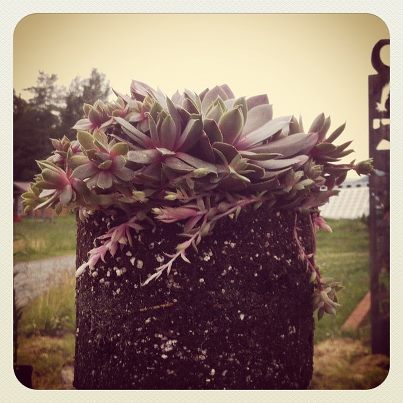 They say a picture is worth a thousand words, but some images begged to be written about.   This Hen and Chicks succulent is beautiful and inspiring. 
More importantly the other interns and I often swap stories of our pasts, our presents and our soon-to-bes.   These stories become part of our identities and part of how and why we know each other.  Our relationships with others are largely based on stories we've heard from them or stories we've created with them.  The stories associated with these relationships are much different than those created through the marketing of our produce.  The CSA and the market provide so many diverse characters in a short amount of time.  It is great to hear how CSA members' weeks have gone and to predict what kind of crowd will show up to the weekend's market.  
Much of my infrequent "me" time over the last week has been spent reading a great book called Turn Here, Sweet Corn by Atina Diffley. Atina beautifully crafts her own story as a female organic farmer in Minnesota.  Her stories are so moving that my mood and emotions have been largely affect by them.  The depressing parts of the true narrative made me feel depressed and the light airy parts help me to feel light and free.  When a story moves you, you know it is a good one.  You know you will finish it a different person than when you began.
Stories help us know each other and ourselves.  Without the art of story telling, life would definitely lack some richness.  We would have less to share with one another and less to enjoy.  I hope you will take some time today to relate one of your favorite stories: fact or fiction, long or short, succinct or rambling.  Someone, perhaps even your inner self, will thank you for it.
Sending you peace and love and story making,
Alex, the Rural Farmgirl
P.S. Sorry the pictures are lacking for this post.  The weather has been subpar (rain, rain and rainy) and not too friendly for my camera. However, the weather has been great for some good reading and good stories (and I am very grateful we are not in a drought like much of the states!)