Lately, I have been ruminating over the word "beginning." It is so fitting at this time of the year, with the New Year right behind us, and the spring waiting to peek its face out at any moment.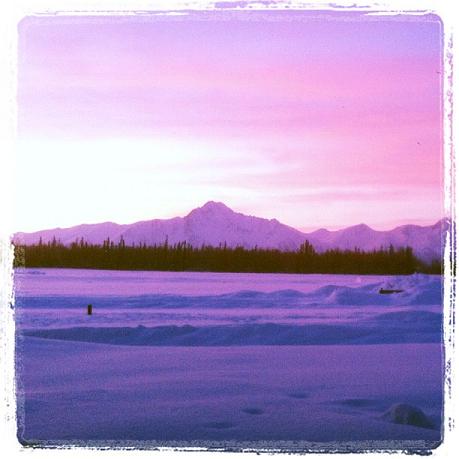 An early spring sun begins to shine over Pioneer Peak and the snow-covered hay fields
One of my new beginnings is this, right here, what you, my fellow Farmgirls are reading. I am honored to be the new Rural Farmgirl for MaryJanesFarm, and I am eager to share and hear stories near and far from this inspiring community of amazing women!

New beginnings are in order for this spring chick! But first, it needs to stay warm. Cute little clucker.
First, some introductions are in order. I am a young-ish, pragmatic-idealist (this makes sense after hours of debate), with dreams of one day running an educational farm in the Midwest. Presently, I work and learn on an educational farm in Palmer, Alaska; and I truly love it here.
I have the rare privilege of living, working, learning and recreating in one breath-taking and inspiring place. Granted, this one place covers 700 acres of hay fields, forests, grazing fields, gardens, tents, a super cool yurt, and teachable moments around every bend of the wooded trails. It would be hard to not love it here.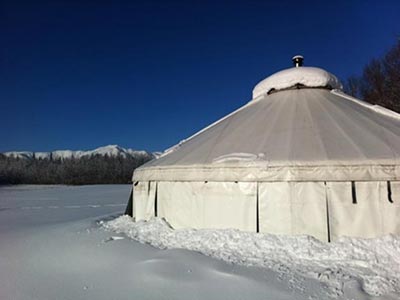 The snow-covered yurt, with fields in the background
The farm is aptly named Spring Creek Farm after a small creek that meanders through the property. The late Louise Kellogg donated the property to Alaska Pacific University with the well-known expectation that it become a place for environmental teaching and learning. Louise was a woman of many beginnings from her childhood in Chicago, to her stint as a California pilot, to her international work with the Women's Army Corps and finally to her position as one of the most successful dairy farmers in Alaska.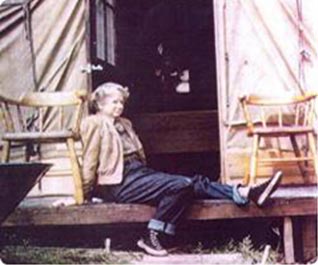 Louise Kellogg and her Wall Tent
My favorite anecdote about Louise is how she acquired her farm in Palmer. In 1948, male landowners in the area were reluctant to sell land to a woman with barely any farming experience. However, Louise didn't back down and eventually bought a small, unfinished farm of 240 acres from a widow. At its peak, Louise's farm covered 1,000 acres (she bought out some of the properties that had refused to sell to her before) and she milked 120 cows.
Louise had what I consider to be true Farmgirl spirit. She saw opportunities knocking and didn't submit to those who told her she wouldn't make it. She was feisty and resourceful; she was courageous and wise; and she is definitely one of my idols. How many people get to live in a house that one of their idols built?
I would like to think that I have shadowed Louise's life path in some way. I, too, grew up in the Midwest near a large city; and we were both English majors in university. While I never have been (and in all likelihood never will be) a pilot, we did both work internationally for an extended period of time. Finally, we both ended up on this farm with dreams of farming, yet barely any past experience in the field (pun intended). I hope, one day, to be half the woman Louise was.

This is Taz, the best farm dog around. She is a true Farmgirl at heart, too. Her favorite activity is protecting the fields from hungry moose.
As I finish up this inaugural post, I am full of gratitude for what I have on my metaphoric plate. These new beginnings are extensions of my past experiences and jumping off points for future endeavors, and I am so excited for this Farmgirl journey. More importantly, I am so excited to hear from all of you, the Farmgirls that make every day organic a reality!
Finally, let us all send a big congratulations to the lovely Louise for her induction into the Alaska Women's Hall of Fame today, March 1, 2012. What an amazing way to remember this even more amazing woman. Congratulations, Louise!
Happy Beginnings to you all!
Cheers,
Alex