[Previous Rural Farmgirl, April 2009 – May 2010]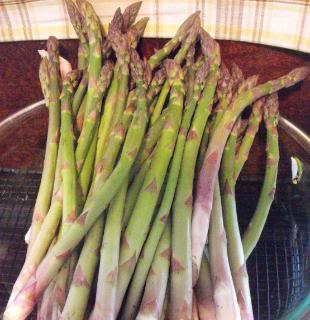 I think there is an invisible official standing out in a field somewhere, waiting to usher in spring. With cap gun in hand, it awaits the first spear of asparagus to shoot out of the ground, at which time it fires off the gun notifying all citizens that spring has officially sprung. Then, because we all know there is just a short asparagus season ahead, we cook it, dice it, pickle it, deep fry it, and find a million more ways to add it to every meal until we are practically green.
Usually, by the time the last handful is sold and a collective sigh of relief heard I swear that I will never touch another plate of it. Yet every spring there I am, the first in line, standing on the roadside and buying it by the box loads out of back of some farmer's truck.
This spring has been no different. On a recent run to the local nursery, there it was. In its entire splendor, a handmade sign: ASPERGUS 79¢ a pound. The sudden jolt to the others in the car as I slammed on the brakes seemed to awaken them from the iPods and DS-induced comas just long enough to muster a unanimous groan followed by the chorus, "Here she goes again."
There is nothing like the feeling of returning to the car with asparagus in tow. Like the mighty hunter with his prize game swung over his shoulder: I came, I saw, I conquered.
I still haven't discovered a way I don't like the green stuff. To my family, the table isn't complete without a crystal dish filled with my Grandma Doris' pickled asparagus at every family gathering. Okay, the crystal dish is optional. Most of us will eat it straight from the jar until Grandma catches us and gives us that look that we know means, "find your manners and a dish." It has become a tradition of sorts.
So with our first fresh asparagus purchase, I can officially say, spring has sprung.