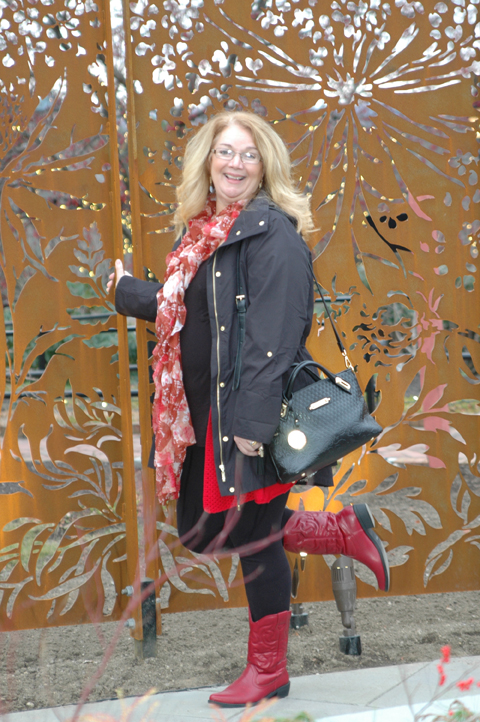 Dear Sisters,
Maybe it's the flower farmer in me, but I just couldn't buy into all the over the top glitz and glam of the holiday season this year. But that doesn't mean I'm not feeling festive or like celebrating. No sirree. My heart was yearning for a more down to earth holiday vibe with a farmgirl kick so my handsome Yankee and I took to the woods where we found the beginnings of our rootin, tootin, RUSTIC Christmas!
We've had an unusually warm December here in New England and I don't think you'll find anyone complaining about it. It's been a blessing to be able to spend time outdoors in the sunshine ( without any danger of getting frost bite) this late in the season.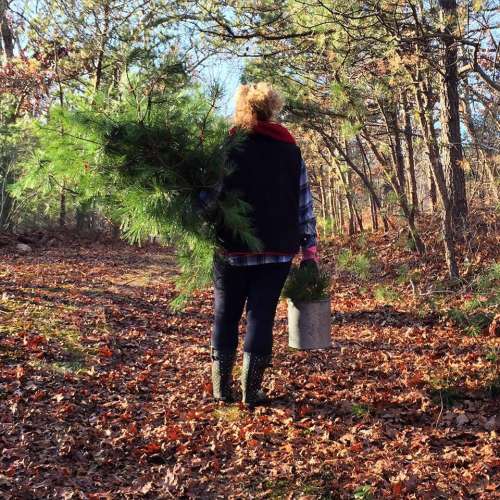 We live in what's zoned a Rural/Suburban neighborhood sited in a woodsy area near the ocean with a lovely wooded area just across the street from our house just perfect for foraging evergreens for making wreathes, garlands and smaller centerpieces. A couple of weeks ago my handsome Yankee and I went hunting for greens to deck the halls and the hen house with. I grabbed my bucket and a pair of pruners and off we went into the woods. As you can see in the photo above, we made a nice haul!
I recycled a grape vine wreath that already had the twigs and pine-cones attached so all I had to do was make some small bunches of evergreens and berries (which I wired together with green floral wire ) and attach them to the wreath.
This was my first time making a swag and it was pretty easy. I just bunched up all the branches of evergreens and a few sprigs of eucalyptus in my hand, eye-balled the over all length and shape, then cut the stems off even at the top. I wrapped the exposed stems with twine to hold them securely in place then covered them in natural burlap. I wired a few pine-cones and tucked in a few chicken feathers from two of our girls that flew off to chicken heaven this year as a way to honor them. I added a few grass plumes and finished it off with a pretty red burlap bow. Rustic and simple!
Do you put up a live tree or an artificial one? I confess we have had an artificial tree for years and years but I was craving the real thing this season. I've missed the fresh smell of pine, and pricking those itty bitty pine needles out of the carpet when it's all over. I found the perfect size and shape for our modest sized living room at my favorite nursery. I wonder if it was one of Rebekkah's Christmas trees?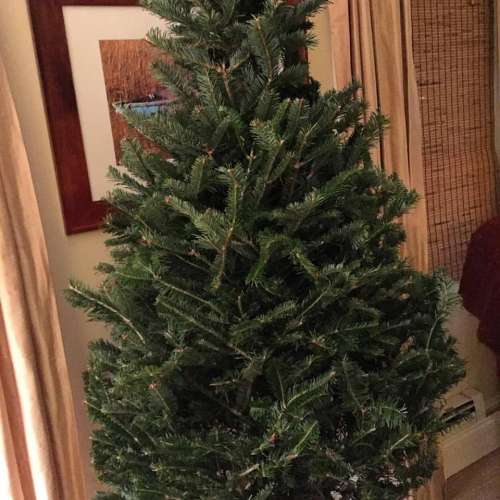 I found this adorable collection of nature inspired rustic Christmas ornaments at a big box store and knew they would be perfect on our tree. Just looking at them makes me feel all warm and fuzzy inside! What could be more rustic than burlap bird houses, candy-canes, owls, and sleds? The reindeer are made out of cork.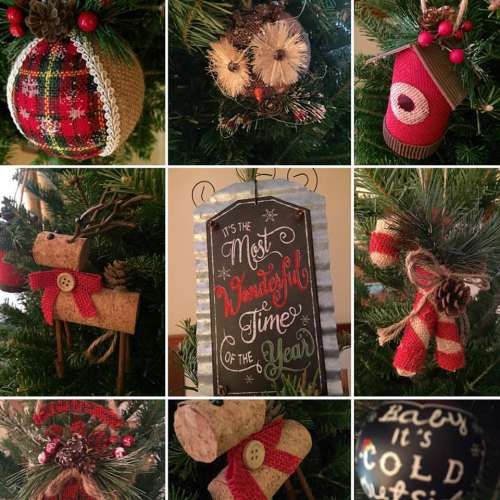 Have you noticed that owls have been popping up everywhere in crafting, home decor and fashion over the last couple of years? They are a natural for Christmas decorations. I just adore this little fella clad in his plaid over coat.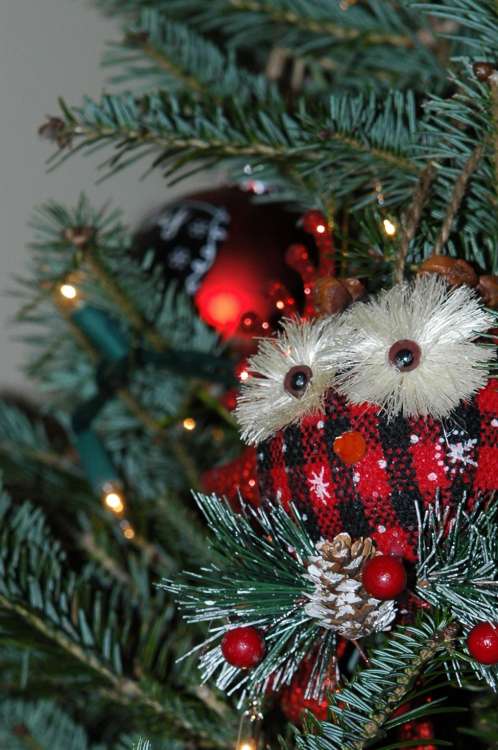 A girl's gotta have some sparkle so I added glittering red butterflies and reindeer to the mix.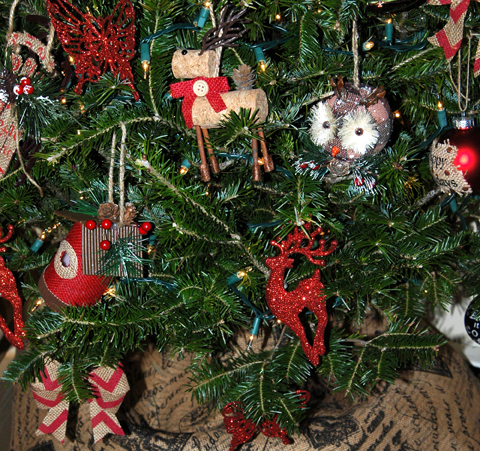 And somewhere in my travels I came across Mr. Roo and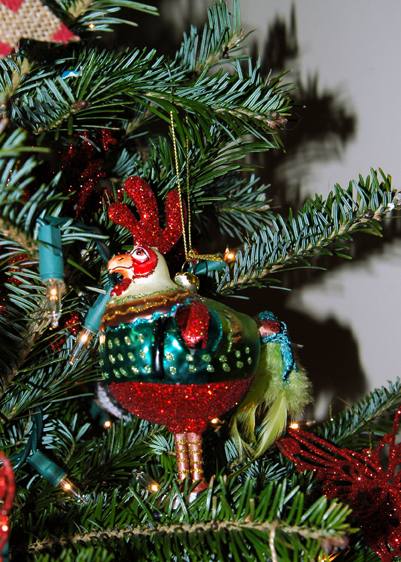 his lovely bride, Henrietta. She's even wearing her ruby red slippers for Christmas and her prettiest lace skirt.
What would a rootin, tootin, rustic Christmas be without a ca-Ute cowgirl boot hangin on the tree?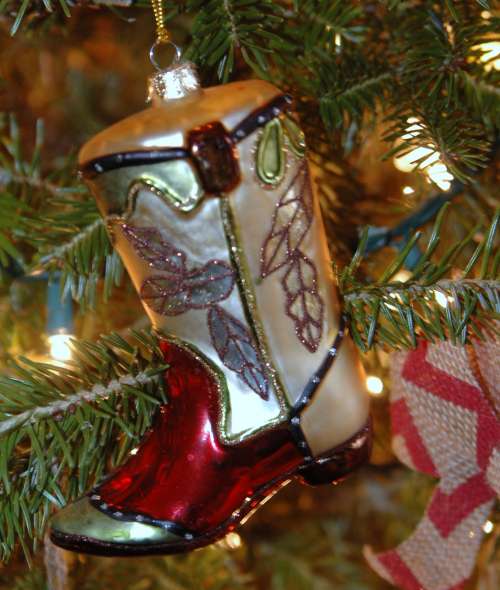 And remember those canning jar top Christmas ornaments from my last post?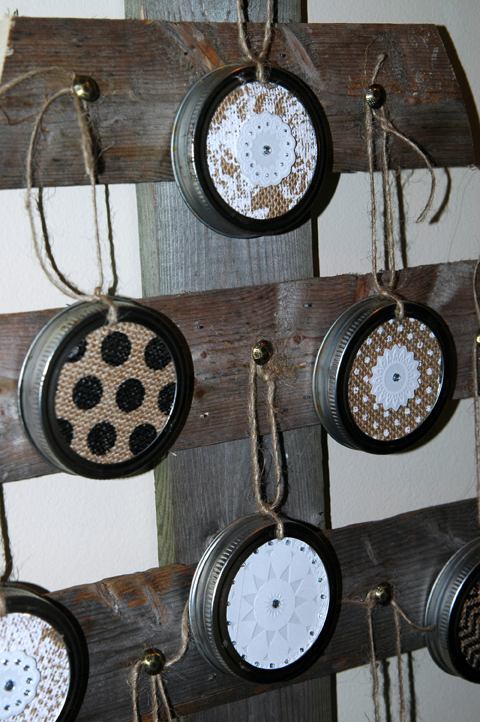 Well, they needed a tree to hang from so we made one from some picket fence pieces we had on hand.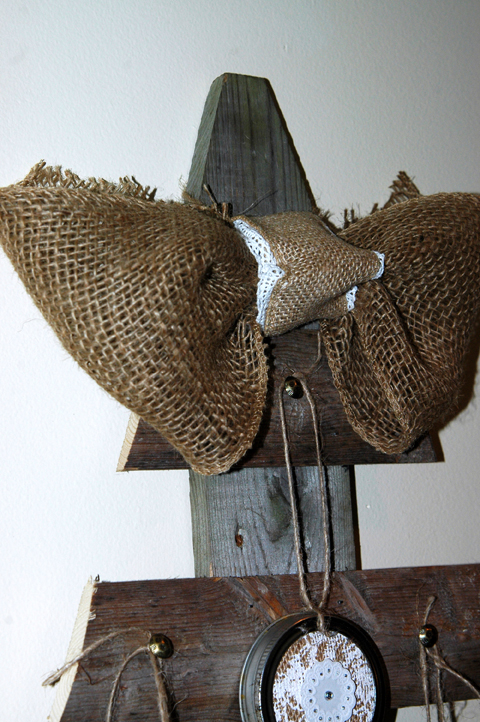 We hung it in our hallway to add to the rustic holiday vibe. Didn't my handsome Yankee do a good job?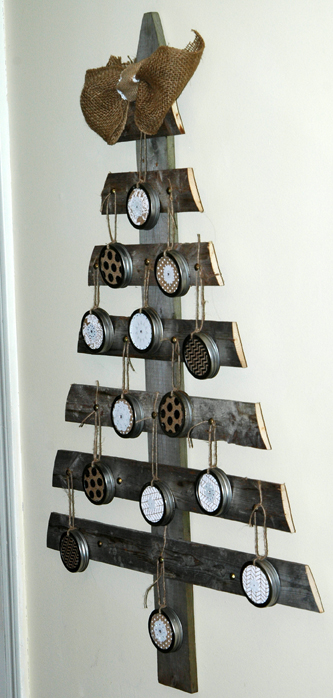 Now that the decorating is done, I can finish my gift wrapping and what little bit of shopping I have to do. It's easy to over-do so don't wear yourselves out.
We wish you all a very, Merry Christmas and remember to take some time for each other in the midst of the holiday rush. That's where the real Christmas magic is!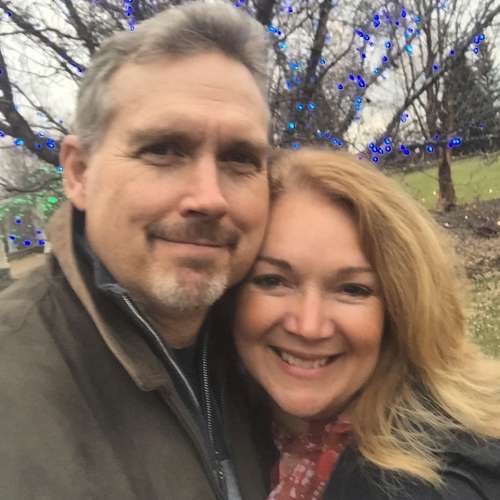 Until our next shoreline visit~ Merry Christmas and Happy New Year!
Beach Blessings and Much Love,
Deb, the Beach Farmgirl ( and her handsome Yankee )
We don't know where those kids of ours have gotten off too! 😉
# 1199
PS. My apologies if you stopped by earlier and this post wasn't live yet. Our computer was giving me fits this morning.