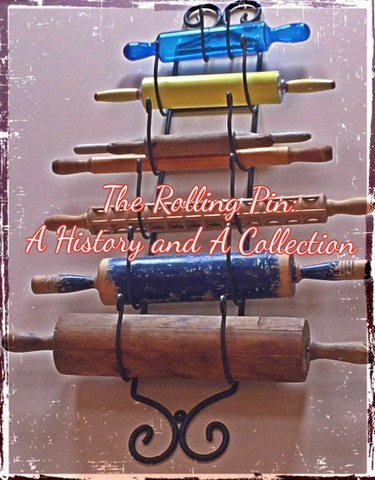 When fall arrives in New England, I love to make comfort food like chicken pot pie, treats like apple and pumpkin pie, and to start baking holiday cookies in November. Lots of love goes into the rolling of dough! With all the baking we farmgirls do, have you ever considered the rolling pin and its place in history? Once a staple in every kitchen, rolling pins are no longer the most-used everyday item in a kitchen. With our modern, busy lives and store shelves stocked with frozen pie crusts and ready made cookie dough, a rolling pin might not even be found in a kitchen today! That's not the case, however, in one Connecticut home, where rolling pins are a passion.
Redding, Connecticut resident Ellen Visnyei has been collecting rolling pins for thirty years. Currently, she has amassed around 75 rolling pins, considering them works of art that come with stories all their own.
Ellen first got bitten by the collecting bug while chairing the Annual Redding Arts and Crafts show. Each fall, around 200 apple pies are baked for the festival. Volunteers freeze unbaked crusts; it was here that Ellen first started noticing everyone's rolling pins.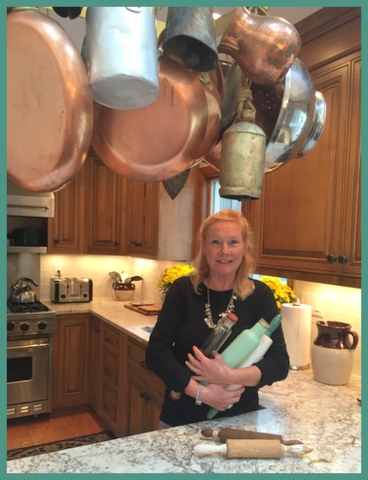 Displayed in Ellen's stunning collection are rolling pins of every type, shape, size and color – all made from materials such as glass, wood, metal and porcelain. Ellen has displayed her collection beautifully. The pins are neatly arranged on walls in sturdy wrought iron racks.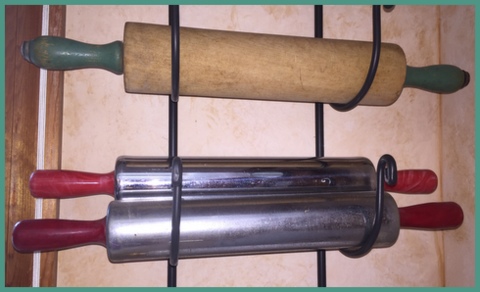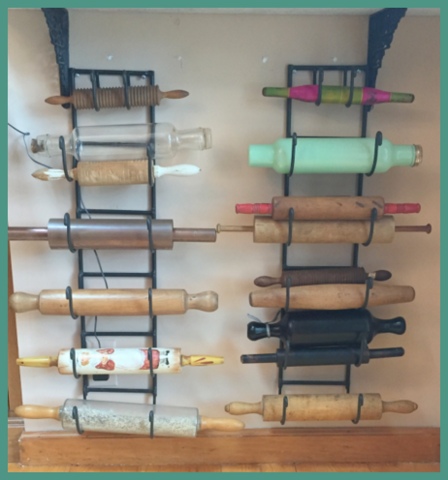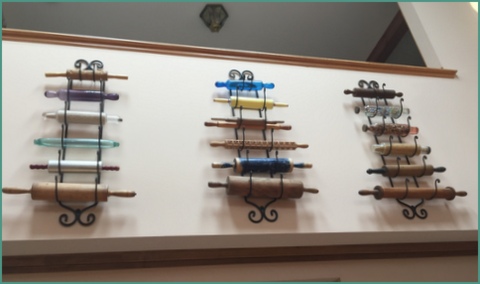 For another cute way to display rolling pins, check out MaryJane's collection in the current issue of MaryJanesFarm. For a subscription, click here.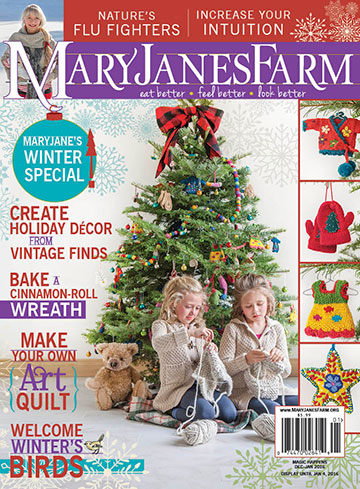 Every collector has that one piece that really first spoke to them. For Ellen, it's a huge commercial wooden rolling pin with chipped blue paint, made from maple. It was once used for generations by the baker at a favorite pizza parlor. When the restaurant was closing, Ellen asked for the rolling pin. "It occurred to me that someone made a living from that rolling pin. It was such an honorable profession."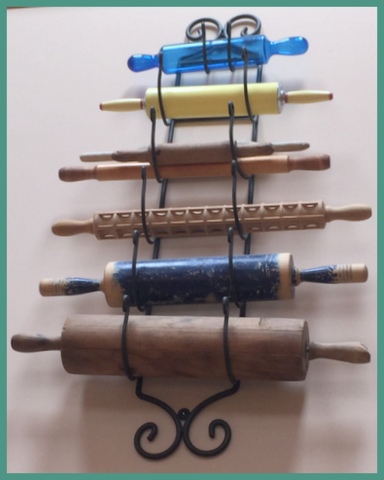 When Ellen sees a rolling pin, she doesn't see what some might consider an antiquated kitchen tool: she sees art, history and an important part of life. Ellen says that in the past, "Rolling pins were made for women." Men went off to sea, and would gift their beloved a handmade rolling pin. "Whale bone was used for handles – with inscriptions of love."
Rolling pins were made to fit the size of the user, and considered very personal. Glass blown rolling pins would have one handle bigger than the other. Hollowed out pins were more than likely used as gifts, first filled with herbs. Later they were filled with cold water or ice to keep the dough chilled and from sticking.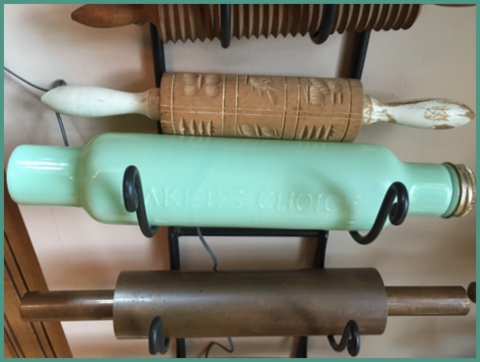 Rolling dough was also once a rite of passage, with children being taught to roll dough. Ellen has collected quite a few small rolling pins made especially for children.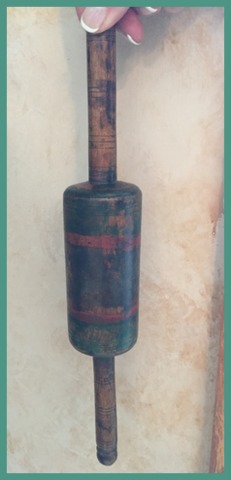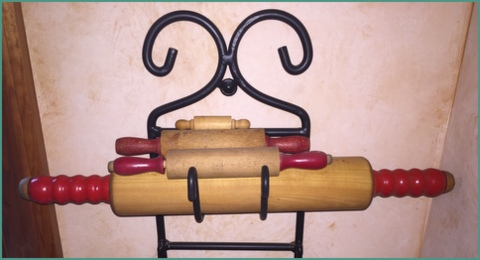 The materials and color of a rolling pin are telltale of the time from when it was manufactured. A pink one was from the 1950's, with homemakers first acquiring the kitchen gem by sending away for it with box tops.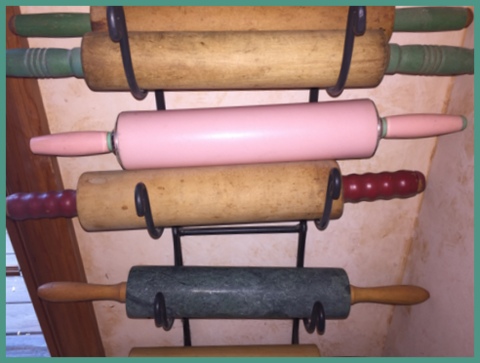 A copper rolling pin was probably used not to roll dough directly. With its seams, it would have gotten bits of dough stuck in the grooves; a sleeve probably fit over the top before dough was rolled, perhaps with some sort of embossed design.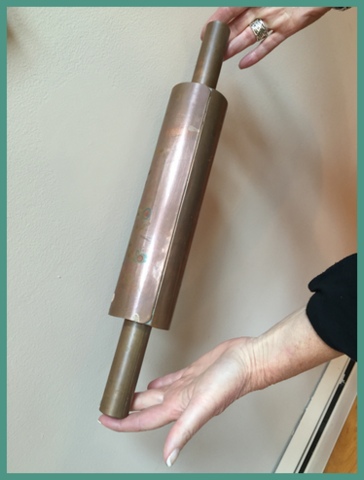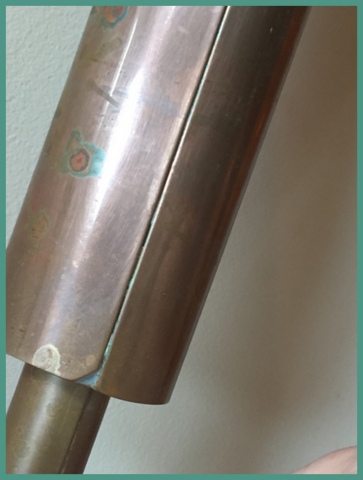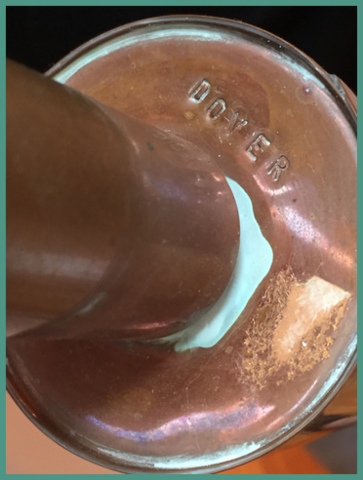 Ellen appreciates the artistic value of hand-blown glass, with some dating back to the 1800's. The wall of her dining room is graced by a beautiful, antique porcelain rolling pin in a Blue Delft Willow pattern.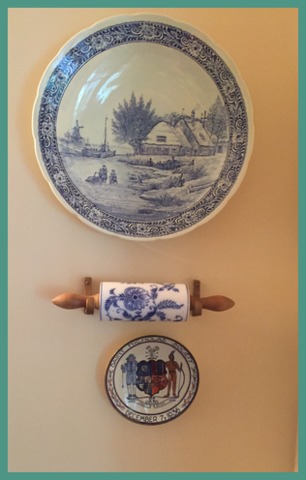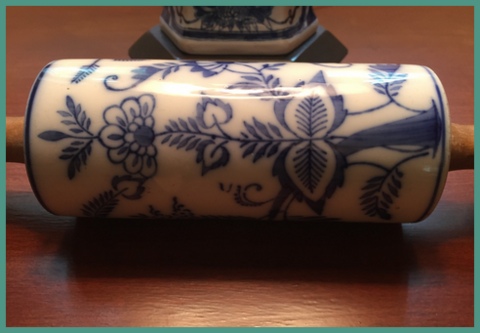 Ellen enjoys trying them all, but when she is baking, she usually reaches for a heavy maple rolling pin with its smooth, hard wood. Her least favorite type for use are the hand-painted ones and the lop-sided glass pins. She says a good rolling pin for dough is hard and non-porous.
Ellen isn't done collecting, and advises those who want to start a collection of their own to "Look in the dustiest corners of every antique store because they usually don't feature them. There are rolling pins out there, just waiting to be re-discovered."
A special thank you to Ellen Visnyei for sharing her wonderful collection with us! Remember to stop by and say "hi" in comments!
Until Next Time…Farmgirl Hugs, Nicole