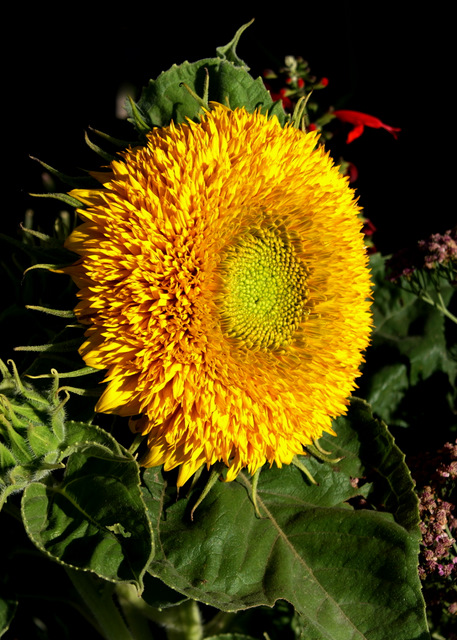 Sunflowers, sweet corn, goldenrod, crook neck squash, the juicy flesh of ripe peaches, and many other harvest-time goodies … they all suggest that yellow is August's favorite color. The saffron beauty of sunflowers attracts bees and artists alike.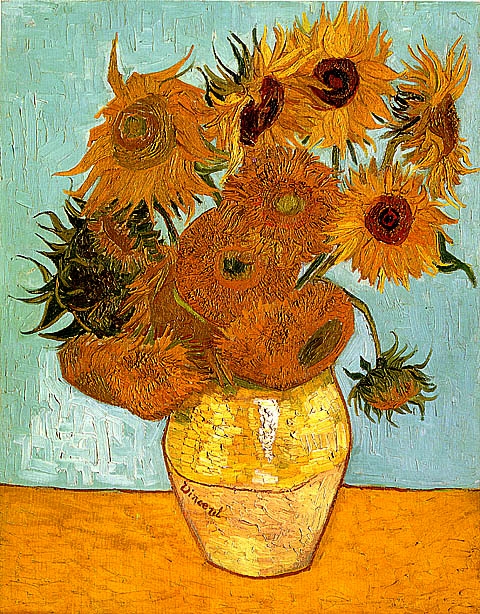 Above: One of several sunflower paintings by Vincent Van Gogh. Immediately below – more of Van Gogh's sunflowers, including a painting of Vincent painting sunflowers by fellow artist, Paul Gaugin. Impressionist painter, Claude Monet, may best be known for his water garden paintings, but he was also a lover of sunflowers (see images further down on this page).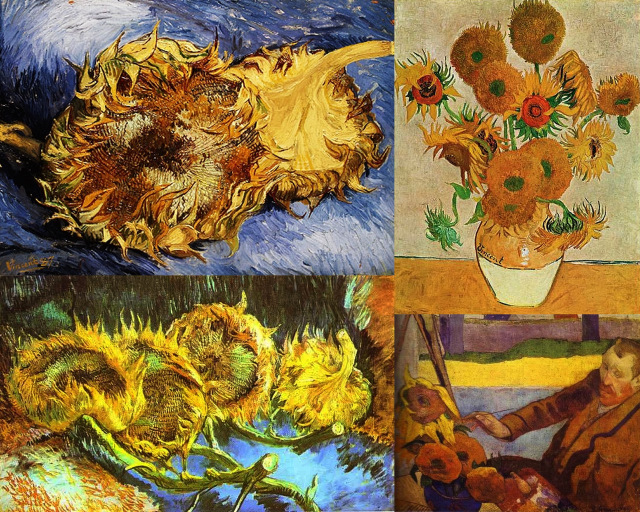 Did you know that sunflowers are an American original? The Sunflower is a native species to North America and was used by American Indians for an important, high-energy food source. Explorers carried it with them to Europe in the 1500s. Russian agronomists were responsible for the first agricultural hybrids. But it was the American Indian who first domesticated the plant into a single headed plant.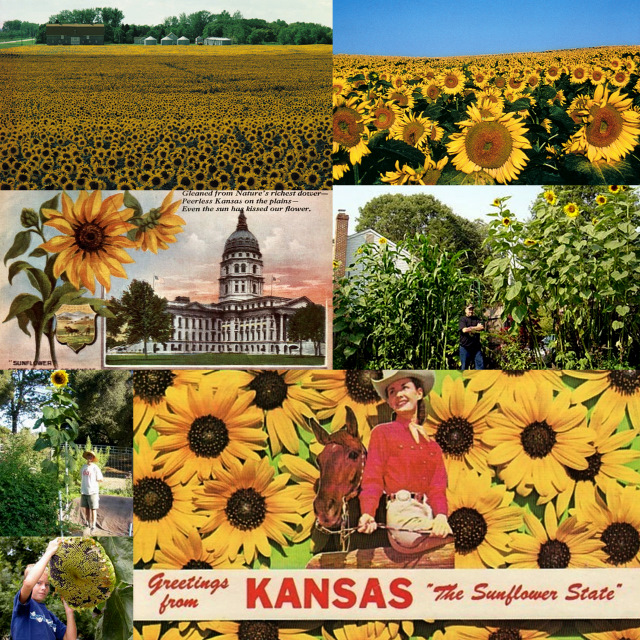 Sunflowers were used in many ways throughout the various Indian tribes. Seed was ground or pounded into flour for cakes, mush or bread. Some tribes mixed the meal with other vegetables such as beans, squash, and corn. The seeds were also cracked and eaten for a snack – just like today. There are references of squeezing the oil from the seed and using the oil in making bread.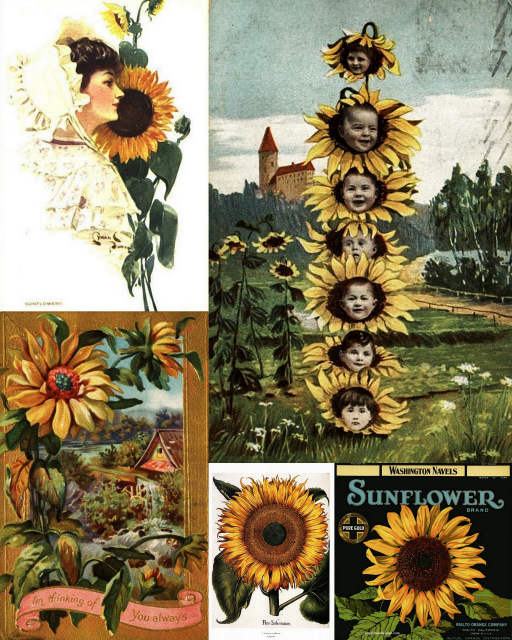 By the late 19th century, Russian sunflower seed found its way into the US. By 1880, seed companies were advertising the 'Mammoth Russian' sunflower seed in catalogues. Today, the sunflower is the national flower of Russia.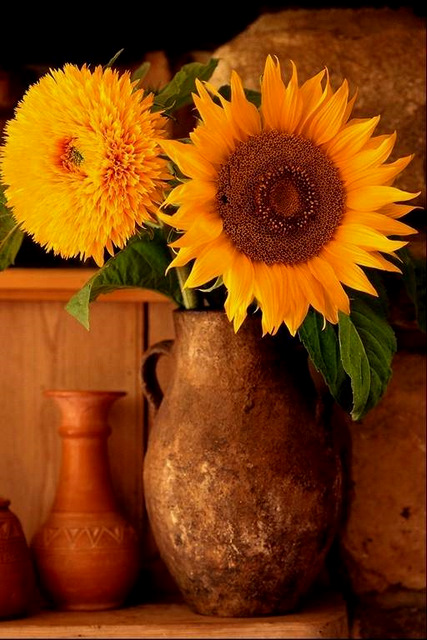 The sunflower is valuable as a food source, but it is also favored for it's ornamental beauty. Not many plants can lay claim to both virtues. Many new colors and varieties have been developed in recent years. The one below found a permanent place in my garden: the Mahogany Velvet or Merlot sunflower. I'm saving seeds from this one for farmgirl my friends.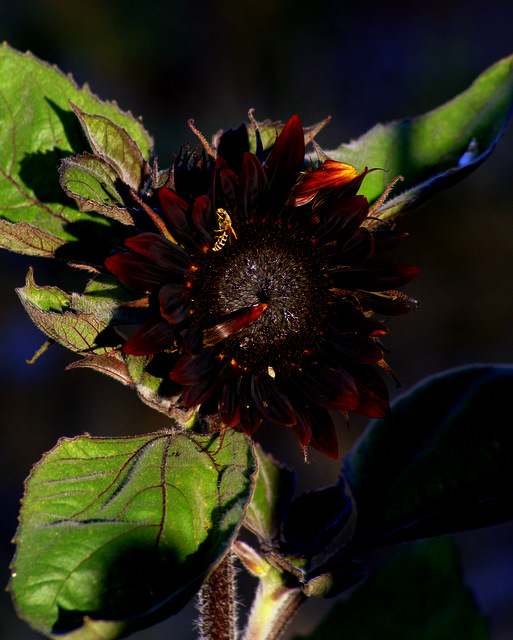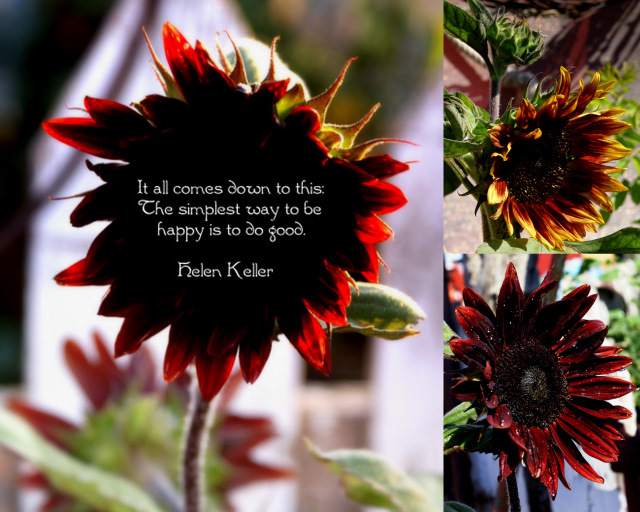 Another favorite of mine is the Teddybear sunflower (top photo and below). I first saw them in Van Gogh's paintings; later when I spied them in a seed catalog, I had to have some. They are especially well suited for this area since they are smallish – not as susceptible to the ravages of wind – growing only to about three feet at the tallest.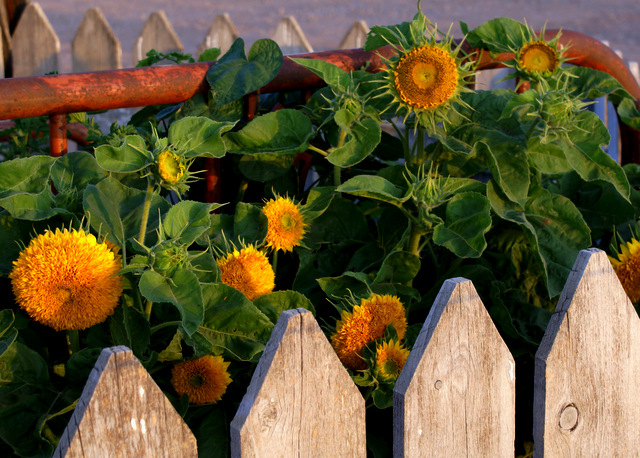 I clip a few heads off and add them to my basket of potpourri.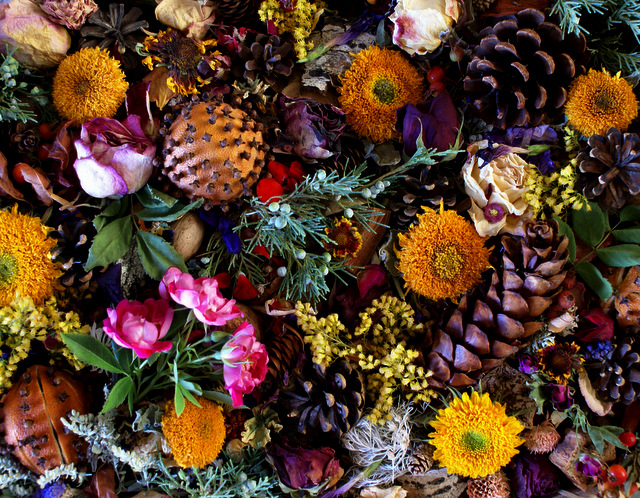 Sunflowers come and go as a fashion statement, both for garments and home decor. The European gal in the photo below was pretty brave to wear sunflowers over her … ta-tas :o), but, Europeans have always been less inhibited than us Americans. The sunflower is a good teacher of the saying, "lighten up" — they're the happy flower with a sunny disposition! Pun intended.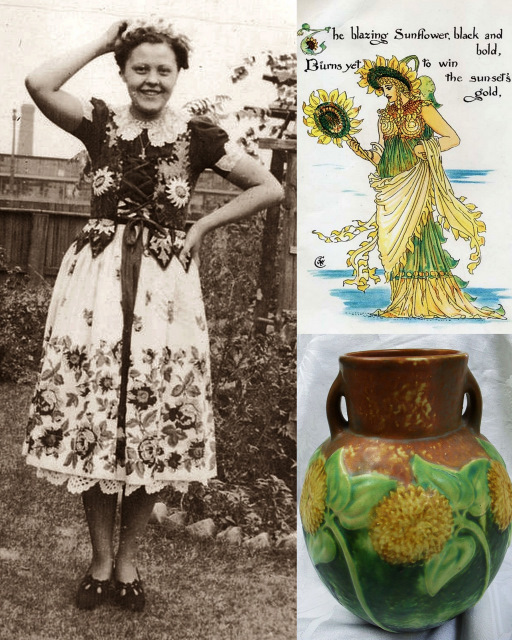 This time of year, wild sunflowers decorating country roadsides are a common sight. I took the below photo when we were hauling hay bales home the other day. I imagine the seeds will feed many a hungry bird this fall.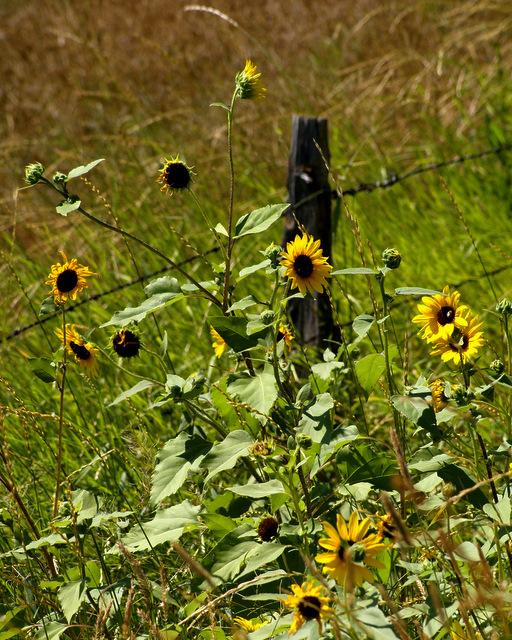 After the green of summer has passed, do you save sunflower heads for winter food for the birds? Below: the paintings of Claude Monet, Catherine Klein, Gustav Klimt.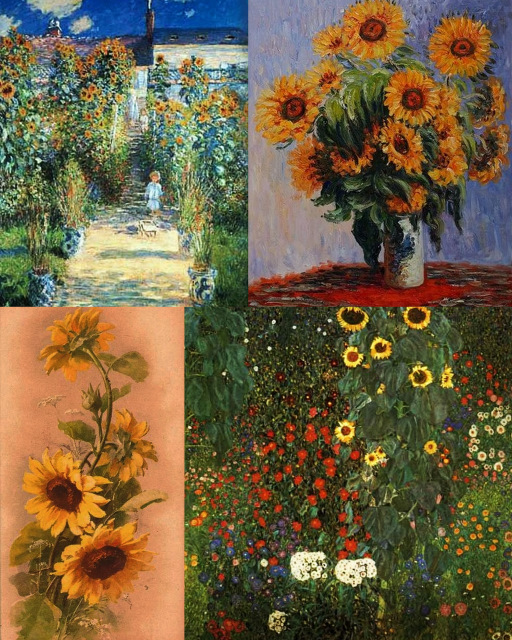 A few 'birdseed' volunteers popped up in my flowerbed, and I let them be. The seed heads are about 12″ in diameter. The birds will enjoy them.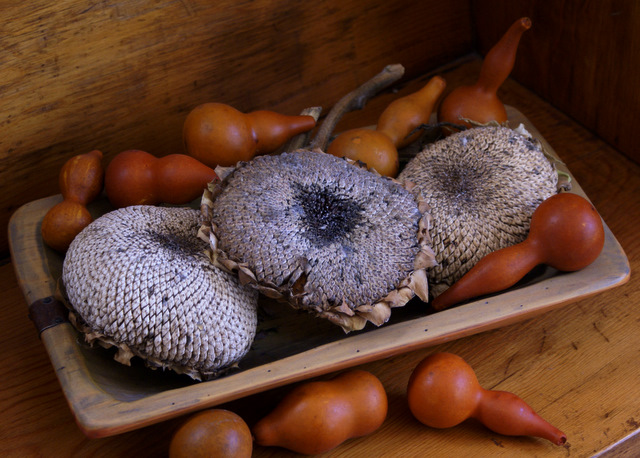 The other day, while I was watering my garden, I was thinking about how fleeting the life of a flower is. Some flowers bloom for a morning or a day and then they are gone. The bible verse, Psalm 103:15-16 came to mind. "The life of humans is like grass, they flourish like a flower of the field; the wind blows over it and it is gone." With that idea in mind, we ought to spend our daylight hours doing what we should be doing and living like we mean it. Life is brief. Sunflowers make the most of every day and of every ray of light, for they know their time here is short.
"All day long their silent worship lasts,
And every stem a lengthening shadow casts
Toward the east, ah, they love him best,
And watch till every lingering ray is gone,
Then slowly turn to greet another dawn."
~Albert Bigelow Paine~
Sunny smiles from Wyoming, Shery